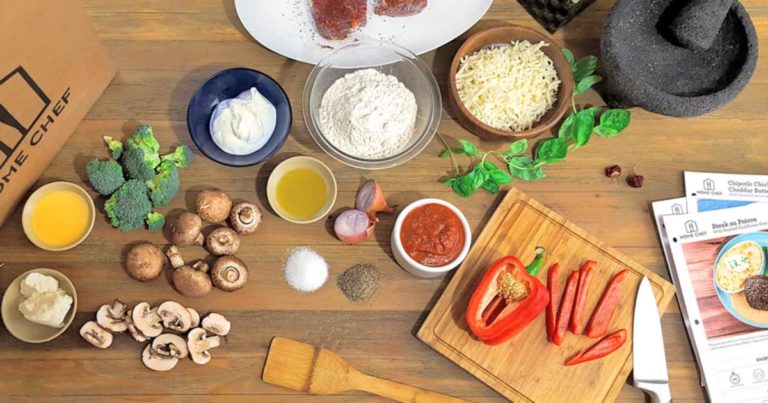 Home Chef is an awesome choice for anyone looking into home meal kits. As a high-rated company, Home Chef delivers many choices with proven levels of customer satisfaction. With the option of up to 6 meals per week, you can pick and choose meals and quantities to suit your needs.
Home Chef also aligns with many dietary lifestyle selections such as vegetarian, gluten-free, and low-carb. With customizable features and deals on shipping, you can't go wrong with this meal kit company.
However, perhaps you'd like to explore the different kinds of home meal kits before you solidify your decision. Check out a few of these alternatives to Home Chef that deliver their own unique options and benefits.
1. Blue Apron – The Best Home Chef Competitor
Blue Apron is one of the most popular meal kit services in the US. Therefore, a main Home Chef competitor to consider.
Blue Apron is all about delivering real chef-designed meals that will make your dinners feel like dining out. 
Blue Apron offers eleven changing meals on the weekly menu, with great diversity. From our experience with Blue Apron, all meals are delicious and relatively easy and fun to cook.
Blue Apron key benefits:
Weekly subscription meal kit with all you needed for gourmet-style meals 
Same price range as Home Chef
Variety of eleven exciting recipes to choose from every week
20-45 minutes of cooking time per meal
Recipes for both experienced and beginners in the kitchen
The first and one of the largest meal kit service in the US
Meals for different diet needs – vegetarian, carb-conscious, low calories, and more.
2. Hello Fresh
Hello Fresh makes home meal kit delivery simple and easy without lacking quality or commitment. The company's recipes are all created by their chefs and are tested 200 times to make sure they're the best they can be with the most delicious flavors.
At the same time, these recipes remain easy to make and don't overcomplicate the instructions. All of Hello Fresh's recipes take just about 30 minutes, and they each include only six steps along the way. A great way to learn how to cook, the recipes incorporate a variety of flavors and cooking techniques that broaden the experience.
Meal options include 3 to 5 meals per week for 2 or 4 people. The pre-measured ingredients come in meal styles of vegetarian, nut-free, gluten-free, and vegan so that everyone can enjoy.
To sum up Hello Fresh:
Choose 3 to 5 meals per week for couples or families
Uses trusted suppliers
6-step easy yet educational recipes
30-minute recipes
Dietary restriction options
Several add-on options available
15 meal options per week
Ability to pause or cancel plans
Additional features you can add on include things like wine club memberships, the Kitchenware shop, breakfast options, and the option to customize your plan.
3. Sun Basket
Health-conscious cookers should definitely take a closer look at Sun Basket. This company uses only the best fresh and organic ingredients and produce for their simple recipes and international cuisine. They ensure their meals' healthiness by having qualified nutritionist evaluate and approve all of their options.
With 18 recipes choices every week, Sun Basket allows you to keep a wide variety—even on a healthy diet. In fact, they offer tons of choices to suit a variety of diets and lifestyles, like vegan, vegetarian, paleo, diabetes, and more.
Your Sun Basket is completely customizable. By filling in your profile preferences, the company chooses recipes they think you'd like. You can use these recommendations, or you can mix and match with any of their other options.
A flexible, company, customers are free to cancel or skip weeks whenever they'd like. You may also be interested to know that Sun Basket is very environmentally-friendly.
Let's not forget all of the key details about Sun Basket:
18 meal options per week with a choice of 2 to 4 servings
All meals are nutritionist approved
Only organic and fresh ingredients
Simple, easy meals
Choices of dietary restrictions and lifestyles
Customizable meal plans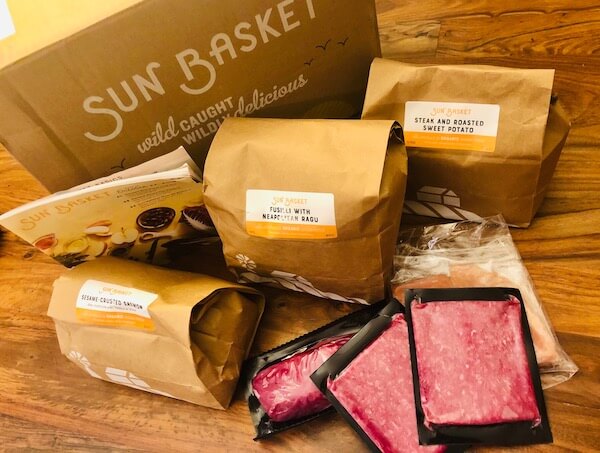 4. Dinnerly
If you are looking for an affordable alternative to Home Chef, then Dinnerly is your go-to option. For those of you who are wanting a cost-effective, enjoyable meal kit service, Dinnerly is known as one of the most economical meal-kit services in the US. 
Dinnerly is relatively new to the industry when compared to Home Chef. It is a company that is making a name for itself by providing a modestly priced, delicious service that makes healthy eating stress free and affordable.
Dinnerly maintains its high standards of meals and ingredients used, while keeping its costs low by using fewer ingredients, uncomplicated recipes, and digital recipe cards. It also avoids fancy packaging and expensive marketing campaigns. It would be easy to assume that because the prices are lower than other companies, the standards would not be as high as their competitors. However, this is not the case! With Dinnerly you receive delicious meal kits filled with reliable, quality ingredients. 
As a Dinnerly customer, you will be able to choose from a weekly menu that includes 16 dishes every week. As convenience is very much part of the Dinnerly service, you will find that none of their weekly recipes take any longer than 30 minutes to prepare.
As with most meal kit services today, Dinnerly provides a range of options for those with dietary and lifestyle requirements. The menu includes choices that are suitable for vegetarians, families with children and those who require dairy-free recipes, just to name a few. 
Following is a list of what we believe to be Dinnerly's key benefits:
Dinnerly provides a super-affordable service. Dinner for two people costs about $10 in total. 
A changing weekly menu made up of 16 recipes. 
Available plans include a two-person plan and a four-person plan. 
Dinnerly allows you to choose 3 meals per person every week. 
Quality ingredients combined with uncomplicated recipes mean a delicious dinner can be prepared within 30 minutes.  
Account flexibility – pause or cancel your account at any time. 
5. EveryPlate
If the overall cost is a priority, EveryPlate is another good alternative to Home Chef. Every Plate, like Dinnerly, manages to maintain its low prices by using straightforward recipes with a small number of ingredients and avoiding expensive marketing campaigns.
By using less packaging, EveryPlate not only manages to look after the environment but they also keep their prices low. Every Plate is focused on meal kits that all about taste, convenience, and ease of preparation rather than being a sophisticated gourmet experience. 
As an EveryPlate customer, you can choose from a two-person box or a family box. The two-person box includes three meals for two people every week. The family box includes three meals for four people every week. The EveryPlate weekly menu is made up of nine standard meals and one premium meal. Their recipes are classic and familiar and do not involve any complicated or involved cooking techniques or processes. The EveryPlate meals are designed to be completed without any stress or using too many pots, pans or utensils. As an EveryPlate customer, you will find that there is little preparation and clean up involved!
If you have any dietary or lifestyle requirements you will find all allergens listed in the recipes of the EveryPlate online menu. The weekly menu usually includes at least one vegetarian recipe every week. 
Following is a list of what we believe to be EveryPlate's key benefits:
A cost-effective service that will help you stick to your weekly budget. 
Meals are super easy to prepare. 
Take advantage every week of the premium meal selection that is available for a small surcharge. 
EveryPlate looks after the environment and their bottom line by using less packaging. 
A flexible service that allows you to skip weeks or cancel your account at any time without penalty. 
EveryPlate has an attractive beginner's promotion which you can access here.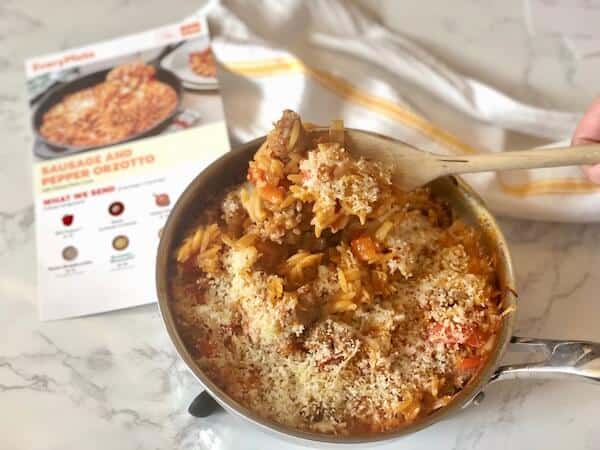 6. Martha & Marley Spoon:
If you are a fan of Martha Stewart, the queen of home cooking in America, then you will love Martha and Marley Spoon. Martha & Marley Spoon is Martha Stewart's baby and for those of you who love home cooking, it is a great alternative to Home Chef.
Martha & Marley Spoon has a great international reputation and it is a company that is passionate about delivering classic home cooking recipes that are filled with a wonderful selection of quality ingredients. As a Martha & Marley Spoon customer, you will receive meal kits filled with delicious recipes combined with fresh, pre-portioned ingredients. 
Martha & Marley Spoon offers two plans for its customers. A two-person plan and a four-person plan that allows you to select two, three or four meals every week. The weekly menu of Martha & Marley Spoon is made up of 20 changing recipes. The menu is varied and includes classic American favorites along with well-known international dishes. Any allergens and dietary classifications are marked in each recipe.
Following is a list of what we believe to be Martha & Marley Spoon's key benefits:
All recipes are designed and tested by Martha Stewart.
An extensive weekly menu made up of 20 recipes.  
Option to choose two, three or four meals per person per week. 
The menu caters to many dietary requirements such as gluten-free, low-carb, vegetarian and more. 
A flexible service that allows you to skip weeks or cancel your account at any time without penalty. 
Customers can select their weekly menus up to 2 months in advance.