We write our honest review on each product, however, we might receive a sales commission to support this website. Prices can vary due to changes in policies. See our full disclosures here.
Home Chef is an awesome choice for anyone looking into home meal kits. As a high-rated company, Home Chef delivers many choices with proven levels of customer satisfaction. With the option of up to 6 meals per week, you can pick and choose meals and quantities to suit your needs.
Home Chef also aligns with many dietary lifestyle selections such as vegetarian, gluten-free, and low-carb. With customizable features and deals on shipping, you can't go wrong with this meal kit company.
However, perhaps you'd like to explore the different kinds of home meal kits before you solidify your decision. Check out a few of these alternatives to Home Chef that deliver their own unique options and benefits.
#1 Hello Fresh
Hello Fresh makes home meal kit delivery simple and easy without lacking quality or commitment. The company's recipes are all created by their chefs and are tested 200 times to make sure they're the best they can be with the most delicious flavors.
At the same time, these recipes remain easy to make and don't overcomplicate the instructions. All of Hello Fresh's recipes take just about 30 minutes, and they each include only six steps along the way. A great way to learn how to cook, the recipes incorporate a variety of flavors and cooking techniques that broaden the experience.
Meal options include 3 to 5 meals per week for 2 or 4 people. The pre-measured ingredients come in meal styles of vegetarian, nut-free, gluten-free, and vegan so that everyone can enjoy.
To sum up Hello Fresh:
Choose 3 to 5 meals per week for couples or families
Uses trusted suppliers
6-step easy yet educational recipes
30-minute recipes
Dietary restriction options
Several add-on options available
15 meal options per week
Ability to pause or cancel plans
Additional features you can add on include things like wine club memberships, the Kitchenware shop, breakfast options, and the option to customize your plan.
#2 Sun Basket
Health-conscious cookers should definitely take a closer look at Sun Basket. This company uses only the best fresh and organic ingredients and produce for their simple recipes and international cuisine. They ensure their meals' healthiness by having qualified nutritionist evaluate and approve all of their options.
With 18 recipes choices every week, Sun Basket allows you to keep a wide variety—even on a healthy diet. In fact, they offer tons of choices to suit a variety of diets and lifestyles, like vegan, vegetarian, paleo, diabetes, and more.
Your Sun Basket is completely customizable. By filling in your profile preferences, the company chooses recipes they think you'd like. You can use these recommendations, or you can mix and match with any of their other options.
A flexible, company, customers are free to cancel or skip weeks whenever they'd like. You may also be interested to know that Sun Basket is very environmentally-friendly.
Let's not forget all of the key details about Sun Basket:
18 meal options per week with a choice of 2 to 4 servings
All meals are nutritionist approved
Only organic and fresh ingredients
Simple, easy meals
Choices of dietary restrictions and lifestyles
Customizable meal plans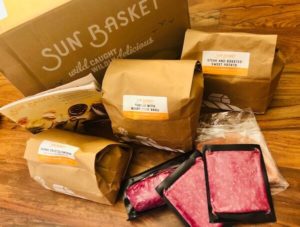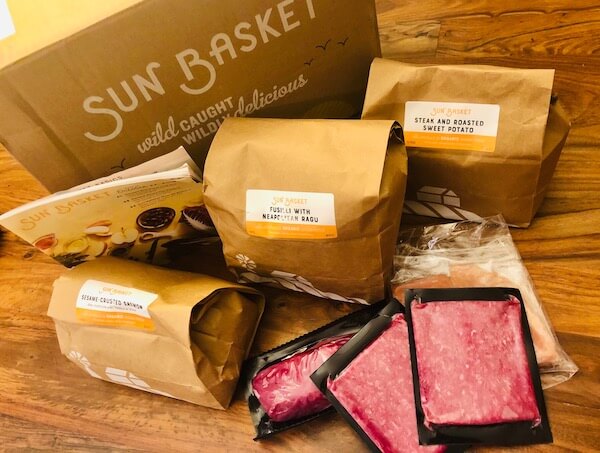 #3 Plated
One of the fears in the food industry today is the widespread use of hormones, antibiotics, and other chemicals in both produce and animal products. Plated—one of the first home meal kit companies—doesn't use ingredients that contain any of those unwanted items. They only use fresh, organic, clean ingredients—including their meats.
Aside from that detail, the best thing about Plated is that they have such a flexible service. Not only can you cancel your plan or skip a week easily, but you can customize your delivery dates, serving suggestions, and menus on a daily basis.
Convenience is key when it comes to this company.
Plated gives you 20 new recipes per week. You can create your menu from these recipes, or you can choose from any other recipe they offer, mixing and matching along the way. If you're in the mood for a dessert that week, you can add that on as well.
Dietary options for Plated include low-calorie, low-carb, vegetarian, and gluten-free. Many of their meals are family-friendly, too, so you don't have to worry about picky eaters.
Keep in mind all of these details about Plated:
Family-friendly and diet-friendly options
Flexible options for delivery, serving sizes, and menus
Access to changes and cancelations daily
20 new recipes weekly
Add-on dessert option
Hormone, antibiotic, and chemical-free ingredients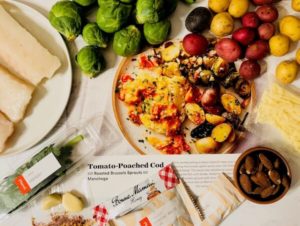 #4 Gobble
Gobble has everything you need in a home meal kit, from speedy deliveries to quality ingredients. Gobble knows the value of your time, especially for those who have a very hectic lifestyle. For that reason, this company takes the initiative to make cooking dinner as easy as possible.
You get your meal kits from this company completely prepper for you. Gobble pre-measures and portions your ingredients while additionally chopping, cutting, and peeling everything too. The simple instructions are easy to follow, and all of their meals are just one pot or one pan—all you have to do is throw it all together.
Since the recipes only require one cooking dish, cleanup is cut short as well. Each recipe takes about 15 minutes, leaving you with plenty of time to spend with your family or to rush to the next item on your schedule.
Gobble takes note of your preferences and creates meal recommendations for you. You have the option of using these or picking your own options, designing your ideal menu for the week. They also make canceling or changing fairly easy.
With dietary choices of gluten-free, vegetarian, and dairy-free, there's something for everyone. Take note of all of these great features that Gobble offers:
Excellent in terms of convenience, with pre-portioned and prepped ingredients
One pot/pan meals for easy cleanup
Offers kids options for picky eaters
Add-ons available, such as soups, salads, drink mixes, and desserts
Wide variety of meal options
Healthy
#5 Terra's Kitchen
Terra's Kitchen home meal kits are designed specifically to taste good, because according to them, why should your food be anything less than awesome? Their quality recipes cut down on time in the kitchen so you can spend more time doing things you love with the people you love. With 15 to 30 minute recipes, you can't go wrong.
While their food is certainly delicious, Terra's Kitchen may be best known for its unique, environmentally-friendly packaging. Your meals come shipping in a box designed to look like a mini-fridge. When you open the hatch, you'll find the inside of a fridge. Slide-out shelves organize your ingredients for amazing convenience.
At the same time, this mini-fridge is reusable up to 100 times, so there's no wear and tear on the environment.
Here's what Terra's Kitchen is all about:
Fun, educational recipes
More than 50 meal options
Environmentally friendly, unique packaging
Organic and fresh ingredients
Add-ons like snacks, smoothies, and side dishes
Pre-chopped veggies and salads
Variety of dietary options
Choose from more than 50 recipes options. These meals include diets for gluten-free, vegan, low-calorie, paleo, and more. On top of all of this, Terra's Kitchen makes cooking a fun learning experience by including fun facts and trivia to help you grow in your kitchen skills.