Miami is the city of lively nightlife and Latin-inspired cuisine prevalent throughout. While many tasty meals are available to try, they're not always conducive to a healthy and balanced lifestyle.
Whether you're looking to eat healthy for weight-loss reasons, health issues, or simply to feel better each day, it can be challenging to find prepared dishes that are nutritious, delicious, and delivered fresh.
If you haven't tried healthy meal delivery service Miami options, you're in for a good surprise.
Check out the popular meal delivery services below delivering to Miami for fast, convenient, and healthy options to eat each day.
With details and meal samples on each service, you'll be able to find a meal plan that best matches your needs with ease.
What Is A Meal Delivery Service, And How Is It Different From A Food Delivery Service?
Falling into the trap of ordering from food delivery options is a challenge many faces. Even with good produce and higher-quality meats, there's no guarantee the foods will be healthy.
These options usually use much more oil than home-cooked meals, with higher salt content and too-large portions.
While ordering from Grubhub or Caviar may be convenient, these food delivery options are not optimal for a healthy lifestyle.
On the other hand, meal delivery services are often chef-designed and backed by nutritionists or dieticians. This means each meal is created with your health in mind.
Fresh, high-quality ingredients are delivered with individual portions each week. Meal kits, oven-ready, and microwave-friendly meals are a few options available when ordering from a meal delivery company.
Have No Time? Here Are The Top Meal Delivery Services in Miami:
Check out these Miami meal delivery companies for easy and healthy eating at home.
Sunbasket
Organic And Healthy Food Delivery Service
Sustainably sourced, organic, high-quality ingredients are found in each Sunbasket delivery.
This healthy food delivery service provides heat-and-eat options and meal kits that cater to those with hectic schedules.
Their motto is "healthy foods should taste good first and do good always," which is echoed by their chef-curated meal options and consciously-sourced ingredients.
Enjoy antibiotic and hormone-free dishes from Sunbasket that cater to various dietary needs like vegetarian, vegan, gluten-free, Mediterranean, and low-carb options. The Sunbasket meal plans are ideal for couples, families, and busy individuals.
Choose Sunbasket If You Want:
Diabetes-friendly, paleo, vegetarian, and more meal plans for specific diets
Organic, high-quality ingredients that are antibiotic and hormone-free are delivered weekly
Huge variety of perfectly portioned foods for less food waste
Housemade sauces for a fresh, delicious flavor
Save time – with options for prepared healthy meals that are microwave-ready
A Few Meals That Can Be Found On The Sunbasket Menu:
Roasted paprika chicken with parsnip and pear salad
Italian sausage and vegetable skillet with spicy green harissa
Madras curry bowls with steamed rice, crispy tempeh, and cucumber
Blue Apron 
Eat Restaurant-Quality Foods At Home
Blue Apron is the ideal option for those wanting to increase their cooking skills without paying for pricey cooking classes.
This delivery service in Miami offers seasonal food items and fresh produce in each delivered box. Choose between a signature, vegetarian, family-friendly, and wellness meal plan, depending on your needs.
Each menu item has nutritional facts clearly stated up to 1.5 weeks before delivery for additional dietary needs.
Each week, you can choose between European, Asian, African, and American-style cuisine with about 20 new options (including heat and eat meals).
Choose Blue Apron If You Want:
Dinners for all occasions, including special events
Options for larger family-sized portions or individual meals
Quick microwave meals, easy meal kits, and premium recipe options
Chef-designed meals with fresh ingredients each week
Ability to choose low-carb, low-calorie, and vegetarian meals
A Few Meals That Can Be Found On The Blue Apron Menu:
Pan-seared steaks & aioli with crispy gnocchi & sautéed green beans
Creamy chipotle chicken with cilantro rice & cotija cheese
Sheet pan panko-crusted cod with roasted potatoes & lemon-dressed broccoli
Home Chef 
Miami Meal Prep Made Easy
Home Chef is a top option for those seeking a meal prep service that provides home-style meals in a new light. These meals feature beloved recipes that are simple, quick, and convenient to make.
You also have additional choices for which cooking method you want to make meals. For example, oven-ready, stovetop recipes, and even grill-friendly options can be chosen.
The Home Chef meal kits and ready meals are delivered fresh once a week on the day of your choice, and the weekly menu offers a few nice add ons like protein packs, bread, and desserts.
A unique feature of Home Chef is the ability to swap out the standard protein for your protein of choice in each meal. The recipes also note the spiciness level, making choosing options that fit your tastes easy.
Choose Home Chef If You Want:
Many meal options that rotate weekly
Lunch, dinner, protein packs, sides, and snack options
Meals that cater to dietary needs like Mediterranean diet recipes, vegetarian options, and more
Fresh n Easy meal plan – prepared meals, grill-ready, fast-salads, and fast meal kits that fit busy schedules
A Few Meals That Can Be Found On The Home Chef Menu:
Fig jam and blue cheeseburger and garlic pepper fries
Steak and brown butter mashed potatoes with roasted carrots
Butternut squash, fig, and blue cheese risotto with walnuts
Freshly
Prepared Gluten-Free Meals To Your Door
Freshly is a top-convenient meal delivery service, also operating in Miami. It is well-known for its gluten-free premade options, which can be saved fresh in the fridge or frozen for a longer lifetime.
While nearly every meal is gluten-free, there are additional options for those with other dietary needs. For example, you can choose vegetarian, pescatarian, keto-friendly, high-protein, and more on the ever-changing menu.
Each week, 30+ delicious single-portioned dishes are posted online to support easy healthy, and diverse eating on a daily basis.
Choose Freshly If You Want:
Easy heat and eat gluten-free meals delivered to your door
Chef created recipes that will appeal to every family member
Options to choose between family sizes or individual plans
More than 30 changing entree choices every week
Pescatarian, keto, and plant-based options
A Few Meals That Can Be Found On The Freshly Menu:
Hearty veggie bolognese with red lentil ziti & parmesan cheese
Huli Huli chicken with coconut confetti rice
Oven-baked sweet potato cakes with mole sauce & turmeric rice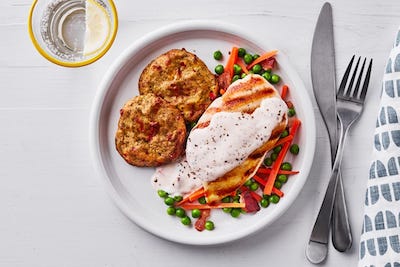 Dinnerly
Eat Better At Home With Affordable Meal Choices
Dinnerly is a top meal delivery service that delivers in the Miami area for customers with a tighter budget and a busy schedule. The meals price starts at less than $5 per serving!
With this meal delivery company, you'll receive high-quality ingredients and easy-to-make meals. Each week, you'll have a large selection of simple recipes to choose from, with options for a two or four-person meal plan.
Kid-approved recipes are available, and you can even choose add-on breakfasts, proteins, and desserts each week.
Choose Dinnerly If You Want:
Premium vegetables and produce at budget-friendly prices
Easy to follow recipes with dishes that kids will love
Low-carbs, vegetarian, no gluten added, and more for those with dietary needs
One-pot meals, 30-minute-or-less recipes, and baked good options
Extra proteins and desserts options weekly
A long list of meals to choose from
A Few Meals That Can Be Found On The Dinnerly Menu:
Teriyaki beef & pepper stir-fry with rice noodles & lime
Chicken a la king over egg noodles
Crispy ranch fish sticks with oven fries & mayochup
Pulled pork mac & cheese with BBQ sauce & scallions
HelloFresh
Most Well-Known Meal Plan In The USA
HelloFresh is not exclusive to the US; it offers services worldwide in Canada, Australia, and parts of Europe, making it an accessible option for many.
The recipes found in each HelloFresh menu use pre-portioned ingredients for delicious meals. The Hello Fresh meals are great for everyone, with easy to prepare recipes.
There are options for gourmet meals to cook on a romantic night with significant others, alongside simple recipes for a great family dinner.
You can choose from about 25 recipes weekly, making it easy to find dishes that everyone will love. Plus, most meals can be cooked and ready to eat in under 30 minutes.
Choose HelloFresh If You Want:
Ability to choose easy cleanup, dietician-friendly, and cook together options
Vegetarian, pescatarian, low-carb, and low-calorie diet choices
Meals that can be ready in 30-minutes or less
Less food waste with already portioned ingredients
Simple recipes with detailed recipe card instructions
A Few Meals That Can Be Found On The Hello Fresh Menu:
Silky Sicilian penne & chicken tossed with mushrooms, zucchini & tomatoes
Meatloaves with thyme sauce, with a side of garlic mashed potatoes & roasted brussels sprouts
Pecan-crusted trout with a cranberry-studded salad & roasted potatoes
Final Notes About The Best Meal Delivery Services In Miami Area
Whether you live in Miami Beach, North Bay Village, or Fort Lauderdale, you can find the healthiest meal delivery service options above. 
These healthy meal plans provide an easy choice to aid you on your journey to a healthier lifestyle!
With an easy-to-operate online subscription, plus customer service team members ready to assist you with additional needs and foods to arrive at your doorstep – each of the excellent options listed above can provide a great experience.