The meal kit delivery industry is continually changing and updating its offerings. However, for companies to survive within this very competitive market, they need to cater to different demographics, diets, and lifestyle requirements. The Mediterranean Diet is increasingly popular, and due to this fact, several companies have added this diet to their regular offers.
What is the Mediterranean Diet?
The Mediterranean Diet is inspired by countries' eating habits in the Mediterranean sea area during the 1940s and 1950s, like Greece, Southern Italy, and Spain.
This diet's basics include relatively high consumption of good quality olive oil, legumes, unrefined cereals, and a substantial amount of fresh fruit and vegetables. 
The diet also involves a moderate to high fish consumption, moderate consumption of dairy products (mainly cheese and yogurt), and wine. The final element of the diet is the low consumption of non-fish red meat products. 
Here Is Our List of The Best Mediterranean Meal Kits To Try:
1. Sunbasket Organic Mediterranean Diet Meal Plan
Sunbasket focuses on delivering healthy organic and easy meal kits to cook at home.
The company provides a diverse 25+ weekly menu selection, specialized and categorized in various dietary requirements. Their menu includes several Mediterranean-friendly recipes for you to try, with some of them being prepared meals and some meal kits. 
Some delicious Mediterranean meals we tried for their menu are the chicken tagine with preserved lemon and artichokes, the sole fish in parchment with zucchini salad and roasted almonds, and the Mediterranean lemon chicken with broccoli and green beans.
Sunbasket also offers fresh foods and recipes to fit other lifestyles like gluten-free, Paleo, vegan, dairy-free, soy-free, and more.
One of the best qualities we can say about Sun Basket is that the ingredients they use are all organic. When ordering Sun Basket meal kits, you will receive high-quality ingredients that are organic, seasonal, responsibly, and sustainably raised products. Their seafood is wild-caught. They only use the best quality whole grains, healthy fats, and beautiful fresh herbs. 
We can also point out that Sun Basket focuses on creating easy-to-cook meals, with recipes designed to be ready in 15-30 minutes! The company now even offers some ready-to-heat and-eat meals, with no cooking needed!
Exclusive! Get $90 OFF with FREE shipping + Free gift!
2. Home Chef- Easy-Fix Mediterranean Meal Kit Options
Home Chef is a company known for its healthy ingredients and easy-to-follow recipes that result in classic, delicious home-cooked dinners.
Although Home Chef does not have a specific category for Mediterranean meals, they offer a menu of over 20 changing dishes every week that includes good recipe choices that cater to the needs of this popular diet.
Some Mediterranean-friendly meals from their menu are the Mahi-Mahi and Tuscan herb sauce and the Cuban avocado and black bean quinoa bowl.
From our long experience with Home Chef, we can say that their meals are filled with quality lean meats, fish, seafood, legumes, and generous portions of healthy vegetables.
Home Chef customers also have an option of two salads every week, which is a wonderful add-on when trying to maintain a healthy diet. 
The Home Chef menu also includes family-friendly meals, protein packs, easy-to-prepare meals, oven-ready meals, low-calorie meals, and carb-conscious meals.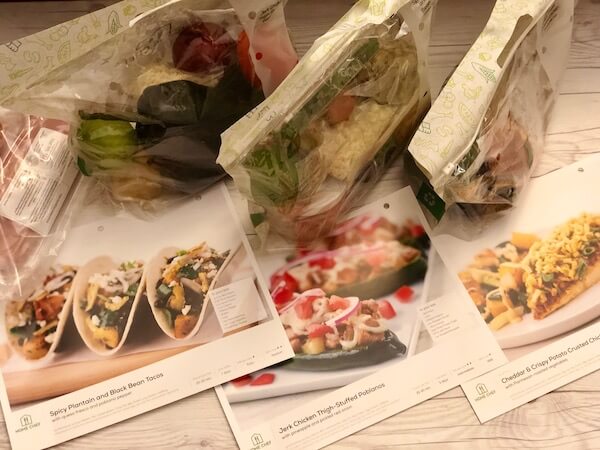 Up To 18 Free Meals - 50% OFF Your First 4 Boxes
3. Green Chef- USDA Approved Mediterranean Diet Meal Delivery Option
Green Chef is proud to be a USDA-certified organic meal kit company. They only use fresh ingredients that are wholesome, clean, sustainable, and of the highest quality.
Green Chef is a company that is focused on healthy eating. If you are looking for Mediterranean options, you will find plenty of suitable choices in their 'Balanced-Living' plan. This plan includes a selection of eight dishes every week, many of which are Mediterranean-friendly.
Some examples of great Mediterranean-friendly meals for the Green Chef menu are the Baharat-spiced couscous salad or the green pea falafel with tahini.
Not only is Green Chef healthy, but it is also convenient. Most of their meals take no longer than 30 minutes to prepare. 
Other Green Chef plans include a low-carb keto & paleo plan and a vegetarian and plant-based plan.
$250 OFF Across 5 Boxes, 1st Box Ships FREE!
4. HelloFresh- Wide Variety Of Mediterranean Meal Kits Every Week
You must have heard about Hello Fresh, the most popular meal kit delivery service in America! Hello Fresh meal delivery takes pride in creating classic meal kits that are well-balanced, delicious, and fun to cook.
The company does not offer a dedicated Mediterranean meal kit plan, but they have an extensive weekly menu that includes many suitable meal choices for the Mediterranean lifestyle followers. You will easily find a satisfying number of meals on the extensive Hello Fresh menu that has a selection of over 30 meals per week. Many of their meals use lean meats, seafood, legumes, and a fantastic array of vegetables. 
Some great HelloFresh Mediterranean meals are:
Bruschetta zucchini boats with Couscous & Melty Italian Cheeses
Chimichurri barramundi with lemony herbs couscous
Other Hello Fresh menu highlights include family-friendly meals, low-calorie meals, gourmet meals, and vegetarian meal choices.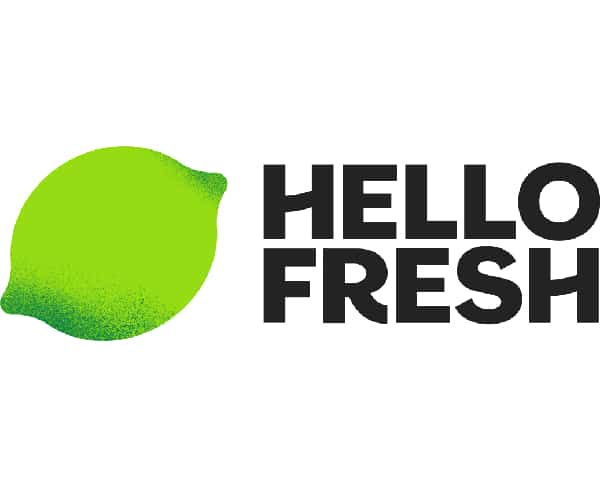 Get 18 free meals + free shipping + 3 surprise gifts
Final Notes For Our Mediterranean Diet diet meal kits Review
Staying on track with the Mediterranean Diet is a breeze when using a meal kit delivery service. 
Our recommendation is always that you try a few different companies to compare the style of dishes and the diverse offerings each company has. As most companies now offer flexibility to skip weeks, trailing several companies over a few weeks is very easy to do.
Regardless of which service becomes your ideal choice, choosing a meal kit delivery service will mean that you will be saving heaps of time and eating delicious healthy meals. A meal kit delivery service will also help you easily maintain the Mediterranean Diet lifestyle.
We highly recommend giving it an honest try!