While living in Atlanta, it can be challenging to eat healthily. Especially with so many delicious food offerings like barbecue, fried chicken, and of course, sweet tea. Add in the busy schedule of the working adult/parent, and it creates an environment where clean eating can be a real challenge.
Because of schedules and the abundant restaurants in the area like Chick Fil A, many adults opt to receive prepared meals from restaurants via delivery.
Instead of choosing fast food, why not opt for fresh meals delivered from meal delivery services in Atlanta? Options like Dinnerly or Hello Fresh can provide these delicious meals. Here are the best options for meal delivery to get in Atlanta and why you would select one over another.
What Is A Meal Delivery Service, And How Is It Different From A Food Delivery Service?
There may be some confusion between ordering meals from food delivery service options and receiving weekly deliveries from a meal delivery service.
Any meals you receive from delivery drivers like UberEats, Grubhub, or the restaurant's delivery service (like Pizza Hut) are considered food delivery services.
These options provide deliveries of menu choices by local restaurants. While you may consider them tasty, they often consist of low-quality ingredients. They are also typically unhealthy as they consist of portions that are too large or overly salty and fried food.
In comparison, meal delivery services typically consist of chef-prepared meals delivered fresh. These weekly deliveries are provided as meal kits – where you can create home-cooked meals from pre-portioned ingredients—or already prepared meals that only require a few minutes of heating.
This makes Atlanta meal prep easy as you'll know you are receiving healthy portioned meals that align with your health goals.
Have No Time? Here Are The Best Meal Delivery Atlanta Services:
Each of these delivery services provides healthy meals right to your door, whether you're in metro Atlanta or a local area in Atlanta, GA.
1. Sunbasket
Organic Meals Sourced From Local Farmers For Easy Meal Prep
Sunbasket is an excellent option for those seeking sustainably sourced ingredients from local farmers in their meal delivery service.
All the ingredients are seasonal in their weekly menu, along with offerings for those with dietary restrictions. For example, you can choose from vegetarian, vegan, gluten-free, pescatarian, paleo, and Mediterranean diet-friendly meal options when ordering meals for the week.
Sunbasket provides the option of meals, snacks (like almond butter bars), and meal kits for purchase. Heat and eat meals can be ready in as little as a few minutes, with meal kits offering cooking times up to 40 minutes.
Choose Sunbasket If You Want:
Organic ingredients sourced from local USA farms
Fresh ingredients used for meals each week
Options to choose between quick, heat and eat meals and enjoyable meal kits
Choose from vegetarian, vegan, gluten-free, low-carb, and more meals.
Ability to order breakfast meals and snacks for a full day of eating.
A Few Meals That Can Be Found On The Sunbasket Menu:
Middle Eastern chickpea and freekeh grain bowl with herb yogurt
Creamy linguine with peas and pancetta
Korean BBQ meatballs with baby bok choy and avocado-orange salad
Shrimp stir-fry with bok choy, carrots, and umami glaze
Teriyaki beef burgers with orange-kale salad and pickled cucumber
2. Blue Apron Elevated Chef-Designed Dinners in Atlanta
Blue Apron is especially advantageous for those with a busy schedule who want elevated dinners at the comfort of home.
You can choose between healthier meal options, premium meals, and popular dishes from this well-known meal delivery service.
Each meal on the Blue Apron menu is crafted by the company chefs, meaning the dishes will be amazing while allowing you to continue your clean eating journey at home.
When ordering from Blue Apron, you can expect high-quality ingredients pre-portioned for ease of cooking and serving and less food waste.
While there are only four options of meal plans, including signature (meat and veggie items), vegetarian, wellness (nutritionist-approved meals), and signature for families, there is an option to sort through meals to fit your dietary needs better.
Choose Blue Apron If You Want:
Chef-curated meals with high-quality ingredients delivered every week
Microwave-ready meals and easy meal kit options every week
Ability to choose the type of cuisine, ex. African, American, Asian, etc.
Option for vegetarians, low-carb diet, low-calorie diet, and more.
Insight about recipe time before selecting
Choice of adding meat bundles, wine, and other kitchen staples to your box
A Few Meals That Can Be Found On The Blue Apron Menu:
Tilapia & orange-jalapeño salsa with quinoa & carrot salad
One-pan Greek chicken thighs with potatoes, lemon & feta
Spicy lime-hoisin chicken stir-fry with bok choy, carrots & white rice
Beyond Burger™ & sambal mayo with roasted sweet potatoes & bok choy
Mexican-spiced shrimp bake with rice & creamy tomatillo sauce
3. Home Chef – Easy Meal Kits For Busy Adults in Atlanta
Home Chef provides the opportunity for people to create simple, homecooked meals that are fresh, delicious, and with a nice added twist.
There are plenty of options to choose from every week, so even the young picky eaters at the house can be content with the available choices. Plus, the recipes are quick, making it an excellent choice for those with busy schedules.
Choose between meal kits, 15-minute meals, fast & fresh microwave-ready meals, culinary collection, oven/grill-ready meals, and more, making it easy to find meals that fit your diet and timeline.
Moreover, there are options for different dietary needs – low calorie, low carb, vegetarian, Mediterranean meals, and more.
Choose Home Chef If You Want:
Pre-made meals and fast meal kits that fit a busy schedule
Low-carb, calorie-conscious, and vegetarian meal options
Menu options that can be cooked via stove, oven, one-pot, and grill
A large number of menu items to choose from each week
New meals and snacks for breakfast, lunch, and dinner available for purchase weekly
A Few Meals That Can Be Found On The Home Chef Menu:
Salmon and lemon florentine cream with roasted mushrooms and rosemary potatoes
Chicken with parmesan cream with celery, apple, and almond salad
One-Pan weeknight beef enchilada skillet with sour cream, cheddar-jack, and green onions
Horseradish butter flank steak with garlic broccoli
4. Dinnerly – Affordable and Kids-Friendly Meal Delivery Service in Atlanta
Dinnerly offers budget-friendly meals for those who want easy-to-cook dinners.
Fresh ingredients are delivered in each box, allowing busy adults to skip the grocery store lines and grocery store prices. Options for a two-person meal plan and family-sized meal plans are available.
Choose between vegan, vegetarian, dairy-free, low-carb, and many other options by looking through the well-labeled meal options each week.
Choose Dinnerly If You Want:
A budget-friendly delivery service
Options for vegan, vegetarian, dairy-free, and more diets
Choose between one-pot meals, under 30-minute meals, and no prep meals
Ability to add more protein in each box
An array of easy-to-cook meals
A Few Meals That Can Be Found The Dinnerly Menu:
French onion pan-seared steak with parmesan mashed potatoes
One-pot spinach & ricotta ravioli florentine
Mediterranean chicken hummus bowl with roasted peppers & marinated cucumbers
Crispy coconut shrimp & rice with snow peas & honeyracha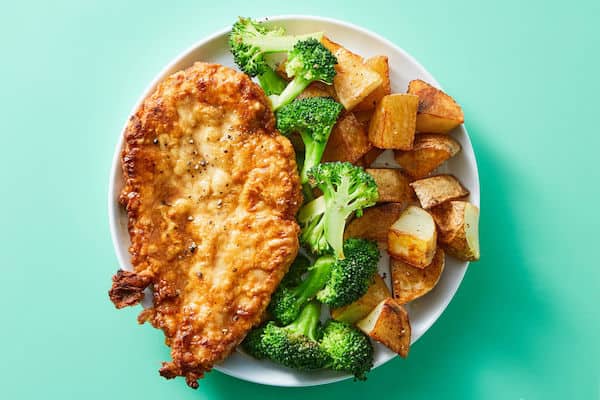 5. Hello Fresh- Top Delivery Service For Easy Homecooked Meals in Atlanta
Hello Fresh is the most popular meal kit service in the USA, and we can assure you it's a well-trusted meal kit delivery service providing easy-to-make meals with an array of options.
You can choose between family-friendly, quick and easy, vegetarian, meat, pescatarian, and smart meal options (calorie-smart and carb-smart choices).
Most available meals can be whipped up in 30 minutes or less, with options for one-pot dishes, gourmet recipes, and healthy take-out remakes.
Each week, an array of meals is available (about 25) with offerings for everyone, even those with a very picky food taste.
Choose Hello Fresh If You Want:
Tasty and easy-to-cook meal kits
Family-friendly food options
Ability to choose from 25 new recipes weekly
Pescatarian, vegetarian, low-calorie, and low carb options
Options for recipes from around the world
A Few Meals That Can Be Found On The Hello Fresh Menu:
Pork and veggie chow mein with toasted sesame seeds
Za'atar beef bowls with hummus and spiced rice
Golden halloumi, clementine, and peas salad with toasted pepitas and balsamic glaze
Crispy-skinned chicken dinner with pan gravy and pull-apart bread
Ginger beef stir-fry with snappy asparagus