Are you on a tight budget for meals? If so, you might have thought that using a meal kit service is out of your scope. but this is in fact far from the truth! You're going to find meal kit companies that can cater to almost any lifestyle or dietary requirement, as well as a variety of budgets. When you are trying to decide the right meal kit company for your needs, you're sure to be overwhelmed with the options available. That's why we're here! We give you detailed comparisons about companies and 5$ meal kit options so that you have the information you need to make the right choice. With that said, you may want to consider two meal kit service options – Dinnerly and Every Plate, as they both have 5$ meal kits available.
The Dinnerly $5 meal kit is newer for the industry, and you can find a variety of meals and options. It's ideal for people who like to cook at home but dislike overpaying for ingredients. The company's focus is to make evening meals easier to prepare with tasty foods that cost about $5 per person, $10 for a couple, and $20 for a family of four!
With the Every Plate $5 meal kit, you still get affordable meals, and it doesn't cost as much as other meal kit companies. This company also uses less packaging and fewer ingredients so that you get full meals that are tasty without the added expense.
Why $5 Meal Kits Are Great?
Everyone wants to eat healthier, and cooking at home is the best way to do that. It allows you to control the amount and quality of ingredients, as well as reduce your salt and fat intake.
However, the problem is that buying ingredients at the grocery store can get expensive. You may be required to buy in bulk, which can save a few pennies. Still, that means you have extra food in the house that you may not prepare before it goes bad. Things like vegetables have a short shelf life.
Most people focus more on convenience at this point. They know they are going to spend a lot of money, so they stop in at a fast-food restaurant. This seems like a good idea and a way to save money, but many of these places are quite expensive. Plus, they aren't very healthy, so you end up feeling bloated and uncomfortable after you eat. You might also overeat.
Did you know that you could get all the healthy ingredients you need to make a meal at home for about $5? Most people are shocked to learn this, but it is true. Dinnerly and Every Plate offer low-cost meal kits that are suitable for almost everyone.
Who It is Good For?
The $5 meal delivery service from Dinnerly or Every Plate is ideal for pretty much anyone. This includes students, single people, couples, and small families.
Students are often running from class to class, so they rarely get nutritious meals. Dining plans in the cafeteria aren't likely to cut it, and many students still want the feeling of a home-cooked meal. The best way to do that is to prepare it yourself. Have a meal kit delivered to your dorm room. Many dorms have kitchens with ovens and stoves, allowing you to fix the food yourself.
Single people are often worried about their weight and looks, so it makes sense to have a delicious and nutritious meal in the evening. For about $5, you can prepare your food and eat healthily. Plus, the portion sizes are significant, so you are going to feel full after eating.
Couples also like meal kit delivery services. Sometimes, it is hard to find traditional recipes for two people. Most of them are geared toward families, so you have to try to cut the recipe in half, which is a challenge at times. With the delivery service, you have fresh ingredients sent to your home each week. You use what you need for that night's meal and can have delicious food ready and piping hot in about 30 minutes to an hour (depending on the recipe).
Of course, small families (two adults and two children) also really like meal kit services, such as the ones from Dinnerly and Every Plate. You can feed a family of four on just $20 each night. While that price seems a bit high at first, it's important to think about what you get. It is a full meal, which costs you about $5 per person.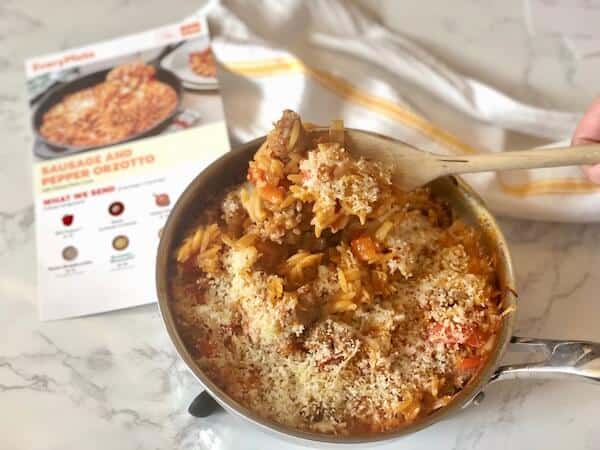 Meals Variety
When it comes to meal preparation, the one thing you have to have is variety. You and your family aren't going to be happy with the same thing every night. True, you can cook chicken or beef in many ways, but it's still the same type of food. It's important to consider how many dishes and options are available for you to pick each week.
With Dinnerly, you can choose between 16 meat and vegetable-only meals every week. This means that vegetarians are sure to find something delicious, too. Meals featuring meat can include pan-roasted chicken with peas and scalloped potatoes or Gnocchi Bolognese with Parmesan. Both of these items sound excessively hard to make, but you get step-by-step instructions and can even watch videos on the website about how to prepare the foods.
Vegetarian options can include cheese ravioli with pesto sauce or stir-friend Udon noodles in a Japanese-style sauce with green beans.
Of course, Every Plate also has 10 different meals from which to choose each week. However, it doesn't offer a vegetarian option all the time. You can choose from things like pork and pineapple tacos, cheese Tuscan chicken, and chicken sausage penne. It's also possible to see what sides come with the meals if any. For example, the cranberry-glazed pork chops feature green beans and crispy potatoes.
Plan Options
The Dinnerly $5 meal kit has two 'boxes' or plans. The two-person box allows you to choose between three and five meals per week. There is also the family box with between three and five meals each week. You also have the choice of making the entire box vegetarian. It is possible to choose your meals once you have set the delivery details and paid.
With the Every Plate $5 meal kit, you can also choose the number of people in your household (two or four). Then, you select whether you want three, four, or five meals in each box. You are going to have to register. Again, it's possible to pick your meals once you have input your address and paid for the meals.
Ingredients and Dietary Needs
One thing people worry about most is the quality of ingredients with 5$ meal kit services. Since you aren't paying a lot of money for the meals, it's easy to think that the ingredients aren't fresh. However, we were impressed by what you got. The vegetables were downright beautiful and looked as though they had been picked that same day. In fact, they looked better than options at local grocery stores.
The chicken and meats were also delicious-looking, right out of the box. These were nice, quality cuts of meat, just as you could find at the butcher shop. Still, the price is low enough that you can afford to have tasty and healthy foods without sacrificing quality or spending too much money.
For both companies, the goal is to keep things simple. They don't skimp on the ingredients and choose to be efficient in other areas of their businesses.
Both companies make bold promises and live up to them. For example, Dinnerly claims on its website that it uses the best ingredients, and you can definitely see the quality when getting their box. Everything is sourced from trustworthy supplies, so you cook with the freshest vegetables and fruits. You also get quality protein, such as antibiotic-free chicken, grass-fed beef, and American-caught shrimp. That same promise to work with the best producers and farms is made by Every Plate, too.
Moreover, Dinnerly developed their menu, so it offers dishes to cater to many different diet lifestyles – family and kids friendly meals, no-gluten added meals, dairy-free meals, low calories meals, and of course 5 fully vegetarian meals!
Conclusion
If you're looking for a $5 meal delivery service, either Dinnerly or Every Plate is an excellent choice. We were impressed with both EveryPlate and Dinnerly and thought that they offered a wonderful for budget-conscious customers. It was very hard making a clear-cut decision with this comparison, but our votes go with Dinnerly. We found that they had a larger variety of weekly meal selection, with dishes to cater to many different needs like gluten-free, low calories, vegetarian and more. their dishes were super tasteful and satisfying, using the best quality ingredients.
When you consider that most fast food joints cost more than $5 and are unhealthy to boot, it makes more sense to use a meal kit delivery service. those services will allows you to enjoy healthy and delicious meals, which can cost less than fast food or grocery shopping on your own!
Why Use Our 5$ meal kits Comparison Guide?
The meal-kit industry is flourishing because more and more people want healthy meals that cost less without having to go to the grocery store. Menus are often designed for a variety of lifestyles and diets. We chose to focus on Dinnerly and Every Plate, especially their $5 kits because we want everyone to have access to a meal delivery system.
We are passionate about meal kit services and have used them personally. Therefore, we're knowledgeable about why they should be used and which companies are best. That means we can tell you all of the details about the companies, including how everything tastes!