If you are after a service that delivers fully prepared meals that have been created with a healthy diet in mind, then Balance by BistroMD has been designed for you! Balance by BistroMD also offers amazing flexibility by providing a service that does not require a subscription or membership. That means you can order what you want, when you want, with no minimum order stipulations!
Dr. Caroline Cederquist is passionate about the power of nutrition and is a board-certified physician who specializes in the study of how food is used as fuel by the human body. It was this passion that was the impetus behind her founding Balance by BistroMD. She wanted to create a service that provided fully prepared meals that enabled people to maintain a healthy and nutritious diet. Balance by BistroMD does everything for you – the shopping, recipe creation, cooking, cleaning, and delivery! The only thing required of you is that you heat the meals and then enjoy them.
The ideal customer of Balance by BistroMD:
Balance by BistroMD offers an appealing service that will appeal to many. Some of their ideal customers are as follows:
People with a desire for weight loss.
People who want to maintain a healthy diet, but who are too busy to be in the kitchen
People who simply do not like cooking, but still enjoy healthy dining at home
People who would like assistance with maintaining their specific dietary requirements. For example, gluten-free, diabetic, vegetarian, low-carb, and low-sodium.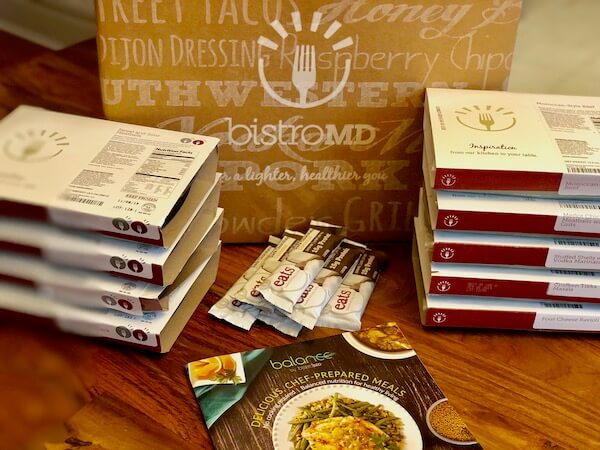 Balance by BistroMD Variety of plans:
One of the great attractions of Balance by BistroMD is that it offers an amazing amount of flexibility with its service. This is a service that can be fully personalized to your needs. You can create your own menu depending on your requirements and then order what you want when you want it. Basically, Balance by BistroMD wants you to design a plan that suits you!
Balance by BistroMD Taste Review: Is it tasty?
Part of the service that we provide at the Meal Kit Comparison is offering you in-depth comparisons and reviews that are a result of the first-hand experience. We make sure that we try a range of menu items from every company that we review. We were not too enthusiastic initially about the idea of Balance by BistroMD since their meals are frozen, but we were very surprised by our experience. We tried more than a dozen meals from their menu and found them to be delicious and appetizing. Considering their focus is on providing lean creations, we loved how fulfilling all their meals were. Their portion sizes were generous, and the meals tasted as if they had just been cooked fresh at home. None of the Balance by BistroMD menu items are mass-produced but rather cooked as they would be in your own home. Immediately on completion, they are flash-frozen and then delivered to your door.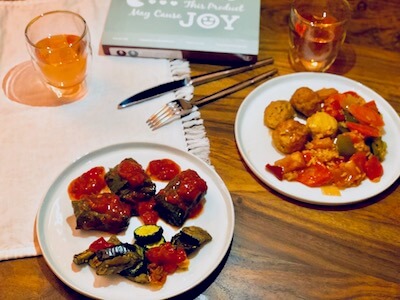 Free Shipping on Orders $99+
Balance by BistroMD menu review:
As a Balance by BistroMD customer, you will find an amazing diversity within their menu. You will have a choice of over 150 delicious options that all can be ready to eat within five minutes or less. Their menu includes breakfast, lunch and dinner options in addition to an appealing range of snacks and supplements. We must mention the 'Eats' dark chocolate and coconut bars which were a surprisingly delicious but healthy treat. All meals have been designed by doctors and nutritionists and then cooked by professional chefs. The company is very focused on constantly updating the menu with tempting new offerings.
The range of options means that there is something to please everyone. Choices include pasta, seafood, vegetables, and meats.
Cuisine influences include Asian, Oriental, Mediterranean and more. The menu is also designed to cater for many special diets such as gluten-free, low-calorie and diabetic, just to name a few.
Balance by BistroMD delivery Review:
Receiving a Balance by BistroMD delivery is a treat due to the fact it is well organized and requires nothing of you but unpacking and storing the meals in the freezer until you are ready to use them.
As the delivery box includes insulating liners and a large gel-ice pack, the meals arrive still frozen and they can easily be left outside of the freezer for a few hours until you are ready to unpack them. All your meals are in a branded sleeve that includes the name of the meal, heating instructions, and nutritional facts. Balance by BistroMD is a service that is all about convenience.
Free Shipping on Orders $99+
Balance by BistroMD ingredients review:
Balance by BistroMD uses only the best quality ingredients. They work with a trusted network of farmers and vendors who adhere to the most responsible of farming practices. All the Balance by BistroMD meals is made with ingredients that are free of nitrates, phosphates, chemicals, and additives.
Managing your account with Balance by BistroMD:
Managing your account with Balance by BistroMD is a breeze! Everything can be completed online, and the process is user-friendly and stress-free. All you need to do is look at their menu and add your choices to the shopping cart and order! The menu that is available online allows you to sort by price, dietary requirements, or meal type.
You can also look for new additions to the menu and current specials.
In conclusion:
We are big fans of the service offered by Balance by BistroMD. It really is perfect for those who want to eat healthy food but have little time or energy to be in the kitchen or for those who have no desire to cook! Balance by BistroMD offers an appealing solution for those who follow a specific diet or who would like to lose weight but who would still like to eat delicious and beautifully cooked meals.
Free Shipping on Orders $99+