Everyone would like to enjoy a tasty home-cooked meal every night. Unfortunately, the reality is that life often gets in the way, and we're forced to sacrifice the time we'd spend shopping, preparing, and cooking dinner.
Thankfully, services like Home Chef have made it easy to take back dinner with their fast, easy, and delicious meal kits.
While it's great to be able to have a tasty meal in less time than it'd usually take to cook, if you adhere to a specific diet, like low carb, for example, it's often hard to find options that cater to your needs.
Fortunately, Home Chef has plenty of low carbs friendly options. Today, we'll take a closer look at the Home Chef Low Carb meal kits.
The Home Chef Low Carb Meal Plan
While Home Chef doesn't offer specific plans that are catered to individual diets, they offer a wide and diverse menu each week that has several low carb options that are sure to fit your needs.
Each week, Home Chef offers about fifteen different options, including some premium meals that come with a slight upcharge. They also offer add-on items like smoothies or fruit, for snacks. Here's a closer look at how their plans work:
Standard Meals – $19.90 for two servings or $39.80 for four servings
Premium Meals – Based on market price (usually $11.95 per serving)
Five Minute Lunch – $15.98 for two servings or $31.96 for four servings
Smoothies or Fruit Baskets – $9.90 for two servings or $19.80 for four servings
All orders are delivered free provided they're at least $40. If your order is less than that, shipping is $10.
Benefits of the Home Chef Low Carb Plan
The reason why meal kit services like Home Chef have become so popular is that they provide a bunch of key benefits that can help improve your life.
Most obvious is the fact that they empower you to enjoy a delicious homemade dinner. Even people who have never cooked before should have no trouble following along with the recipes while picking up cooking skills in the process.
For people like us who are sticking to a specific diet, Home Chef makes it easy for you to make inventive and tasty meals without having to worry about counting carbs, calories, or anything else.
Home Chef also enables you to save time. The number one reason why most people don't cook is they simply don't have the time. Plus, it's not just about the time spent cooking. You also need time to hit the grocery store, and time to prep your ingredients. If cooking at home used to take you an hour or two, you could easily cut that in half or less with Home Chef.
Finally, Home Chef makes it easier for you to waste less and reduce your impact on the earth. One of the issues with traditional shopping is that you often buy more than you eat, and you're stuck with spoiled food that needs to be thrown out. It's a waste of money and resources.
Home Chef eliminates this issue because they only include actually what you'll need per serving. There's also less packaging associated with your delivery, so you're also reducing the amount of waste your generating while enjoying tasty meals.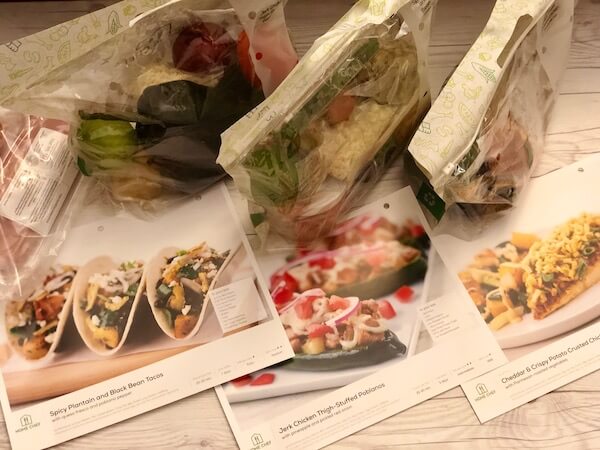 Our Experience with Home Chef
We gave Home Chef a shot, and we enjoyed just about everything. The food was tasty, the recipes were easy to follow, and it was also easy to get in touch with their customer service department when a tiny issue arose.
Our order arrived on time and was packed inside a recyclable cardboard box. The insulation inside the box is also recyclable. Ice packs are included to keep everything cool, and they are recyclable as well.
Here's what we thought of the recipes we tried:
Apple & Chicken Salad
The apple & chicken salad was the first dish I tried, and it's part of their five-minute lunch series, so it was only $7.99.
The recipe was easy to follow, and the ingredients were fresh and delicious. Best of all, this sweet and savory salad had only 23 carbs.
Unfortunately, I was missing an ingredient, the sliced almonds. It wasn't a big deal as I had some in my pantry already, so I replaced them with those. I contacted customer service, and they apologized and immediately issued a credit for the ingredient, which was appreciated.
Roasted Salmon with Ginger-Scallion Sauce
This delicious roasted salmon dish caught my eye when I was browsing the menu, and I gave it a shot. My taste buds were duly rewarded.
The dish itself took a half hour from when I turned on the stove to when I had dinner on the table. The fish was fresh, tender and flakey, and the green beans were crisp and delicious. With only 18 grams of carbs, this is a meal I'd like to have over and over.
Final Word
Thanks to Home Chef, it's easy to stick to a low-carb diet without having to spend hours researching new recipes, or taking multiple trips to the grocery store.
Each of the Home Chef low carb meals we tried was fresh and delicious and perfectly in line with a low-carb lifestyle.