While there are tons of meal kit options available, it's often tough to choose one without knowing much about the menu items included. However, we offer not only comprehensive guides on every meal kit but also reviews of each kit's menu items. This way, you benefit from knowing exactly what is in each dish, and how it ranks in comparison with similar dishes from other kits.
Here we'll look at two steak salad menu items, one from Sun Basket and one from Green Chef. Sun Basket offers high-quality organic ingredients in all their dishes, plus they have menus for nearly every nutritional need. Green Chef similarly focuses on organic recipes, and their range of dietary accommodations is impressive as well.
Below is a breakdown on each company, including our rankings for both Sun Basket and Green Chef's steak salad menu offerings. Read on to see who wins our vote!
Sun Basket Meal Kits
Sun Basket caters to a range of dietary needs, including vegetarian, paleo, gluten-free, and more. They also incorporate organic produce and high-quality, sustainably-sourced meat and seafood into their menu offerings.
Green Chef Meal Kits
Green Chef also has comprehensive menu offerings, with accommodations for vegan, paleo, keto, vegetarian, gluten-free, and other diets. Green Chef was also the first USDA-certified organic meal kit company in the US, and they also possess a gluten-free certification that spans three certified gluten-free menus.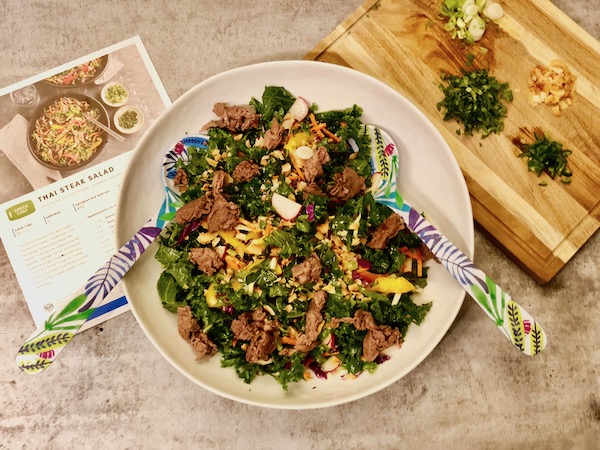 Sun Basket vs Green Chef Steak Salad
Here we're looking at the two steak salad dishes. Sun Basket's steak salad allows consumers to upgrade to rib-eye or filet mignon, but we selected the standard steak salad with sweet potato. With Green Chef, the steak salad is full of Thai flavor with lots of kale.
Sun Basket's Simple Steak Salad
For an affordable price, Sun Basket offers a great steak salad that has plenty of customization options. Prep time was about 25 minutes, which was helped by the company's providing a ready-made chermoula sauce. Pickled purple onions, fresh organic kale, and a large sweet potato rounded out the meal.
Although a salad may not seem like a hearty meal to most, the addition of the steak and sweet potato helped it along! Plus, the blend of flavors—like the zing of the chermoula sauce—really upped the indulgence in this menu item.
Green Chef's Thai Steak Salad
The keto-approved Thai steak salad from Green Chef was an interesting take on the standard steak salad, and it had some unexpected spice thanks to fresh peppers, radishes, and cilantro. On a bed of kale topped with a sesame ginger vinaigrette, the steak added some needed texture and substance to the overall plating.
It might be a surprising blend of flavors, but the combination of coconut flakes, jalapenos, scallions, and vinaigrette dressing was ultimately ideal alongside the ample cut of steak. We couldn't find anything to nitpick in the flavor pairings here!
The Winner Is…
Both dishes were unique spins on a classic steak salad, and each had its own notable highlights. While we liked Sun Basket's straightforward approach to a steak salad, complete with a zesty ready-made dressing and steak upgrade options, Green Chef's flavorful pairings had us salivating before the salad was even ready.
In terms of originality and unique ingredients, Green Chef's Thai Steak Salad has our vote—and its keto suitability hints at just how many options the meal kit company offers for people with any sort of dietary restrictions or specifications. After all, the more variety and flavor each meal packs, the more excited we'll all be about partaking—even if the meals are keeping us on track with a specific nutritional plan.