Freshly
Blue Apron
Best for
Pre-cooked and ready to eat meals
Upgraded chef-designed meals to cook at home.
Ingredient Sourcing

High Quality.
Antibiotic-free chicken.
Local farm veggies.

High-Quality ingredients from farms that use sustainable farming practices.

Special Diets and Features on the Menu
Vegetarian, low-calorie, low-carb, gluten-free friendly, dairy-free, kid-friendly
Vegetarian, premium meals, Weight Watchers Approved, wellness and diet.
Subscription plans
4,6,10 or 12 Single meals per week.

Two or four people signature plan.
Vegetarian plan for two.
WellneHigh-Quality and diet plan for two.

Meal variety
20 meal options per week.
14 meal options per week.
Add ons
Protein packs, breakfast, and dessert
Protein packs
One of the most rapidly expanding industries in the USA is that of meal delivery. We are not talking about takeout here, but rather an industry that provides delivery of either fully prepared meals or meal kits that come with pre-portioned ingredients and recipes.
It can be quite tricky knowing where to start, which is where we at the Meal Kit Comparison can be so helpful! We provided company profiles and in-depth comparisons, using a team of experts that extensively trial these companies.
Today we are going to be looking at two very different companies; Freshly and Blue Apron.
Freshly provides a fully prepared, non-frozen gluten-free meal delivery service, while Blue Apron is the first and the most famous meal kit delivery service to operate in America. 
There are many differences between the two, so let's get started with this Blue Apron vs. Freshly comparison.
Blue Apron vs. Freshly – Our Full Comparison: 
Key Factors About Blue Apron And Freshly:
Blue Apron:
Weekly Subscription, with an option to skip weeks
eleven original recipes on the weekly menu
Chef-designed delicious and easy home-cooked meals
Nationwide delivery
two-person or four-person plan options
Personalized menu options
Weight Watchers, Low-carb, Low-calorie, and vegetarian options
High-quality farm-fresh ingredients
No added hormones or sub-therapeutic antibiotics
step-by-step recipe card
No commitment — cancel at any time
Freshly:
Chef-cooked healthy meals that are entirely gluten-free
Delivered fresh meals that are ready to heat and eat
4, 6, 10, or 12 meal plans
A weekly rotating menu
Meals are packed fresh and use 100% recyclable packaging
thoughtful ingredients, with no refined sugars or artificial sweeteners
No commitments –Skip weeks or cancel at any time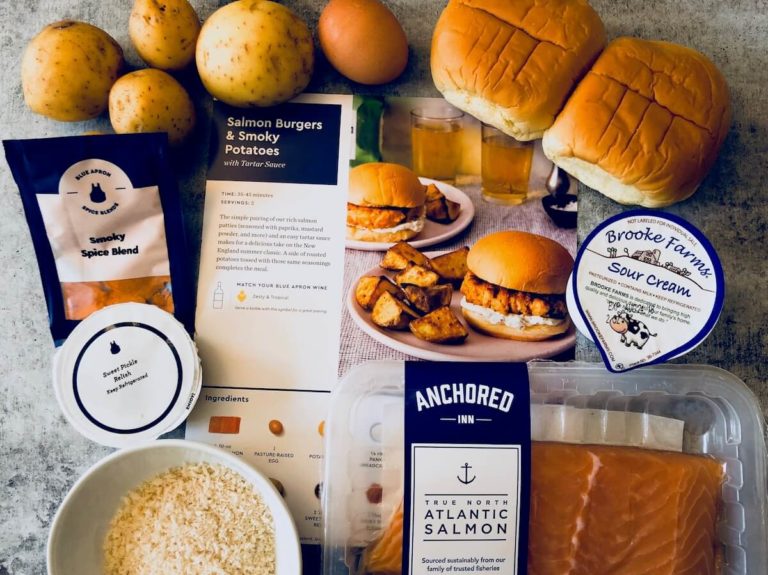 Get $140 Off Your First 5 Orders
Blue Apron vs. Freshly- Meal Plans offered
Freshly makes it simple by basing their plans on the number of meals you would like to have delivered every week.  They have four different plans, with 4, 6, 10, or 12 meals. Please note that you can change your plan as often as you wish, depending on your requirements. 
There are three different plans to choose from with Blue Apron: Signature for two-person, signature family plan for four-person, and vegetarian plan. For each, you have the flexibility to select three or four recipes per week.
Blue Apron vs. Freshly- Variety of The Menu
The weekly Freshly menu is made up of 16 choices. All their meals are fully prepared and unfrozen, so they only take approximately 3 minutes to heat. Freshly have a wide range of options, including seafood, pasta, classic dishes, and many choices with International culinary influences such as the Mediterranean, Mexican, and Asian. 
Meals you should try by freshly:
Cauliflower shell beef bolognese
Homestyle chicken with gluten-free mac & cheese
White bean turkey chili with cilantro-lime rice
The weekly Blue Apron menu comprises eleven tempting dishes that take 20-45 minutes to cook. Their menu is pleasingly diverse when it comes to culinary styles and ingredients used. The company even offers a customize feature that allows you to change the protein in some meals.
The Blue Apron menu also features vegetarian meals, low-carb and low-calorie meals, and gourmet meal options.
Meals you should try from Blue Apron:
Black Bean & Caramelized Onion Tacos with Roasted Zucchini
Korean Pork & Rice Cakes with Bok Choy
Seared Scallop & Pancetta Fettuccine with Roasted Vegetables, Ricotta & Pistachios
Enjoy $110 off across 5 orders
Blue Apron vs. Freshly- What are The Meals Like? 
The single most significant appealing factor about Freshly is, of course, their convenience. There is no cooking, cleaning, or preparation required with Freshly. Their meals only need a few minutes of heating. All their meals are also gluten-free.
Overall, we enjoyed our experience with Freshly, though on some occasions, we felt they were a little lackluster when it came to flavor and portion size. 
Blue Apron makes healthy ingredients combined with amazing creative recipes a priority. You will generally find surprising and tasty twists in otherwise classic recipes. In simple words, our experience with Blue Apron was excellent! We have enjoyed all our Blue Apron meals and have found them to be tasty, innovative, and very fulfilling. 
Blue Apron vs. Freshly Ingredients Review
Freshly places a priority on using quality fresh ingredients. As they are a certified gluten-free company, their ingredients are 100% gluten-free. They make sure that there are no artificial ingredients, preservatives, refined sugars, or hydrogenated oils in their meals. 
Blue Apron takes an enormous amount of pride in using only quality ingredients. They use meat without any added hormones, vegetables that are farm-gate fresh, and wherever possible organic, and their seafood is sustainably and responsibly sourced. 
Blue Apron and Freshly Delivery Box
Both companies use specifically designed food delivery boxes with enough ice and insulation inside the box to maintain the meals and ingredients' correct temperature. There is a big difference between Freshly and Blue Apron when it comes to the organization of the contents of their deliveries. 
As Freshly delivers fully prepared meals, each meal is separately packaged and labeled with nutritional information and heating instructions. Unpacking your Freshly delivery takes only a few moments, requiring you to transfer the meals directly to your refrigerator.
With the Blue Apron delivery, each dish's ingredients have not been separated, and you will need to sort the ingredients according to each dish. Any spices and seasonings used will be included in a separate bag, and all the cooled proteins are safely allocated at the bottom of the box with an ice pack to keep it cool.
Get $140 Off Your First 5 Orders
Managing Your Freshly and Blue Apron Account
Both Freshly and Blue Apron have user-friendly websites to create your subscription and easily manage all areas of your account. Blue Apron also has an app, and Freshly's website is mobile optimized. 
Your online login will allow you to select your meals, swap plans, skip weeks, update any dietary requirements, and set up your payment method.
When it comes to canceling your account, you can do this online with Freshly, and with Blue Apron, you will simply need to contact their customer service department. 
Where Do Freshly and Blue Apron Deliver?
Freshly delivers nationwide to the contiguous United States, as does Blue Apron. Please note that some ZIP codes can't be reached by Freshly within the 48-hour delivery period. 
In Summary – Our WINNER is Blue Apron
Both Freshly and Blue Apron offer an appealing service and an excellent option for busy people who want to eat well but have little time planning and grocery shopping for their meals!
Even though Freshly comes on top when it comes to time-saving (since their meals arrive cooked), In this comparison, our favorite service was Blue Apron!
We found that Blue Apron meals are usually straightforward and enjoyable to cook. Ultimately we thought that the Blue Apron meals taste better, more interesting, and even exciting to eat, and filled with high-quality freshest ingredients.