We write our honest review on each product, however, we might receive a sales commission to support this website. Prices can vary due to changes in policies. See our full disclosures here.
Hello Fresh is a very well-known home meal kit program that operates on a simple method: pick a plan, get your delivery, and cook and enjoy. With chef-created recipes that the company boasts are tested 200 times to ensure deliciousness while remaining simple and easy to create.
Hello Fresh offers great things like vegetarian options and pricing per serving. While this company is a great option, you may want to explore other meal kit plans that provide services that are just as good or even better than Hello Fresh.
The Following Meal Kits are a great replacement to HelloFresh, in case you're thinking of trying a new meal delivery service: 
1. Sun Basket
Sun Basket is another great home meal kit program that's known for its excellent healthy options. If you're someone looking for a healthy lifestyle, Sun Basket is an excellent choice for you.
This program has 18 recipe choices each week that are all full of fresh and organic produce. The recipes are simple and easy to make and often include even international recipes for more variety. In fact, each recipe is not only developed by a chef but is evaluated and approved by a nutritionist to ensure its healthy value.
On top of their delicious meal choices, Sun Basket is also known for being strongly environmentally-conscious.
The options for special diets are nearly endless with Sun Basket. You can choose options like carb-conscious, paleo, vegan, gluten-free, diabetes-friendly, and Mediterranean—as well as a few more. There are also 15-minute meals available for anyone who doesn't feel like they have the time to cook.
When you build your basket every week, you can choose a pre-structured basket or create your own custom delivery. After that, you're not obligated to anything. You can choose to cancel the following week or skip weeks
Let's summarize Sun Basket and highlight a few other details:
Wide variety of dietary lifestyle options
Receive 2 to 4 menus per week for 2 to 4 people
Nutritionist approved meals
Organic and fresh ingredients
Environmentally friendly company
Flavorful, simple meals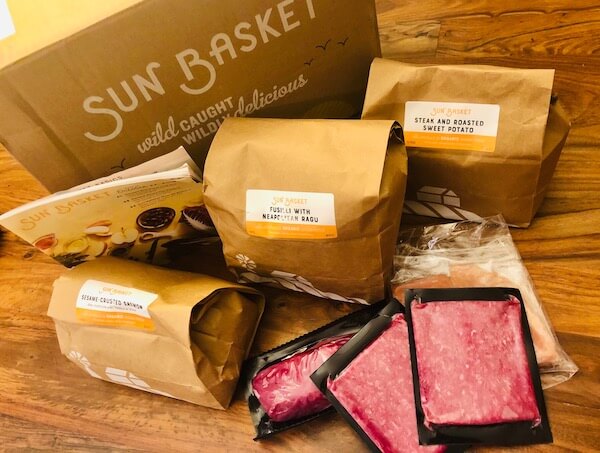 2. Dinnerly
Dinnerly is a great alternative to Hello Fresh, especially if you are watching your budget and looking for a more cost-effective service. To put it simply, Dinnerly is home to the cheapest meal-kit delivery service in the USA!
Dinnerly has not been around for as long as Hello Fresh, but it is rapidly gaining an excellent reputation. It is focused on delivering no-fuss, super-affordable meal kits that are filled with quality ingredients and recipes that are easy to make. Just because they offer cheaper meal kit options, does not mean that Dinnerly has cut corners on the standard of their ingredients. Their ingredients are of the same high quality that other meal kit companies use. The way that Dinnerly keeps their prices low is by using fewer ingredients, simpler recipes, digital recipe cards rather than paper ones and less packaging. They also avoid any expensive marketing campaigns. 
Dinnerly has created a changing menu that includes 16 new dishes every week. Dinnerly has made convenience a priority for their company so none of the weekly recipes take any longer than 30 minutes to prepare.
The weekly menu includes options for vegetarians, families with children and those who require dairy-free recipes. You will find other dietary requirements catered to on the Dinnerly menu. 
Dinnerly has a lot of great qualities, so let's break them down to summarize:
Most affordable meal kit service in America – you can get a delicious dinner for two people for about $10 in total. 
16 new recipe choices available every week. 
Two different plans available – a two-person plan and a four-person family plan.
Choose 3 meals per person per week. 
Dinnerly uses quality ingredients combined with simple recipes. 
Skip any week that doesn't suit or pause your account at any time.
3. Home Chef
Home Chef is a top alternative to Hello Fresh, especially since it has received the highest rate of customer satisfaction among the leading meal kit companies.
One of the best things about Home Chef is that they give their customers up to 26 choices per week. This is a fantastic amount of variety considering there are only seven days in a week. With this many options, customers will never get bored of their choices or even have to eat the same meal twice in as many as three weeks if they don't want to.
Home Chef offers a variety of specific diet options, such as vegetarian choices, gluten-free meals, and low carb options to suit different lifestyles. Their flexible services also let you customize your meals, like choosing your protein sources.
While you can certainly get your meals every week by choosing the next week's meal every Friday, you can also alter your schedule or skip a delivery at your discretion, leaving the choice totally up to you. Get a little as two meals a week or as many as six meals.
When you create your account, Home Chef asks a set of questions that let them get to know you and your preferences so they can offer selections based on what you like. You can also stray from these recommendations and choose any other meal, but this makes things a little easier for you as you choose.
Home Chef has a lot of great qualities, so let's break them down to summarize:
Great variety with up to 26 choices per week
Customizable options and personalized profile
Ability to easily skip meals or weeks
Meals up to 6 per week
Free shipping on orders of 3 meals per week or more
4. Martha and Marley Spoon
Martha & Marley Spoon is the brainchild of America's queen of home cooking, Martha Stewart. Due to the quality nature of this service, we believe it is a great alternative to Hello Fresh. Martha & Marley Spoon is all about home cooking at its best. 
Martha & Marley Spoon operates globally and has an excellent reputation for delivering classic recipes combined with an array of quality ingredients. Your Martha & Marley Spoon delivery will include fresh seasonal produce and pre-portioned ingredients along with your selected recipes. 
With Martha & Marley Spoon you have the choice of two different plans. There is both a two-person and four-person plan that can include two, three or four meals per week. As a Martha & Marley Spoon customer, you will be able to choose from a menu that includes 20 different recipes every week. The menu includes many classic favorites along with a selection of dishes from around the globe. Dietary requirements are well catered to with each recipe selection being clearly marked with any special dietary characteristics. 
Martha & Marley Spoon has a lot of great qualities, so let's break them down to summarize:
Martha & Marley Spoon is the meal kit service of Martha Stewart, so all recipes are designed by the queen of classic home cooking herself! 
20 different recipes to choose from every week.
Flexibility to choose between two to four meals each week. 
The menu caters to multiple dietary requirements including gluten-free, low-carb, vegetarian, child-friendly and more. Any specific dietary features are listed on the menu. 
Very flexible service – skip weeks whenever necessary and cancel at any time without penalty.  Choose meals from their weekly menu up to 2 months in advance. 
A special menu feature of Martha & Marley Spoon is their Thanksgiving Box.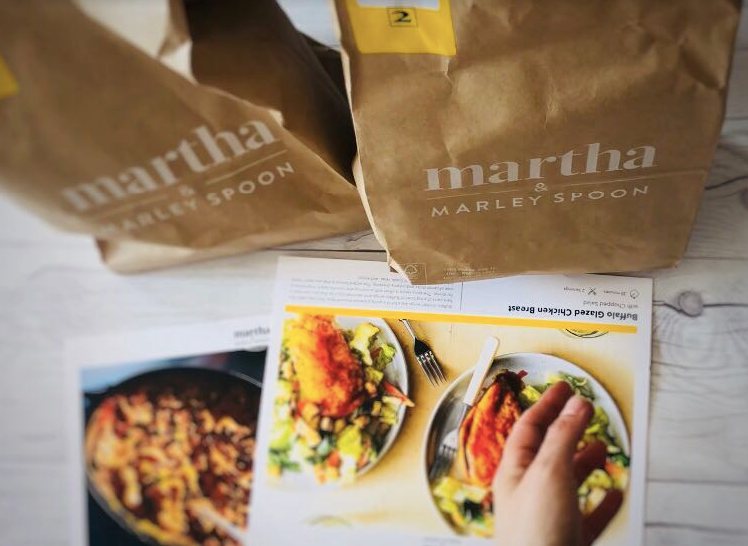 5. EveryPlate
EveryPlate is another affordable alternative to Hello Fresh. EveryPlate is less about a gourmet cooking experience and more about providing meal kits that are tasty, convenient, stress-free and affordable. Just like Dinnerly, EveryPlate manages to keep its prices down by using fewer ingredients in their simple recipes and less packaging in their delivery. Not only is EveryPlate an affordable choice but it is also a very eco-friendly choice. 
EveryPlate offers you the choice of two different plans. The two-person box provides three meals per week so six meals in total. The family box provides three meals per week for four people, so twelve meals in total. The EveryPlate menu includes nine standard meals and one premium meal to choose from every week. Their meals tend to be quite classic and well known and are easy to prepare without the use of any sophisticated cooking techniques or too many utensils. This means less cleaning up afterward!!!!
While EveryPlate does not cater to any dietary requirements with a specific plan, they do list any allergens in their recipes and aim to include at least one vegetarian recipe every week. 
EveryPlate has a lot of great qualities, so let's break them down to summarize:
An enjoyable and affordable meal kit service that offers great value for money. 
Meals that are easy to cook with no sophisticated cooking techniques required. 
Every week you can select a premium meal (generally steak or seafood) that is offered at only $3.00 extra to normal pricing. 
Less packaging is used than other meal kit services making it an eco-friendly option. 
Flexibility to skip weeks whenever necessary or pause your account whenever required.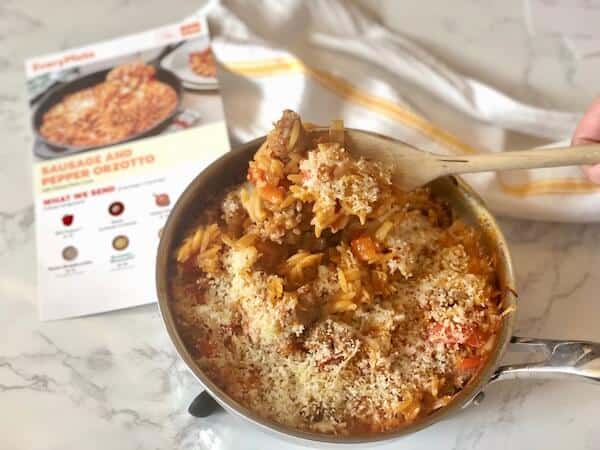 6. Fresh and Easy
The new Fresh & Easy Plan by Home Chef is another suited alternative to the Hello Fresh service. Whether you have a large family or looking for an easy meal kit option for a couple, you are sure to love the convenience this specific plan has to offer. the fresh & easy plan was designed to make sure your home cooking meals are quick and super easy to prepare, with minimum cooking time requirements. this plan is with no doubt an ideal option for busy people with hectic schedules.
The Home Chef Fresh & Easy Plan offers at least  12 menu items per week, including slow cooking meals, fast cooking meals that are designed to be ready in 15 minutes, grill-ready meals, oven-ready meals, and even pre-cooked meals that you will only need to heat and eat!. 
Here are some popular Fresh & Easy meals:
Hot Honey Chicken Tacos with Ranch Slaw and Crispy Onions – Oven-Ready meal

Chicken Parmigiana with Rotini Pasta – Heat & Eat meal

Chicken and Dumplings Gnocchi with Peas and Carrots – Oven-Ready

Smoky BBQ Sliders with White Cheddar and Creole Potatoes – Grill-Ready meal