We write our honest review on each product, however, we might receive a sales commission to support this website. Prices can vary due to changes in policies. See our full disclosures here.
Hello Fresh is a very well-known home meal kit program that operates on a simple method: pick a plan, get your delivery, and cook and enjoy. With chef-created recipes that the company boasts are tested 200 times to ensure deliciousness while remaining simple and easy to create.
Hello Fresh offers great things like vegetarian options and pricing per serving. While this company is a great option, you may want to explore other meal kit plans that provide services that are just as good or even better than Hello Fresh.
The Following Meal Kits are a great replacement to HelloFresh, in case you're thinking of trying a new meal delivery service:
#1 Home Chef
Home Chef is a top alternative to Hello Fresh, especially since it has received the highest rate of customer satisfaction among the leading meal kit companies.
One of the best things about Home Chef is that they give their customers up to 26 choices per week. This is a fantastic amount of variety considering there are only seven days in a week. With this many options, customers will never get bored of their choices or even have to eat the same meal twice in as many as three weeks if they don't want to.
Home Chef offers a variety of specific diet options, such as vegetarian choices, gluten-free meals, and low carb options to suit different lifestyles. Their flexible services also let you customize your meals, like choosing your protein sources.
While you can certainly get your meals every week by choosing the next week's meal every Friday, you can also alter your schedule or skip a delivery at your discretion, leaving the choice totally up to you. Get a little as two meals a week or as many as six meals.
When you create your account, Home Chef asks a set of questions that let them get to know you and your preferences so they can offer selections based on what you like. You can also stray from these recommendations and choose any other meal, but this makes things a little easier for you as you choose.
Home Chef has a lot of great qualities, so let's break them down to summarize:
Great variety with up to 26 choices per week
Customizable options and personalized profile
Ability to easily skip meals or weeks
Meals up to 6 per week
Free shipping on orders of 3 meals per week or more
#2 Sun Basket
Sun Basket is another great home meal kit program that's known for its excellent healthy options. If you're someone looking for a healthy lifestyle, Sun Basket is an excellent choice for you.
This program has 18 recipe choices each week that are all full of fresh and organic produce. The recipes are simple and easy to make and often include even international recipes for more variety. In fact, each recipe is not only developed by a chef but is evaluated and approved by a nutritionist to ensure its healthy value.
On top of their delicious meal choices, Sun Basket is also known for being strongly environmentally-conscious.
The options for special diets are nearly endless with Sun Basket. You can choose options like carb-conscious, paleo, vegan, gluten-free, diabetes-friendly, and Mediterranean—as well as a few more. There are also 15-minute meals available for anyone who doesn't feel like they have the time to cook.
When you build your basket every week, you can choose a pre-structured basket or create your own custom delivery. After that, you're not obligated to anything. You can choose to cancel the following week or skip weeks
Let's summarize Sun Basket and highlight a few other details:
Wide variety of dietary lifestyle options
Receive 2 to 4 menus per week for 2 to 4 people
Nutritionist approved meals
Organic and fresh ingredients
Environmentally friendly company
Flavorful, simple meals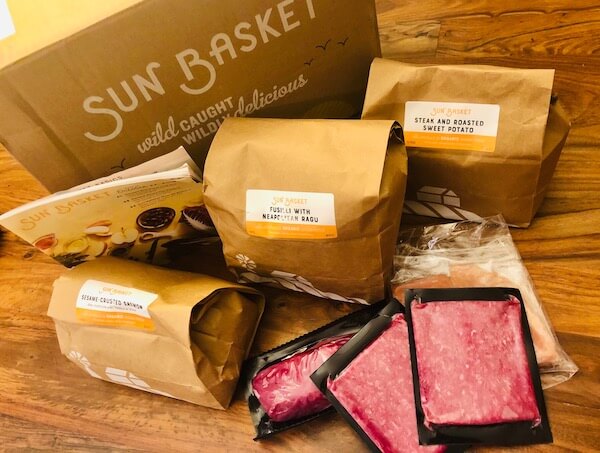 #3 Plated
A flexible home meal service, Plated was one of the first—and quickly become one of the most successful. Why? To start, this service uses only quality, organic ingredients as well as proteins with no antibiotics. This means with Plated, you get simple, healthy ingredients with no unwanted extras.
Great for families, Plated strives to deliver not just quality food, but easily prepared recipes. We love them for their flexible service. With this company, you can customize your delivery dates, serving suggestions, and menus at any time. You can even change your subscription plan on a daily basis without hassles or fees.
Services like these let you do what's best for you and your family without wasting food or money.
Plated offers 20 new recipes every week containing quality ingredients and hormone-free meats. After viewing the original recipes, you can choose your order for the week. You have the option of selecting from the new recipes, old recipes, and mixing and matching. They also have the option of adding dessert to the menu.
Some specialized dietary accommodations include family-friendly, low-calorie, low-carb, gluten-free, and vegetarian. With every recipe, you'll receive a detailed fact sheet containing the meals nutritional information.
To wrap up Plated, here are a few quick facts and key information:
Different dietary options include gluten-free, low-carb, and vegetarian
Highly flexible with the ability to alter or cancel meal plans any day or week
Dessert options
Hormone and antibiotic-free, organic ingredients
20 new recipes weekly
Mix and match option
#4 Gobble
What's great about Gobble is that it is one of the fastest and simplest home meal kit companies on the market today. However, Gobble is careful not to sacrifice quality for speed. This company has a wide variety of options full of flavor that won't disappoint.
Gobble takes the initiative of doing all of the prep work for you. Their home-cooked meals take just 15 minutes, making them perfect for anyone who has a hectic schedule or a busy family. With all of the ingredients and portions pre-prepared, all you have to do is throw it all together and cook it up.
Gobble has created a wide variety of tasty meals that are all cooked in just one pan or pot, so while your cook time is lowered, your clean-up time is practically non-existent.
When you set up your account with Gobble, you'll answer a series of questions that will help the company determine meal recommendations for you. You can basically create your own personalized menu right on their site, and they'll do the hard work and send it your way.
If you ever want to cancel an order or make alterations, you can also do that directly online without any hassle or waiting, as long as you do so the Wednesday before your delivery.
Gobble has some unique features that set it apart from other meal kit companies, such as the following:
One of the fastest in terms of delivery
Conveniently portions, chops, peels, etc. and does all the prep work for you
One-pot or pan meals make cleanup easy
Kids options
Add-ons available
Meals take 15 minutes
Wide variety of meal choices with dietary accommodations
Healthy choices
Gobble is great with restrictive diets such as gluten-free, vegetarian, or dairy-free. This service also sets itself apart by offering a number of kid menu options for picky eaters. Check out their add-ons as well, which include soups, salads, drink mixes, and desserts.