Losing weight is 80% about nutrition. The only way to get that part right is by eating real food and building sustainable habits. Everything else leads to bingeing your way back to your original weight, or worse.
Veestro is a meal delivery company founded in 2012 that works to bring prepared plant-based meals to your doorstep. the company offers a range of plans, one of them is a weight loss plan, that we are going to review today. 
Veestro Weight Loss Plans
The Veestro Weight Loss plan is designed to suit this specific need, and it delivers meals that amount to around 1200 calories a day. This information implies you won't have to count your calories, and if you need a bit more, you can add to that number. 
When it comes to their weight loss plan, you can decide how many days a week you want to eat pre-made dishes. There are three options:
The three-day plan entails 18 meals and 6 juices every two weeks – if you plan to do calorie cycling, this will be great for low-calorie days.
The five-day plan is excellent for busy people still trying to lose weight – you can cook on the weekends and use Veestro on workdays.
The seven-day plan will have you covered every day of the week, and it will work best for you if you tend to struggle with consistency or limited time. 
Benefits of Veestro Weight Loss Plan
Veestro designed their website and service with maximizing the following benefits in mind – and there are many of them. It is straightforward, and the menu is diverse and changes every week. Every meal comes with star ratings, meaning you don't have to test food out that sounds iffy.
It all sounds fantastic, but many companies do the same thing nowadays. So, let's take a look at what makes Veestro special.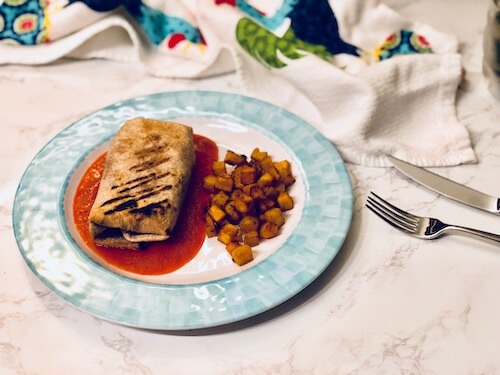 MORE VEGGIES
The team which created this company believes that, as they say, 'plants are the best food on Earth'. They prepare every meal on a solid plant base while keeping up the protein intake and the density of the meals. 
For meat-eaters that notice a lack of veggies, eating with Veestro a few days a week will solve the problem. As most of us struggle to reach the recommended daily intake of fiber, this proves to be a great advantage. The vitamin boost is something you won't regret, either.
LESS EFFORT
All meals are cooked in California, and then frozen and shipped to your front door. Every package comes with a straightforward set of instructions that allows you to heat the dish and be ready to eat in a matter of minutes.
Besides, every meal is clearly labeled with a list of ingredients. You will know what you are eating at any given moment. As we mentioned earlier, you won't have to count calories, either.
HIGH-QUALITY INGREDIENTS
Veestro focuses their meals around plants, so it's only natural they would ensure those ingredients come at the highest quality. They prepare their meals and list each of them on the package. Not only does this make you more mindful of how you fuel your body, but you can also recreate the meals at home. You won't be settling for cheaper chicken or buying in bulk and having your food spoil. 
Examples of Veestro Weight Loss Meals
These meals prove that diets don't have to be a burden. We tried three meals to experience this ourselves. Here are our impressions.
BREAKFAST PIE WITH OATMEAL
Who says you can't satisfy your sweet tooth once you go on a diet? 
The sweet taste of this pie paired with the energizing ingredients gives a significant boost to your morning. Plus, it's gluten-free.
The crust consists of rolled oats, sweet potatoes, non-gluten flour, and vegan butter. You can already tell how this isn't your usual breakfast pastry. the pie is filled with cranberries, walnuts, and cinnamon and top it with apples. It's warm, delicious, and doubles as a guilt-free dessert.
BOLOGNESE PASTA
Here's another example of our favorite comfort dish made healthy and nutritious. It seems that Veestro ensures you can fit all of your favorite foods into your diet.
You may be expecting 'zoodles,' but no, they found a way to fit real, flour noodles into this meal. The sauce is loaded with veggies, including tomatoes, eggplant, and spinach. They also added mushrooms to make the meal more hearty and nutritious.
The variety of added spices will leave you satisfied for hours. Here, they don't do anything peculiar but add garlic, parsley, and red pepper flakes for a familiar, rich flavor.
THAI CHICKEN STEW
You will want to increase your protein intake on those days when you're exercising. This dish provides just that. 
The 'chicken' is vegan and loaded with various plant-based protein sources. As a result, it tastes and feels like a piece of real chicken breast. You serve it over brown rice, with a sauce of fresh tomatoes, onions, peas, peppers, and more.
The spices in this one leave an exotic taste in your mouth. They use ginger, garlic, and red chili flakes for a Thai-style stew you can't order from your local take out. 
Bottom Line 
Overall, if you are adamant on pursuing a healthier lifestyle and a body you're more satisfied with, Veestro is a great choice. You will receive high-quality 100% plant-based meals for a quite reasonable price while reducing the amount of work you need to put into food preparation.
The most significant benefit, in our opinion, is that it relieves the stress of trying to get it right. You will have a team of people who know what they're doing behind you as a great aid in your weight loss journey.