HelloFresh is a meal kit subscription service that delivers meals ingredients straight to your door. All that is left to you is cook, eat, and enjoy the food.
HelloFresh offers a service based on delicious flavors, simplicity, flexibility, various dietary needs, no waste, and reduced stress around dinner time. It is a simple process that makes your life more convenient when it comes to the kitchen. All it requires is three simple steps: pick a plan, wait for your delivery, and enjoy the food!
Whether you are in the mood for chicken tenders, mashed potatoes, a nice stir-fry, or a honey mustard flavoring, Hello Fresh has recipes you'll love to cook and eat. Keep in mind that you can also use the website or app to manage your deliveries, get the recipes and ingredients for meals you might be interested in, and get assistance on how this meal kit delivery works. You can get your deliveries anywhere in the continental USA with HelloFresh!
If you want to know whether HelloFresh provides high-quality meals and recipes, then we are here to help! Keep reading this article of HelloFresh recipes review, with ten of the best meals that may help you determine whether to utilize the Hello Fresh services or not.
Reviews of the Best HelloFresh Meals
The HelloFresh menu offers a wide range of mouth-watering meals. Over the past few years, we have personally tried many of them and can assure you it's always fun to cook and delicious to taste!
In this review, we will tell you about some of the best Hellofresh meals to try. These are meals that we could not resist, and you should try them for yourself.
Sweet Potato and Black Bean Tacos
Winner-Winner Chicken Orzo Dinner
Chicken Pineapple Quesadillas
Lobster Filled Ravioli Shrimp
Oven-Ready Chili Coconut Curry Chicken
Zingy Mustard Soy Salmon
Hoisin Pork Burgers
Pancetta White Pizzas with Baby Broccoli
Who doesn't' love pizza? This white pizzas recipe deserves a great deal of credit as they are delicious even though they are not covered with a thick tomato base. While the pizzas do not have the usual tomato sauce, they still burst with flavor because of the various fun toppings. From salty pancetta to fresh baby broccoli to a garlic and herbs de Provence ricotta cheese spread, you cannot resist these fantastic white pizzas. 
While these pizzas are very easy and convenient to make, they are not suitable for people who follow a dairy-free or gluten-free lifestyle. But it is a perfect dinner for a regular diet! If you need a quick meal solution, this is an ideal recipe, as it only has a 20-minute cooking time!
Sweet Potatoes and Black Bean Tacos with Avocado-Lime Crema
This Mexican-style vegetarian Hellofresh recipe is ideal if you have 40 minutes to spare in the kitchen. While it takes a slightly longer time than the usual meal kit, it is not a challenging cooking process, and we would even say it is effortless to cook.
The great tacos, full of proteins, are served with avocado and lime crema rich in flavors – and vitamin A for good health. You can expect all the beneficial health properties and delicious flavors provided by the roasted sweet potato cubes as well. The black beans with onion and garlic only add to this delicacy that has a slightly zesty-lemony taste. 
Winner-Winner Chicken Orzo with Roasted Veggies
This wholesome chicken dinner is served with tomato and cheesy roasted zucchini, which takes this dish's flavoring to an entirely different level. You can expect a combination of creaminess and crispiness due to the addition of parmesan cheese, panko, and mozzarella on the zucchini and tomato. While the lemon and herb-flavored crisp chicken involves only simple cooking, it is highly satisfying and does not lack any flavor. We cooked it with a bit of butter instead of the recommended olive oil – and it was delightful!
In terms of nutritional value, the meal contains 730 calories per serving. The ingredients, fresh ones, included in this pack are chicken breasts, zucchini, lemon, panko breadcrumbs, a Roma tomato, Orzo pasta, parmesan cheese, Italian seasoning, fresh mozzarella, and parsley. You can expect a filling and tasty meal, cooked in only half an hour.  
Peppercorn Steak with Potatoes and Creamed Kale
If you are in the mood for steak, roasted potatoes, creamed kale, and classic peppercorn sauce – you cannot go wrong with this popular Hellofresh meal kit option. And believe it or not, this dinner option has only 580 calories per serving, so it is also calorie-smart! 
This HelloFresh meal is perfect if you are looking for a date-night recipe or an impressive dinner with friends. It is also ideal for people who follow a gluten-free lifestyle and true meat lovers.
Even though this meal can present you as a real chef,  it takes only about 30 minutes to spend in the kitchen.
Chicken Pineapple Quesadillas with Southwest Spice
This Hellofresh Tex-Mex meal is perfect for people who like sweet-and-savory tastes in their food. The smoky southwest spiced chicken breast strips, combined with the sweet pineapple and browned onion flavor, are delicious and have a comforting taste. All you need is 30 minutes in the kitchen to prepare this satisfying food combo. 
This recipe is an excellent family-friendly option that is quick, fast, and easy to prepare with 750 calories per serving. 
One-Pan Shrimp Lo Mein with Udon Noodles and Green Beans
Udon noodles, green beans, carrots, and shrimp; this all sounds like a divine classic Asian-style combination of ingredients, and Hellofresh is all about traditional meals. This stir-fry was thick, chewy, and full of hoisin and soy sauce flavors, combined with sea flavors from the fresh shrimps.
This complete meal took us only 27 minutes to prepare, and the great part about it was that it's all cooked in one pan – so almost no clean-up after. This dish is also great for a low-calorie and healthy diet since it includes only  520 kcal per serving, with a very nice portion of carrots and green beans. 
Lobster Filled Ravioli Pasta with Shrimp
The ravioli pasta and shrimp served in a tomatoes creamy sauce is part of the gourmet HelloFresh recipes collection and will leave you wanting more. This tender dish is succulent and delicious due to the creamy tomato sauce, crispy and golden breadcrumbs topping, and lemon zest. For those who love pasta, you cannot go wrong with lobster and seared shrimp. 
In terms of nutritional value, you can expect 860 calories per serving. Another bonus is that the meal only takes 25 minutes to prepare – a fast meal with some real restaurant quality.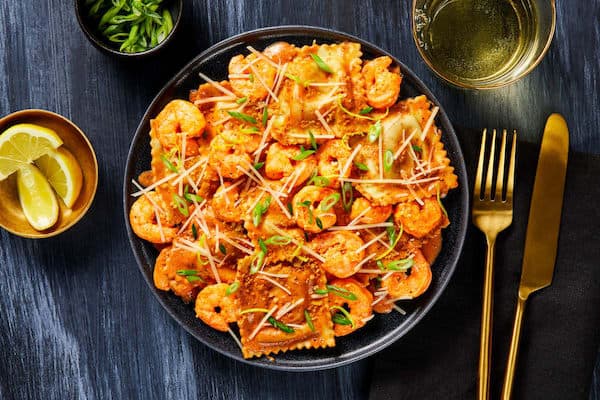 Oven-Ready Chili Coconut Curry Chicken
One simply cannot resist this meal from Hellofresh, where the mouthwatering chicken curry is served with carrot-speckled rice. Apart from the taste, the aroma is also going to take this dish to the next level. The creamy, spicy, sweet, and savory curry has multiple flavors accompanied by a lovely touch of fresh cilantro and lime juice. 
This tried and tested recipe truly is perfect for anyone who eats chicken as it only takes 25 minutes to get ready and contains 630 calories per serving. This is the ideal dinner for any family, couples, or singles with no spare time. 
Zingy Mustard Soy Salmon
This recipe is served with ginger rice, citrusy roasted lime carrots, and pickled scallions and contains 840 calories. 
While it may not be ideal for people who have limited time, as it takes 40 minutes to prepare and cook, it bursts with various great flavors. 
If you are a fan of seafood, the crispy salmon fillets covered in the sauce that bursts with flavor would be an ideal recipe for you to try. Between the excellent salmon fillet, Dijon mustard, sweet soy glaze, and ginger-scented jasmine rice (a fantastic trick!), you are going to experience a unique set of tastes. 
Hoisin Pork Burgers
These Hellofresh popular burgers are not the only thing you have to look forward to in this meal. The recipe is a mish-mash of the classic burger and Asian Banh-mi and includes pork meat burgers, potatoes wedge, sriracha mayo, sesame cucumber-carrot slaw, and soft potato buns.
This tangy and pork-glazed patty option makes for a new favorite. These flavorsome burgers provide 960 calories per serving, which is on the higher-end when considering other recipes on the menu.  It is indulging food, great for a night you really want to treat yourself!
A burger may not be the go-to option for those trying to implement a healthier diet into their lifestyle; however, HelloFresh found a way not to make you feel guilty for eating a juicy burger.  The meal includes a great fresh slaw and earthy potato wedges that are roasted in the oven with just a touch of olive oil, salt and pepper. 
Reasons Why You Should Use the HelloFresh Service
Other than the great foods – that you should try for yourself! – you should consider subscribing to this #1 meal kit service because:
A wide range of Amazing Classic Chef-Designed Meals
The Hellofresh menu offers a wide variety of over 20 meals! Beef, Chicken, pork, seafood, and Veggie meals – Whatever type of meal you are looking for, you can find it.
The menu changes weekly
HelloFresh makes sure to change the meals per week – to keep your dinners exciting week after week.
High-Quality Ingredients
For years now, Hellofresh offers a high standard of ingredients. The company maintains a strict process for choosing its suppliers to ensure they all meet high food standards.
Convenient And Flexible Subscription
The Hellofresh meal kits arrive fresh to your doorstep every week – with flexible meal plan options. You can choose your plan, the number of meals per week, and the number of servings you get per recipe. You also have the freedom to skip weeks whenever you need after sign-up and cancel your account at any time – all easily through the HelloFresh website or app.
Diet Support
Hellofresh offers a variety of meals to support a healthy lifestyle. From low-calorie, low-carb, and vegetarian meal options, Hellofresh can help you improve and diverse your menu, even when you are on a strict diet.  
Sustainable Meal Kit Option
Hellofresh goes the extra mile in creating a meal service that offers more sustainable eating habits. It is done by responsible ingredient sourcing, pre-portioned meals for less food waste, an efficient distribution that makes 25% less carbon footprint than meals cooked from supermarket-bought groceries. Finally, the company use sustainable box and packaging.
The Bottom Line – Are HelloFresh Meals Worth It?
We know that there are many meal kit companies to choose from: Blue Apron, Home Chef, Sun basket – and of course, Hello Fresh. 
We love Hello Fresh, and we can see why it's rated as the #1 meal kit service in the US. The meals are classic with some creativity, the ingredients are great – and it is just tasty every time.
So, are you ready to join the HelloFresh subscription plan? It is time to enjoy delicious food, expand your culinary skills, and simplify your life with all the benefits provided by this hassle-free meal kit company.