We all love fast food. Wheater its shake shack, taco bell, or other fast-food chains, there is something so pleasing and comforting about it. There is also the sense of being a little naughty and giving yourself a well-earned treat.
The only problem is that the standard fast food is usually very unhealthy, and it can also end up being quite expensive. In this article, our team at the Meal Kit Comparison is focused on introducing you to some meal kit services that are the best alternatives to fast-food. 
1. Dinnerly
Dinnerly is relatively new to the meal kit industry, and it is immensely proud of the fact that it is the cheapest meal kit service in America. With prices averaging at less than 5$ for a satisfying dinner, it is also substantially less expensive than most fast food options. 
 Apart from the price, Dinnerly is a great fast food alternative option, as it's all about convenience! The Dinnerly meal kits are fuss-free and easy to prepare, with 30 minutes of prep time or less. Just because their prices are low, does not mean that their ingredients are not of the same high quality as used by other meal kit delivery companies. The fact that they are using fresh, lovely ingredients makes them a much healthier alternative to your typical fast-food treat. They keep prices low by using digital recipe cards and simple packaging, and they don't waste their time on expensive advertising campaigns. 
Following are a few of our recommended fast food options from Dinnerly:
Buffalo Ranch Burger with Pickles & Oven Fries
Chicken Pad Thai with Carrots & Peanuts
Beef & Cheddar Quesadilla with Charred Corn & Scallions
Spinach & Ricotta Calzone with Tomato Dipping Sauce
2. Hello Fresh
Hello Fresh is the most popular meal kit server in America! Their menu contains easy-to-follow recipes filled with delicious healthy ingredients. They have an extensive menu with heaps of options that can satisfy your fast food cravings. The team at Hello Fresh designs recipes that are suited to individuals, couples, and families. Their meal kits arrive with simple and easy to follow recipes combined with pre-measured and pre-portioned ingredients.
Hello Fresh uses only high-quality ingredients, even better than the products in a local grocery store. the Hello Fresh experience provides an easy cooking solution at home, that is also a fun way of getting the family involved with dinner preparation.   
Following are a few of our recommend fast food like options from Hello Fresh:
Mexican Pork & Street Corn Tacos
Cheesy Beef Tostadas with Long Green Pepper, Tomato Salsa & Hot Sauce Crema
Ancho BBQ Sloppy Joes with Pickle Slices & Oven Gold Potatoes
Sweet Chili Pork Tenderloin Rice Bowls with Veggie Ribbons, Cilantro & Crispy Onions
3. Home Chef
At the Meal Kit Comparison, we are big fans of Home Chef meal delivery service! Home Chef is all about getting people together to enjoy the experience of eating well at home. With this sort of philosophy, they have many options for you to choose from when you are craving a fast food experience. Their recipes are simple to prepare and never daunting, and Home Chef loves putting delicious twists into classic favorites.
Home Chef is one of the leading meal kit delivery companies in the USA, and they are specialists in providing a weekly range of tempting and healthy recipes that people love! Home Chef is also all about providing people with convenient cook-at-home options, and they also have a range of 15-minute to 30 minutes of meal prep time options, which are ideal for fast food night!
Following are a few of our recommended fast food menu items from Home Chef:
Mongolian Beef & Roasted Broccoli with Steamed Rice
Hawaiian BBQ Chicken Thigh Mini Flatbreads
Parmesan Ranch Sliders with Apple Slaw
Pork BLT Lettuce Wrap with Blue Cheese Dressing
4. Martha & Marley Spoon:
We get the impression that Martha Stewart would completely understand the appeal of your favorite fast food! That is why her meal kit delivery company Martha & Marley Spoon is such an excellent alternative to your traditional fast foods. Martha & Marley Spoon is the brain-child of the Queen of American cooking, and it delivers a range of delicious meal kits to your door every week. Her meal kits are filled with fresh seasonal high-quality ingredients and easy to follow recipes that result in the ultimate comfort food. Simply perfect to satisfy your fast food craving while also being much better for your waistline!
Following are a few recommended fast-food menu items from Martha & Marley Spoon:
Chicken Fajita Bowl with Peppers & Sour Cream
Pan-Roasted Steak & French Fries with Caesar Wedge Salad & Buttery Pan Sauce
BBQ Spiced Cheeseburger with Oven Fries & Creamy Garlic Slaw
Pulled Pork Carnita Soft Tacos with Guacamole & Cabbage-Scallion Slaw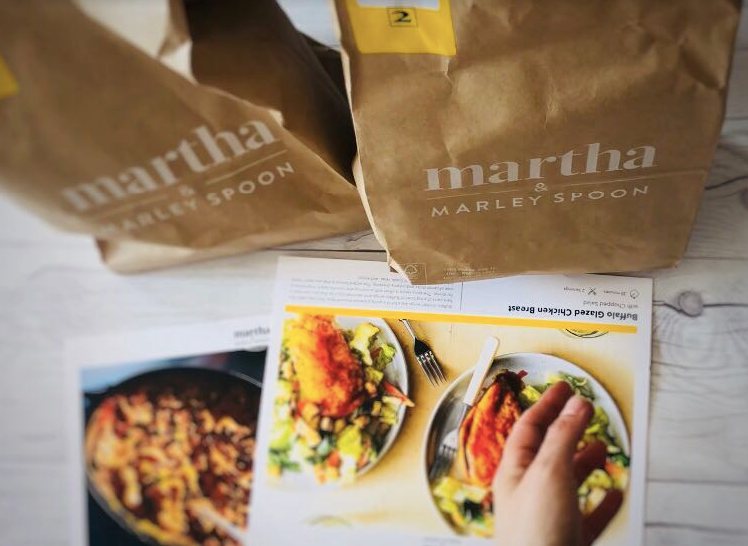 The benefits of using a meal delivery service vs fast-food dining
Just as tasty but so much healthier! Meal kit delivery services are experts at designing recipes that are tasty, tempting, and satisfying. Their recipe options are just as delicious as your favorite fast food. However, by using a meal kit service, you will ensure that you are eating food that is much better for you and your waistline. Instead of highly processed options that are filled with preservatives and often deep-fried, you will instead be eating meals packed with healthy ingredients that are a lot lower on the calorie count. 
Convenience – meal kit services ship directly to your front door, so you don't have to worry about even leaving the house. As these companies deliver every week, you can organize deliveries in advance so that you know you have a delicious treat waiting for you at the end of the week when you need it. 
Enjoyable but straightforward cooking processes – the meal kit service options that we gave you in our recommendations are all quick and easy to prepare. Their recipes are also a great deal of fun to put together. With pre-portioned ingredients and simple recipes, it can be a great way of spending time with your family. 
Fast food can be expensive, and when you consider how unhealthy it is, that seems a little crazy! The beauty of using a meal kit delivery service is that in many instances, they work out to be a cheaper alternative to your traditional fast food options. 
Meal kit delivery services are experts at providing something to please everybody. Within the menus, you will find options that are kid-friendly and cater to many dietary requirements. 
Why use our 'Best Meal Kit service for Fast Food Fans' review?
At the Meal Kit Comparison, we are experts in the world of meal kits. We have experience in testing, trialing, and tasting most of America's meal kit delivery companies. We provide a range of helpful information in our reviews that will allow you to decide where to begin. By using our review, you can save time on endless research and avoid that sense of overwhelm when it comes to trying to work out where to start. 
In conclusion
There are now so many meal kit services companies out there, providing a range of delicious meal kit delivery options that you will easily find some great meals for when you are craving fast food!  Using a meal kit delivery service will mean that you are eating better, encouraging your loved ones to eat better, and undoubtedly saving money. Now it is just a matter of using our review to work out which company you are going to try first!