An honest review of Green Chef, Including offered meal plans and meals, pros and cons, the ordering experience, and more.
Quick Introduction To Green Chef
Green Chef is a company that provides a broad range of options for those with special dietary or lifestyle requirements. It is also focused on delivering tempting, organic, healthy, and vibrant food to your table. Because of their focus, they have one of the most extensive meal kit menus available in America.
Their menu choices include selections suitable for a paleo, vegan, keto, omnivore, carnivore, vegetarian, and gluten-free diet. 
Anybody who follows a special diet will understand the challenges you can face when creating menus for you and your family that sometimes follow strict guidelines.  So, finding a company that not only does this but also ensures your meals are delicious and appealing can be incredibly convenient. It certainly takes the stress out of planning your weekly meals.
Green Chef is a Unique Meal Kit Delivery Service For Two Main Reasons: 
Firstly, they have worked with the USDA to become America's first certified organic meal kit company.
Secondly, they were also the first company to receive a gluten-free certification through the Gluten Intolerance Group's GFFS program.   
For those of you who require gluten-free food, you will be delighted to find that Green Chef provides three fully certified gluten-free menus.
Because of these distinctions, all their menu options are 100% organic. Some might think their meals might be challenging to prepare, but nothing could be further from the truth! As Green Chef has made the fact that they love meals that are easy to prepare a final company focus.
The company is not only about healthy, delicious organic meals but also about convenience. All their incredible dinners can be fully prepared and on the table within 30 minutes.
Like its name, the company is also a big believer in being green, and by choosing Green Chef, you are choosing one of the eco-friendliest options available. Their packaging is primarily recyclable, reusable, or compostable!
Green Chef meal kits are not only good for you, but it is also good for our planet!
Who is Green Chef Best For?
If your priority is eating organic AND healthy food that is exciting and tastes great, then Green Chef is for you since the meals are all about eating and living green.
As mentioned above, it is a wonderful alternative for anyone who follows a specific diet. It is also great for busy people, with its 30-minute meal preparation promise, and with the eco-friendly focus, good for the planet.
$250 OFF Across 5 Boxes, 1st Box Ships FREE!
Green Chef Pros And Cons
Main Green Chef Pros
Meals for omnivores and vegetarians
Options for gluten-free meals
Sustainable, eco-friendly packaging
Tasty meals with a fantastic array of meal options weekly
Certified organic company
Meal kit options that are easy to follow for all skill levels
Main Green Chef Cons
No customization of meals (as opposed to Sun Basket or Home Chef).
You can't mix meal options from different meal plans.
More Pricey than Other meal kit services like Home Chef or Blue Apron.
Shipping is charged separately.
No add-ons are available, making the offerings more limited.
Option to filter for dietary preferences when selecting meals.
Green Chef Meal Plans Offered
You can choose from six meal plan options before selecting your weekly meals. These meal plans include Keto + Paleo, Vegetarian, Mediterranean, Fast & Fit, Vegan, and Gluten-free. This way, you can narrow your meal selection to healthy meals that fit your dietary preferences.
Green Chef allows you the flexibility of changing meal plans weekly. This plan selection process will enable you to try different options until you find one that supports your diet and works best for your lifestyle and balanced living plan.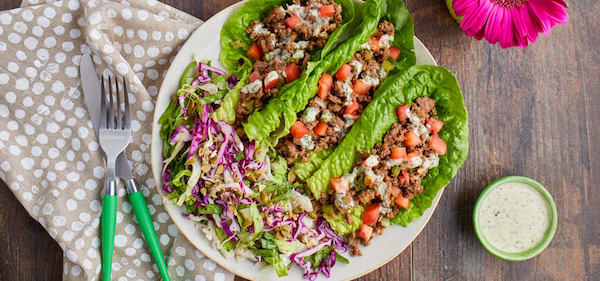 We Tried Green Chef Maple Cauliflower Power Bowls
This vegetarian healthy recipe had some great fall vibes to it. It well represented the best part about meal kits – the joy of tasting a new mixture of flavors! With a golden touch of turmeric spice, some soft sweetness from the maple syrup on the cauliflowers, savory protein-packed quinoa, and a delightful green goddess-style miso-tahini sauce – this dish had some special combination of tastes!
The quality of ingredients, like always with Green Chef, was simply the best. Fresh pre-cut cauliflower flowers, large beautiful leaves of kale, organic rainbow quinoa – everything looked super fresh and high-quality.
This meal is a great option for a low-carb and gluten-free diet.
$250 OFF Across 5 Boxes, 1st Box Ships FREE!
Menu Selection – The Green Chef Meals Review
Green Chef offers an impressive selection of meals weekly.  These menu options are spread over seven menus for different lifestyles. These menu options include paleo, vegan, keto, omnivore, carnivore, vegetarian, and gluten-free.
Each plan includes three tempting and delicious meals every week. The carnivore and omnivore menus are also offered as part of the Family Plan.
It is hard to beat both the style and convenience offered by the Green Chef service.
All their ingredients are beautifully fresh, pre-measured, and usually pre-cut for you. Their recipes are designed and created by professional chefs, and one of the highlights of the Green Chef meal kit options is that they include incredible house-made sauces, dressings, and spice blends.   
Part of the attraction of the service is also the fast recipes, which are always easy and lots of fun to cook at home.
How Does Green Chef  work?
Choose A Diet Plan, Subscribe, and Pick Your Meals
Green Chef has a straightforward process for ordering its meal kits. Start by selecting your diet plan according to the six options listed above. Then, choose how many people you want to feed each week (2,4 or 6) and the number of meals you want to be delivered (3 or 4).
Next, you subscribe by entering your email, address, and payment details. All that's left is selecting your Green Chef organic meals!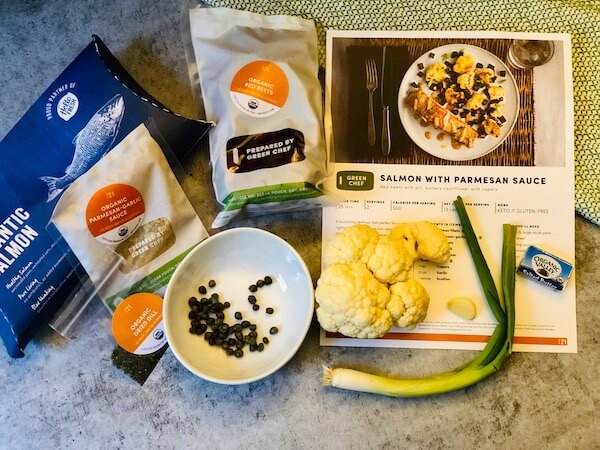 $250 OFF Across 5 Boxes, 1st Box Ships FREE!
What Green Chef Meals We Made?
We ordered various Green Chef meals from different meal plans to compare the flavor and how easy it was to make each meal. We were impressed with the taste of the meals and the high ingredient quality. 
Each meal took about 30 minutes and was relatively easy to make. The available recipes are great for beginner and more advanced chefs who want a quick, tasty meal.
Below is a list of the delicious Green Chef recipes we tried:
Maple-miso mushroom & Brussels bowls kale rice, Sriracha sauce, toasted sesame seeds
Feta & sun-dried tomato turkey burgers, kale salad with almonds & dates, lemon caper aïoli
Chicken with creamy mushroom sauce, jasmine rice, kale, walnuts
The Green Chef Cooking Process – Is It Easy To Cook?
Green Chef meals are easy to prep and require half an hour. Most recipes have minimal prep, slicing vegetables, chopping, or shredding. Each recipe arrives with a step-by-step guide. This guide provides tips and photos to help you create meals.
If you misplace a recipe card, you can also find the full recipes listed on their website and through their app.
Green Chef's packaging makes it easy to create meals as it arrives color-coded. Unlike some other meal kit companies, you won't need to match up the ingredients to the recipe. Everything from one color coincides with that same color of the recipe card, creating a more straightforward process.
Other Recommended Green Chef's Meals:
Herby balsamic-dijon chicken green beans, squash & red peppers, feta, lemon-herb sauce
Steak & shrimp with spicy peperonata parmesan cheese, pine nuts, parsley-basil pepita pesto
Curried "paneer" cauliflower "rice," peas, cilantro-lime crema
Almond-crusted barramundi kale & sweet potato salad, hard-boiled eggs
BBQ pork meatloaves & cabbage apple slaw smoky roasted potato wedges
Spicy beef & broccoli noodle bowls roasted red peppers, sesame seeds
Smoky harissa chicken over salad, toasted turmeric almonds, cardamom-spiced Greek yogurt, mint
Steak with mole sauce, jasmine rice, cabbage & toasted pepita slaw
Smoky pork patties caramelized onion, roasted cauliflower, cabbage slaw with cotija
Cajun blackened chicken Creole Dijonnaise, squash, tomato, green bean salad, pecans
How Is The Quality And Sourcing Of Ingredients?
Due to the USDA certification that the service has, all its ingredients are organic and sustainably sourced. They are, without fail, of the highest quality.
Moreover, since Green Chef is also about easy home cooking, the organic produce comes pre-measured and prepped.
$250 OFF Across 5 Boxes, 1st Box Ships FREE!
The Green Chef Delivery Box Review
Receiving a Green Chef delivery is always a pleasure.  The box is pretty organized, with all the veggies and dry ingredients per recipe on the top of the box, and the proteins are packed at the bottom of the box and surrounded by enough ice packs to ensure the correct temperature is maintained.  
The ingredients of each meal kit are usually pre-cut and labeled. It is just a matter of unpacking the meal kit bags and storing them properly until you are ready to cook them.
Does Green Chef Use Eco-Friendly Packaging?
Yes, Green Chef uses eco-conscious packaging for each of its meals. This meal kit company's packaging is mainly made from recyclable, reusable, or compostable materials. However, few ingredients arrive in non-eco-friendly materials and only for food safety purposes.
Otherwise, detailed notes on how to properly discard packaging in an eco-friendly way are listed on Green Chef's website. They also note that their box shipment and operations are 100% offset from carbon emissions.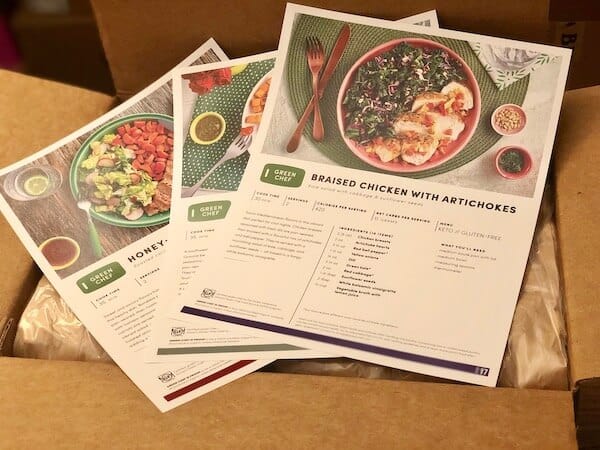 $250 OFF Across 5 Boxes, 1st Box Ships FREE!
Add-on Options – None At The Moment
Many meal delivery services offer add-ons like breakfast and lunch items, snacks, salads, baked goods, desserts, etc. Unfortunately, Green Chef does not provide any extras that you can add to your weekly delivery box.
The Main Meal Kit Services Competition
Green Chef Vs. Sunbasket
Green Chef and Sunbasket are two top meal delivery services with several similarities.
Each delivery service works best for a different group of consumers, depending on your dietary needs.
Similarities Between Green Chef And Sun Basket
Both meal kit delivery services provide high-quality certified organic ingredients, tasty, healthy recipes, and weekly rotating menus for balanced living.
Both companies offer meal plans to cater to various diets like paleo, keto, etc. They also favor sustainable packaging choices and provide information on how to recycle, reuse, or compost packaging after meal creation.
Even pricing is pretty similar between the two companies, with both charging similar shipping costs.
Differences Between Both Options
As far as differences, there are quite a few to note. For example, Sun Basket is ingredient-focused, while Green Chef selections focus on dietary needs (like keto meals).
Green Chef stands out for its gluten-free certification, which is not the case for many other meal kit delivery services, including Sun Basket.
Green Chef does not offer add-ons, while Sun Basket features a good selection of add-ons like seafood, cheeses, and pre-made meals. In addition, Sun Basket has a broader array of meal options weekly compared to Green Chef and offers diet support.
Green Chef is ideal for specific dietary needs, while Sun Basket is perfect for those who want more weekly options, including add-ons.
Ease Of Use Of The Website & App:
Our team found the whole ordering process via the Green Chef website or app was very easy to complete. You can do everything you need to manage your account. 
We also made some changes to our order, which was very simple. The process, including registering, selecting your plan, changing your payment method, and even canceling your account, can be accomplished online in a very user-friendly way.  
You will also be able to access additional information on each dish via their website, which includes a list of ingredients, nutritional facts, and cooking processes, which is both informative and convenient.
Final Verdict – Does Green Chef Meal Delivery Kits Worth The Money?
Our experience with Green Chef has made us conclude that it offers one of the healthiest meal kit options on the market.  
The meals are healthy and organic, taste great, and are incredibly easy to prepare. In addition, the service is focused on catering to the many specialty diets that now exist.
We love that most ingredients are portioned and cut for you, and the spices and sauces are already prepared.
Green Chef provides a convenient, healthy, and delicious option.
$250 OFF Across 5 Boxes, 1st Box Ships FREE!