A quick introduction to the Gobble meal delivery service:
If you are after quick and easy meal preparation, then Gobble is for you!   
Gobble is a meal kit delivery service that makes the incredibly impressive promise that all their meals take only 15 minutes to cook!  
The three things that stand out with Gobble are convenience, cost-effectiveness, and ease of meal preparation. To ensure that they keep their 15-minute promise, all the Gobble meal kit ingredients come fully prepared. This means they are portioned, peeled, chopped, and marinated. Cooking the Gobble meal kits is a delightfully easy experience.   
As part of our testing and reviewing process, our team tried a range of the Gobble meal kits and every single one of them was easy to cook. As a bonus, it made the whole process very enjoyable and they were delicious as well!
Who is Gobble meal delivery service for?
Gobble is perfect for people who simply don't have enough time in the week to dedicate hours to organizing a weekly menu, yet who still want to enjoy tasty home-cooked meals.
Gobble meal delivery service Plans offered
When using the Gobble meal kit service, you can choose from two different plans:
A Two-person plan provides six meals on a weekly basis. That is three different dishes designed for two people to enjoy.
A Four-person plan provides 12 meals on a weekly basis. That is three different dishes designed for four people to enjoy.
Get 50% OFF on your first box from Gobble!
Getting started with Gobble meal delivery service
There is nothing complicated about using the Gobble service.  You can easily sign up for their service via their website. Then it is simply a matter of choosing your preferred plan and selecting the dishes you would like to order.   You can choose from a very impressive selection of 24 dishes. Within this menu range you will find options that are child-friendly, gluten-free and dairy-free.
After you have placed your order you will receive a delivery box that includes your meal kits that are packed for easy storage.  The final thing you need to do is just follow the very easy recipes and enjoy your meal selections!
You do need to subscribe to use the Gobble service, however, this subscription is very flexible.  There are allowances to skip weeks if you need to and you can swap recipes as well. It is also reassuring to know that you can cancel the subscription whenever you desire.  So really, it is all only about ordering what you need, with no overwhelming commitments of any kind.
Gobble meal delivery menu selection
Gobble offers a great deal of diversity in their 24-dish menu that is changed on a weekly basis. These categories include 'From the Range', 'From the Ranch', 'From the Sea', and 'From the Earth', with each protein category having six dishes to choose from. Depending on your preferred choice of protein, whether it be poultry, meat, fish and seafood or plant-based options, it is very easy to know where to head.
Within their menu selection Gobble ensures that they include several recipes that are child-friendly, dairy-free, low-carb/keto and gluten-free.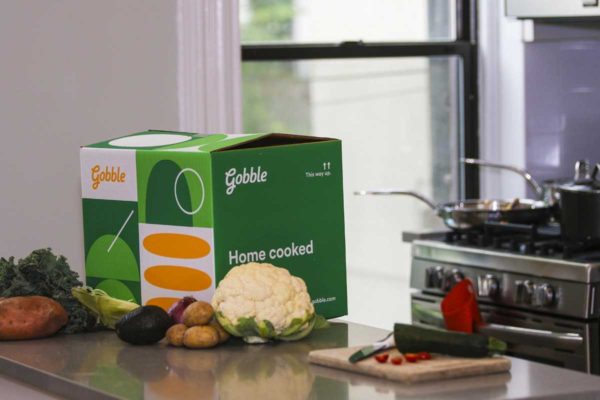 Get 50% OFF on your first box from Gobble!
The Gobble delivery review
The Gobble delivery is well organized and as all the ingredients are labelled, prepared and portioned, there is minimal sorting required when unpacking.  
All you need to do is store the meal kits away until it is time to cook! If you can't be home to meet your delivery, you can rest assured that the ingredients are kept cool, as Gobble makes sure that all items that need to be kept at a certain temperature are packed at the bottom of the box surrounded with ice.
Gobble Quality of ingredients:
Our team loves the quality of the ingredients supplied by Gobble.  They use beautiful local and farm-fresh ingredients.
You will find the quality of ingredients is like those used by fine restaurants.  To ensure that their 15-minute preparation promise is kept, many ingredients provided by Gobble are already par-cooked. They are immediately vacuum sealed after cooking to ensure that they retain their freshness, taste and quality.  
Another appealing fact about the Gobble meal kits is that most of their meals range from only 700 – 900 calories per servings.
The Gobble Website & app:
Everything you need to do to manage your Gobble account can be done via their website.  They do not have an app, but as their website is mobile optimized, this can be used on all devices.
Registration, plan and meal selection, specifying dietary preferences, updating payment method, and canceling account can all be completed online.  
Our team had to make some changes to one of our orders, and it was very easy to do. Another handy feature of their website is that you can find a great deal of information about each dish including ingredients, nutritional facts, cooking process and cooking times.
Conclusion:
We love Gobble and think that it is the perfect meal kit service if you are after convenience combined with taste!   It is so appealing to know that you can have delicious home cooked meals without an overwhelming amount of preparation.   It truly is like enjoying restaurant quality meals at home, with very affordable prices. We also love the fact that they provide options for child-friendly, dairy-free and gluten-free meals.
If you have limited time, but still want to enjoy meals that you can cook at home and taste delicious then Gobble is the meal kit service for you.
Get 50% OFF on your first box from Gobble!