Is this popular gluten-free meal delivery service really good?
We investigate and are here to tell you all about it!
If you love the idea of receiving fully prepared, non-frozen meals delivered straight to your door, then Freshly is the service for you! Freshly offers a subscription service that is all about saving you time because as a Freshly customer, there is no meal planning, grocery shopping, cooking, or cleaning required! 
Freshly provides professionally cooked meals filled with healthy and gluten-free ingredients. Freshly focus on meals that save you at least an hour in time! By ordering Freshly meals, you can spend more time doing what you love! 
Freshly has a rotating menu with over 40 tempting gluten-free meal options to choose from weekly.
Variety Of Freshly Meal Plans:
As a Freshly customer, you have a choice of five different meal plans, depending on the number of meals per week you wish to get – with the option of four-five, six-seven, eight-nine, ten-eleven, or twelve meals per week. Each meal comes in one serving size.
The Freshly cost depends on the meal plan you choose. As you get more meals delivered per week, the cost per meal is cheaper.
How Does Freshly Work?
Freshly is a healthy meal service that provides chef-prepared meals to your door. You can sign up via a quick and easy process through the website, then choose your meals before each weekly delivery.
Start by selecting your plan, including the number of meals you want to receive each week. Then, go through the signup process, which includes creating a password, entering your shipping details, selecting any dietary needs you have, and providing payment details.
Afterward, you'll start receiving fresh, never frozen meals to enjoy. Update your account and weekly deliveries through the Freshly app or website.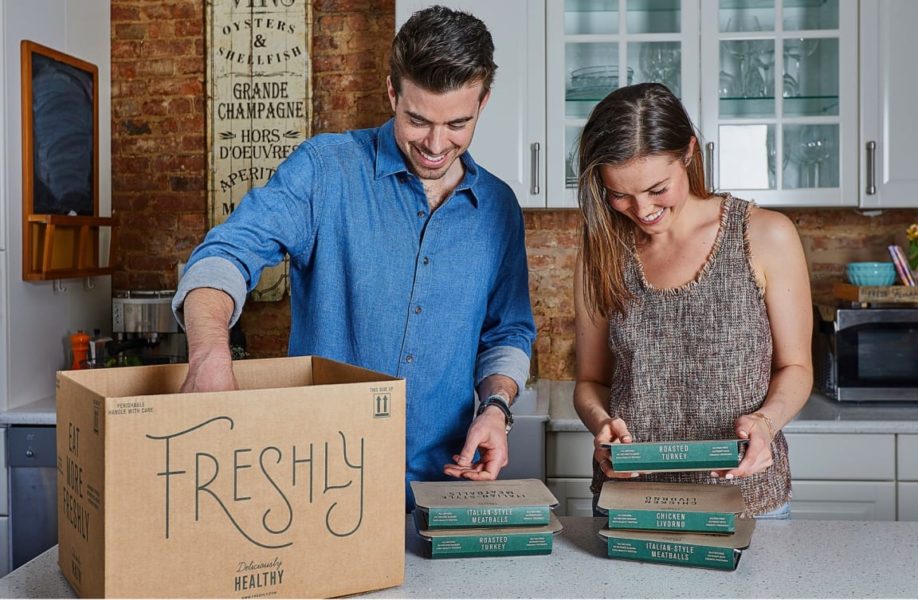 Get $140 Off Your First 5 Orders
Pros & Cons Of Freshly Meal Delivery Service
Freshly's Main Pros
A large variety of delicious meals per week.
Perfect for busy schedules, meals ready to heat in a few minutes
Options for various dietary needs like gluten-free, low-carb, and high protein
Ability to switch between meal plans weekly
Meals arrive cold, not frozen
Eco-friendly packaging, 100% recyclable
Freshly's Main Cons
Family-sized portions are not available.
Shipping is an additional cost.
No meal kit options, only pre-made meals.
Who Is The Service Good For?
Freshly's meals are perfect for those who have a tight schedule yet want to eat meals that taste homemade. These meals only require a few minutes in the microwave, and then they're ready to eat. They're great for families, singles, couples, and anyone who wants to skip the prep and clean-up process.
These meals are suitable for those looking to lose weight since they arrive in single servings. They're healthier and lower in calories than most restaurant meals, making them a convenient option for weight loss.
Freshly meals are ideal for those with various dietary needs, like gluten-free and low-carb diets.
The Taste Of Freshly Meals
Our team at the Meal Kit Comparison goes through an elaborate process to ensure we can give you honest and first-hand feedback. At least one of our team establishes an account, orders a meal, edits it, tries it, and ultimately cancels it so we can tell you what every step of the process is like. 
We tried a selection of the Freshly meals and overall liked what we received, though we were disappointed with one dish that appeared to be a little undercooked, lacking in flavor, and underwhelming in terms of portion size.
So Are Freshly Meals Good?
After trying a few Freshly's meals, we were pleased with the overall flavor.
It is an excellent alternative for busy parents or professionals who want to eat healthy fresh meals and avoid fast food or other unhealthy restaurant meal choices during the week.
Our Hands-On Experience With Freshly Meals
We enjoyed Freshly meals, especially since they only require a few minutes in the microwave. Besides one meal that we felt lacked flavor and the correct doneness, everything else met our expectations regarding flavor and doneness.
The healthy food meals arrived in eco-friendly packaging with nutritional labels, instructions for each dish, and sufficient ice packs to help keep the meals cold until you can put them in the fridge. The well-labeled deliveries, gluten-free certified meals, and convenience stood out when testing Freshly meals.
Other Recommended Freshly Heat And Eat Meals
Steak peppercorn with sautéed carrots & French green beans
Chicken tikka masala with seven-spice vegetable biryani
Sesame-ginger chicken & noodles with bright stir-fried veggies
Cheesy cauliflower pasta primavera with zucchini, peas & tomato-cream sauce
Spanish-style RightRice® with green olives, fennel & roasted almonds
Oven-glazed chicken marsala with cauliflower mash & lemon-pepper broccoli
Chicken & spring pea risotto with mushrooms & seasonal herbs
Pesto cauliflower shells & sausage with grape tomatoes & broccoli
Grilled chicken piccata with garlic-sautéed spinach & yellow squash
Slow-simmered beef chili bowl with roasted sweet potato
Freshly Lunch Or Dinner entrees:
Protein-packed chicken parm with mozzarella & garlicky broccoli
Golden oven-fried chicken & mash with roasted sweet corn
White bean turkey chili bowl with basmati rice & cheddar cheese
Middle Eastern falafel with garlicky tahini sauce & whole grains
Flame-seared top blade steak with green pea risotto & Parmesan crumble
Freshly sides and proteins:
Mashed potatoes (16 oz) with potato, cauliflower & chives
Masterful mac & cheese (15 oz) with butternut squash & two cheeses
Sautéed French green beans (11 oz) with garlic & toasted sliced almonds
3 Grilled chicken breasts (9.75 oz)
8 baked turkey meatballs (9.98 oz)
Get $140 Off Your First 5 Orders
Freshly Subscription Delivery Box – What Should You Expect?
When you receive your delivery from Freshly, it comes in an eco-friendly box made from recycled denim insulation.
Inside the box, the contents are packed with enough ice to keep everything at the correct temperature.
Your fresh and not frozen meals arrive in a branded sleeve that includes the dish's name, preparation instructions, and nutritional facts.
Is The Packaging Environmentally Friendly?
Yes, Freshly's packaging is 100% recyclable. Freshly created its packaging with the environment in mind, intending to reduce its environmental impact as much as possible. As a result, everything from the cardboard sleeves to the food containers is recyclable.
Each delivery includes a denim insulation sheet, which is recyclable and about 85% compostable. Even the plastic bags around the gel ice packs are recyclable.
Freshly Ingredients – Is It Good Quality?
Freshly is very proud that they are a certified gluten-free company which means that you can rest assured that all your meals are 100% gluten-free. The service also uses ingredients free of artificial additives or preservatives, refined sugars, or hydrogenated oils.
How Long Do The Freshly Meals Last?
Since the meals arrive fresh, not frozen, they last for about 3-5 days in the fridge. Freshly labels each meal you order, alerting you to which meals need to be consumed first to help avoid food waste. There's also a use-by date on each package, which you can use as a guide.
If you're not consuming the meals quickly enough, you can freeze Freshly meals and heat them as needed. There's no need to defrost these meals, simply add them to the microwave and cook for a few extra minutes.
Get $140 Off Your First 5 Orders
Heating The Freshly Meals – Ready in Minutes!
All you need is a microwave to heat Freshly meals. Each meal has a slightly different heating time, though the instructions are on the back of the individual dishes. Most meals take about three minutes to heat up.
If you accidentally threw the packaging out before reading the instructions, microwave the meal for two minutes first. Then, continue microwaving in 30-second intervals until the internal temperature is 165°F.
You can heat these meals in an oven, though you'll need to shift them to an oven-safe container first. Then, preheat your oven to 350°F, then cook the meal for 25-35 minutes (until it reaches 165°F internally). Let cool for a few minutes before enjoying.
Managing Your Freshly Account Online:
Managing your account via the Freshly website is super easy and very user-friendly. Your first step is to register your details and create your account. Then you select your plan, choose your meals, and press order!
You also have the option to choose your meals for the upcoming weeks. You can swap your meal selections, change your plan from week to week, skip weeks and cancel your account. All of this is easily accomplished online.
What States Does Freshly Delivers To?
Freshly currently delivers to about 30 different states across the USA. You can check their delivery range and see if you can receive a Freshly delivery on their website.
Freshly In Comparison To Other Meal Delivery Services
Unlike other meal delivery services, Freshly specializes in prepared dishes only. Other meal delivery services offer pre-cooked meal kit options or a combination of meal kits and premade meals.
Freshly provides recipes that require no prep, no clean-up, and minimal cooking time (a few minutes in the microwave). It's the ultimate meal delivery service for people with hectic schedules.
Most other meal delivery services provide meals with multiple serving sizes, while Freshly delivers single portion options making it easier to stay on track with weight loss. You can select from many meals per week, making it easy to find meals for picky eaters.
Freshly also provides a good number of options for those with dietary restrictions. It's the only meal delivery service that features all gluten-free menu items. It's a top option for most dietary needs.
Freshly has a moderate price per meal, similar to Blue Apron or Home Chef. However, an additional shipping cost per carton boosts the price per meal slightly. Even with this shipping fee, Freshly's pricing remains right in the middle between affordable options like Dinnerly and pricier options like Splendid Spoon or Green Chef.
Freshly Reviews Online
Freshly comes highly rated according to Google reviews, with an overwhelming 95% of reviews being 5-stars (out of 1,415). The remaining reviews are split between 4-stars (4%) and 3-stars (1%).
The overall rating is 4.9 stars, which is pretty impressive. Trustpilot shares the same overall rating of 4.9 for Freshly, though its stats are based on 12,000+ reviews.
This meal-delivery service encourages customers to provide genuine, honest feedback on every aspect to improve their service constantly. You can even rate specific meals in the Freshly app. The company even makes it a point to respond to every review (bad or good) on Trustpilot.
"My concern was handled very professionally. Additional steps were recommended to avoid having a duplicate problem in the future. Excellent customer service!!!" notes Kim.
"We have loved our Freshly food and experience. Lately, we had an issue with one delivery due to bad weather Cloie took great and fast care of our issue." Tara commented.
Typically, Freshly responds within a day to negative reviews, offering advice and redirecting customers to email the company directly for more delivery and account assistance.
In Conclusion – Does Freshly Meals Worth Your Money?
Freshly provides a meal delivery service that is well suited to busy people with little time for meal planning or for those who want to eat well but have no desire to cook! The service delivers fully prepared, non-frozen, healthy, and gluten-free meals as a subscription service. Freshly is all about allowing you to eat healthy and delicious meals while giving you extra time to do things you love!  
Get $140 Off Your First 5 Orders