When it comes to entertaining and creating the perfect menu, Thanksgiving is undoubtedly one of the most stressful times of the year.
This year, things can be easier, with the perfect solution of ordering one of the following thanksgiving meal delivery services! Forget about stressing out planning your meal or spending a long time at the grocery store – we at the Meal Kit Comparison are about to recommend the best meal kit services to help you create your perfect Thanksgiving dinner!
With special deals and menus designed especially for Thanksgiving, you will find that all the hard work has been done for you!
All you need to do is order the entrees and side dishes you like. You will receive pre-portioned ingredients and easy-to-follow recipes that will result in beautiful premium Thanksgiving dishes to share with family and friends.
Best Thanksgiving Meal Delivery For 2023
#1 – Sunbasket
Best Thanksgiving Feast With Organic Ingredients
This year, the organic Sun Basket meal kits for thanksgiving dinner are back, with a great selection of four proteins and five yummy side dishes. The holiday menu is part of their regular subscription service, which is available to subscribers on the week of November 23rd.
The Sun Basket recipes are classic but have been tweaked just enough that you won't get bored before your big day! and it's all designed with organic and sustainable ingredients and health in mind.
Examples of some of the available entrees and side dishes from Sunbasket are pre-brined and rubbed turkey breast roast, black Angus beef tenderloin roast, creamy potato-cauliflower gratin, green beans casserole with shallots and hazelnut gremolata, and more.
Exclusive! Get $90 OFF with FREE shipping + Free gift!
#2 – Blue Apron
Chef-Designed Thanksgiving Dinner Feast
The perfect way to celebrate turkey day is with top-quality foods – that's what Blue Apron brings to the table.
The Blue Apron thanksgiving dinner option is 100% chef-designed and easy-to-cook for a stress-free and unforgettable dinner you'll never forget!
All the Thanksgiving meals are available through the regular Blue Apron subscription or the Blue Apron Market section. The recipes can fill your thanksgiving dinner table with delicious and flexible food options, designed for any party size – from 2 people up!
Besides the main dish- Savory Butter Roasted Turkey Breast- some examples of available side dishes from Blue Apron are brown butter mashed potatoes with romano cheese, roasted brussels sprouts with fried rosemary, fresh cranberry sauce with ginger & spicy maple syrup, and more. 
As a dessert, you will be able to indulge your guests with apple crumb pie with spices & almonds.
Blue Apron also offers vegetarian options for a meatless Thanksgiving win – Four Cheese & Truffle Honey Flatbread or butternut squash & spinach risotto.
The Thanksgiving Feast is available for delivery in the weeks of November 8, November 15, and November 22.
Enjoy $110 off across 5 orders
#3 – Hello Fresh Thanksgiving Dinner Made Easy
As a Hello Fresh subscriber, you will have the option of two delicious Thanksgiving meal box options. One box comes with butter and spice-rubbed turkey and the other with peppercorn-crusted beef tenderloins.
Each thanksgiving dinner box is designed so that you can create the perfect Thanksgiving dinner for 8 to 10 people. Each box contains the main course of your choice, along with a selection of delicious sides that are super easy to prepare.
Some of the available side dishes from Hello Fresh are ciabatta stuffing with chicken herb sausage & cranberry sauce or creamy mashed potatoes with garlic & sour cream.
The thanksgiving meal box also includes a dessert option of apple ginger crisp with cinnamon pecan crumble.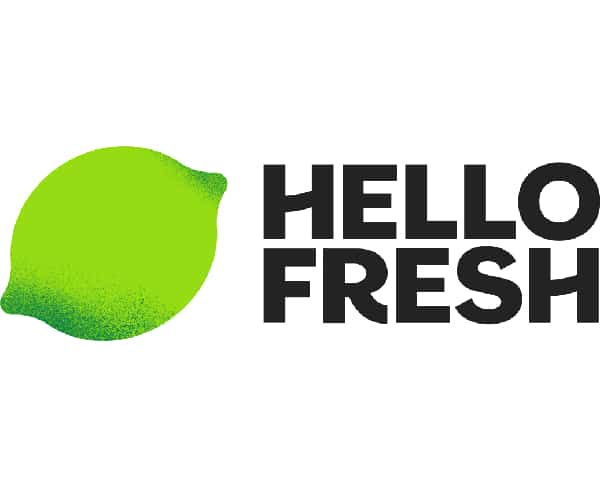 Get 18 free meals + free shipping + 3 surprise gifts
#4- Home Chef-Delicious & Easy Thanksgiving meal kits
Home Chef is a well-established meal kit service with a delicious menu filled with classic dishes modernized with alternate flavors and ingredients. Home Chef uses only the best quality ingredients, working with a trusted network of local suppliers.
This year, Home Chef has designed a perfect menu to create a delicious and easy-to-prep Thanksgiving turkey dinner. (Read our full home Chef Review)
As part of your Home Chef subscription, you will find several traditional and tempting dishes for a Thanksgiving dinner for six people.
You have the choice of an oven-ready roast turkey breast along with five side dishes like cheddar cornbread with jalapeño popper schmear, brussels sprouts with caramelized onions, and maple bacon glaze, loaded mashed potatoes with bacon and cheddar, green bean casserole, and more. As a dessert, you can add a fantastic apple pie crisp topped with brown butter streusel to your box.
All Home Chef thanksgiving meal side dishes are fast and easy to cook, which means your ultimate turkey thanksgiving dinner is going to be a breeze! 
Look at the full Home Chef Thanksgiving dinner menu which is available for the week of Monday, November 22nd.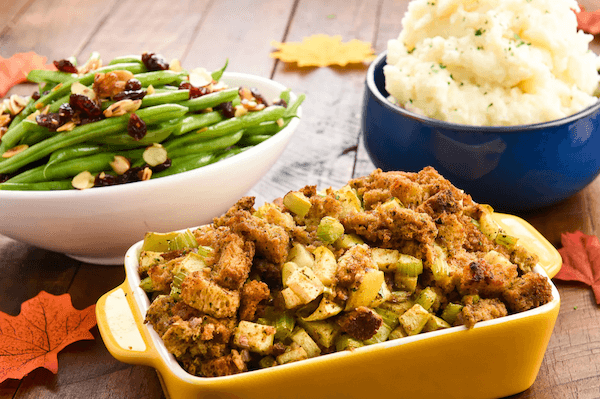 Up To 18 Free Meals - 50% OFF Your First 4 Boxes
#5- Dinnerly Affordable Sides & desserts for The Thanksgiving Feast
Dinnerly is the perfect service for those who want to enjoy an affordable Thanksgiving this year without breaking their budget. Prices start at only $4.69 per serving, including free shipping on your first box.
This year, the Dinnerly thanksgiving menu provides extensive delicious food options and saves money compared to buying ingredients individually.
The Dinnerly Thanksgiving meal kit box focuses not on the turkey itself, but on starters, sides, and desserts. Each meal kit recipe comes complete with everything that needs to be put into each dish – just choose what flavors best suit your feast.
The dish selection includes starters like sour cream & onion biscuits with homemade cranberry sauce, sides like skillet green bean casserole with fried onions, herbed sausage stuffing, or classic sweet potato casserole with marshmallows & candied pecans. For dessert, you can choose berry donut muffins with raspberry jam, pumpkin pie cheesecake bars, or spiced apple oat crisp.
The Dinnerly Thanksgiving dinner menu is available as part of the regular subscription for the week of Monday, November 22nd.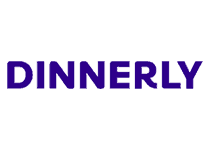 Dinnerly Special - 57.5%-20%-20% OFF For The First 3 Boxes!
Final Notes
As you can see, many meal delivery services provide a straightforward solution for serving a delightful holiday meal, with no need for grocery shopping or meal planning.
When ordering a Thanksgiving meal delivery service, you can serve a perfect turkey or beef with upgraded classic gravy, accompanied by delicious and creative chef-designed traditional sides with twists like sweet potatoes, mashed potatoes, stuffing, and more.
Make sure not to wait until the last minute, and order your box now!