Blue Apron
Home Chef
Best for
Upgraded chef-designed meals to cook at home.
Fast, easy to cook, delicious favorite meals.
Ingredient Sourcing
Quality ingredients, from farms that use sustainable farming practices.
High-add-on quality meats and farm-fresh veggies.
Special Diets and Features on the Menu
Vegetarian, premium meals, Weight Watchers Approved, wellness and diet.
Vegetarian, low-calorie, carb-conscious.
Subscription plans

Two or four people signature plan.
Vegetarian plan for two.
Wellness and diet plan for two.

Two, four, or six people.
Special 'Fresh & Easy' plan with oven-ready and fast 15 min meal kits.

Meal variety
Choose from 14 recipes every week.
Choose from 20 recipes every week.
Add ons
Variety of Protein packs
Variety of Protein packs, breads, and sometimes desserts.
When it comes to meal kit comparisons, you'd better be prepared! When two industry giants enter the fray, it's going to be an interesting battle. But don't worry, we've got it all covered for you.
Let the comparison begin!
How many plans do Home Chef and Blue Apron offer?
When it comes to flexibility, Home Chef is in the slight lead with plans catering to 2, 4 or 6 people.
There is however a minimum selection, which is 2 dishes each week. (No maximum limits apply for Home Chef).
On the other hand, Blue Apron provides 2 plan options for its customers: the 2-people plan, and the family plan (4 people). For the 2-people plan, you can choose either 2 or 3 recipes each week, and the family plan has a selection of 4 dishes each week.
What variety of dishes do Home Chef and Blue Apron provide?
Home Chef is flexible in terms of the variety and range of dishes on offer. There are 12 dishes each week, as well as a no-cooking lunch meal that takes only 3-5 minutes to prepare.
One of the great things about Home Chef is that you can choose from any of the available dishes, no matter what number of people are covered in your selected plan.
For Blue Apron, the 2-people plan has 8 dishes on offer each week, and the family plan includes 4 dishes.
Both competitors in this meal kits comparison battle provide a wide range of meals and tastes, whether it's the type of dish, such as meat, poultry, vegetable or fish, etc, and in terms of the seasoning and flavor (ie. Italian, Asian, Mexican or traditional style).
Up To 18 Free Meals - 50% OFF Your First 4 Boxes
How tasty are Home Chef and Blue Apron?
In this comparison review, both Home Chef and Blue Apron get top marks for taste. All the dishes we tested were delicious. It seems that Home Chef is focusing on dishes for families, with more classic-oriented recipes, yet often with an interesting twist. Not too complicated or sophisticated for the palate, it's a meal kit service that is great for kids, teens and adults alike.
On the other hand, Blue Apron tends to be a bit more upscale in their meal offerings, yet even so, the recipes are not difficult to follow.
Home Chef Vs Blue Apron: ingredients
We had meal boxes delivered from both Home Chef and Blue Apron, so we feel confident in saying that both companies are using ingredients that are high quality – and it shows!
In the case of Home Chef, the company works with high-quality, reputable food producers for their ingredients supply. For example, they get fresh vegetables and herbs from 'World Wide Farms', and seafood that is sustainably sourced from 'Sea to Table'. They also partner with Paysan Breton Butter.
Blue Apron provides a guarantee that the meat in their meal kits is hormone-free, the vegetables are fresh from the farm, and whenever possible, the ingredients are organic, and seafood is sourced from suppliers who practice sustainability.
Home Chef Vs Blue Apron: packaging
Home Chef and Blue Apron's meal kits come in quality, purpose-designed and labeled boxes, with refrigerated items stored at the bottom of the carton on ice, so the delivery stays fresh and cool, even if it has to wait on your doorstep for a few hours.
We love that Home Chef organizes each dish individually, wrapped in a clear plastic bag that is also labeled. Everything is logical and organized, and you can see exactly what's in each bag.
In contrast, Blue Apron doesn't label many of the ingredients, and everything is packed together inside the carton. The work of sorting the dishes will fall on you, the customer. The seasonings and spices are wrapped separately in their own bag, but all other ingredients are packed together.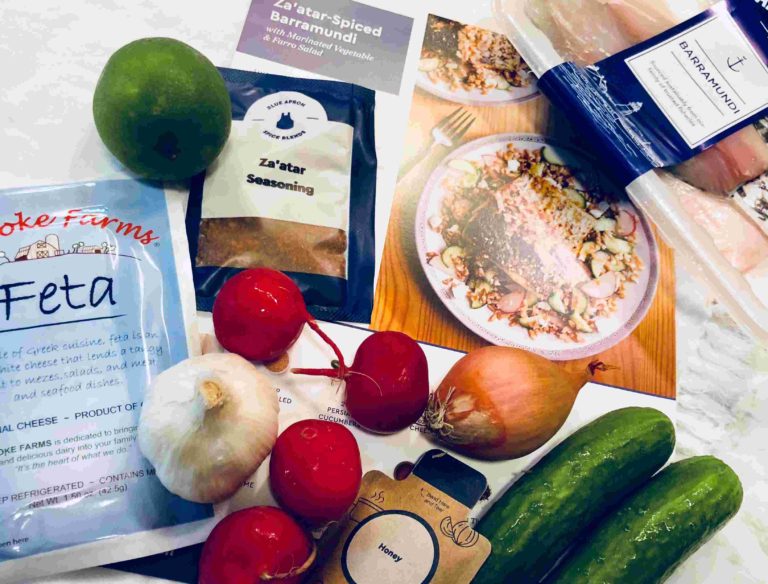 $110 OFF across 5 orders—plus, first order ships FREE!
Home Chef Vs Blue Apron: app and website
Home Chef and Blue Apron easily pass the test for the app and website. Their online tools are organized and user-friendly, so you can do most of what you need online, in a stress-free and hassle-free way. For example, you can select or change your menu plan, choose your weekly dishes and preferences, edit your payment method, and more.
Home Chef Vs Blue Apron: terms & conditions
For both companies, you will need to subscribe to the service, and there is no possibility of ordering as a one-time service. If you need to skip a week here or there, you can freeze your account for that time, so there is some flexibility with both Home Chef and Blue Apron. In addition, both let you pick your own delivery day. Account cancellation on the website is available with Home Chef. For Blue Apron, you need to email customer support, however you will receive a response on the same day.
What add-ons do Home Chef and Blue Apron offer?
In the case of Home Chef, you've got 3 useful and practical add-on options:
Terrific range of no-cooking lunches, with 5 minute prep time, such as sandwiches, salads and bowl dishes at $7.99 per serve.
Delicious smoothie selection with a different flavor every week at $4.95 per smoothie.
Basket of seasonal fruit, also for $4.95 per basket.
Blue Apron's add-ons are more sophisticated, which is reflected in the price:
Subscription for a selection of 6 wines a month at a cost of $65.99 (including shipping) per month. The company recommends the best wine to go with the dishes, which is a lovely extra bonus.
Range of retail items for the kitchen, such as cookware and more items you might need in the kitchen.
So, what's the final verdict?
Home Chef and Blue Apron are both solid choices for meal kit delivery, and they target similar audiences with a variety of recipes that are classic and traditional, but with somewhat of a twist.
However, when it comes down to it, Home Chef has the upper hand for tastiness, the sheer variety of meals, the weekly selection, the portion sizes, and the excellent packaging, not to mention the great add ons that are available.