Soy has become a controversial ingredient in the last few years, mostly because there are isoflavones in it. Isoflavones may impact the thyroid hormone and estrogen receptors in the body. High levels of estrogen have been linked to an increased risk of breast cancer. 
Even though soy foods don't contain high enough estrogen levels, some people feel that there isn't enough proof that soy consumption is long-term safe.
Some people suffer from soy allergies. Usually, these don't tend to be life-threatening allergies, but it is another reason to avoid soy in your foods.
When you have a food allergy, such as a soy allergy, it is easy to assume that your diet will be restrictive. You might think that finding tempting and healthy recipes will become a challenge – But things need not be difficult when using a meal kit company service!
Many meal kit services experts at catering to those with dietary requirements such as soy-free meals. By using a meal kit service, preparing dinner will be easy, as it does the menu planning, grocery shopping, and portion control for you!
Something that we do need to stress is that none of these services are certified as being soy-free. Each company works in facilities that also process soy products. Every effort is made to ensure that cross-contamination does not occur. However, if your allergy is life-threatening, we recommend that you DO NOT use these services.
Our Recommendation For The Best Soy-Free Friendly Meal Kits Are:
1. Sun Basket – organic soy-free friendly meal delivery:
Sun Basket is all about delivering meal kits to an extensive range of diets and lifestyles. Sun Basket is a healthy meal kit option, as the company uses organic and sustainably raised farm-fresh ingredients in all their recipes.
All Sun Basket menu options are categorized on the website, so you can easily filter the soy-free meals to have a clear view of your soy-free meal plan. The menu usually includes at least 12 delicious meals that are free of soy every single week.
Sun Basket consumers can enjoy meals that are both delicious and very easy to cook. The company offers few oven-ready meals and classic prepared meals to assemble a leisurely dinner at home, as well as ready-made breakfast, lunch, and many snacks. 
We highly recommend trying these soy-free meal kit choices from the Sun Basket menu:
Salmon tacos with cabbage slaw, salsa Roja, and chipotle yogurt
Mexican chicken and cauliflower "rice" with sweet peppers
Steaks with chimichurri and harissa-roasted sweet potatoes
Juicy Lucy sliders with peperonata relish and warm Caprese salad
Exclusive! Get $90 OFF with FREE shipping + Free gift!
2. Home Chef – simple to cook soy-free friendly meal kit service:
Home Chef is a meal delivery service focused on convenience by providing a delicious range of meals that can be on the table within 15-40 minutes. Their meals are pre-measured to fit the needs of a satisfying dinner without oversizing it.
Home Chef has a user-friendly website, and their soy-free menu items are marked on their menu. The Home Chef menu is all about bringing people together with classic evening meal options that involve inspiring and flavorsome twists!
Home Chef has a good number of soy-free options and delivers to 98% of the United States.
Here are a few examples of tasteful Home Chef soy-free meal choices:
Scallops and Black Truffle Cream
Chicken Scallopini and Mushroom Gravy with roasted garlic and goat cheese potatoes
Pork Tenderloin with Roasted Pears with green beans and garlic-thyme sauce
Sweet Chili Pork Lettuce Wrap with Crispy Rice Noodles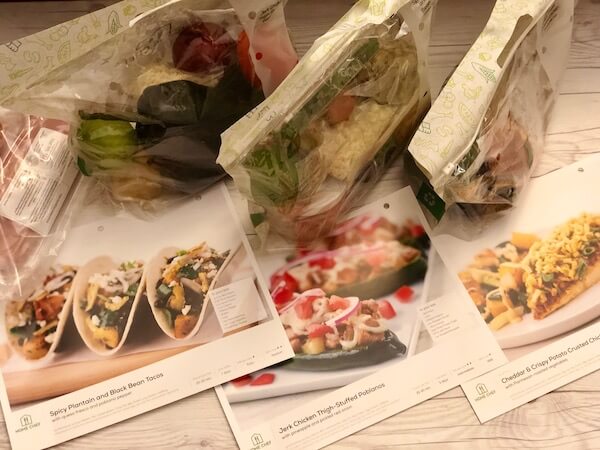 Up To 18 Free Meals - 50% OFF Your First 4 Boxes
3. Veestro – Plant-Based Soy-Free Meal Delivery Service
Veestro is a prepared meal delivery service that is all about plant-based foods. The company believes that you don't have to follow a strict vegan diet to reap the benefits of eating more plants.
As part of their extensive menu, you have the option to filter soy-free meals – and the variety of soy-free meals you get is fantastic!
The Veestro meals arrive at your house pre-cooked and frozen. All you need to do to enjoy it is heat the meal in the oven or microwave for a few minutes – And enjoy a delicious, healthy, and soy-free meal.
Here are a few examples of great soy-free meals on the Veestro menu:
South Indian Coconut Stew with basmati rice
Mushroom Risotto with a blend of mushrooms, green peas, kale, and heirloom carrots in a white wine sauce. 
Veggie Pesto Pizza topped with grilled peppers, potatoes, and onions. 
Grab your meal kits coupons!
Why use a meal kit service when on a soy-free diet?
If you are on a strict diet such as a soy-free diet it can be challenging constantly coming up with new menus that fulfill all the requirements of your diet while also being tempting and delicious. It can be exhausting! Which is why we love meal kit delivery services. Please keep in mind though that there is currently no meal kit delivery service that is certified soy-free. If you have a life-threatening allergy it is NOT our recommendation you use these services due to the risk of contamination.
Enjoy a diverse menu when using a meal kit delivery service. The main issue with a food allergy such as soy allergy is that you will initially feel like your dietary options are limited. The beauty of using a meal kit delivery service is that you will enjoy a diverse range of menu options from all over the world. You may well even find that your culinary horizons are broadened with new flavors, cooking styles, cuisines, and seasonings.
Spend less time in the kitchen and create less waste. Meal kit services deliver portioned controlled meals that include only the ingredients that you will need. This ultimately means less food waste which is better for you and the environment. Also, as a meal kit delivery service does the meal planning, shopping, recipe writing and portion control for you, you will be spending less time in the kitchen and more time on doing the things you love.
Meal preparation is kept simple and dinnertime is quick and easy! Enjoy meal kits that provide easy-to-follow recipes and pre-portioned ingredients. Dinner will be on the table within 15-40 minutes with a minimum of fuss, stress, and effort!
Why use our "best meal kits for a soy-free diet" review?
Part of our testing process at the Meal Kit Comparison involves our team of experts experiencing first-hand all the companies that we review on our website. The meal-kit industry now has companies that cater to almost every dietary requirement and demographic. As a result, it can be difficult knowing where to start when looking for a company that will best suit your needs. That is where we come in as we have done all the hard work for you. We assessed the menus for choice, ease of preparation, flavors, and taste. Our reviews can be a great place to start in finding a meal kit company for your needs and they will save you unnecessary research and running around. 
In summary
When you are catering to a serious food allergy the last thing you want to worry about is being challenged with feeling deprived and stressed as you struggle to come up with weekly menu choices. We highly recommend using a meal kit delivery service as they will assist in maintaining your diet while also making life a lot easier!
You will be enjoying a range of delicious meals that are delivered directly to your door and you will be saving time on grocery shopping and meal planning!