After spending your whole day at work or school, you might find yourself very tired to pick yourself up and prepare a meal for your dinner, finding the idea of cooking and cleaning up too unpleasant to do while you're weary. Of course, maybe you never liked cooking in the first place. 
Fortunately, some companies offer oven-ready meal kit delivery services for people who want to enjoy a meal without spending too much time in their kitchen.   
What Are Oven-ready Meals?
There are two types of oven-ready meal delivery:
Oven-ready meal kits come with raw but preassembled ingredients that you can easily throw together and drop in the oven with no real prep work, letting you enjoy a healthy and fresh-cooked meal without long prep needed. They also make the matter of clean-up conveniently quick and easy.
Prepared meals that are ready to heat in microwave or oven. These types of meal services offer the convenience of having meals on the table in no time.
You might be thinking that oven-ready meals are too good to be true, but they are genuinely great. However, there isn't a single company that prepares their meals equally. For that reason, we've compiled a list of the best oven-ready meal kit companies based on our experience, and here it is:
1. Sunbasket – Best Oven Ready Healthy Meal Kit Service! 
Sunbasket offers a wide range of delicious, healthy meals made from organic ingredients that consider easy meal prep. Sunbasket works with the best farmers, ranchers, and fishers to give you the best food you can make using 100% fresh organic produce delivered fresh to your door.
Sustainability is something it includes in every action it takes as a company. It looks to reduce food waste by giving you the exact amount of portioned ingredients you need in your meals. Sunbasket is working towards reaching 100% sustainability by constantly researching recyclable packaging solutions that reduce its carbon footprint.
It has many custom meal plans for meals that can be tailored to any client. These include paleo, gluten-free, lean & clean, vegetarian, plant-based, dairy-free, pescatarian, Mediterranean, and carb-conscious, among some others. Sun Basket offers over nine organic oven-ready meals per week. Plus, many meal kits on the menu have quick prep times of only 15 minutes.
Sunbasket offers its fresh & ready meals as oven-ready meals provide you with a high-speed experience that requires no prep work, as it's already cooked. It delivers you ready-to-heat-and-eat meals in a microwave or oven – that you can eat after a short wait of ten minutes or less. 
It's incredibly convenient when you need to save some time and enjoy a healthy and tasty meal that doesn't require chopping or clean-up. 
Some Good Organic Oven-Ready Meal Options From Sunbasket are:
Braised Beef in Panang Curry Sauce with Sweet Peas and Jasmine Rice
Butter Chicken with Basmati Rice Pilaf
Japanese Udon and Roasted Vegetables in Tamari-curry Broth
Paleo Southwestern Spicy Turkey and Sweet Potato Skillet
Pappardelle with Wilted Spinach, Fresh Ricotta, and Sweet Peas
Dairy-Free Shrimp paella with fire-roasted tomatoes and bell pepper
Dairy-Free Jambalaya chicken and andouille sausage
Exclusive! Get $90 OFF with FREE shipping + Free gift!
2. Home Chef Easy Oven-Ready Meal Kit Delivery
Home Chef has a straightforward objective; to help you save time and enjoy cooking in the comfort of your home. Home Chef wants to provide you with all you need to deliver delicious meals to your table, regardless of how busy you may be. 
The company's mantra is simplicity; it wants to make the experience of planning and preparing a home-cooked meal as intuitive and captivating as possible. With easy-to-follow instructions, it looks to reduce food waste and bring people together for their meals. 
Home Chef is one of our favorite meal kit delivery services, even more now that it has its relatively new 'Fresh and Easy' meal plan. The company designed this plan in October 2020 for its customers' convenience, allowing them to save a significant amount of time during meal preparation. If you don't have much time available for cooking and cleaning, this meal plan lets you have healthy and tasty meals at your home.
The Fresh and Easy meal plan includes several ready to heat and easy prep meals, including 15-minute meal kits, fast & fresh meals,  grill-ready foods, entrée salads, and oven-ready meal kits.
You can put in your microwave or oven food that is tagged as 'fast & fresh' in the menu, letting you cook it in under 5 minutes or more if it's in the oven. Many of the oven-ready meal options are carb-conscious or calorie-conscious.
If you want the most convenient ready to bake meals with good taste, Home Chef's selection of oven-ready meals has a couple of classics that can keep you interested by giving them a modern twist!
Home Chef also uses high-quality ingredients and provides you an easy way to know the nutritional values of every meal you choose, both online and on the recipe card. Unfortunately, the menu of oven-ready meals isn't extensive, with only four on rotation per week.
Our Favorite Delicious Oven-Ready Meal Options From the Home Chef:
Bacon and Gruyere-Crusted Pork Chop with Honey Mustard Green Beans
Garlic-Sesame Steak Noodles with Honey Roasted Peanuts and Green Snow Peas
Chipotle Ranch Sliders with Potatoes and Cheesy Steak
Cheddar and Bacon-Crusted Chicken with Caramelized Onion Roasted Zucchini
Jalapeño Popper Chicken Breast with Crispy Onions
Honey Mustard Salmon with Roasted Green Broccoli
Turkey Meatballs with Truffle Penne
Up To 18 Free Meals - 50% OFF Your First 4 Boxes
3. Freshly – Prepared Meals for Oven or Microwave.
Like the others, Freshly is a company that offers delicious oven-ready (or microwave-ready) meals through a weekly subscription model. The company provides four meal plans, varying in the number of meals you get per week, for dinner or lunch. It provides fully cooked fresh meals, and never frozen, that only need to be reheated in microwave or oven, per the meal's instructions on the back sleeve.
The objective lies in saving you as much time as possible on each of your meals. The time you may have spent on grocery shopping, chopping, cooking, and cleaning can now be focused on things you want to do with the people you care about.
Freshly doesn't use artificial flavors, chemical preservatives, or highly processed sugars in its pre-cooked food. Every meal uses the best quality ingredients and is free from gluten. With a well-balanced meal that includes vegetables, proteins, complex carbs, and some healthy fats, midnight snacks and afternoon crashes are something of the past. The company also likes to sneak in veggies and do some healthy ingredient swaps to make every meal bite as nutritious as possible!
Freshly has a vast menu of more than 30 dishes per week, and nearly all of the meals delivered by this company have a heating time of 3 minutes or less. The menu includes low-carb, low in calories, and high-protein meal options.
With such great diversity, we had a hard time picking our favorite meals out of them all!
Top Recommended Ready-to-Eat Freshly Meal Options:
Pulled Pork Al Pastor
Low-Carb Mojo Chicken Breast with Veg-Loaded Refried Beans
Freestyle Beef Lasagna
Ultra-Umami Turkey Meatloaf with Creamed Spinach & Cauli Mash
Italian Sausage Baked Penne with Sautéed Green Zucchini & Spinach
Beet & Chicken Breast Risotto with Roasted Rainbow Carrots
Savory-Sweet Chicken Breast Teriyaki Sauce Bowl
Get $140 Off Your First 5 Orders
4. BistroMD – Diet Frozen Oven-Ready Healthy Meal Delivery
At BistroMD, it works to combine the love of delicious food and the knowledge that food serves as medicine to provide you with the healthiest oven-ready meals and prevent the health problems of today.
All the BistroMD meals are fully prepared and ready to heat and eat – via oven or microwave.
Caroline J Cederquist, a certified weight loss physician, founded the company after noticing that many patients didn't know how to plan healthy meals at home. The team developed meals for these people who were looking to lose weight, and eventually, they expanded as the demand for these meals grew.
The unique diet meal plan from BistroMD helps correct metabolic dysfunction by getting your body the right amount of macronutrients. Every meal contains a tricky balance of carbohydrates, including vegetables, fiber, whole grains, lean protein, and healthy fat ratios.
This meal plan allows for a healthy and long-term weight loss instead of the usual quick burn that doesn't last by resetting your metabolism and restoring your body's natural rhythm. Apart from the weight loss, it also improves blood pressure, increases your energy levels, and lets you sleep soundly.
BistroMD offers customer service like no other. The company has several meal plans on offer – based on the number of meals delivered per week and your specific dietary restrictions. It publishes articles covering food and healthy lifestyle habits and can also one-on-one guidance consultations with a registered dietitian when you need specialized support. 
If you're looking to get meal options that are delicious and promote healthy weight loss, you should look forward to having your oven-ready meal delivered by bistroMD! It has over 150 chef-prepared meals each week, made from high-quality ingredients that you can heat in 3 minutes or less, so there's always something for everyone's liking. 
The food has low carb and calorie amounts, with lean protein, that can be diabetes-friendly and gluten-free, and it's always delivered fresh and frozen. It also has a snack program called EATS that can be quite tasty and helps accelerate weight loss.
Oven-Ready Prepared Meal Options We Like From BistroMD:
Lasagna with Garden Marinara with Roasted Green Brocolli
Salmon with Dill Mustard Sauce with Roasted Eggplants and Green Beans
Turkey Breast with Honey Orange Sauce and Green Beans
Chicken and Andouille Sausage Jambalaya
Grilled Chicken Breast in Marsala Sauce
Spinach and Feta Stuffed Salmon with Mediterranean salad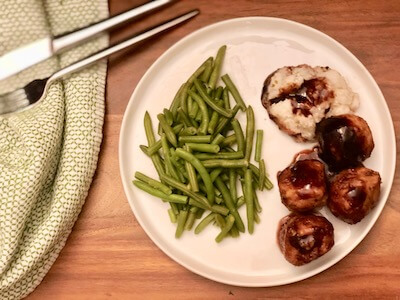 5. Veestro – Plant-Based Oven-Ready Meal Service
Veestro is a 100% oven-ready meal service. The meals are made from 100% plant-based organic ingredients, meaning that every dish on the menu is free from meat, chicken, eggs, dairy, fish, and honey. 
Veestro has a simple philosophy of adding plant-based ingredients to your meals whenever possible to improve your diet's quality.  The meals require no cooking and can cover your needs for breakfast, lunch, or dinner.
As a company, Veestro also believes that you don't need to be a vegan to enjoy the benefits of plant-based and vegetarian meals. You only need to incorporate the slight change of eating more meals that use these ingredients. 
When you consume plant-based food, you may lower the risks of contracting many chronic diseases, including Type 2 diabetes, heart disease, cancer, high blood pressure, cancer, and Alzheimer's. It may also help keeps you in a healthy weight as you cut down on fats from meat!
Veestro uses organic ingredients to prepare every meal, doesn't add any preservatives, and packs your meals with fully recyclable materials. It offers over 60 choices of clean plant-based and dairy-free meals that are frozen after being cooked to deliver them to you as fresh as possible. According to your preferences, the meals can be high protein, low calories, gluten-free, dairy-free, nut-free, low-carb, and soy-free.
Among the Best Ready-to-Eat Plant-Based Veestro Meal Options:
Creamed Spinach Bombay
Red Curry Sauce Veggies with Tofu
Plant-Based Chicken Quesadilla with Savory Bean Sauce
African-inspired Moroccan Melange
Green Breakfast Burrito with Spinach, Black Beans, Cauliflower, and More.
Soba Noodles in Peanut Sauce
Grab your meal kits coupons!
Final Notes For This Review
Cooking for yourself can be challenging for many reasons, whether that is weariness, you don't have enough time to do it, or you don't know how to cook well enough. Oven-ready meal kit delivery services can help you in any of those cases, providing healthy no-cooking meals that save you time and energy.
Each service has a flexible subscription model, allowing you to set your needed meals per week comfortably. You can also efficiently follow almost any diet needs – plant-based, vegetarian, gluten-free, high-protein, low-carb, dairy-free, and more. 
The companies listed above are all excellent oven-ready meal delivery services that we like and highly recommend to try!