Fully prepared, frozen meal kits offer an incredibly convenient solution for busy people. Nowadays people are too busy to cook, don't enjoy time in the kitchen or simply don't have enough time for going grocery shopping and meal preparation. Yet even when busy, it is important to maintain a healthy and nutritious diet that will keep you interested and give you enough energy to get through your busy week. 
That is why frozen meal kits are so appealing. They save you money, they arrive fully prepared, they are healthy, tasty and appealing and all you need to do is to heat them! Our lives are constantly changing along with our priorities. Because of this, there has been a huge growth in companies that delivery fully prepared frozen meals to your door. 
Today, we would like to share with you our top recommended companies that deliver fully prepared frozen meals. 
#1 BistroMD – Frozen Meal Kit: High in nutrition and flavor
BistroMD was founded by Dr. Caroline Cederquist, who specializes in bariatric medicine, which is the study of how food is converted into energy by the body. She is passionate about providing healthy, delicious meal solutions that also provide the optimum in nutrition. The menu of BistroMD caters for many dietary and lifestyle requirements such as gluten-free, diabetes, vegetarian and more. They have an extensive menu range so you will always have something new to try, and their meals are generously portioned and fulfilling.
As the meals from BistroMD are fully prepared, you don't have to worry about meal planning, grocery shopping, cooking or cleaning up!  All you need to do is heat them for a few minutes, then sit down to enjoy them!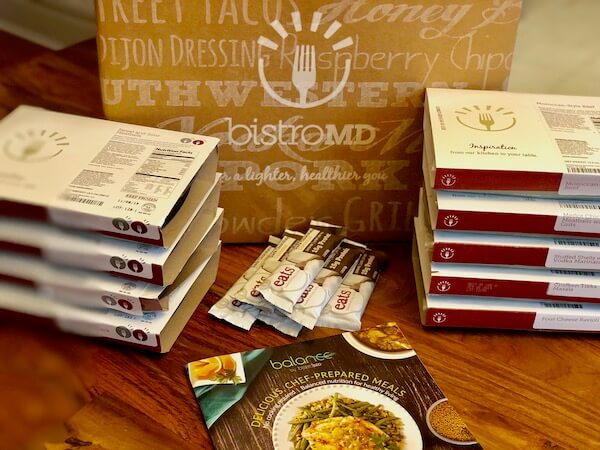 #2 Veestro: Frozen Meal delivery service specializing in plant-based meals
Veestro is perfect for those of you who follow a plant-based diet or for those who simply want to increase their intake of plant-based ingredients. Veestro provides a 100% plant-based menu, and they are big believers in that simply by increasing the number of plants you consume; you improve your overall health outcomes. Veestro is passionate about supplying delicious and interesting plant-based meals that will satisfy even the most dedicated carnivores! 
Their meals are freshly prepared, chef-designed and snap-frozen before being delivered to your door in environmentally friendly packaging. At the end of a busy day, the only thing that is required of you is to heat and then eat your meal. 
Grab your meal kits coupons!
#3 Balance by BistroMD: fully flexible frozen meal kit options with delicious meals
Balance by BistroMD is a fully flexible meal delivery service that requires no subscription or minimum order! With Balance by BistroMD, it is simply a matter of selecting the number of meals you want from their extensive menu. Their menu is made up of over 150 meal options that include breakfast, lunches, dinners, and snacks.
They also cater to many dietary requirements such as weight-loss, low-carb, low-sodium, gluten-free and more. Their fully prepared, frozen meals are packed with healthy ingredients and are nutritious, tasty and fulfilling. As everything is prepared, all you need to do with a Balance by BistroMD meal is to heat them for a few minutes before serving. 
It is easy to assume that frozen meals will not be as nutritious and tasty as freshly prepared meals, but times have changed, and that is simply not the case.
These modern-day meal delivery services prepare their meals to order in small batches. As soon as they are finished, they are carefully packaged, flash frozen and delivered to your door. You will find that these meals taste delicious and are good for you as well.