No matter your overall goal, if you want healthy meals that are easy to prepare, you can't go wrong with a healthy meal kit service. Whether you're just too busy to shop and cook from scratch or you struggle to find tasty recipes to make at home, a meal kit gives you a simple way to get delicious and veggie-filled meals on the table.
Of course, "healthy" means something different to everyone, which means lots of meal kits fit into this category.
Here are the best healthy meal kit services that give you lots of veggie options plus custom diet selections to suit every health nut's needs!
#1 Green Chef Healthy Menu
If you want organic meals that are healthy and easy to prep, Green Chef is a great option. The company is USDA organic certified and uses premium ingredients. For home chefs, that means no GMOs and food that's as sustainable as possible.
Green Chef provides 2-person meal plans that cover a huge range of dietary needs. Plus, they also have family plans that are available in either the omnivore or carnivore plan. Recipes usually take about 30 minutes to prepare, leaving plenty of time for the rest of your healthy habits!
2-Person Plan options with Green Chef include:
Keto for low-carb and gluten-free meal selections
Paleo for gluten, grain, dairy, and soy-free plates
Heart Smart with low calories and few "bad" fats
Omnivore with meat, seafood, and vegetarian dinners
Vegan for plant-based foods and lots of vegetables
Mediterranean with whole grains, fresh veggies, and good fat
Vegetarian with meat-free dishes with lots of flavor
Gluten-Free with meat, seafood, and veggies
Lean & Clean for dairy, gluten, added sugar, and soy-free meals with lean protein
No matter which plan you choose with Green Chef, you're guaranteed to receive organic ingredients that are the healthiest available. And, with the huge range of plans, you can get what works best for your diet.
Other Highlights: Gluten-free menus are certified gluten-free under a special program, plus the packaging is recyclable, reusable, or compostable for a healthy planet, too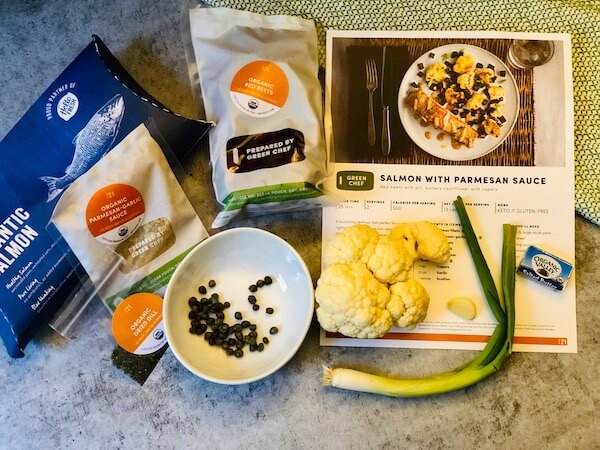 $250 OFF Across 5 Boxes, 1st Box Ships FREE!
#2 Sunbasket Healthy Meal Kits Selection
Whether it's your weight or a health condition you're trying to manage, Sunbasket lets you order meals for the whole family to fit a specific dietary need or needs. They're one of our top choices for healthy meal kits because they let you customize your plan, plus they have unique plans for people with diabetes and even those with allergies.
With Sun Basket, it's easy to enjoy a flavorful and easy meal that's also balanced and healthy with plenty of fresh produce and the right amount of carbohydrates and protein.
Sun Basket's 3-recipe meal plans for either 2 or 4 people (Classic and Family, respectively) include options like:
Paleo with high-protein recipes featuring plenty of veggies and no dairy, gluten, grains, soy, or corn
Lean & Clean without gluten, soy, or dairy and about 550 calories per serving
Gluten-Free with tons of fresh veggies, meat, and seafood, including gluten-free alternatives of all your favorite dishes
Vegetarian with organic produce, responsibly sourced dairy, and organic eggs—plus lots of vegetables
Mediterranean with wild-caught seafood, responsibly raised meat, healthy fats, and whole grains
Vegan with plant-based protein, seasonal organic produce, and signature sauces for flavor
Pescatarian with wild-caught, sustainably sourced seafood
Diabetes-Friendly for high-quality carbohydrates, plenty of fiber, and 700 calories or less per serving
Other Highlights: Mix and match recipes within any Classic or Family menu to change things up depending on your diet or other preferences
Exclusive! Get $90 OFF with FREE shipping + Free gift!
#3 Home Chef Healthy Meal Kits
Home Chef not only has a reputation for healthy meal offerings, but they also have fun and fast dish options like Quick 'n' Easy and 5 Minute Lunch to get you out of the kitchen even faster. So whatever your dietary needs, you can have something quick and delicious for each meal.
Whether it's a standard meal packed with fresh veggies and zesty flavors, a quick salad to go, or a premium dish that's fit for date night, Home Chef has it all. Plus, when you stick within a certain category for your meals, you're guaranteed specific nutrition without having to measure and guess on the details.
Home Chef's healthy recipe categories include:
Vegetarian with plant-based selections
Carb Conscious and Calorie Conscious with low-cal plates that have plenty of flavor
Salad for a light and super quick lunch or dinner option
Other Highlights: Select add-ons like smoothies and seasonal fruit baskets for an extra (and still healthy) boost! Plus, if you have allergies, you can also select from Without Nuts, Without Wheat, and Without Milk options. They also have Premium recipe items for when you want to have a high-class date night, but without leaving the house.
Up To 18 Free Meals - 50% OFF Your First 4 Boxes
Conclusion
When it comes to eating healthy, it can be hard to manage your dietary needs with your schedule. As busy as we all are these days, it's tougher than ever to get a healthy meal on your plate in a reasonable amount of time. Fortunately, our top four choices for healthy meal kits let you sit down to a delicious and healthy meal in no time.
With a range of recipe selections and perfectly fresh produce delivered to your door, there's no reason you can't meet your health goals while also saving time and enjoying your food!