Healthier eating habits are now possible, thanks to meal kits. Other than delicious, healthy home-cooked meals, these meal kits also help in saving time and energy while giving us confidence in the kitchen.
If you are new to meal kits, then we will help you get the most out of it. Our expert team will give you the best idea about special diets like paleo, keto, vegetarian, vegan, gluten-free, and more. We also cover many needs like fast and easy cooking and meal kits for families and for kids. What's more, we give you access to affordable or gourmet meal kits.
Today, we will help you discover the answer to "Are Meal Kits Worth It?"
So, let's get started!
How Have Meal Kits Risen in Popularity?
If spending time shopping or preparing time-consuming meals isn't your thing, then meal kits should be part of your kitchen routine.
With meal kits, no need for you to go to a grocery store to buy the ingredients, prepare them, and start cooking. That's because all the ingredients are delivered exactly to your door. So, it's no surprise why meal kits have risen in popularity among busy people and almost everyone who wants to save time, energy, and money.
How Does Meal Kit Services Work?
For busy individuals, meal kit services come with nutritious home-cooked meals for the entire family or just for you and your partner. These services offer practicability and convenience as recipes, exact amounts of ingredients, coupled with cooking tips that are all shipped to your front door.
Experience the benefits of meal kits by going online and taking a look at the menu of your preferred service provider for the upcoming weeks. You are free to order delightful and nutrient-packed meals based on the number of meals you need or family size.
You can choose the delivery date. The food ingredients are packaged well, using cooking packs and insulated liners to keep them cold and fresh. Once your order popped up to your door, then you can start cooking.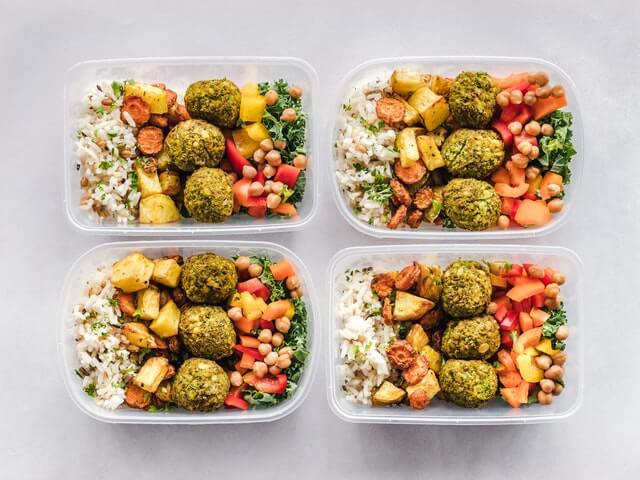 Cost Comparison of Ingredients
Meal kit delivery services continue to become popular these days because they eliminate the hassle of grocery shopping, expensive dining out, and challenges in eating healthy meals. Not only that, they come with interesting recipes to make you feel like a professional chef.
To help you get better ideas, let's compare the cost of meal kits, grocery stores, take-outs, and restaurants.
| | | |
| --- | --- | --- |
|   | Price Per Serving | usual Preparation Time |
| Meal Kits | $5-$10 | 15  to 45 minutes cooking |
| Grocery Store | $6-$10 | 30 to 45 minutes cooking, plus 1 hours trip to the store and back. |
| Take-Out | $15-$20 (plus delivery surcharge and 10 to 15% tip) | 30 to 45 minutes (taking orders, food preparation, and delivery) |
| Restaurant | $20.37 and up | 1.5-2 hours (from seating to check) |
If you want to get a bigger picture of comparing the cost of ingredients with meal kits versus buying them at the grocery store, we picked some of the popular recipes offered by reputable meal kits service providers and went shopping to a local grocery store.
Chicken Sausage Pizza
| | |
| --- | --- |
| Ingredients | Grocery Store Price |
| 18 oz Chicken Sausage | $8.37 |
| 2 pcs Zucchini | $0.89 |
| Flatbread | $2.51 |
| Crushed Tomato | $1.50 |
| Mozzarella Cheese | $3.80 |
| Oregano | $1.00 |
| Italian Seasoning | $1.00 |
| Total Grocery Store Price | $19.96 (4 servings); $15.32 (2 servings) |
| Total Meal Kit Service Price | $39.96 (4 servings); $19.98 (2 servings) |
If you wish to make the cost of meal preparation even cheaper, you can use the seasonings you already have.
Chicken Orzo with Zucchini and Tomatoes
| | |
| --- | --- |
| Ingredients | Grocery Store Price |
| 24 oz Chicken Breast | $8.90 |
| 6 oz Orzo | $1.76 |
| 2 pcs Zucchini | $0.89 |
| 2 pcs Roma Tomato | $0.39 |
| 8 oz Fresh Mozzarella | $3.04 |
| Lemon | $0.98 |
| Italian Seasoning | $1.09 |
| Panko Breadcrumbs | $1.87 |
| Fresh Parsley | $0.88 |
| Parmesan Cheese | $2.50 |
| Total Grocery Store Price | $22.30 (4 servings); $17.17 (2 servings) |
| Total Meal Kit Service Price | $39.96 (4 servings); $19.98 (2 servings) |
If you have fresh parsley and Italian seasoning on hand, you can use them to save money on meal preparation.
Meatloaf with Sweet Potatoes and Green Beans
| | |
| --- | --- |
| Ingredients | Grocery Store Price |
| 20 oz Ground Beef | $7.85 |
| 4 pcs Sweet Potatoes | $2.86 |
| 12 oz Green Beans | $1.99 |
| Panko Breadcrumbs | $1.90 |
| Onion | $0.51 |
| Fresh Parsley | $0.88 |
| Garlic | $0.50 |
| Balsamic Vinegar | $2.30 |
| Ketchup | $1.70 |
| Honey | $3.30 |
| Sliced Almonds | $2.35 |
| Total Grocery Store Price | $26.14 (4 servings); $19.75 (2 servings) |
| Total Meal Kit Service Price | $39.96 (4 servings); $19.98 (2 servings) |
To help you save money from the meal preparation cost, you can use some staple items like garlic, onion, ketchup, and honey.
Pros and Cons
Maybe you want to cook healthy, delicious meals at home more often or you wish you maintain a healthy eating habit. No matter your reason is, meal kits with easy-to-follow recipes and fresh pre-portioned ingredients can help you experience complete convenience.
However, before you end up ordering from a meal kit service provider, make sure you have an idea to "Are Meal Kits Worth It" by discovering the pros and cons.
Pros:
Cook for Enjoyment
Since you don't need to go to the grocery store, you'll have more time improving your cooking skills and provide your family with restaurant-level meals exactly to your kitchen. What's more, cooking can be a fun bonding experience for the entire family.
Healthy
Compared to foods you can order at the drive-thru, meal kits offer healthier foods. That's because all the ingredients fresh and no preservatives are added.
Diet-Friendly Options
More often, meal kits deliver options for paleo, keto, vegetarian, vegan, gluten-free, diabetes, Mediterranean and other diets. So, you can eat meals without breaking your diet.
Portion Control
Each meal from the meal kit you ordered comes with a particular portioning. This means that you will not prepare more than what you need since it can serve a set number of people.
Less Food Waste
A meal kit service can help you get ingredients that you really need. As mentioned, meals are perfectly portion-controlled, so there will be zero food waste.
Convenient
Convenience is among the notable advantages of getting meal kits, especially that ingredients are fully cleaned, ready to use, labeled, and prepped. All you need to do is to follow the recipe, and everything is ready.
Cons:
Price
Purchasing the ingredients, yourself, and doing the preparation tends to be less expensive. That's because you need to spend $10 to $15 per meal, per person. However, if you usually eat out, then you will find the cost of a meal kit to be less expensive.
Ingredients
From our existence experience with meal kits, we know that all companies make sure to supply ingredients of high quality, including farm-fresh vegetables, grass-fed meats and sometimes organic produce, you are not able to choose the groceries for yourself. for some, it might be a problem.
Still Have to Go to Grocery Shopping for Your Rest of Meals
Meal kits will not completely cut out the grocery store trips. You still have to go to the grocery store to buy essentials for breakfast, lunch, and dinners when you decided not to use a meal kit.
Tips to Make Meal Kits Cost-Effective
Although you can stick to the price set by the meal kit delivery companies, you can still make it cost-effective. You can do this by:
Choosing meal kit options that freeze well after cooking
Getting meal kits that can give you leftovers
Go for fancy-sounding meal options that offer pricey ingredients if the price remains the same regardless of the meal you pick
Search for discount codes to save up to 50% or ask friends if they can give you a referral code to get a free box
Tips to Adjust Ingredients
There are times that you wish to adjust the ingredients from the meal kit. That is to match it to your preferred taste or flavor. To make this happen, you can try ordering meal kits that are easy to customize, and the ingredients can be adjusted. You can also order for meal kits with ingredients that you can usually find at the corners of your kitchen.
Tips to Expand Serving Size (To Have Leftovers)
One of the biggest advantages of ordering meal kits is that you can try new ingredients or dishes without worrying about food waste or ending up with big piles of leftovers. Since kits will only include the necessary amount for a particular recipe, the ingredients, especially the spices, tend to be cost-effective.
However, if you wish to expand the serving size to have leftovers, you can look for meal kits that come in larger serving sizes. Besides, you can also order meal kits that are intended for a larger number of people that you need. That way, you can use the expand the portioning or use the ingredients the next day.
Bottom Line
Grocery stores might give you a wide range of options. However, it can be a daunting task to buy ingredients if you have no time. So, meal kits can be a worth it option. Apart from they give you new recipes, healthy meals, and easy to prepare recipes, you can save a lot of time and energy. What's more, you can cook good food for your loved ones, and cooking time can be bonding time. Happy cooking!