Meal kit services are a great way to have easy-to-cook meals delivered direct to your door. If you choose to subscribe to a meal kit delivery service, you can select your weekly meal plan, get all the ingredients you need pre-packaged and delivered in correct portions, and then you're all ready to get your evening meal preparation underway, without even going to the grocery store. There are so many meal kit services on the market today, it can be difficult and confusing to know which to go for.
The different companies offer various cuisines, specialties and dietary requirements, but don't worry, we're here to help you make sense of it all!
We're continuing our meal kit service comparison series with two of our favorites: Home Chef and Martha & Marley Spoon.
Home Chef is a company with a promise: to make cooking at home as easy and hassle-free as possible. Home Chef has a wide range of classic favorite dishes, often with an interesting twist that sets them apart.
The other company we are focusing on here is Martha & Marley Spoon, the meal kit company of America's queen of the kitchen – Martha Stewart. We are definitely impressed with both companies but in different ways.
Let's explore some of the details to give you a totally helpful comparison of Home Chef Vs Martha and Marley Spoon
How many plans do Home Chef and Martha and Marley Spoon offer?
If you want good flexibility, Home Chef has plans for 2, 4 or 6 people. The plans have a minimum selection requirement of 2 dishes each week. There is no maximum limit.
As for Martha & Marley Spoon, you'll get two plan types, which both have some flexibility:
The 2-person plan offers a choice of 2, 3 or 4 meals each week, whereas the 3-4-person family plan has a choice of 2, 3, or 4 meals each week.
Up To 18 Free Meals - 50% OFF Your First 4 Boxes
What variety of dishes does Home Chef and Martha and Marley Spoon provide?
The Home Chef meal kit service has 12 recipes to choose from each week, as well as a choice of 3 types of no-cooking lunch recipes that take only 5 minutes to prepare. All recipes are available to choose from, no matter which meal plan or number of people you are subscribed to.
For Martha & Marley Spoon, there is a choice of 10 classic dishes each week, specially selected from the huge collection of over 18,000 of Martha Stewart's favorite recipes.
Both companies have a range of special dietary styles, including lo-cal, dairy-free, and kid-friendly, and all are easy and quick to prepare. With so much variety at your fingertips, you'll always be able to find meals that fit you and your family's needs.
Home Chef Vs Martha and Marley Spoon How tasty are they?
After testing quite a few meals from both Martha & Marley Spoon and Home Chef, we are pleased to say that we were impressed! Both companies provide classic, high-quality, home-style cooking, and they both make sure to provide extra veggies and greens with nearly every meal. In addition, Home Chef likes to give a slight twist to their traditional dishes, which adds some excitement. For both meal kit services, the recipes are easy to use, and take around half an hour to prepare.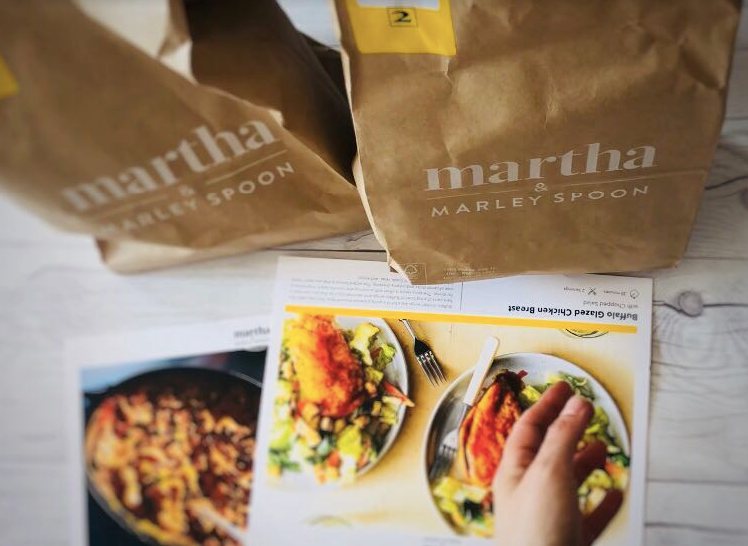 Up To 20 meals or $177 OFF - 56% OFF 1st box, $20 OFF Next 3
Home Chef Vs Martha and Marley Spoon- the packaging
Home Chef and Martha & Marley Spoon are top performers in terms of packaging. With both meal kit companies, your delivery arrives in purpose-designed carton boxes that are clearly labeled. You won't need to spend time sorting, as the contents in the boxes of both companies are well arranged, wrapped and labeled clearly and individually. 
Home Chef packs the refrigerated items at the bottom of the box with enough ice to keep them sufficiently cool. Martha & Marley Spoon packs the cool items in a separate ice-filled pouch made of pure undyed cotton. In both cases, you can rest assured that your meal kit is properly packed and cooled, so you don't need to worry about rushing it straight to the fridge.
Home Chef Vs Martha and Marley Spoon app and website
The website and app of Home Chef and Martha & Marley Spoon are user friendly, logical and well organized., You can manage the entirety of your account and activity online. This includes initial registering of your account, selecting meal plans and recipes, choosing your preferences, and updating personal information and payment details. Both companies also provide loads of online information about their recipes, including the ingredients, cooking methods and times, nutritional data and much more.
Home Chef Vs Martha and Marley Spoon-  terms & conditions
Home Chef and Martha & Marley Spoon operate on a subscription-only basis, however, you do have an option to freeze your account for a week from time to time, and you can cancel your subscription completely at any time, with no cancellation fees incurred. You also have some flexibility with both companies in terms of choosing your best delivery day.
What add ons do they offer?
Home Chef has three optional add-ons available:
Range of no-cooking, five minute lunch recipes, such as sandwiches, salads and bowl dishes, at a cost of $7.99 per serving.
Smoothie recipe with a different flavor each week, at a cost of $4.95 per smoothie.
Basket of seasonal fruits, at a cost of $4.95 per basket.
In contrast, Martha & Marley Spoon offers fiesta boxes, which are kits containing a full dinner party menu, including appetizer, entree and dessert for 4 or 8 people. There are 2 fiesta boxes to choose from.
So, what's the final verdict?
Bottom line, both Home Chef and Martha & Marley Spoon are amazing meal kit companies, offering delicious, high quality, home style recipes. These companies use the very best ingredients, however there is one winner, and that is Home Chef! This is due to their fantastic variety of meals on offer, and the cool twist in every recipe.
Yet, both companies are so good that we really recommend trying them both! That way you can enjoy restaurant-quality, classic and authentic meals that are relatively easy to prepare in the comfort of your own kitchen. Feel free to subscribe to both Home Chef and Martha & Marley Spoon for a simultaneous trial period. Then you can take advantage of the great promotions offered by both. Both companies allow you to freeze weeks of your subscription so you can take turns rotating and testing both services.
You'll be able to really get a sense of which is best for you, or – if the decision is too hard – continue to enjoy both of these wonderful meal kit companies!