Finding the right meal kit plan could make all the difference to your home meals. It can help you finally start the diet you always wanted to try, make more home-cooked meals, or eat healthier.
In today's meal plan review, we look at two excellent meal kit services—Blue Apron and Green Chef. Both of these services have a diverse selection of options.
Green Chef offers its subscribers organic ingredients and recipes that are easy to prepare and certified organic.
Blue Apron delivers mainly classic meals with an edge to its subscribers through its sustainable food system and network.
Let's Get Started with the Green Chef and Blue Apron Comparison:
Deciding which meal delivery service is the best for you and your family might take some time, but it can save you many trips to the grocery store. We understand all the considerations that have to be factored in, and we have done this for you. 
Green Chef and Blue Apron Meal Plans
Green Chef offers three different meal plan options, and these are Keto + Paleo low-carb, Balanced Living, and Plant-Powered. Each of these plans includes 6-10 recipes to choose from every week, and you will get three recipes a week with two servings per recipe. 
Blue Apron, on the other hand, has four different meal options. The first is the 2-serving Signature plan. Subscribers can choose between two, three, and four recipes a week, with each recipe serving two.
The next option from Blue Apron is the 4-serving Signature for four people. This includes two, three, or four meals each week, with each recipe catering for four.
The third option from Blue Apron is the 2-serving Vegetarian plan. This plan provides two or three recipes per week, depending on the subscriber's preference for meals per week.
The fourth plan is a new one, launched in January 2021 – a wellness plan for 2-serving. This plan is designed to help you achieve Balanced and nutrition eating. The recipes are designed for your holistic health and include carb-conscious and WW Approved options.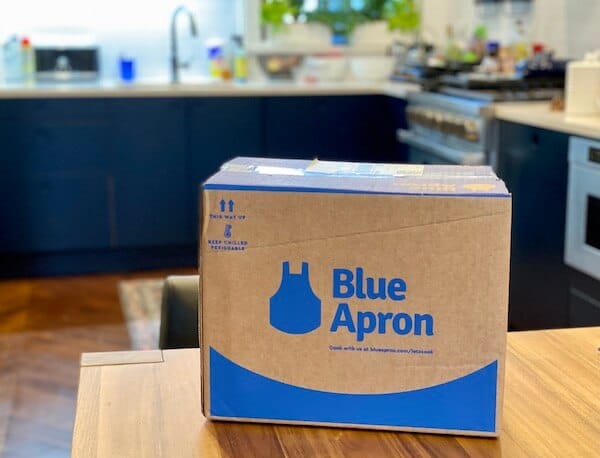 $250 OFF Across 5 Boxes, 1st Box Ships FREE!
Blue Apron Vs Green Chef- Variety and Style of Meals
Green Chef meal kit delivery service includes meals that are chef-crafted and delivered every week to members. All the recipes are easy to prepare in not more than 30 minutes. 
The Keto + Paleo plan includes gluten and grain-free meals if watching your carb intake is something you are looking to do. The menu changes every week, so you can expect to be cooking and consuming a range of nutritious and delicious meals.
The Balanced Living meal plan gives you lots of diverse and customizable recipes. These include recipes for meat, seafood, and vegetarian meals. Home cooks are sure to enjoy experimenting with the range offered here. 
The Plant-powered plan offers plant-based main and side dishes to cater to those on a vegan, vegetarian diet. 
The Blue Apron meal kit services provide fresh ingredients for new recipes every week as well. There is plenty to choose from whether you want meat dishes, fish, Beyond Meat™, WW Approved, as well as diabetes-friendly and more health-conscious choices. Those on Paleo, vegan, vegetarians, and gluten-free diet can also find great options.
Popular Dishes
Whether you opt for Green Chef or Blue Apron, you are not going to be short of mouth-watering meal choices.
Green Chef has some tasty and popular dishes, including:
Italian shrimp with pesto dish with sautéed Brussels sprouts, carrots, and roasted red peppers
Peruvian-spiced cauliflower with Creamy chimichurri, quinoa with cilantro, guacamole slaw
Southwest BBQ chicken bowls with a delicious mix of red kale, carrots, cabbage, sautéed corn, and cheddar cheese
Mongolian beef bowls with Cauliflower "rice," roasted peppers, carrots & dried shiitakes
Blue Apron has many popular dishes, including:
Seared scallops & coconut-peanut curry with fresh wonton noodles & bok choy
Shawarma chicken & couscous skillet with lemon labneh & harissa sauce
Gourmet NY strip steaks and herb-mushroom pan sauce- This premium meal comes with spinach and buttermilk mashed potatoes. 
Black bean and smoked Gouda flautas- This easy meal comes paired with tomatillo sour cream.
Enjoy $110 off across 5 orders
Blue Apron and Green Chef- Quality of Ingredients
Both Blue Apron and Green Chef pride themselves on delivering quality, fresh ingredients. 
Green Chef is a certified USDA organic company. This means that Green Chef customers are getting certified ingredients from suppliers that undergo annual compliance inspections, maintain a list of approved ingredients, require documentation of organic practices, and provide guidelines for protecting the soil and water quality. 
Blue Apron is building a sustainable food network through relationships with local farmers and responsible sourcing.  The company makes sure to send only the best seasonal ingredients and works with well-trusted artisanal suppliers like Vermont cheeses, Severino fresh Pasta, and 'Country Natural' –  a cooperative of cattle ranchers dedicated to the highest animal welfare standards.  
From our experience, after getting a few boxes of each, both present high-quality ingredients, with lots of fresh and healthy vegetables.
Green Chef vs. Blue Apron Meal Taste
As far as the taste, we have found both services excellent, thanks to the fresh, high-quality ingredients and chef's choice recipe. Before we review a meal kit plan, we sample their products and see what they have to offer first-hand.
For this Blue Apron vs. Green Chef comparison, we tested and compared both meal plans and were satisfied with the meal taste. Green Chef meals were mostly under 30 minutes to prepare and with a healthier feeling to them.
The time to prepare Blue Apron meals ranged depending on how elaborate they were, and it seemed they are more focused on a regular diet and fine home-cooking cuisine.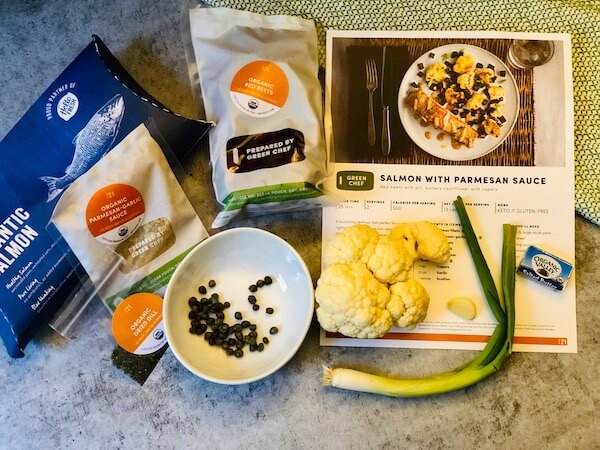 Enjoy $110 off across 5 orders
Green Chef and Blue Apron Nutritional Value of Meals
Meals from Green Chef include a substantial portion of organic vegetables.  The full calorie count and nutritional information for each meal are readily available. 
Blue Apron recipe's also come with nutritional information and full ingredient lists.
What's good about Green Chef to Blue Apron is that the meal is portion sized – so you know you eat what you need, without overeating!
Green Chef vs. Blue Apron- Flexibility
Either meal kit is flexible, whether you are looking for a family plan or a couple's two-person plan. Both services offer the flexibility to change your plan or choose your meals alone. You also have the option to skip weeks whenever needed or cancel at any time with no hidden fees.
Blue Apron offers more flexibility when it comes to meal planning – you can select from all of their offered meals, and some meals offer customization options to change the carb or the protein, based on your preference.
Website and Ordering Process
Both websites are user-friendly and intuitive to use. Meal plan information is displayed, as are prices and full recipe information.
You can easily sign up for a meal plan kit by choosing your desired plan, filling in your info, and paying. You have the option to select your meals for future deliveries or let them surprise you.
You can contact customer support via chat or email for any troubles you might have while registering or after.
Delivery Area
Green Chef delivers everywhere in the continental United States except Hawaii, Alaska, and some parts of Louisiana. Blue Apron provides their meals to the contiguous United States.
Green Chef and Blue Apron–Our Winner Is Blue Apron!
While we enjoyed both meal services and believe they could be ideal for different types of customers – our winner is Blue Apron. 
Green Chef is more for special diets and people who want organic foods. Blue Apron is for a regular healthy diet mainly, with great exciting recipes that have a real restaurant-quality. 
Blue Apron is our winner because it offers a wider variety of meals and has easy and fun to cook recipes that taste amazing every time! 
Moreover, even though the quality of ingredients supplied by blue Apron is very-high, their price point is much lower and affordable than Green Chef.