Easy Home-Cooked Meals With An Attractive Price Point
Home Chef is all about enjoyable eating at home. With the promise to 'bring people together around the dinner table', Home Chef provides well-known and loved classic recipes, often with an exciting twist.
Each meal is based on high-quality, farm-sourced ingredients, which are provided via Home Chef's partnerships with farms, both local and around the world.
Using Home Chef meal kits means saving time, minimizing wastage of food, and giving your family and friends amazingly delicious meals.
For this review, we spent two months as active subscribers – ordering, cooking, and eating the meals. Our in-house testers wrote these in-depth reviews to help you to better understand the qualities and disadvantages, if any, of the service.
Home Chef Pros and Cons
Main Pros
Good value for money.
Delicious food!
A mix of easy-to-make, oven-ready meals and more advanced meal options.
Flexible meal plans.
Option to customize your meals.
Carb-conscious, calorie-conscious meals and vegetarian meal options are available.
Optional add ons with each weekly box
Main Cons
No organic or sustainable standards
Limited plant-based recipes
Recipes are not always health-centric
Who Does Home Chef Recommended For?
For families, couples, and individuals who are short on time but still want to have delicious meals that are home-cooked in a super fast and convenient way, often in half an hour or less, Home Chef is a great solution!
Up To 18 Free Meals - 50% OFF Your First 4 Boxes
What Plans Does Home Chef Offer?
Using Home Chef, you'll discover a significant amount of flexibility. The meal plans are available for 2, 4, or even 6 people. Two recipes per week are the minimum order requirement, but there is no maximum order limit, which is excellent.
Home Chef also offers a fantastic Fresh and Easy meal plan – the easiest way to eat good meals at home. 
All meals included in this plan come with prepped and portioned ingredients ready to cook or put in the oven – with little to no clean-up!
There's also a great range of add-ons, including fast lunch dishes, desserts, protein packs, and more.
More About The Home Chef Fresh And Easy Plan
The Fresh and Easy meal kit plan includes quick and easy meals that can be thrown into the oven or tossed together quickly (like a salad). Most weekly meals require minimum prep time or even no prep time. 
There are additional categories of meals under the Fresh and Easy plan, including Fast & Fresh (microwave-friendly), Oven Ready, Grill Ready, 15-Minute Meal Kits, and Entree Salad.
This is an excellent option for those with a busy schedule who want a meal kit subscription service that offers quick-to-make meals.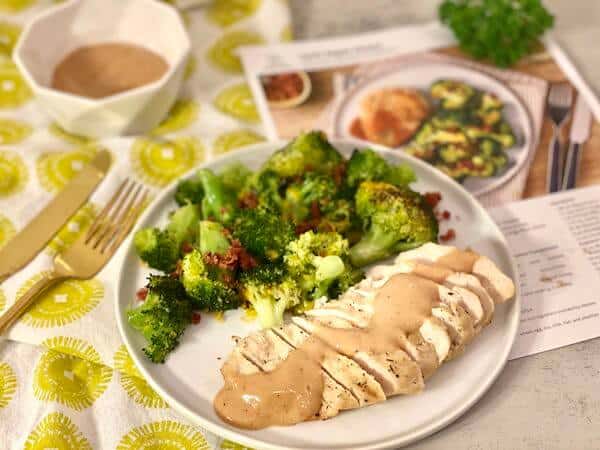 Up To 18 Free Meals - 50% OFF Your First 4 Boxes
How To Get Started With Home Chef?
It's easy to set up and begin meal planning with Home Chef. Start by signing up online, using either the website or app. Next, select the dishes you'd like to order from a list of over 20 meals available each week.
After placing your order, the meal kits will arrive directly at your door in a secure, insulated carton box. Then, unpack the ingredients, follow the enclosed recipes, and you're ready to sit at the table and enjoy your home-prepared meal. It's that simple.
Home Chef gives you a fair amount of flexibility to freeze your account for a week, should you need to, and switch your recipe choices whenever you want before the delivery date. 
Canceling your subscription can be done at any time. With Home Chef, there are no extra or expensive commitments. Just order the meals you want, when you need them.
What Kind of Meals Does Home Chef Offer?
With the Home Chef meal kit service, you can plan your meals menu for five weeks ahead. If you are an organized type, you can plan out your weekly menus in advance. 
The variety of meals is pretty much endless. Every week, there are 17 meals to choose from – those include options for vegetarian, low calories and low carb diets, and five-minutes no-cooking lunch options like sandwiches, salads, and grain bowls.  
Home Chef's signature style is 'classic home-cooking' inspired, yet there is often an exciting twist or unexpected flavor. Each week there are also a few premium meals (marked as culinary collection) like steak, risotto,
Recommended Home Chef Meals To Try
Meal Kit Options
Steak with porcini white wine sauce with broccoli and Parmesan roasted potatoes
Yucatan-style shrimp tostadas with lime crema and crispy jalapeños
One-Pan crispy deviled chicken with lemon crema and green beans
Sun-dried tomato pesto and Italian sausage pasta with garlic bread – ready in 15 min!
Moo Shu pork tacos with mushrooms and crispy wontons – ready in 15 min!
Pre Cooked Meals To Heat In The Microwave
BBQ brisket with cheesy Grits and crispy onions
Pot roast french dip sandwich with garlic pepper broccoli
Cheddar BBQ chicken tacos with jalapeño ranch slaw and crispy onions
Southern-style beef tenderloin
with baked beans and cheesy corn
Oven Ready Meals
Roasted Salmon in mustard cream sauce and garlic dill roasted potatoes
Pesto parmesan chicken with Tuscan-style green beans
Parmesan-crusted shrimp with creamy white wine fettuccine
How Easy Are Home Chef Meal Kits To Prepare? 
Home Chef's meal kits are pretty easy to put together. You'll receive a box filled with well-organized and labeled ingredients.
The meals are meant to be easy to whip up, making it an excellent option for those who are newer in the kitchen and home chef veterans.
These meals arrive with easy-to-follow recipe cards that detail how to make your Home Chef Meal step by step. If you lose your recipe card, you can go to the website and click on your meal for a convenient online recipe card.
The regular meal kits typically take 30 minutes or so, but every week there are a few meal kit options designed to be ready in 10-15 min. Also, the Fresh & Easy options take only a few minutes.
Customizable Meal Kits
Each week, you can select your meals before they ship from various meal kit options and prepared meals. Start your selection by choosing meals that fit your dietary preferences (low-carb, low-calorie, vegetarian, etc.). In addition, you can select the "Customize It" button to alter your dinners to your desired preferences further.
The "Customize It" option applies to the protein in each meal. You can select your desired dishes and swap, upgrade, or double the amount of protein you receive, which means that you can take chicken options and change them to beef or seafood recipes easily through the app.
Doubling up the protein includes an extra serving of protein with your specified meals. Upgrading the protein allows you to alter your steak cut to a higher-quality choice or swap out shrimp for fresh scallops.
Up To 18 Free Meals - 50% OFF Your First 4 Boxes
Does Home Chef Menu Offer Extras And Add-Ons?
Yes, Home Chef is a meal delivery service offering extras and add-ons for each weekly delivery. Besides choosing meal kits and prepped meals, you can also select salads and appetizers, like cheese spread and fresh bread.
Other extras include dessert options, breakfast (like waffles), smoothies, coffee, pizza, and protein packs. Adding a protein pack is another excellent way to have more protein in your meals with options like a pack of chicken or various protein bundles that mix seafood, beef, and chicken.
What's Inside The Home Chef Box?
Your Home Chef delivery box will arrive very well organized and labeled, so you won't have to do much sorting, and it will be easy to see which ingredients belong to which dish.
Refrigerated ingredients are packed at the base of the box with ample ice, so you don't need to worry about rushing your delivery to the fridge.
Each box will also include colorful recipe cards with step-by-step instructions on cooking or heating the meal.
The Packaging – Is It Recyclable?
The packaging for Home Chef is recyclable or reusable; some even come from partially recycled materials, like the box. Most of the packaging with each delivery can be placed in your recycling bin for regular pickup.
Otherwise, Home Chef provides a detailed account of the steps to recycle each packaging item, from the ice packs to the plastic containers.
Up To 18 Free Meals - 50% OFF Your First 4 Boxes
The Source & Quality of Home Chef's Ingredients
The ingredients in every Home Chef box are always impressive, and when we dug a little deeper to find out why, it soon became apparent. Home Chef sources its ingredients from very high-quality suppliers, such as Worldwide Farms for fresh vegetables and herbs, Sea to Table, which provides seafood that is sourced sustainably, and Paysan Breton Butter.
How is Home Chef's Website & App?
When it comes to using the website and app, Home Chef offers an organized and convenient experience. All the things you need to do to manage your account can be done online, such as signing up, choosing your plan and meals, defining your dining preferences, updating your payment details, and more.
We tested the Home Chef app by making changes to our order, and everything went very smoothly. Every meal is listed on the app and website, including all the information you might need, such as the ingredients, cooking techniques and times, nutritional data, and compelling images.
Home Chef Reviews In Comparison To Other Meal Delivery Services
Home Chef specializes in meal kit delivery services that cater to your dietary preferences and lifestyle. While other meal kits, like Everyplate and Dinnerly, focus on quick, cheap meals, Home Chef offers easy-to-make American-style comfort food options. 
Home Chef allows you to create meals you're familiar with in the comfort of your home.
Other meal kits use high-end ingredients and more complicated recipes that appeal to more advanced chefs (Green Chef, Martha Stewart & Marley, etc.). 
Home Chef aims to be accessible by simplifying the meal kit preparation and cooking process for chefs of all levels.
Home Chef is an excellent option for families who want to be able to customize their meals, making it a perfect choice for picky eaters.
How Much Does Home Chef Cost?
Home Chef has a varying cost per meal – starting at around $7 – depending on the category you select, with appetizers and add-ons being on the cheaper end. Most meals you order from Home Chef are about the same as you would spend when eating out at a casual restaurant.
It's a moderately priced meal service typically cheaper for a whole week of dinners than you would spend going out to eat for one or two dinners at a local restaurant. Compared to other meal kit services, it's around the mid-range of options.
The Final Verdict For This Home Chef Review – Home Chef, Is It Worth It?
Home Chef is terrific! The meals are delicious. We would describe them as classic style, but with a twist, and at the same time, not too challenging to cook. 
If you are new to cooking and want simple recipes that won't scare you away from the kitchen, or if you are a more experienced cook who wants to try something different and exciting, then we recommend Home Chef.
Up To 18 Free Meals - 50% OFF Your First 4 Boxes