The dinner meal kit niche has exploded in the last decade in the US, and it's not hard to see why. This meal-supplying service has changed the way people perceive mealtime; no longer is it a painstaking process – but a fast, efficient, and fun way to get unique meals on the table.
meal kits appeal to everyone, from younger crowds motivated to learn new recipes to busy professionals seeking quality meals without the prep time.
With so much interest in this convenient service, customers have a slew of attractive options to choose from. Without trying them all, it's challenging to know which is the best meal kit for dinner at home. To assist with this, we have put together a list of the most recommended companies, and how they compare:
1. Home Chef – the best meal kit for dinner time!
We recommend Home Chef because of its impressive, flexible meal plans. Customers can choose from a huge menu, including five different types of meals – ranging from adventurous or quick and simple, to low-calories, carb-conscious, and vegetarian.
Home Chef offers meals for every situation, including classic meals (30 minutes), quick meals (15 minutes), culinary collection, quick entree salads, and also add ons of protein packs. We especially love their slow cooker section that has recipes that can be prepped in the morning and enjoyed at dinnertime.
Another key benefit of Home Chef is the protein meal swap options. Customers don't have to settle for mains or side dishes they don't want; instead, they can swap proteins to create a meal they will be more prone to enjoy.  
Home Chef makes an excellent meal kit choice for dinner because they aren't just focused on providing fast meals. Some home cooks want to impress guests or become savvier in the kitchen. The various categories cater to customers' changing schedules and different reasons for wanting a prepped meal.
Home Chef most benefits families, especially those with picky eaters. There are comfort food recipes aplenty, and parents can swap proteins in response to the changing preferences of their family members.
Here are five recommended dinner meals from Home Chef
Cheesy Chipotle Steak Enchiladas
Creamy Sun-Dried Tomato Chicken Penne with Parmesan and Peas
Southwestern Avocado Mozzarella Salad
Southwest Chicken Caesar Lettuce Wraps with Crispy Tortilla Strips
Parmesan Crusted Salmon
16 FREE Meals or 60% OFF of each of the first 3 boxes
2. Sun Basket – Organic and healthy Dinner meal kit option
Sun Basket offers an impressive meal kit service for dinner at home, putting high importance on evolving food habits. Customers will appreciate that all of Sun Basket's food is hailed for its quality ingredients, including organic produce, and responsibly-sourced parts.
the Sun Basket weekly menu offers so many options to choose from, with a range of meals to suit many lifestyles like gluten-free, vegetarian, pescatarian, diabetes-friendly, and paleo, among others.
Customers are encouraged to select two or more meals from the weekly planned meal options. Sun basket makes recommendations based on the customer's eating habits, but it's also possible to also mix and match meal types.
Sun Basket stands out as an excellent choice for dinner because they provide the highest quality without skimping out on quantity and flavors. All of the meat options are antibiotic- and hormone-free, and their fish is wild-caught. Customers can feel good about where their food comes from.
The person who benefits the most from this service for dinner is the environmentally-conscious eater. Sun Basket offers meat, dairy, and gluten-free options, and focuses on sustainability. Additionally, they boast recyclable packaging, low-impact fishing methods, and Sun Basket works in cooperation with Feeding America and local food banks.  
Five most popular dinner meals from Sun Basket:
BBQ meatloaf with garlicky greens and potatoes
Curried chickpeas with basmati rice
Eggs in purgatory
Pulled chicken enchiladas
No-bun turkey burgers
Exclusive! Get $90 OFF with FREE shipping + Free gift!
3. Hello Fresh – classic and delicious meal kits for dinner time.
Hello Fresh is one of the most well-known names in the dinner kit meal industry. They offer four plan options, including the regular meat and veggies plan, the low-calorie plan, the family plan, and the veggie plan.
We like Hello Fresh because of its attention to customer satisfaction. The company puts a strong emphasis on working with the customer to find out what's working and what isn't. The Hello Fresh help center is extensive, and customers can speak with a representative and get fast, acceptable solutions.  
Hello Fresh also puts a lot of weight on their no-waste promise. Every part of the packaging is recyclable, right down to the ice packs and insulated liners. Those home chefs who are environmentally-conscious can benefit from choosing this dinner kit company.
Hello Fresh stands out as an ideal meal kit choice for dinners because their idyllic packing keeps food fresh, and the meals are made with locally-sourced ingredients. The recipes are creative and flavorful, yet still, embrace a sustainable approach so customers can feel good about every dinner.
The person who would benefit most from this service would be singles, couples, or families. Hello Fresh does have intriguing recipes to choose from, but they do lack meals for food restrictions that are prominent now. Catering to a larger group or family may prove more difficult.
Five popular dinner meals we recommend from Hello Fresh:
Thai 'Pad Krapow Moo'
English-Style Lamb Stew
Pan-Seared Steak
Minestrone Tortellini Stew
One-Pot Black Bean and Chicken Chili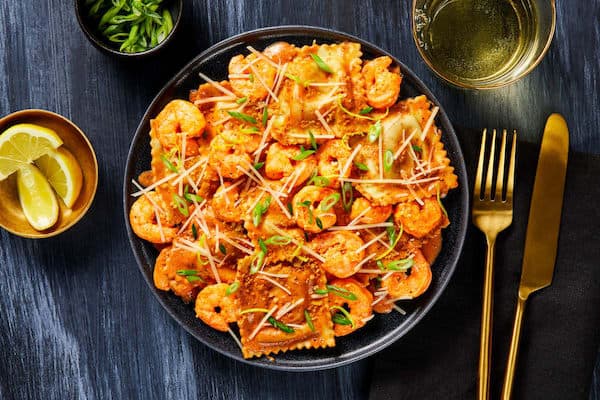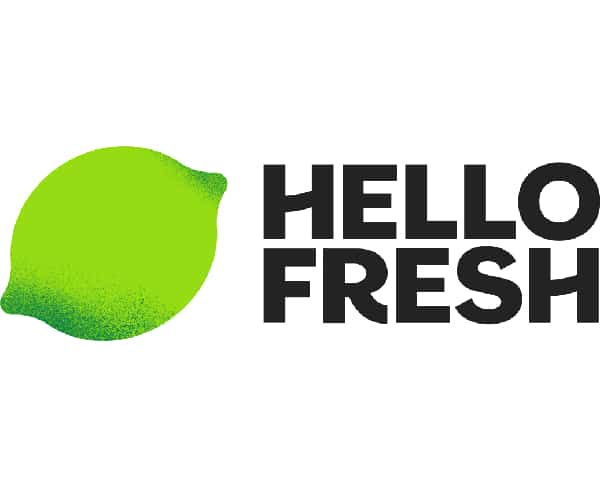 70% OFF Your First Box With Free Shipping!
4. Dinnerly – the most affordable meal kit for dinner time
Dinnerly boasts meals that are easy to cook, tasteful, and affordable. Their menu takes the stress out of meal planning and provides tempting pre-planned and pre-portioned recipes every week. Dinnerly is unique in that it embraces a limited ingredient-approach and caters to busy individuals and families.
We can appreciate Dinnerly's wide variety of recipe options; they offer up to 16 meals each week, with an emphasis on kid-friendly choices, vegetarian choices, low calories meals, and more.
Additionally, Dinnerly is more affordable than other dinner kit options. We also like that they use digital ingredient cards, as opposed to paper products to save on waste.
customers who are looking for delicious meals without the fuss will like Dinnerly's services; they're less about packaging and campaigning and more about getting great meals to your dinner table.
The type of people that would benefit most from this service are couples and families with time constraints. Dinnerly speaks to home cooks who are less interested in unique cuisine and more interested in affordable, fast meals.
Five dinners we recommend from Dinnerly's menu:
3-Cheese Lasagna
Vegetarian Pad Thai
Nacho Cheese Enchiladas
Skillet Caprese Salad
Loaded Baked Potato Gnocchi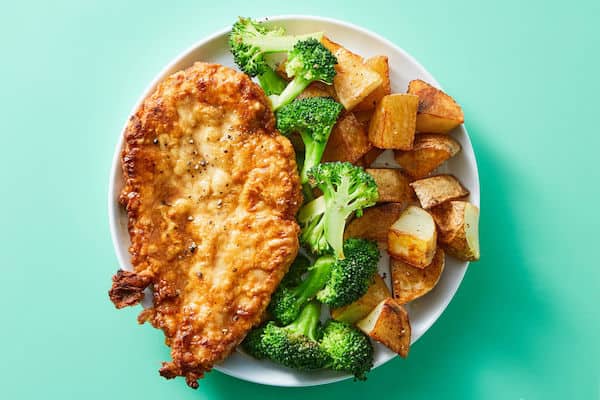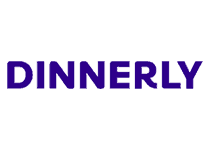 Dinnerly Special - 57.5%-20%-20% OFF For The First 3 Boxes!
5. Green Chef – healthy dinner meal kit service
Green Chef embraces the idea that a healthy meal can still mean enjoying a recipe that is full of flavor. Consumers can choose from keto, paleo, plant-powered, balanced living, and family-size plans.  
Based on the meal plan of your choosing, Green Chef provides colorful, nutritious meals made within 30 minutes. Home cooks get restaurant-quality meals without sacrificing quality or quantity.
Green Chef would be advantageous to individuals and families working with unique food preferences and needs. The creative meals provide recipes that families might not usually come up with on their own.
Additionally, Green Chef boasts Non-GMO and certified-organic ingredients and emphasizes working with sustainable and traceable food manufacturers.
Green Chef stands out as an excellent choice for dinner because of the healthy meal options and creative ingredient choices. Consumers are sure to be exposed to delicious meals they've never tried and will be inspired to get more creative in the kitchen outside of the Green Chef's help.
The consumers that would benefit most from using Green Chef would be more substantial groups and individuals, who wish to enhance their healthy eating habits. This is based on two things: The wide range of recipe options, and slightly higher prices. Green Chef is somewhat more expensive than other options but does a fantastic job of catering to the keto diet, paleo diet, allergies, and food restrictions like gluten-free or dairy-free meals, etc.
Five dinner meals we recommend from the Green Chef menu:
Spicy Beef Taco Salad
Almond-Crusted Barramundi
Moroccan Chicken Quinoa Bowl
Chickpea Salad Sandwiches
Mojito Shrimp
Enjoy a Cost of $5.99 Per Serving Plus Free Shipping On First Box!
6. EveryPlate – low price meal kit for dinner
EveryPlate claims to be America's best value meal kit, offering very affordable serving prices with the same convenience of other dinner kit companies. EveryPlate emphasizes easy recipes (6 steps or less), and nine recipes to choose from per week.
Home cooks who have time constraints will undoubtedly benefit from the limited step process that EveryPlate practices. This dinner meal kit company is all about simplicity, without sacrificing taste. The plans are impressively inexpensive, so anyone can afford to use the service without breaking the bank.
customers can choose between 3-5 meals per week, with 2-4 servings in each delivery. The meals are idyllic for beginners who are trying to find their footing in the kitchen. Additionally, chefs who enjoy home-style cooking will benefit from these recipes.
EveryPlate stands out as a good choice for dinner because of the affordable pricing and hearty meals. Individuals and families are sure to be satisfied even after such a simple meal prep.
The type of person that would benefit most from this service is large groups/families. Simply put, EveryPlate has some of the most inexpensive meal plans that make dinner more manageable for families. Keep in mind, EveryPlate does not offer meals for dietary restrictions, which does make them less accessible.
Five dinner meals we recommend:
Pork Sausage & Sweet Potato Risotto
Fully-Loaded Black Bean Quesadilla
Chicken Sausage Penne with Pink Sauce
Hearty Steak Shepherd's Pie
Skillet Apple Pork Chops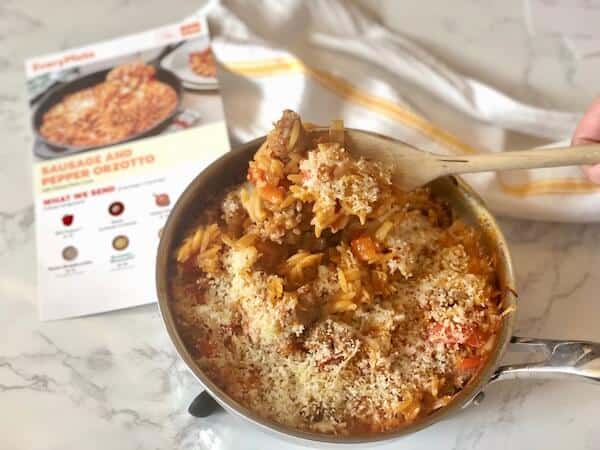 EveryPlate at $1.49 per meal + 20% OFF next order
Final Words
Eating out is a treat once in a while, but having dinner at home has many more benefits. Not only is it more cost-effective, but you can control what your family is eating and where your food comes from.
Meal kits are a great way to encourage more at-home meals without having to worry about stressful meal-planning, picky eaters, and failed cooking attempts. With meal kits, you know your meals are already planned, and they're sure to be delicious.
Before you choose a dinner meal kit, make sure to do your research. If you have dietary restrictions in your household, some companies will be more accessible than others. Some companies will offer discounts if you're a new customer; it can't hurt to try them all!
Our 'Best Meal Kits for Dinner' review takes an in-depth look at what some popular companies have to offer in their kits. Consider these reviews to give you a greater knowledge of which companies can cater to your needs, and how to make the most of them.