New companies are appearing all the time in the popular, rapidly growing meal kit industry, This review compares two of the long-standing greats among meal kit providers in the US, so this is a truly exciting competition!
The companies in question are Sun Basket versus Blue Apron. Although they both offer the regular services provided by meal kit companies, they have some key differences, which makes for an interesting comparison. Now, we'll go over both companies and their offerings in detail, for a fair and fun meal kit comparison review!
Sunbasket Vs Blue Apron: Plan offering
Let's begin with Sun Basket.
The company has two plan options – Classic and Family – and both plans offer dishes suited to a range of dietary needs. Feel free to mix and match them. Some examples of diet types are gluten-free, lean & clean, paleo, Mediterranean, and others.
Sun Basket's Classic Menu gives you 2 or 3 recipes for 2 or 4 people each week. If you choose the Family Menu, you'll get 2, 3, or 4 recipes for 4 people per week.
Like Sun Basket, Blue Apron also has two menu plan options on offer. Blue Apron's Classic Plan is for 2 people, with 2 or 3 dishes per week. The Family Plan is for 4 people, and you'll receive 2 to 4 dishes each week.
Exclusive! Get $90 OFF with FREE shipping + Free gift!
Sunbasket Vs Blue Apron: Dishes Variety
In the variety of dishes, Sun Basket cuts above Blue Apron, with an outstanding 18 dishes available to choose from every week. A wide range of special dietary needs is catered for. These include gluten-free, paleo, lean & clean, vegetarian, pescatarian, vegan and Mediterranean. We were very impressed by the latest menu plan addition, specially designed to be diabetes-friendly.
Blue Apron's variety is more limited, with 8 dishes on offer each week for the plan catering to 2 people, or 4 dishes for the Family plan.
Sunbasket Vs Blue Apron: The Taste Test
In the flavor stakes, both Sun Basket and Blue Apron emerged as delicious winners!
We think that the recipes at Sun Basket are more focused on being user-friendly with fast cooking times. In fact, the company states that the majority of meals only take half an hour to prepare. Sun Basket also appears to take a more dedicated approach to healthy cooking. In contrast, the dishes offered by Blue Apron are more classically styled, but with an interesting twist.
Sunbasket Vs Blue Apron:  Ingredients Quality
High-quality ingredients are the name of the game for both Sun Basket and Blue Apron. We love Sun Basket's promise that they only use organic, sustainably sourced ingredients. On the other hand, we also appreciate Blue Apron's commitment to using only hormone-free meat products. Regarding Blue Apron's use of vegetables, all are farm fresh, and when possible, also organic. Seafood products used by Blue Apron are sustainably sourced.
Sunbasket Vs Blue Apron: Packaging
When it comes to delivery of meal kits, sturdy boxes and clearly marked labels are really important, and in the Sun Basket versus Blue Apron review, there are some stark differences. But let's start with what their packaging has in common. Both companies pack the refrigerated proteins at the bottom of the box, with enough ice to make sure the items are kept cold until they reach your fridge. But this is where the similarity ends.
Blue Apron ingredients arrive loose, and they are not sorted inside the box. Unfortunately, many ingredients are unlabeled, and ingredients for different meal kits are not packed separately. A small pack of spices and seasoning is the only item that is in fact wrapped. This means that the customer needs to spend the time and energy sorting through the items and separating the meal kit ingredients for each recipe.
In refreshing contrast, Sun Basket packages and labels the ingredients of each dish separately, making for a much more organized and easy delivery experience.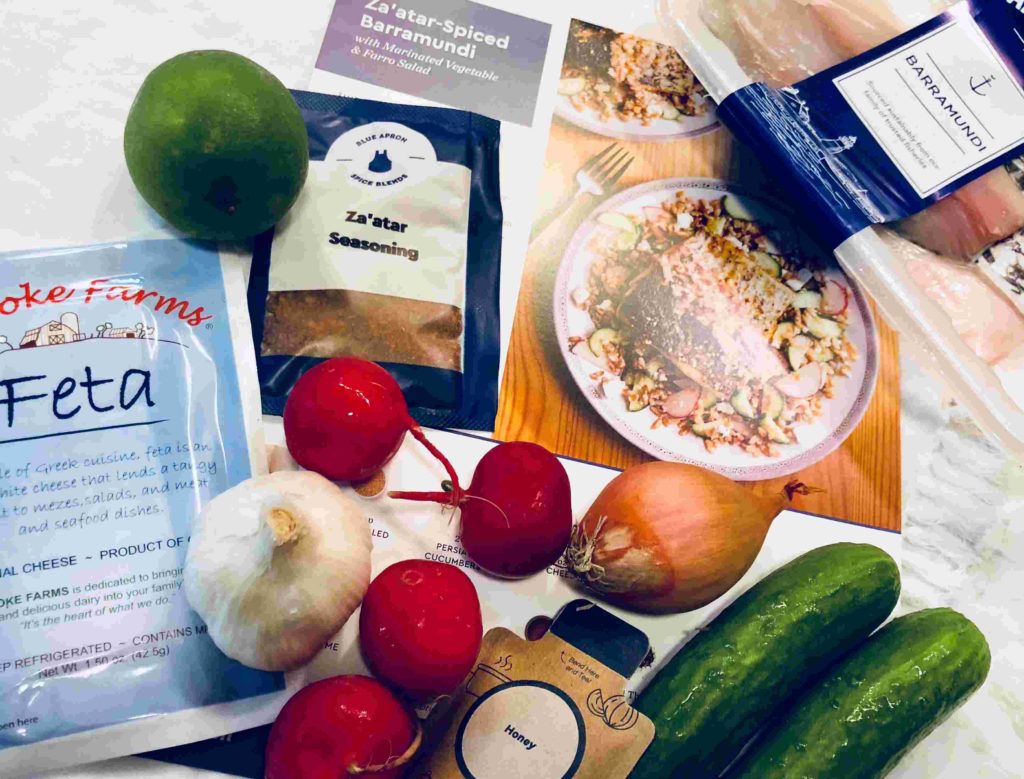 $110 OFF across 5 orders—plus, first order ships FREE!
Sunbasket Vs Blue Apron: App and website?
For their apps and websites, both Sun Basket and Blue Apron get high marks. The online experience of both companies is user-friendly and appealing, making it very easy to manage your account and orders, from registering on the site, to selecting a plan and dishes, defining your menu preferences, or updating your payment method.
Sunbasket Vs Blue Apron: Terms & conditions of the plans?
Sun Basket and Blue Apron both operate as subscription services, and both allow you to temporarily freeze your subscription should you need to skip using your meal kit service for a week. In addition, both companies are fairly flexible in terms of choosing your preferred delivery day. If you wish to cancel your account, both companies require you to contact customer support, as this is not done online.
Sunbasket Vs Blue Apron: Add-ons
With Sun Basket, you can purchase one of a range of signature sauces each week for $4.99. Blue Apron offers a wider range of add-ons, including a great selection of wines, and even recommendations about which wine goes best with each dish. There is also a retail service where you can purchase various cookware items and kitchen supplies.
So, what's the final verdict?
Although both Sun Basket and Blue Apron are solid, established meal kit companies with great services, they do target different audiences. Sun Basket is more focused on health junkies, organic and new age food styles, while we like to describe Blue Apron's cooking style as 'classic with a twist'. Sun Basket has a great variety of special dietary options such as gluten free, vegan, paleo, lean & clean, and even diabetic.
Overall, we think Sun Basket's offering is better, for a number of reasons. Their menu range is delicious, yet with an emphasis on 'healthier', and all ingredients are organic and sustainably sourced. Also, they excel in the variety of flavors, tastes and styles of their dishes. And lastly, Sun Basket's packaging received a top score for organization and convenience!