Today we are going to be looking at two companies that are well-established and provide health and organic meal kit options. These two companies are Sun Basket and Green Chef. These two companies have long made the delivery of delicious and healthy organic meal kits their priority. Continue reading for a detailed comparison between the two companies so you will be better able to choose the company that is best for you!
The world of meal kits is a fascinating one in that it is always changing to keep up with modern dietary trends and expectations. Something that is becoming increasingly important for the modern consumer is the desire to embrace a diet that is both healthy and organic. There are now so many companies in the meal kit arena that it can be hard to work out which one delivers the best option in terms of a healthy organic menu.
This is where the Meal Kit Comparison comes in handy! We offer a service that provides in-depth comparisons of meal kit delivery companies, so you can work out which company is best suited to your needs.
Sunbasket and Green Chef Meal Plans: 
Sun Basket has two different plans for you to choose from. Sun Basket also provides multiple options for those with dietary requirements. As a Sun Basket customer, you can mix and match dishes from those different menus. Menus include such choices as lean & clean, paleo, gluten-free, Mediterranean and many more.
The Classic Menu: two or three recipes on a weekly basis for two or four people
The Family Menu: two, three, or four recipes on a weekly basis for four people.
As a Green Chef customer, you also have a choice of two different plans in which you have the option of changing whenever you desire.
Two-person plan: three meals per week for two people.
Four-person plan: two meals per week for four people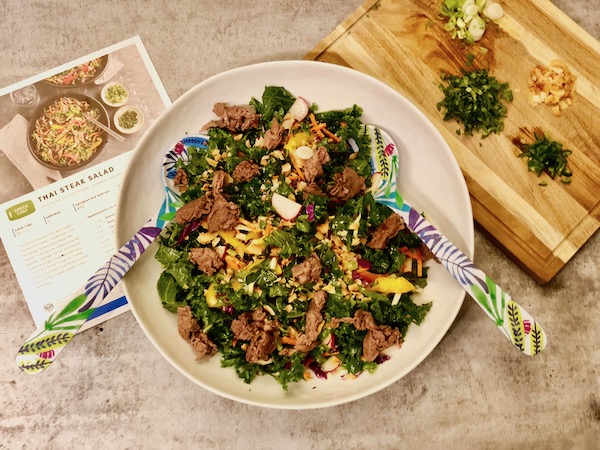 $250 OFF Across 5 Boxes, 1st Box Ships FREE!
Sunbasket and Green Chef Menu selection
Sun Basket is known for its pleasing variety of dishes offered and they have a choice of 18 dishes every week. These dishes include options that cater for many different dietary requirements which include vegan, Mediterranean, pescatarian, gluten-free, and many more.
In comparison, Green Chef has seven menus for different lifestyles which include paleo, vegan, keto, omnivore, carnivore, vegetarian, and gluten-free. As a Green Chef customer, you need to select one menu and you can then select your two or three weekly dishes from this menu depending on your plan.
Both Sun Basket and Green Chef are specialists in creating healthy and organic meal kits. So, the dishes from both companies contain only organic ingredients combined with healthy recipes that deliver optimum nutritional value.
Sunbasket Vs Green Chef – Types of dishes offered:
We have tried many dishes from both Sun Basket and Green Chef and they are always of the highest quality. With Sun Basket and Green Chef not only will you receive organic and healthy meal kits, but you will also receive meal kits that are incredibly convenient, being very easy to prepare. All the Sun Basket menu items take no longer than 30 minutes to prepare, though we have found in many instances that meal preparation takes even less than that! Green Chef embraces convenience as well and you will find that their healthy and organic dinners will be ready to serve within 30 minutes.
Sunbasket Vs Green Chef Quality of ingredients:
With Sun Basket and Green Chef, you are guaranteed to receive meal kits that contain only the best quality organic ingredients. Sun Basket promises that their ingredients are all organic and sustainably sourced. Green Chef is a USDA-certified organic company who uses only sustainably sourced ingredients that come from a trusted network of responsible suppliers.
Exclusive! Get $90 OFF with FREE shipping + Free gift!
Sunbasket and Green Chef delivery box
Both companies deliver their meal kits in specially designed boxes, that include recyclable insulation and enough ice to ensure the ingredients are kept in optimum condition during the delivery process. With the Sun Basket delivery, you will find that all ingredients are labeled and sorted so to unpack, it is simply a matter of storing your well-organized ingredients until you are ready to use them.
The Green Chef delivery is a little different, as though the ingredients have been labeled, you will need to sort the ingredients for each meal before packing them away.
Sunbasket and Green Chef app and website:
Both companies offer attractive and well-organized websites where you can completely manage your accounts. Sun Basket also provides the option of an app to use. Green Chef does not have an app, but their website is mobile optimized. In terms of managing your account this is very easy to do so online. You can register, select your preferred plans, pick your weekly meal options, specify dietary requirements and update payment methods.
Sunbasket and Green Chef Terms of use:
Both companies offer a service where a subscription is required. However, the subscription comes with a pleasing amount of flexibility where you can skip weeks whenever necessary. To cancel your account, you can do this easily online with Green Chef and with Sun Basket you will need to do this via the customer support link on the website.
Sunbasket Vs Green Chef Comparison Conclusion
When it comes to organic and healthy meal kits filled with delicious ingredients, both Sun Basket and Green Chef offer very satisfying options.  
In this instance, our preferred company is Green Chef!
We have found that they have a very diverse meal plan selection, each with a great selection of easy-to-cook fresh meals.
Most importantly, when it comes to our Green Chef experience, we have never been disappointed with the great quality of the USDA-approved ingredients – and the meal's taste!