This review will look at our favorite meal delivery companies that cater to a dairy-free diet.
One of the symptoms of our busy world is the growth in food allergies and intolerances. A dairy allergy seems to be increasingly standard, and the request for a dairy-free menu is now very common. 
Moreover, many people who aren't sensitive to dairy go on this diet for better health or to be more eco-friendly.
Please note, though, that none of the following companies are certified as dairy-free, as their meal kits are created in facilities that also handle milk products. While all ingredients are handled separately and carefully packaged, they cannot guarantee that there might not be minor incidents of cross-contamination.
If your allergy is severe or life-threatening, we recommend that you do not use these services unless they are certified as dairy-free companies. 
Best Meal Kit Services That Offer Dairy-Free Meals
#1 Martha Stewart & Marley Spoon
Dairy-free Options From Martha Stewart's Classic Recipe Collection
No one better represents home cooking joy than Martha Stewart, which is why her meal kit company – Martha & Marley Spoon, is one of the best to consider!
The company, which operates worldwide, offers an extensive 45-meal-per-week menu, including at least ten dairy-free recipes and some exciting breakfast options. The dairy-free options are marked on the menu for an easy selection process. Moreover, all dairy products in the dairy meals arrive packed separately, so you can exclude those products from the recipe when cooking.
You get cooking instructions in your email that you can print, or you can opt-in to get printed recipe cards in each box.
Dairy-Free Meals We tried From Martha & Marley Spoon
Grass-fed seared steak & gremolata with Roasted Potatoes & Carrots
Lemon & dill salmon with charred broccoli & quinoa
Char Siu chicken buns with sesame-tamari broccoli
The menu with clear dairy-free labeling:
Up To 20 meals or $177 OFF - 56% OFF 1st box, $20 OFF Next 3
#2 Dinnerly
Affordable Meals With Many No-Dairy Alternatives
Dinnerly is known as one of the cheapest meal kit services operating in the country, with a meal cost as low as $5 per serving.
The service offers simple meal kit recipes for no-fuss delicious dinners at home. By keeping a more straightforward approach to the recipes, Dinnerly provides the same quality products as other meal delivery services but at a much lower price.
Dinnerly offers an extensive weekly menu with 45+ easy recipes, including at least ten dairy-free options. The dairy-free meals are labeled on the menu so you can navigate your selection easily.
Dairy-Free Delicious Meals We tried From Dinnerly
Vegan Chili-Garlic Oil Noodles with Tofu, Cucumbers & Peanuts
Mediterranean Meatball Stew with Carrots & Couscous
Chorizo Potato Hash with Baked Eggs
The Dinnerly menu marks dairy-free meal options.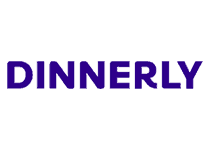 Dinnerly Special - 57.5%-20%-20% OFF For The First 3 Boxes!
#3 Home Chef
Easy-To-Cook Meal Kits With Dairy-Free Options
Home Chef is all about bringing people together over a shared meal. The company creates reassuringly familiar meals that include surprising twists to whet your appetite.
Home Chef ensures that allergens are marked on the online menu, so you can easily check if a meal is dairy-free. You can also check if there are eggs, fish, shellfish, gluten, tree nuts, and soy. Also note that all milk products are packed separately, so it's simple to exclude those products when cooking.
With Home Chef, convenience is a priority. That's why none of their meals take longer than 30 minutes to complete. As a bonus, the service also offers many oven-ready, pre-made meals to heat in the microwave and fast meal kits that can be ready in 10-15 minutes.
Dairy-Free Meals We tried From Home Chef
Steak Pizzaiola with fresh grape tomatoes
Korean-Style Steak Tacos with quick-pickled cucumber ribbons and slaw
Tonkatsu Pork Chop with miso mushroom rice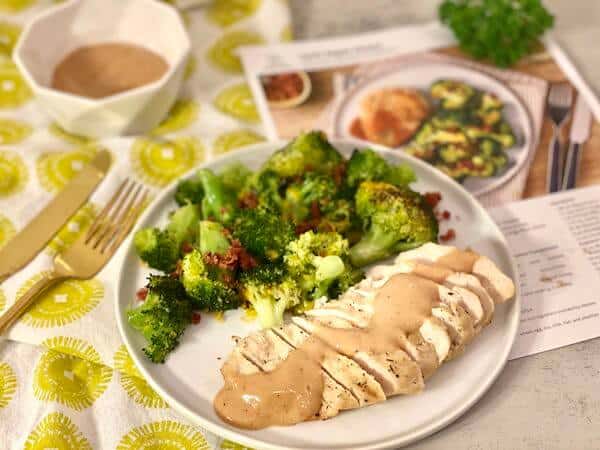 Up To 18 Free Meals - 50% OFF Your First 4 Boxes
#4 Freshly
Dairy-free Prepared Meals Delivery Service
Freshly is a company that delivers fully prepared, non-frozen meals that are healthy gluten-free, and contain zero artificial ingredients. Even though the meals have been fully prepared, they taste like meals cooked in your kitchen.
The Freshly meals are delicious and satisfying and come in a single serving.
This meal delivery service's weekly menu caters to many dietary and lifestyle requirements – gluten-free, dairy-free, and soy-free. As a dairy-free customer, you will be pleased with the choices designed specifically for these dietary restrictions.
Freshly includes up to ten prepared dairy-free meals per week, so you will have ample ready-to-go meals to choose from to keep your diet diverse. 
Dairy-Free Meals We tried From Freshly
Savory-Sweet Chicken Teriyaki Bowl with Basmati Rice & Veggies
Grilled Lemon-Tahini Chicken with Riced Broccoli & Cauliflower Pilaf
Coconut Purple Rice Porridge with Blueberry, Peach & Toasted Pecans
Get $140 Off Your First 5 Orders
#5 Green Chef
Dairy-Free Meals Delivered Every Week, All With Organic Ingredients
Green Chef is a food delivery service that prioritizes creating meal kits that use only USDA-approved organic ingredients and seasonal produce with high nutritional values.
The company also delivers meals catering to many dietary needs like a vegan diet, low-carb keto diet, Mediterranean diet, etc.
Green Chef might be a good choice if you're eating dairy-free. The menu does not offer a specific dairy-free category, but many meals are dairy-free (mostly paleo and vegan meals). You can browse the recipe online and see the allergen list per recipe. Also, all Green Chef dairy products arrive packed separately, so you can exclude them when cooking.
Dairy-Free Meal Options We tried From Green Chef
Seared beef tenderloin with shiitake mushrooms, green beans, and spicy ginger-lime aïoli
Southwest Pork Patties with butternut squash hash, veggies & pepitas
Tropical teriyaki salmon bowls with mangos, cabbage slaw, and Sriracha aïoli
$250 OFF Across 5 Boxes, 1st Box Ships FREE!
#6 Sun Basket
Organic Dairy-free Meals
Sunbasket is a meal kit company that has been around for many years and is well-established with an excellent reputation. They have an impressive menu that caters to multiple dietary and lifestyle requirements, including dairy-free.
Their menu includes 18 different dishes every week. Menu items are marked if they are free of dairy, gluten, soy, and many other allergens. Their dairy-free choices are tempting, delicious, and fulfilling. Their ingredients are 100% organic and are of the highest quality. 
Dairy-Free Meals We tried From Sunbasket
Mediterranean meze platter with chicken and spicy tahini dressing
Korean BBQ tostadas with pollock, charred scallions, and carrot slaw
Sausage–brussels sprouts frittata with salad and red pepper vinaigrette
Exclusive! Get $90 OFF with FREE shipping + Free gift!
All about Dairy-Free Diet
Those who suffer from a dairy allergy or lactose intolerance have issues with the protein found in cow's milk, which can react with the immune system causing symptoms that range from mild to severe.
Dairy allergy sufferers can experience anything from vomiting to skin rashes, trouble breathing, and stomach pain. When you have an allergy, such as a dairy allergy, it is vital to adjust your lifestyle to remove this element from your daily diet. 
When doing so, it is easy to think that you will be deprived of foods that you love and that eating will become something that involves deprivation and food lacking in flavor. Many struggles with the idea of maintaining a healthy diet when faced with removing a common ingredient. 
Nowadays, some pursue a dairy-free lifestyle without having an allergy and make this choice as a lifestyle preference. The reasons can be for better health or to reduce the harmful impact on our planet.
Final Notes
When on a dairy-free diet, it need not be difficult, and you can still be healthy, tasty, and enjoyable!
When looking at dairy-free meal delivery services, as we reviewed above, you will find that many of them specialize in providing tempting and healthy meal plans that cater to this diet.