Overview of the RealEats service:
RealEats provides meals that are individually crafted by chefs after you order, then vacuum packed to ensure the integrity and freshness of their ingredients. RealEats meals are never frozen and are free of preservatives and additives with ingredients that are high quality and predominantly organic. RealEats meals require no planning, preparation or cooking. All that is needed is to heat your meals in a pot of boiling water for 6 minutes.
RealEats uses the 'sous-vide' style of cooking, that is used by many restaurants. By using this method, your meal is packed with flavor and nutrients, and the meals can also be kept refrigerated for up to 7 days. The plastic pouches they use are BPA-free, plasticizer and phthalate-free and are of food-standard quality. 
The ideal RealEats customer
RealEats is ideal for those who are living a hectic modern life and are time poor but still interested in eating tasty and nutritious meals at home. Most of their meals are low calorie, so they are also an ideal choice for those who are managing their weight. 
The RealEats available plans
There are two different types of subscriptions available with RealEats: 
Dinner only: This plan provides dinner options only, and it is simply a matter of choosing how many meals you would like to receive each week. This ranges from 4 to 12 meals.  
Breakfast & Dinner: This plan provides dinner and breakfast options, and it is simply a matter of choosing how many meals you would like to receive each week. This ranges from 4 to 12 breakfasts and dinners.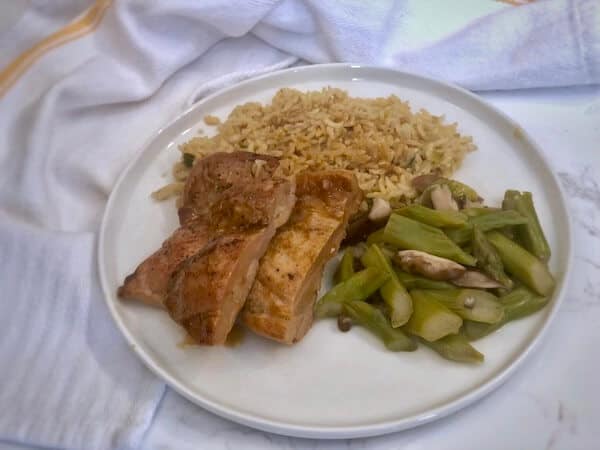 30% OFF All Meals Plans! Use Code GETREAL30
The menu selection of RealEats
You will find a pleasing amount of variety every week on the RealEats menu. They have a choice of 22 meals per week that includes options for dinner, breakfast and their chef selections. The menu is influenced by many different culinary styles from around the globe. Some examples of menu choices include Kofta Kebab, Pan-Seared Bavette Steak, or Cajun Whitefish. You will find foods that have Mediterranean, Southwestern, and Asian influences and much more!
The Real Eats meals are fully prepared, non-frozen and are ready to eat after 3-6 minutes of heating. All their meals are cooked by the process of 'Sous-Vide' which is a French cooking method. This involves putting ingredients in a bag which is then vacuum sealed and cooked to perfection in a water bath. 
This particular method of cooking does not require any added fat or preservatives, which is why the meals of RealEats are healthy and low in calories, thus making them a great weight-management option. 
The ReatEats taste
At the Meal Kit Comparison, we make sure that we go through an extensive tasting process of all companies that we review so that we can provide immediate and first-hand feedback. We really enjoyed our experience with RealEats and thought that their meals offered a much better alternative to takeout. The meals were super easy to heat and, in most cases, tasted like meals that had been cooked in our very own kitchens!
Your RealEats delivery
Your RealEats delivery arrives in a medium-sized delivery box that allows for thermal regulation during delivery, which means that your meals arrive in pristine condition! The meals are all individually packed in their vacuum-sealed plastic bags. These bags are 100% industry approved and are BPA, Plasticizer and Phthalate free. 
The RealEats ingredients
RealEats is passionate about creating healthy meals using the best available ingredients. Wherever possible ingredients are sustainably sourced and farm-gate fresh. RealEats is headquartered in Finger Lakes. This diverse agricultural region is where many of their ingredients are sourced from resulting in meals that are simple, healthy and filled with the freshest possible ingredients. 
Managing your RealEats account
Managing your RealEats account is very easy via their user-friendly website. The menu is easily accessible, and each meal is clearly explained and contains nutritional facts, calorie counts and list of ingredients. 
Ordering your RealEats meals is a very easy process. All you need to do is to select your preferred plan, then select the preferred number of meals you would like to order in that plan. Then you choose your meals, create your account (if it is your first time) and then checkout. It could not be easier. 
In summary of our Real Eats Review
We think that the RealEats prepared meal delivery service offers a wonderful option for those of you who wish to eat well at home but have zero time to spend in the kitchen. RealEats meals are chef-prepared and require only 6 minutes or so of heating before they are ready to eat. Although their meals are fully prepared, to us, they felt like freshly home-cooked meals, and we loved the fresh, vibrant, and healthy ingredients used in all their meals. 
30% OFF All Meals Plans! Use Code GETREAL30