Do you love cooking but don't have time to cook long-prep recipes? Are you just starting your first steps into the art of cooking and feel that you need some guidance? Using meal kit services, you can effortlessly upgrade your home cooking routine – with no need for in-store grocery shopping or long meal planning!
The growing marketplace of meal kit services – like Sunbasket, Blue Apron, Hello Fresh, Home Chef, and more – offers consumers more options than ever for easy home cooking.
By closely looking at each company's details, it can be easier to decide which meal kit delivery service can better suit your lifestyle and special dietary needs.
This review will compare two meal kit companies that just happen to be among our top favorites – Sunbasket and Home Chef.
Sun Basket is a Californian-based organic meal kits service that aims to help people cook healthy meals that are simple to cook at home.
Home Chef is a meal kit company that promises to make classic home cooking meals more accessible and straightforward, yet a lot more diverse and fun.
Keep reading this review to get deep insights into Sun Basket and Home Chef and how both meal delivery kits compare. Let's dig in!
Sunbasket and Home Chef: Overview Of Pros And Cons
 
Sunbasket
Home Chef
Best for
Organic and healthy eating at home.
Fast, easy to cook, delicious favorite meals.
Ingredient Sourcing

All organic and fresh produce
High-Quality standards,
Antibiotic-free and hormones free meats 
Sustainable seafood

High-Quality meats and farm-fresh veggies.

Special Diets and Features on the Menu
Vegetarian, low-calorie, low-carb, gluten-free friendly, dairy-free, oven-ready, Mediterranean, heart-healthy, paleo, vegan, and more.
Vegetarian, carb-conscious, low-calorie.
Subscription plans

Two or four people.
Special 'Fresh & Ready' plan with oven-ready meals for one person or more!

Two, four, or six people.
Special 'Fresh & Easy' plan with oven-ready and fast meals.

Meal variety
30+ meal options per week
20 meal options per week
Add ons
Protein packs, cooked proteins, breakfast, healthy snacks, fresh pasta, and more.
Protein packs, breads, and sometimes desserts.
Organic produce and sustainable ingredients.
Massive variety of healthy meals weekly.
Easy meal planning when on dietary restrictions – dairy-free, soy-free, diabetes-friendly, low-carb, gluten-free friendly, vegetarian meals, and more.
Easy to follow meal kit recipes.
Selection of oven-ready meals and microwave-ready meals.
Selection of healthy foods add-ons – breakfast, lunch, proteins, and snacks.

Sunbasket cost is more pricy.
Fast dinner or lunch solution – plate your meals in no time
Well-balanced meals with classic flavors.
Supporting a few dietary preferences – carb-conscious, low-calorie, and vegetarian meals.
Flexibility to choose how many meals you get every week.
Selection of oven-ready meals and pre-made meals.

Minimum of two servings per meal.
No option for a one-time purchase.
Not organic produce.
Sunbasket vs. Home Chef: Meal Plan Selection
We're going to begin with Sun Basket, which has many plans for various dietary needs, such as gluten-free, vegetarian, vegan, Mediterranean, lean & clean, diabetics, low-carb, and paleo.
For people committed to one of these special diets, Sun Basket is by far the better choice. Sun Basket offers the flexibility to choose a meal plan for your taste or dietary needs or mix and match from any of the weekly recipes on the menu.
Moreover, Sun Basket offers a dedicated plan with Fresh & Ready Meals – Chef-prepared meals for one person or more, with no need to grocery shop, chop, cook, or clean!
In contrast, the Home Chef meal delivery service offers a flexible plan, with weekly meal kit delivery for two, four, or six people. There is a minimum requirement of two recipes per week. However, no maximum limit is set.
Home Chef also offers a 'Fresh & Easy' meal plan, with prepped, pre-portioned, and ready-to-cook meal kits– with little to no clean-up! This meal plan provides salads, fast 15 minutes meals, oven-ready and grill-ready meals.
Meal Offerings: Which Service Offers More Meal Options?
The Sun basket weekly menu offers a vast collection of 30+ meals to choose from, plus a large selection of add-on items like lunch options, fresh pasta and sauces, healthy snacks, and more.
The menu focuses on healthy meals and organic food eating, and all the meals are clearly categorized by the diet they support.
All the Sunbasket meals are designed with a balance of health, deliciousness eating, and ease of cooking, with 30 minutes meal kits, 15 minutes meal kits, oven-ready and fully prepared meals.
Home Chef is flexible regarding the variety and range of dishes on offer. There is a fantastic amount of 20+ meals per week, including oven-ready prepared meals, 15 minutes meal kits, to 30+ minute masterpieces– so you'll find meals to fit your changing taste or schedule.
The  Home Chef menu considers many dietary and lifestyle needs – including some vegetarian options, low calories, and low-carb meal options.
Sun Basket and Home Chef also offer a "Customize It" feature to most of their meals – a service that allows you to change, double, or upgrade the protein in your selected meals.
Both competitors in this comparison provide a range of meals and tastes, whether it's the type of dish, such as meat, poultry, vegetable or fish, etc., and in terms of the seasoning and flavor (i.e., Italian, Asian, Mexican, or all-American style).
Exclusive! Get $90 OFF with FREE shipping + Free gift!
Sunbasket Vs. Home Chef: Comparison Of the Meal Kits Creativity And Taste
Sun Basket and Home Chef both provide delicious meals. Period. We have tested a few boxes of both and can safely say we enjoyed every meal we tried!
In general, Sun Basket seems to me to place a stronger emphasis on healthy eating, with various healthy ingredients such as whole rice, lots of vegetables and greens, and gluten-free pasta.
Few Meals We Loved From Sun Basket:
Black Angus steaks and sweet potato wedges with scallion-ginger relish – An innovative combination of flavors. It's a great twist to the classic steak and potatoes dish we all know.
Mojo pork tacos with pickled onions and salsa verde – A family-friendly taco dinner, especially the Mi Rancho Artisan tortillas – restaurant-quality!
Turkey bolognese spaghetti – An oven-ready meal that you just need to heat for 3 minutes in a microwave oven. The sauce was juicy, and the pasta felt freshly cooked—a comforting dish with only 560 calories per serving.
More Recommended Meal Kits To Try From Sun Basket:
Oven-ready cheesy chicken tetrazzini with braised kale
Shrimp Tacos Diablo with Pickled Cabbage & Lime
Spanish-style shrimp paella
Salmon with pistachio-herb dressing and warm potato-leek salad
Pan-fried sole with nectarine BBQ sauce and carrot-raisin slaw
Mongolian beef and vegetable stir-fry with fresh ramen
Home Chef is more focused on family classic meal kits, often with a fun twist or something extra and different.
The Home Chef recipes are mainly standard, popular recipes that don't demand sophisticated cooking knowledge or experience. Most recipes include a good amount of veggies for balanced eating.
Home Chef caters nicely to all age groups – picky eaters, adults, and teenagers – so it falls solidly in the family category of meal kit companies.
Few Home Chef Meals We Enjoyed Eating:
Shiitake mushroom and swiss burger with truffle fries – This gourmet take on a classic burger was super delicious and highly recommended for a special date or dinner with friends you wish to impress!
Roasted tomato and almond pork chop with a side of Broccoli – we loved the twist of the roasted tomatoes and almonds. It gave this dish a very nice upgrade. This recipe was stovetop cooking only and took only 15 minutes to cook.
More Recommended Meal Kit Options From Home Chef:
Creamy Pesto chicken cavatappi with spinach and roasted tomatoes
Tonkatsu grilled chicken with Crunchy Asian-Style Slaw
Pear and blue cheese Pizza with smoked almonds
Apricot-Mustard glazed chicken with parmesan fingerling potatoes
Pinenut and goat cheese-crusted chicken with roasted red pepper cauliflower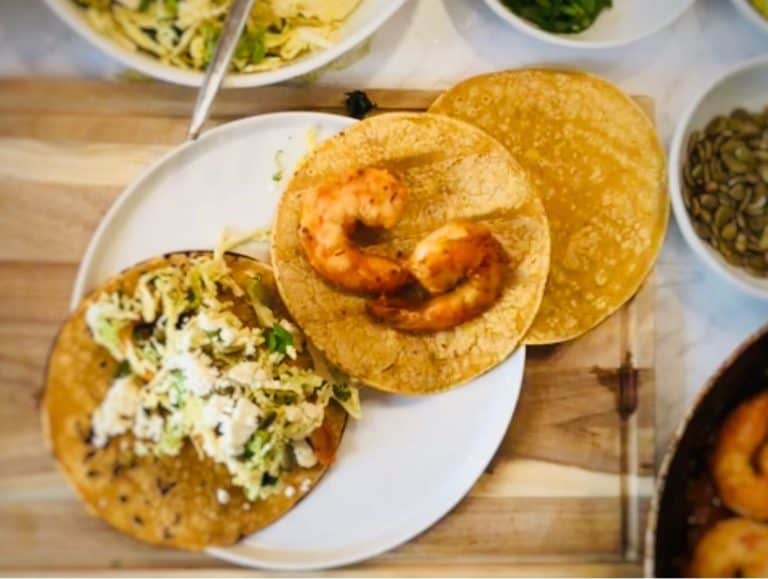 Up To 18 Free Meals - 50% OFF Your First 4 Boxes
The Types of Diets Supported In The Weekly Menu
Each meal delivery service works well for different groups of eaters. Home Chef does offer the option for vegetarian meals, though it's primarily appetizers or side dishes that are fully meat-free. Otherwise, the only filters you can select are calorie and carb-conscious.
Home Chef provides healthy meal kits for people who do not have food allergies or strict dietary restrictions.
Sun Basket is a much better option for those who need specific meals or ingredients due to dietary preferences or restrictions. You can sort meals by categories like paleo, dairy-free, soy-free, diabetes-friendly, vegan, and gluten-free recipes. You can even select meals that are lower-calorie if needed.
Sun Basket is ideal for those who want to eat balanced meals that align with their specific dietary lifestyle.
Sunbasket Vs. Home Chef: Freshness And Quality of the Ingredients
We loved the consistent, high quality we received from the ingredients of both Sun Basket and Home Chef. 
Sun Basket's promise of using only organic, sustainably sourced ingredients is unique and appreciated. It differentiates Sun Basket from all the other options on the market.
On the other hand, Home Chef works with fabulous farms that deliver fresh, high-quality ingredients, like World Wide Farms, which produces farm-fresh vegetables and herbs, and Sea to Table – which specializes in seafood sourced sustainably, Paysan Breton Butter, and more.
Exclusive! Get $90 OFF with FREE shipping + Free gift!
Home Chef Vs. Sunbasket: Cost Comparison
The per meal price is within a few dollars of each option when comparing the cost of Home Chef Vs. Sun Basket. However, multiple meal plans to select from alter the price.
For example, Sun Basket's regular meal kits versus ordering their Fresh & Ready meals (fully prepared meals) will alter the total weekly spend. Sun Basket does offer discounts based on the meal quantity selected weekly. The more meals you purchase, the lower the price per meal.
Home Chef, on the other hand, does not offer bulk discounts. Instead, they provide a flat rate of around $10 per meal. The regular meal kit options and ready-made meals have a dollar difference, with the prepared meals having a higher cost.
Home Chef has a lower cost per meal vs. Sun Basket, regardless of whether meal kits or prepared meals are chosen. While they don't offer a discount on their meal prices, the shipping costs decrease with larger orders.
Both Sun Basket and Home Chef charge shipping costs, with Home Chef charging a few dollars more for each shipment.
The bottom line is that Home Chef is the more affordable option in most cases, even considering the higher shipping costs.
The Packaging And Delivery
Packing is solid and high quality for Sun Basket and Home Chef, with well-labeled, purpose-designed carton boxes. Both companies deliver their meals well-organized, with each dish's ingredients separated into individually labeled bags. This helps with opening and sorting the ingredients, making your work much faster and easier.
Both Sun Basket and Home Chef package their refrigerated items at the bottom of the carton box with enough ice to ensure they stay well-cooled for a few hours, so you don't need to worry about getting your meal kit to the fridge fast.
Is The Packaging Sustainability And Eco-Friendly?
Home Chef and Sunbasket have taken strides toward offering eco-friendly packaging with each delivery.
For example, Home Chef provides packaging that is recyclable or reusable. Their website explains how to recycle each item, from the ice packs to the insulated liners.
Sun Basket is committed to providing packages with sustainability in mind. Every piece of packaging is made or selected with the environment in mind. Their packaging material is recyclable, reusable, and compostable. Most of the materials in the package are recycled.
Like Home Chef, Sun Basket provides a detailed web page on properly recycling each component. However, Sun Basket also takes it further by showing how to reuse each item and compost specific packaging materials.
Sunbasket Vs. Home Chef: Supporting Materials
Concerning supporting materials, these two meal kit companies provide physical recipe cards and the option to check the recipe via the app. However, the recipes are presented in different ways on the recipe cards.
Home Chef includes a larger, glossy recipe card with detailed instructions and images for each step.
The Sun Basket recipe card is smaller and only includes one final image that shows the final product.
There's one final difference between the recipe cards from each company – Home Chef also delivers a card with hole punches so you can easily create a recipe book or binder with your favorite dishes.
Ease Of Use Of The App & Website
The app and website of Sun Basket and Home Chef are organized, logical, and user-friendly.
Everything can be quickly and easily done online, from registering your account to selecting menu plans, defining your meal preferences, and updating your payment method.
Both also offer the convenience of choosing your meals for weeks ahead, seeing more info regarding the meal's ingredients in advance, and customizing most of your meal's proteins to best suit your taste and budget.
Are There Any Terms & Conditions For SunBasket and Home Chef Subscription?
Both Sun Basket and Home Chef offer a subscription service, and you can easily skip weeks with both companies if you need to. Moreover, there is enough flexibility provided by both companies in choosing your best delivery day.
Canceling your account can be done online with both meal delivery services – and there is no online cancellation option. You can do this by entering your account setting.
Sunbasket Vs. Home Chef: Add-Ons Review
Sunbasket, without a doubt, has the upper hand regarding add-ons to your delivery box – the company offers an extensive range of exciting food items to keep you eating healthy throughout the week. From pre-cooked to fresh proteins, Fresh pasta and sauces, healthy snacks, grain bowls, breakfast options, and more.
Home Chef has an excellent range of useful add-ons available like protein packs, different types of bread, and sometimes baked desserts.
Home Chef Vs. Sun Basket Customer Service
There are a few differences when comparing the customer service aspect of both meal kit companies. Home Chef comes out on top considering their listed FAQ section, as it's pretty extensive. Nearly any question you have can be answered through Home Chef's website.
The company also has a web form you can fill out for additional questions and a customer support number with agents available Monday through Saturday.
Sun Basket has more extensive customer service options. For example, you can chat with a customer service rep on the phone via call, text, or email. You can look through FAQ or chat with a chatbot. You can ask an Expert, a Help Center option that provides access to other Sun Basket customers, for help.
Overall, Sun Basket has a longer list of ways to learn about the service or answer your questions.
Home Chef Vs. Sun Basket: The Final Verdict
Sunbasket Meal Delivery Service Is Our Big Winner!
While both meal delivery companies offer outstanding meal kit services, they cater to different audiences.
SunBasket meals are all about healthy, organic, new-age-style food, which is also extremely tasty. If that sounds like you, or if you are on a special diet, such as vegan, gluten-free, or paleo, then you should try Sun Basket.
Home Chef is the option for you if you enjoy classic, high-quality dinners that are easy to prepare yet taste sensational.
After considering all aspects – our winner is Sun Basket!
Sunbasket offers a solid commitment to providing organic and sustainably sourced ingredients – and we just love that.
Moreover, their meals are very healthy-oriented, but without giving up on good tastes. Everything we tried was delicious – and super easy to make.
Still not finding what you need with these meal kit service options? Check out our full review of all the best meal kit services.