There are many reasons to use meal delivery services, and one of the most popular reasons is that they offer a convenient service that can assist with weight loss. When you are on a diet or desperately trying to lose weight, it can all be very overwhelming.
Counting the calories, ensuring that you get enough nutrition, planning healthy meals that remain interesting, grocery shopping and doing hours of meal preparation.
This is where meal kit and prepared meal delivery companies really shine. Many of these companies specialize in providing meals that have been designed for weight loss, are low in calories, well-balanced nutritionally, and delicious!
Our team at the Meal Kit Comparison have tried a multitude of meal kit and prepared meal delivery services. Today we are looking at the companies that we believe provide the best options in terms of weight loss and meals that are low in calories. 
#1 Weight Loss Service: Green Chef
We are big fans of Green Chef meal kits and believe that they offer an incredible option for those of you who wish to achieve weight loss. Green Chef provides the delivery of meal kits, and they are well established in America. They now have a plan that has been designed entirely for those of you who are on a weight-loss journey.
This plan is called 'Balanced Living' and includes 8 meals that change on a weekly basis. Most of the meals on the 'Balanced Living' menu are low in calories with under 600 calories per serving. They are a USDA approved company, so their meal kit ingredients are organic, healthy and delicious. 
$250 OFF Across 5 Boxes, 1st Box Ships FREE!
#2 Sunbasket for Weight Loss
Sun Basket meal kits are another meal kit delivery company that provides a convenient and effective weight loss solution.
You will actually find many healthy options on their menu, but their most dedicated low-calorie plan, that has been designed for weight loss is the 'Lean & Clean' plan. The 'Lean & Clean' plan includes lean protein combined with 'clean' ingredients, so that means no sugar, gluten, soy or dairy! They ensure that enough ingredients providing protein and fiber are included so that their meals are fulfilling and won't leave you feeling deprived.
Sun Basket uses their signature house-made sauces with incredible ingredients so that their meals are packed with flavor. 
Sun Basket only uses top-quality organic ingredients. They make sure to include lots of ingredients like olives, seeds, and nuts, that provide good fats and keep things interesting. All their meats are free of antibiotics and hormones, and their seafood is sustainably sourced.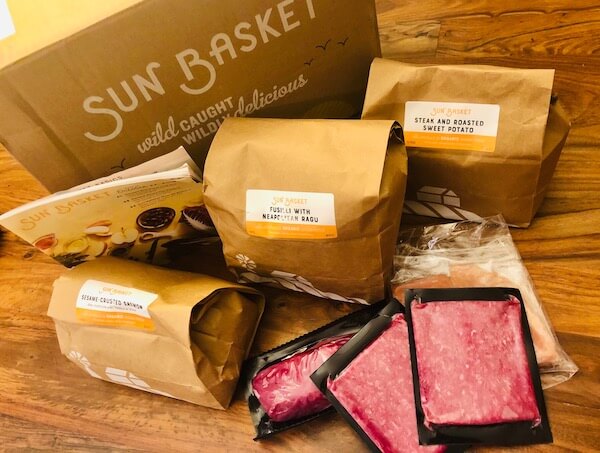 Exclusive! Get $90 OFF with FREE shipping + Free gift!
#3 Weight loss Service: Diet-to-Go
Diet-To-Go is a well-established company that delivers fully prepared meals to your door that has been designed to support those who are trying to lose weight. Their meals are designed by a team of experts, are nutritionally well-balanced, low in calories and delicious.
They have four different plans to choose from. The Balance Plan includes meals that are low in sodium, carbs, fat, and cholesterol. The Balance Diabetes Plan has been designed for those who need assistance with managing or preventing diabetes.
The Keto-Carb30 Plan of Diet-to-Go is designed for rapid weight-loss with meals that meet the Keto diet requirements. Finally, the Vegetarian Plan is a vegetarian version of the Balance Plan. 
Diet-To-Go provides options for breakfast, lunch, dinner, and snacks with all meals being designed to be low in calories and ideal for weight loss. 
Exclusive Diet To Go Offer: Get 50% Off!
#4 Weight Loss Service: BistroMD
BistroMD meal delivery service is a company that delivers fully prepared meals with options for breakfast, lunch, dinner, and snacks. It was created by a board-certified physician whose main field of study is bariatric medicine, which is the study of how food is turned into fuel by the human body.
The meals of BistroMD are all suitable for those who are wishing to lose weight. They are well-balanced, calorie-controlled and delicious. BistroMD has a team of registered dietitians and nutritionists who are behind their delicious and effective menu. New meal choices are constantly being added to the menu. With BistroMD you can choose either a 5-day or 7-day program, with a varied number of daily meals, pending your requirements.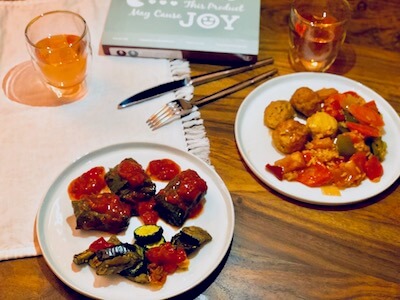 #5  Home Chef for Weight Loss
Home Chef is another meal kit delivery company that provides a service with many options that are low in calories and designed to achieve weight loss goals. Many of their meals provide less than 500 calories per serving so are ideal for a diet plan. All their low-calorie options are marked on their menu as 'Calorie Conscious'.
Not only does Home Chef provide options for evening meals, but they also include lunch options that take no longer than 5-10 minutes to prepare. You also have the choice of adding smoothie or fruit basket options to your delivery. 
Up To 18 Free Meals - 50% OFF Your First 4 Boxes
Often the big difference in losing weight is what and how you eat. It is often said that weight loss is 80% nutrition and 20% exercise so obviously what you eat is vital. Regardless of whether you prefer fully prepared meals or meal kits that allow you to do the cooking, both styles of meal deliveries excel in providing an easy solution to ensuring that you get the appropriate nutrition to aid with your weight loss goals. 
Many companies offer dedicated weight loss and/or low-calorie plans that have been designed solely to offer optimum assistance in achieving weight loss. By using a meal delivery service, you will no longer have to plan your meals or grocery shop. You will know that you are receiving calorie-controlled meal portions that are packed with healthy ingredients and are nutritionally well-balanced. Using a meal delivery service not only saves you time, but it can also help you save you money. There is no wastage of ingredients, and your meals contain exactly the calories and nutrients that you need.
Achieving your weight loss goals will be so much easier when you know you are eating well with meals that are low in calories and are designed for weight loss.