All You Need To Know About Blue Apron Service
Blue Apron is a meal kits subscription service offering upscale-casual chef-designed dishes to cook at home. The service delivers 2–4 recipes per week, as you desire, directly to your door, along with all the ingredients you need to cook so that you can skip many grocery shopping trips during the week.
Blue Apron has plenty of options, with a menu of two-serving meal kits and pre-made meals that change every week.
In this review, we will take a deeper look at the features, pros and cons of the Blue Apron Service.
Did You Know That Blue Apron Was The First Meal Kit Company In The US?
It all began in 2012, and it was the start of a new and rapidly-growing trend to hit the USA market.
Over time, as the industry expanded, the company has maintained its position as one of the largest meal delivery services and is still one of America's largest meal kit companies.
You get professional-style meals, including all ingredients pre-arranged in portions, delivered straight to you at home. In addition, you'll enjoy restaurant-level, quality recipes that can prepare easily in your kitchen. 
When you use Blue Apron, you can stop thinking about planning meals and shopping for groceries. It's all available in one complete and convenient service, which is excellent value for money.
Enjoy $110 off across 5 orders
Who Do Blue Apron Meal Kits Cater To?
Blue Apron is an excellent meal delivery service for people who love cooking – and eating!
The recipes are exciting and usually have interesting twists, making some indulgent and delicious meals.
There's a wide range of dishes available; some are quicker and easier to cook, and others take longer. The available recipes all take between 20 minutes and an hour to prepare.
How Does Blue Apron Work?
Blue Apron is a subscription-based service with a few plans on offer. The price varies based on how many meals you take per week.
Classic signature Plan for 2-people, with 2-4 dishes each week. You can choose from an ever-changing mix of meat, fish, Beyond Meat, WW Approved, Diabetes-Friendly recipes, and health-conscious meals.
Family Plan for 4-people, with 2-4 dishes each week.
Vegetarian plan for 2-people with 2 to 3 dishes each week, including meat-free dishes that celebrate seasonal and fresh produce.
Wellness plan for 2-people with balanced recipes designed for holistic health, including carb-conscious, WW Approved meals, and low-calorie per serving options.
Blue Apron offers the flexibility to change plans from week to week, skip weeks when needed, or pause your account at any time.
Pros And Cons Of The Service
Main Pros
A convenient option for meal time, allowing you to skip meal grocery shopping
Available Blue Apron meals for omnivore and vegetarian diets
Includes non-GMO ingredients, sustainably sourced protein, and sourced from family-run farms
Offers choices for those following a Weight Watchers diet or those needing diabetes-friendly menu items
Bigger orders receive the perk of free shipping
Wine pairings and market items (like kitchen tools) are available as add-ons for each delivery.
Main Cons
This meal kit delivery service does not offer options for all dietary needs, like vegan or Paleo.
It requires a subscription for delivery; one-time orders are not available
How to Get Started With Blue Apron?
It is effortless to get started with Blue Apron. First, register your account on the website or app. Blue Apron has some terrific coupons if you're just starting as a new customer.
Once you've signed up for an account, select your plan and recipes from the menu. There are many meal options, including vegetarian, low-carb, low-calorie, 'quick & easy, and others.
Then, just wait for your delivery to arrive at your door. Your order will arrive in a marked box with all the recipes and ingredients included and step-by-step instructions about preparing the meals. Then, simply follow the recipe, cook your meal, and sit down at the table to enjoy!
Blue Apron has complete flexibility that lets you skip a week if you need to skip a week. You can switch recipes in advance, which gives you more flexibility in planning your meals for the weeks ahead. You can cancel your account with no penalties. Enjoy the Blue Apron service with no expensive long-term commitments.
Enjoy $110 off across 5 orders
What Kind of Recipes Does Blue Apron Offer?
With Blue Apron, you have a choice of 19 recipes per week.
Professional chefs create all the Blue Apron's meals so that you can get restaurant-level dishes in the comfort of your home. Blue Apron loves to make the dining experience wonderful, with new tastes and flavors to explore.
Blue Apron also has an impressive range in terms of cuisine, including burgers, tacos, classic European dishes like quiche, pasta, and flatbreads, and Asian dishes, like stir-fries and noodles.
Blue Apron's menu is original and innovative, with fantastic partnerships with renowned food gurus and chefs who put their style into the recipes.
Also, Blue Apron creates dishes based on famous or popular diet trends, like the Mediterranean diet, low-carb, diabetes-friendly, weight watchers, and more.
There is also a range of pre-made meals for microwave heating – with no cooking required, and some 'quick & easy' options – both of which are fantastic options for having amazing recipes on hand that you can serve to the dinner table in no time!
Blue Apron is an excellent meal kit service for more experienced people in the kitchen and those who want to shake up their cooking repertoire.
Blue Apron Recipes Review
Blue Apron offers a range of balanced and healthy meals, with a clear focus on adding fresh veggies to your meal planning.
Over our years of experience, we tried many Blue Apron meals. Usually, the prep work took not more than 5 minutes, and the total cooking time ranged from 20-45 minutes.
What was common to all was the excellent taste!
We Recommend Checking These Blue Apron Meals That We Put To Test:
Shawarma-spiced lamb & couscous with harissa-roasted vegetables & tzatziki
Yellow curry & lemongrass tilapia with brown rice
Heat & Eat pre-cooked meal – Ginger Pork & Beef Meatballs with Rice & Sautéed Vegetables
Cavatappi pasta & pork ragù with romano cheese
Couscous-Stuffed poblano peppers with spinach, raisins & tahini
One-Pan udon noodle & spicy peanut stir-fry with veggies and beef
Yuzu & Honey-Glazed Chicken Thighs with Brown Rice, Vegetables & Avocado
Cheese Crisp Burgers with Dijonnaise, Arugula & Balsamic Onions
Heat & Eat meal – Romesco Chicken Bowl with Quinoa & Kale
Seared Steaks & Homemade Steak Sauce with Mashed Potatoes & Sautéed Vegetables
Beef Enchiladas Rojas with Sweet Peppers & Cheddar Cheese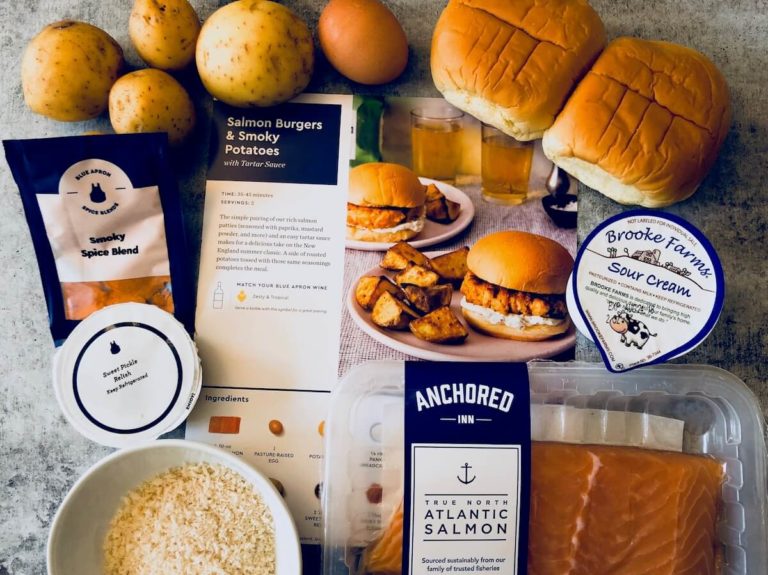 We tried Blue Apron's Sheet Pan Zaatar Chicken Pitas
We love sheet pan meal kits. It's usually recipes designed with ease of cooking and cleanup in mind, but without sacrificing flavors. Blue Apron offers a few sheet pan and other fast and easy recipes every week.
This classic Mediterranean pita sandwich, filled with sliced chicken thighs coated with za'atar herbs, roasted onion and pepper, and a layer of yogurt tzatziki sauce has some bright and fresh flavor in every bite.
But to be honest, what we enjoyed the most from this dish is the carrot fries – what a great healthy idea! The sweet and tender carrots were a delight, and went well with the harissa mayonnaise. We'll go as far to say that we can see ourselves swapping the regular go-to fries recipe to these in the future.
Enjoy $110 off across 5 orders
What Do You Get Inside Your Blue Apron Box?
Your Blue Apron delivery includes all the pre-measured ingredients packed and arranged in a clearly labeled box for your chosen recipes.
Items that require refrigeration are packed at the bottom of the box with ice packs to keep them cool and safe. However, since the ingredients are portion-sized, you can expect less food waste.
With Blue Apron, you will find that you'll need to do some sorting of the delivery when it arrives, as it will not be pre-sorted for you. However, it only takes a few minutes to sort.
Blue Apron does pack the more minor ingredients into separate, individual bags, which is a good advantage.
For each Blue Apron recipe, you can find a detailed recipe card with step-by-step instructions and pictures on cooking the meals at home.
The Quality of Blue Apron Ingredients
When we put Blue Apron's meal kits to the test, our expert team was pleased with the results – time and time again. The fresh ingredients were of consistently high quality.
The meats included in the meal kits are hormone-free and antibiotic-free. The seafood is sourced sustainably, vegetables and fruits are farm-fresh and locally sourced, and the seasonings and condiments are handcrafted artisan specialties.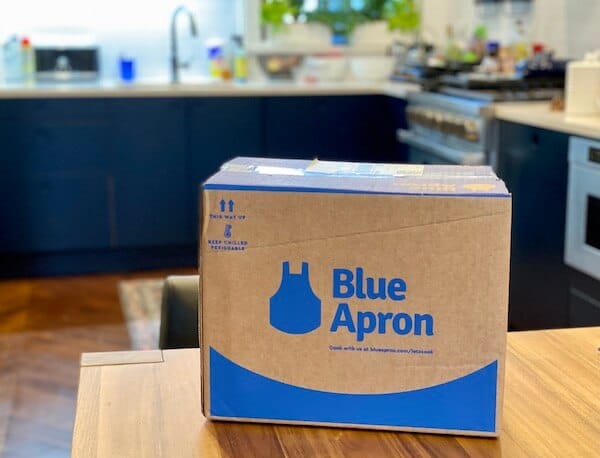 How Does Blue Apron Compare?
The meal kit delivery services industry is full of options, each with different price points and characteristics. In the Following reviews, you can find comparisons of Blue Apron with other meal kit services:
How is Blue Apron's Website & App?
Both the Blue Apron app and website are user-friendly with a handy layout. Everything you need to do to register and manage your account can be done online, including choosing your dining preferences, selecting weekly meals, and updating your payment details. In addition, you can alter your weekly recipe choices up to one month in advance.
The website also includes extra nutritional information about the dishes, including ingredients for each recipe, calorie count, total fats, and more.
Add-ons Options – Appetizers, Dessert, Wine, Kitchen Tools, And More
The Blue Apron subscription includes a wide array of add-on options. Besides purchasing meal kits each week, you can opt to get additional appetizers and desserts for a convenient meal time. You can typically expect to see a few options for each category available to select per week.
Blue Apron also features wine pairing options that accentuate the flavors of every meal you receive. The Blue Apron wine bottles are sold in smaller 500mL sizes, making them the perfect serving for two people. You can select between receiving only red wines or white wines or creating a custom wine box for delivery.
Beyond this, there's a marketplace that has every kitchen tool you could need to prepare meals in your kitchen, from grill pans to chef's knives. Other market items include pantry staples like spice blends, wine bundles, etc.
Enjoy $110 off across 5 orders
Our Final Verdict For The Blue Apron Review
Is Blue Apron Worth Your Money?
For those who love cooking but want to spice up things up in the kitchen, or if you are looking to save costs on your weekly menu and seriously cut down on time spent in the grocery store – We highly recommend giving Blue Apron meal kits and pre-made meals a try!
It's great to see that Blue Apron continues to be one of the top meal delivery services around in the test of time!
The Blue Apron recipes contain only 100% high-quality ingredients, based on incredibly fresh fish, meats, and farm vegetables.
Blue Apron makes sure to partner with local suppliers who use sustainable farming methods to create premium, real restaurant-quality meals without the need to do the grocery shopping. It all arrives fresh and pre-portioned at your door once a week.
Bottom line – Every meal we tried from Blue Apron was a winner!
Due to the convenience, taste, and strides toward being an eco-friendly company, we recommend Blue Apron to anyone searching for a new meal delivery service.
Enjoy $110 off across 5 orders