A Look At Blue Apron's Keto And Low Carb Option
One of the largest and most popular meal-delivery services, Blue Apron, is now offering its customers a new alternative when it comes to menu options – keto-friendly Carb-Conscious recipes each week. This review will explore if this is a valid option for keto diet followers.
Blue Apron On A Nutshell
The Blue Apron meals can be made within 30 minutes or so, offering subscribers a fun and quick way to meal prep at home.
This weekly subscription is perfect for those on-the-go households and those looking to expand their palates with a specially designed keto recipe alongside their standard meals, vegetarian options, and Weight Watchers-approved options for healthy and balanced weight loss. Their meal delivery services are sure to suit almost any dietary need – and on a comfortable budget point.
Blue Apron subscribers can look at the Keto/Low Carb recipes each week (and for a few weeks ahead) on the online menu and select the ones that best match their diet.
With the meal kit subscription service like Blue Apron, you can also minimize food waste since the meals arrive pre-portioned.
$110 OFF across 5 orders—plus, first order ships FREE!
Does Blue Apron Do Keto or Low-Carb Meals?
Do you find being a home chef demanding, or are you just running out of attractive low-carb meal options? Is sticking to a keto plan diet harder than you expected?
Thanks to Blue Apron, there is a partial solution to your problems.
We have reviewed their meal plans and found out that Blue Apron has incorporated a keto-friendly or low carb menu option into its standard weekly meal kit menu. 
The carb-conscious recipes provide a balanced approach to carbohydrate consumption by replacing refined carbohydrates like white flour, rice, and cane sugar with high-fiber foods like fresh vegetables, fruits, and whole grains. The blue Apron low-carb meals also have 42g or less net carbs (total carbohydrates minus dietary fiber) per serving.
Since Blue Apron offers only two Keto-friendly low-carb meals per week, if you are looking for a complete solution for your Ketogenic diet – Check out our review on the best meal kits for Keto low-carb diet with companies like Green Chef, Sun Basket, or Home Chef.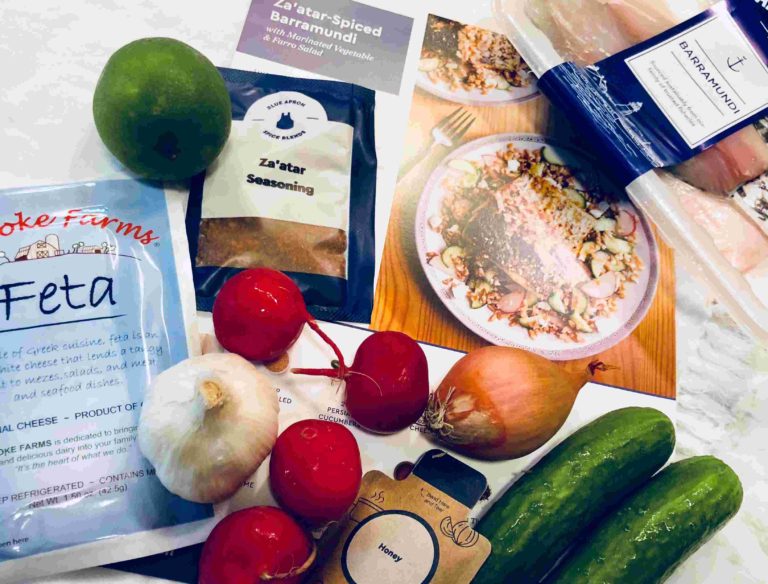 $110 OFF across 5 orders—plus, first order ships FREE!
Blue Apron Carb-Smart Menu Meals:
Check out these fantastic Blue Apron meals from the Carb-Conscious menu that are highly recommended to try:
Cool Cajun Chicken Lettuce Cups with Pickled Pepper Yogurt & Peanuts
Spanish-Spiced Salmon Fillets & Veggie Quinoa with Almonds Topping
Turkey Mushroom Stir Fry with Cauliflower Rice and Miso Soy Sauce
Miso-Butter Shrimp with Stir-Fried Vegetables
Asian-Style Steaks & Quinoa with Spicy Soy-Miso Sauce
Sheet Pan Chipotle Pork Roast with Butternut Squash & Brussels Sprouts
Ground Yellow Mustard Glazed Pork Chops with Sautéed Asparagus and Green Beans
Greek Chicken & Carrots with Sautéed Kale, Raisins & Feta Cheese
Key Factors of Blue Apron Weekly Subscription
Four Plan tiers
Signature meal plan for Two, Vegetarian meal plan for Two, Signature meal plan for Four, and Wellness meal plan for two. All plans come with the comfort of chef-designed meal kits delivered straight to your door every week.
Two Carb Conscious meals on the menu to choose from weekly
Each week Blue Apron changes the low carb and keto-friendly item for a new recipe, so you will never get bored!
No commitments!
Blue Apron allows subscribers to skip weeks whenever they need, or cancel their subscription at any time, with no extra fees.
Time Saver
Life can get busy, and trying to eat healthily can be difficult. Blue Apron enables you a great way to cook quick and fun recipes that are genuinely restaurant-worthy. The company also started to offer a few pre-made meals every week. Those only need a few minutes in the microwave! 
Budget-Friendly Service
Forget about all the food often thrown out from the fridge because it has become spoiled or forgotten. With a Blue Apron, ingredients are portion-sized. Plus, it comes at an affordable price that, in many cases, can help you save money by less going out or ordering in food!
Supporting Different Diets
Other than the Carb-conscious meals, the Blue Apron menu includes meal variety for other dietary preferences such as vegetarians, WW, diabetes-friendly, and more. Moreover, each recipe comes with detailed information on what you are cooking and eating, which is essential for those who rely heavily on their meals' nutritional information.
High-quality Ingredients
The Blue Apron food experts source the best seasonal ingredients directly from farms, importers, and family-run purveyors. Companies like: Vermont Creamery, Cento – authentic Italian products, Country Natural – a cooperative of cattle ranchers dedicated to animal welfare standards and pasture-raised meats, Reeves Farms – a 4th-generation local family-run operation with sustainable growing practices, and more.
Good Customized Service
You can choose your meal selections weekly from the platform dashboard. You can also select the specific protein you wish to get, including plant-based protein, in some meal options.
Wine Service Options
On the Blue Apron website, you will also find an Optional wine service. The wine club offers you an option to discover the perfect wine for your weeknight dinner, with recommended wine pairings for meals on the menu.
The Blue Apron personalized wine delivery includes six 500 mL wine bottles (2⁄3 of a standard-sized wine bottle, perfect for couples) at the cost of around $10 per bottle! You have the option to select all reds, all whites, or a mix. 
$110 OFF across 5 orders—plus, first order ships FREE!
Do We Recommend Blue Apron Keto-Friendly Menu?
If you are trying to reduce your carb intake but still wish to enjoy delicious and exciting meals every week – Blue Apron is a perfect suit!
What can you expect from a Blue Apron subscription?
For one, high-quality products! the company uses only high-quality ingredients, with many of the ingredients being USDA certified organic. Moreover, each recipe is designed to have minimal to zero food waste.
Who says eating a healthy and delicious low-carb meal must be costly, let alone time-consuming? With Blue Apron, you can enjoy fine dining from your home's comforts and for a fraction of the costs of going out to a restaurant or order in.