one of the largest meal-delivery service, Blue Apron, is now offering its customers a new alternative when it comes to meal options. For those who follow the keto diet, Blue Apron has incorporated the option to add one keto-friendly low carb recipe option each week.
The Blue Apron meal kit is one that can be made within 30 minutes and offers subscribers a fun and quick way to meal prep. This weekly subscription is perfect for those on-the-go households and those looking to expand their pallets with a specially designed keto recipe alongside their standard meal options, vegetarian options, and Weight Watchers approved options for healthy and balanced weight loss. Blue Apron subscribers can look forward to a Keto/Low Carb recipe each week, which means that consumers can view an array of recipe cards online before selecting which they prefer.
Minimize your food waste with a subscription service like Blue Apron. Their meal delivery services and options are sure to suit any dietary needs and budget.
The Blue Apron Keto and Low Carb Option
Do you find being a home chef difficult? Are you running out of low carb meal ideas? Is sticking to a keto plan diet harder than you expected?
Thanks to Blue Apron, there is a partial solution to your problems. We have reviewed their meal plans, and there is something for everyone. Blue Apron has incorporated a keto or low carb menu option to its standard weekly meal kits. This means that each week you can find one new low carb or keto-friendly recipe to choose from. For more, you can visit their site to read up on their healthy meal alternatives.
For those who rely heavily on the nutritional information of their meals, Blue Apron has meal kits with detailed information on what you are making and eating. From knowing the net carbs to which recipes are gluten-free, Blue Apron provides every budding home chef with complete recipe cards.
Since blue apron offers only one Keto-friendly low carb meal per week, if you are looking for a whole solution for your Ketogenic diet – we urge you to check out our review on the best meal kits for Keto and low carb diet, with companies like Green Chef and Home Chef.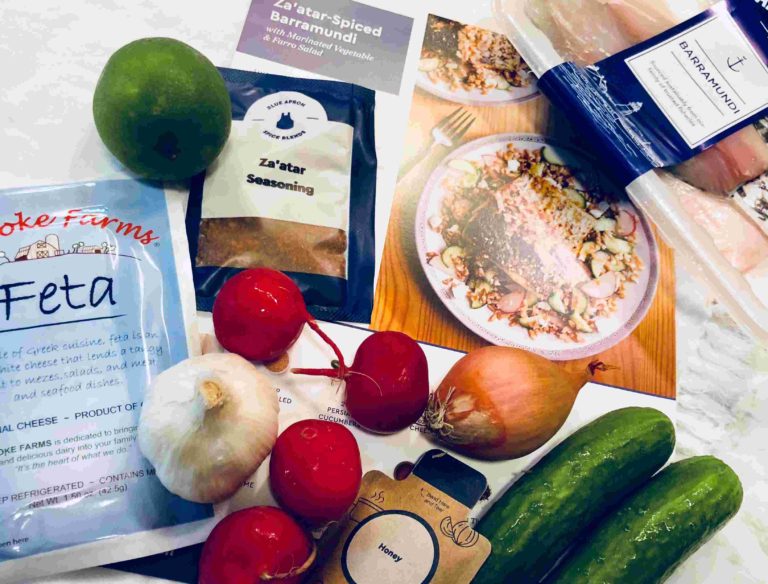 Benefits of the Blue Apron Weekly Subscription
What makes Blue Apron different from other weekly subscription plans? Blue Apron offers an a la carte option on top of our standard menu. The Blue Apron subscription service offers three tiers: Signature for Two, Vegetarian for Two, and Signature for Four. In addition to having these three tiers, they also provide one keto and carb friendly recipes to choose from weekly. Each week Blue Apron changes the low carb and keto-friendly item for a new recipe.
On top of providing diet-friendly options, Blue Apron also allows subscribers to skip a week. If there's been a change in your lifestyle or finances, you can cancel your subscription as well.
Time Saver
Life can get busy, and trying to eat healthily can be difficult. Thanks to companies like Blue Apron or Sun Basket, you have a way to create quick and fun recipes that are truly restaurant-worthy. Many of the recipes take up to 30 minutes from preparation to cooking and serving.
Budget-Friendly
Forget about all the food that is often thrown out from the fridge because they have become spoiled or forgotten. With a Blue Apron meal subscription, the ingredients are measured to precision so that nothing goes to waste. Plus, it comes at an affordable price!
Blue Apron is a meal kit delivery service that can suit any budget, dietary restriction, or need. Subscribers can customize their meal selections weekly from the platform dashboard. Not only can subscribers pick their meals weekly, but each meal offers a recommendation of wine-pairings.
Blue Apron Meals
Check out two meals from the Blue Apron meal delivered menu that are part of the low-carb selection.
Turkey Mushroom Stir Fry with Cauliflower Rice and Miso Soy Sauce
Move over Chinese take-out, Blue Apron offers this Asian inspired dish with a twist. Using turkey as a protein and cauliflower as a rice alternative makes a flavorful stir-fry dish from the comforts of your home. Using fresh ingredients, the turkey mushroom stir-fry is easy to make, but it gives the budding home chef a fun and healthy recipe.
Seared Tilapia and Pickled Pepper Relish on Faro Corn Tomato Salad
For the person looking to try something different, this seared tilapia and pickled pepper relish on faro corn tomato salad is an excellent recipe. It's quick to cook, and fresh. Tilapia is a fish that, on its own, can be bland; however, once you start to spice it, this ordinarily dull fish finds itself enhanced to deliciousness.
The seared tilapia offers a mix of sweet and tang, followed by the freshness of corn and tomatoes. A low-calorie recipe is an excellent choice for anyone looking to keep their carb intake to a low.
Your One-Stop Shop Meal Delivery Service – Blue Apron
What can you expect from a Blue Apron subscription? For one, high-quality products! many of the ingredients are USDA certified organic products. Their subscribers expect the finest and responsibly sourced ingredients. Still, each recipe is designed so that there is minimal to zero waste. Who says eating a healthy and delicious meal has to be costly, let alone time-consuming? With Blue Apron, you can enjoy fine dining from your home's comforts and for a fraction of the costs.