When on a vegetarian diet, it can be challenging to find enough recipes to keep dinners exciting and healthy. But with Blue Apron, there is no shortage of delicious vegetarian meal kit recipes to try.
Whether you are avoiding meat or are hoping to increase your intake of fresh produce, the Blue Apron Vegetarian plan is a great option. Here's more information about the program and the recipes we've tested from Blue Apron.
The Blue Apron Vegetarian Plan
The Blue Apron vegetarian plan is designed for two-person, with two or three recipes per box, as you choose. There is also an option to take the regular family plan for four and choose only vegetarian recipes.
The Blue Apron vegetarian delivery service menu includes new recipes each week. So not only will you have plenty of choices for vegetarian dishes, but you'll also get to switch things up often.
Although most meal kits' recipes take around 30 minutes to prepare, many of Blue Apron's veggie recipes take 20 minutes or so to get on the table. The company also uses fresh seasonal produce and, in some cases, plant-based beyond meat protein. The only thing you will need to have in your pantry is olive oil, salt, and black pepper!
Depending on the season, you'll always find fantastic recipe options. Here are just a few to get your tastebuds going:
Cheesy Tomatillo Enchiladas with roasted Butternut Squash, Spinach & White Rice
Fontina Beyond Burger with Sour Cherry Sauce & Spicy Lemon Cauliflower
Black Bean & Caramelized Onion Tacos with Roasted Zucchini
Sweet Potato & Kale Hash with Baked Eggs & Hot Sauce
Vadouvan Tofu & Coconut-Ginger Curry with Bok Choy, Carrots & Rice
Benefits of Blue Apron Vegetarian Subscription Plan
Vegetarian meal plans aren't just for people who don't regularly eat meat. The Blue Apron Vegetarian recipes are delicious, healthy, and packed with fresh produce, so you'll automatically be eating more of what's good for you.
Moreover, since the Blue Apron recipes are pre-portioned, there is less risk for food waste or over-eating at dinner time. For many people, cutting out meat is another way to help their health, especially if they have high cholesterol or other challenges.
It can be challenging to find delectable meals that are worth the work. From shopping at multiple stores to find recipes online, the process can be frustrating and turn you off a diet change altogether.
Blue Apron makes it easy to divers your menu with new and exciting recipes, and you don't have to go shopping for rare ingredients or try to substitute for items you don't have on hand. Everything you need will arrive pre-portioned to your door. All you have to do is follow the recipe card step by step to achieve a tasty vegetarian meal in a relatively short cooking time.
Our Experience with Blue Apron Vegetarian
As part of our review process, we make sure to experience each meal plan we review. Our experience with Blue Apron overall has been flavorful and, at times, even unexpectedly good.
Trying their vegetarian plan was a treat, especially with the variety of recipe choices. We like the way everything is packaged upon arrival so that it stays fresh and ready for us. Also, The quality of ingredients is notably high.
Here's more on the recipes we've tried from Blue Apron's Vegetarian plan.
Kale and Ricotta Tarts
The Kale and Ricotta Tarts recipe was one that most people would feel intimidated by—after all, making the crust is hard. But with this meal from Blue Apron, the crusts were delicate, flaky, and premade. So instead of being a daunting cooking process, putting these tarts together was enjoyable.
We just chopped some vegetables, cooked them up, mixed the egg and cheese filling, then baked the tarts in the oven. While they were baking, it didn't take much time to whip up a salad with the provided butter lettuce, apple, almonds, and lemon.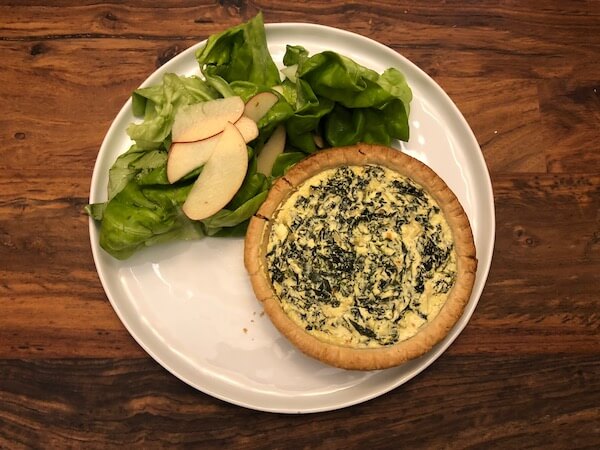 Butternut Squash Pasta
Butternut squash is another ingredient that's often intimidating. It can be a long process to cook and peel butternut squash, and you risk either overcooking it or delaying dinner because it has to cook longer. So we loved the Butternut Squash Pasta from Blue Apron because it was so easy to prepare.
All we had to do was roast the already chopped squash for a set amount of time, boil the pasta, chop some vegetables and walnuts, then cook and mix everything. It did take some finessing to get the consistency the way we wanted it, but that's a matter of personal preference more than anything else.
Freekeh & Vegetable 'Fried Rice'
Although it's called Freekeh & Vegetable 'Fried Rice,' there's no rice in this dish. But hear us out: it's a toasted wheat dish that's popular in the Mediterranean and Mideastern countries, and we loved it.
The fresh vegetables (broccoli, carrots, snow peas) set off some tasteful earthy flavors of the freekeh, and the addition of egg helped add some bulk and protein benefits to the dish. However, if you left out the egg, the overall dish would still satisfy, thanks to the flavorful sauces.
Bottom Line
If you're looking for more adventurous vegetarian dishes without a lot of prep work or stress, the Blue Apron Vegetarian Plan might be the perfect fit.
We loved the dishes we've tried, from the Blue Apron vegetarian menu, from the zesty and unexpected flavors to the ease of preparing each one of the meals. Dinner was usually ready to serve in about 30 minutes.
Moreover, you really can't go wrong with so many meal choices, no matter what recipe you choose with the veggie plan. From comfort food options to more exciting dishes inspired by global cuisine, there's nothing bad to say about the meat-free program from Blue Apron.