As a busy couple juggling the demands of our modern world, it can often be hard to find the time to cook healthy and delicious meals.  If you are both working full time, grocery shopping and meal planning can often be your last priority. At the end of a long and tiring day, sometimes the last thing an overworked couple wants to do is spend time in the kitchen!  Which is why meal kit delivery services are such a handy option for modern-day couples. It is almost like a dream come true.
Prepared and farm-fresh ingredients that arrive with beautifully designed recipes, delivered fresh to your door!
We recently got our team of experts to investigate all the meal kit delivery services available and come up with their favorite companies that provide incredible meal kit options for couples. 
1. Blue Apron Two-Person Plan
Blue Apron delivers true chef-designed meal kits that contain high-quality ingredients.  If you wish to upgrade your culinary experience at home – Blue Apron is an excellent meal kit service to go for.
Delivery: Nationwide
Blue Apron has a signature plan for two-person that includes delicious and easy-to-cook recipes.  
The company is focused on keeping your dinners interesting – From top-rated favorites and carb-conscious options to premium dishes like scallops or a prime strip steak for romantic date night and more – variety is always on the menu. The menu is full of dishes inspired by different culinary styles worldwide – Asian, Eastern Europe, Caribbean, Italian, and so much more. 
Enjoy $110 off across 5 orders
2.  Home Chef- Meal Delivery For Couples
Home Chef just loves bringing people together with their evening meals. Their meals are comfortingly familiar but always include fascinating and delicious twists!  They are big on convenience as well with most of their meals only taking about 30 minutes to prepare.
Delivery: 98% of the USA
Home Chef is a big believer in saving you time in the kitchen by providing incredibly tasty meals that take no longer than 30 minutes to prepare.  They also include some appealing add-ons such as the 5-minute lunches, fruit baskets and smoothies. The Home Chef menu features predominantly classic choices using farm-fresh ingredients.  They have a weekly menu that is made up of 12 dinner choices that include some vegetarian options.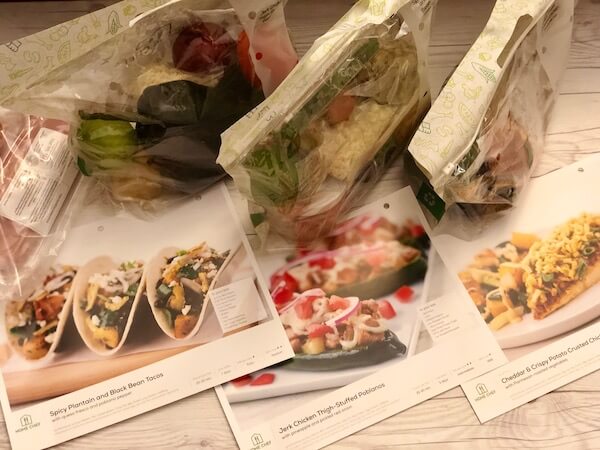 Up To 18 Free Meals - 50% OFF Your First 4 Boxes
3. HelloFresh- Meal Kits for Two
Hello Fresh delivers meal kits that contain the freshest of ingredients combined with the tastiest recipes.  
Delivery: Nationwide
Hello Fresh has the option for a Couples Plan that includes classic and easy to make recipes that are ideal if you have a busy modern life.  Your weeknights will be trouble-free with Hello Fresh. Their meal kits are tempting and delicious and filled with beautiful farm-fresh ingredients that are a joy to eat.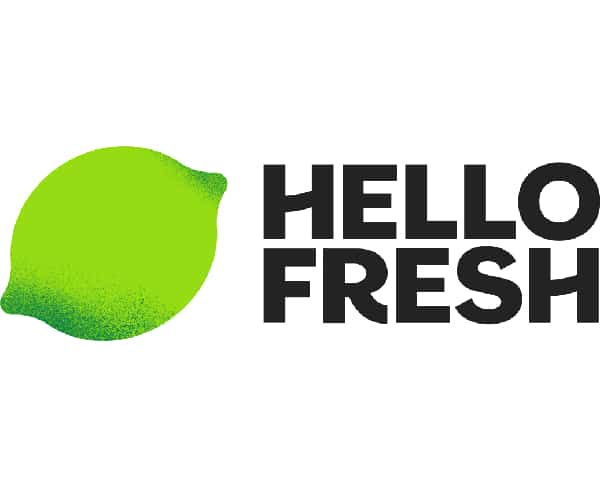 Get 18 free meals + free shipping + 3 surprise gifts
4. Green Chef- Meal Kits for Couples
Green Chef is a company that offers a fully organic meal kit service and their menu is made up of delicious and creative meals that cater to many dietary requirements.
Delivery: To the continental states of the USA.
Green Chef is a company that specializes in dietary requirements by including menu choices that include vegan, paleo, keto, and gluten-free (and more) options. Green Chef is also a USDA-certified organic company, so you know that you are always receiving meal kits that contain only organic ingredients.  Their menu is an idea for busy couples with their meals taking only 30 minutes or so to prepare. You will find that most of their ingredients are pre-peeled and prepared for you.
$250 OFF Across 5 Boxes, 1st Box Ships FREE!
5. Sunbasket Meal Plan for Two
Sun Basket has a very diverse menu that includes gluten-free, vegetarian, paleo, vegan, Mediterranean and pescatarian options.
Delivery: To the 48 continental states of the USA.
With Sun Basket you can select the Classic Couples Plan.  With this plan you will receive three meals for two people every week.  The Sun Basket menu has a selection of creative and tasty recipes. Their ingredients are primarily seasonal and always organic.  Within these choices you will find plant-based proteins and Sun Basket's signature chef-crated sauces.
Exclusive! Get $90 OFF with FREE shipping + Free gift!
6. Martha and Marley Spoon- Special Menu for Two People
With Martha & Marley Spoon you are cooking with America's Queen of home-cooking – Martha Stewart!  Martha & Marley Spoon includes some of Martha Stewart's favorite recipes – now this is classic home cooking at its very best!  
Delivery: Most contiguous US states.
Martha & Marley Spoon is the brainchild of the well-known Martha Stewart.  Their weekly menu selection includes 10 recipes every week with options that include vegetarian, dairy-free, low-calorie and quick cooking recipes.  The entire menu uses ingredients that are of the highest quality and the company has a focus on ensuring that there are ample vegetables in each serving.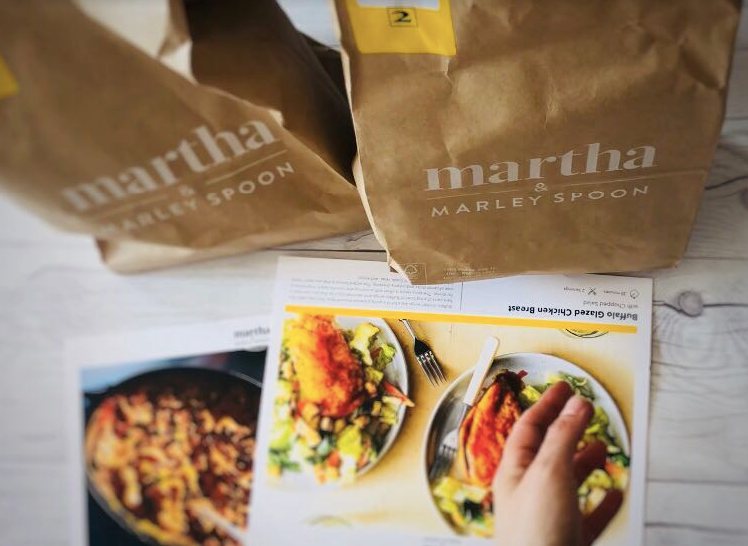 In Summary of the Best Meal Delivery for Couples Rankings
As a busy working couple, you will be spoilt for choice when it comes to selecting your preferred meal kit company.  We always recommend that you initially tried a few of the services to decide which company suits you best. You will find companies that offer very simple solutions alongside companies the offer recipes that are more of a challenge.  So, it is really a matter of finding out which suits your lifestyle best.
Whichever company you end up choosing, you will find that using a meal kit company means that you will be saving time on grocery shopping and meal preparation which is a win-win for busy couples!   We recommend that you start using them right away!