If you're on a busy schedule, you might have tried home-cooked meal kits, takeout, and everything in between.
We always come back to prepared meal delivery services. Why? Simply because they're a convenient way to eat healthy while saving time. No grocery store lines – and no meal prep or cooking!
With prepared meal delivery services, you just need to heat and heat the meal – and enjoy.
We've tried quite a few prepared meal delivery service options and are happy to report back on our findings for the top pre-cooked meal delivery service options of 2022.
Don't Have Time To Continue Reading?
Here Is A Quick List Of The Best Premade Meal Delivery Services Of 2022:
Sunbasket Fresh & Ready Meal Plan
Best High-Quality Ingredients Packed Into Pre Made Healthy Meals
Sunbasket meal delivery is well-known for producing delicious premade meals and traditional meal kits that use sustainable and locally sourced ingredients. Everything from their produce to protein is organic and fresh. The Fresh & ready meal plan offers delicious meals that taste homemade and are healthy.
Each meal is portioned out to 400-800 calories, a minimum of 10g of protein, and at least 5g of fiber. These delicious meals are never frozen, so there's no concern about added preservatives or other unnatural ingredients.
While they're not frozen, you can easily freeze these chef-designed meals to enjoy them later. The individual meals are preassembled and pre-cooked, so only a few minutes in the microwave is necessary before enjoying a tasty meal at home.
Best For
Healthy eating, with organic and sustainable fresh ingredients
Supporting diets like low-carb, vegetarian, Mediterranean, and more
healthy snacks, oat bowls, and protein add-ons
Healthy Prepared Meal Options To Try:
Creole barley veggie grain bowls with corn and spicy red pepper sauce
Middle-eastern roasted chicken breast and brown rice bowl with veggies
Chicken Marbella with olives, dates, chicory, and olive oil
Buffalo grilled chicken breast over cauliflower-potato mash
Sausage and peppers with tangy roasted sweet potatoes and green romesco
Freshly
Best healthy twist on family favorites
Freshly boasts chef-prepared meals delivered straight to your doorstep. These meals are reimaginings of household favorites but healthier and gluten-free.
There are over 30 menu items to choose from each week, ensuring you have a wide variety of healthy and delicious dishes.
Each meal is ready to heat and eat. These meals only require about three minutes in the microwave, and they're ready to eat. There's no second-guessing with these meals – they arrive in single portions meant for one person to consume as one meal.
You can choose between 4 and 12 meals to be delivered each week.
This meal-delivery company strictly provides heat and eat options; no meal kits are available.
Plant-based meals, dairy-free options, and gluten-free dishes are among the many dietary preferences that can be accommodated with Freshly.
Best For
Gluten-free, dairy-free, and high-protein dieters
Balanced low-calorie meals for healthy weight loss
Healthy Prepared Meal Options To Try:
Cauliflower shell grass-fed beef bolognese with Nonna's sofrito
Purely plant-based shepherd's pie with butternut-cauliflower mash
Indian-Spiced chickpea curry bowl with basmati rice, lentils & veggies
Plant-based oven-baked sweet potato cakes with Mole sauce & turmeric rice maple syrup
Diet To Go
Best prepared meals for weight loss Diet
With a name like Diet To Go, it's easy to recognize the connection between the fresh, healthy meals delivered and potential weight loss.
Providing meals that are already portioned with nutrient-dense foods that taste delicious makes it easier to stay on track with a healthy meal plan.
Diet To Go does just that – provides tasty, pre-portioned meals, with no meal prep required, for individuals to consume for lunch or dinner.
Like the other ready-to-eat meals above, you will need to warm up your meals for a few minutes in the microwave, and they'll be ready to eat.
Diet To Go has four different meal plan options that you can swap between until you find your optimal meal plan. These plans include a Balance Menu, Balance Diabetes Menu, Keto/Carb30 Menu, and a Vegetarian option.
Each meal plan has a specific focus, allowing you to choose the plan that works best with your needs, diet goals, and lifestyle.
Best For
Stress-free diet, with zero meal prep
Full-board fresh meals delivered to your home
Keto low-carb and vegetarian Dieters
Prepared Low-Calorie Meal Options To Try:
Thai turkey tenderloin, stir fry rice, green beans medley
Waffles with peaches & apples in maple syrup
Captain Stewart's seafood pretzel roll sandwich with tartar sauce and a side of tangerine
Herbed baked salmon, three-grain rice pilaf, broccoli, and carrot flan
Santa-Fe chicken burger, chipotle ketchup, baked sweet potatoes, and Italian veggie blend
Veestro
Best Prepared Meal Service For Vegans and Vegetarians
While many meal delivery services provide vegetarian or pescatarian meals, they often forego fully vegan pre-made meals. Veestro doesn't shy away from vegan meals and instead curates a full menu of meals with a plant-based diet in mind!
The Veestro meals are designed by a chef and feature organic, vegan, gluten-free, and non-GMO ingredients.
There are two meal plan options to choose from, each providing ready-to-eat menu items:
One meal option is the standard full menu, and the other is the weight loss menu. The weight loss menu combines three low-calorie meals every day for the optimal weight loss plan.
Whether you're looking for overall healthy meals or meals to aid in losing weight, there are plenty of plant-based options at Veestro.
Best For
A vast menu of pre-made and frozen meals delivered to your door
Vegan and Vegetarian Dieters
Healthy Prepared Meals To Try:
Vegan crab cakes with mixed baby greens, yellow squash, and brown rice.
Texas smoky grain bowls
Pulled BBQ Por'k with a quinoa patty
Organic carrots and crimini mushrooms Osso Bucco over mashed potatoes
Creamed spinach Bombay with garbanzo beans, cauliflower, and potatoes
Blue Apron
Best Meal Service For Meal Kits And Premade Meals
Blue Apron is a popular choice for many with meal kits, but the company also provides heat and eat menu items weekly options. 
You can choose between 3-4 meals that will arrive prepared. Each meal needs to be microwaved for about five minutes before it's ready to be consumed.
This meal-delivery service is ideal for those who work late a few nights a week and want healthy restaurant-quality chef-crafted meals. If you have time to prep and cook a few meals, you can also order meal kits to be delivered with your ready-made meal options.
Most ready-made meals include chicken or some other form of animal protein. Because of this, the Blue Apron pre-cooked meals are not an excellent solution for vegetarians, pescatarians, or those who are plant-based.
However, the standard meal kits can be sorted, so only vegetarian meals pop up on the menu each week.
For those looking into receiving prepared meals, Blue Apron is a great way to test if microwave meals fit into your lifestyle.
Best For
Chef Designed Gourmet Meals
Meal kits menu with some pre-made meal options every week
Healthy recipes
Tasty Prepared Meals To Try:
Togarashi tilapia & garlic rice with cucumbers & sweet peppers marinated in rice vinegar
Sweet & spicy beef bowl with rice, peppers & edamame
Egg noodles & beef meatballs with creamy mushroom sauce & peas
Spicy chicken stir-fry with brown rice
BistroMD
Perfectly Portioned Frozen Meals For Achieving Weight Loss Goals.
BistroMD is a prepared meal delivery service that is all about a healthy full-board weight loss diet.
The service was founded by Dr. Caroline Cederquist, a board-certified physician specializing in bariatric medicine – the study of how foods are broken down in the human body.
The customizable menu with over 150 delicious entrees offered by BistroMD is designed by dieticians and is nutritionally well-balanced. That means you can meet your dietary and weight loss goals.
The service is offered as a subscription service, with four general meal plans that can be adapted to 5 special diet categories -regular, diabetic, heart-healthy, gluten-free, and menopause.
Full seven or five days a week program: including breakfasts, lunches, dinners
Only Lunches and Dinners for seven or five days a week
Best For
Controlled diet, with nutritious meals with no meal prep needed
Flash-frozen chef-prepared dishes delivered to your home
Low-carb, diabetics, menopause, and heart-healthy diet
Tasty Prepared And Flash Frozen Meals To Try:
Blackened chicken breast with creamy smoked paprika sauce
Pulled chicken, rice, and cheddar casserole
Pork tenderloin with spiced apple chutney
Hickory smoked BBQ beef with Yukon gold potatoes and green beans
Jamaican style black pepper shrimp with sweet mango and pineapple salsa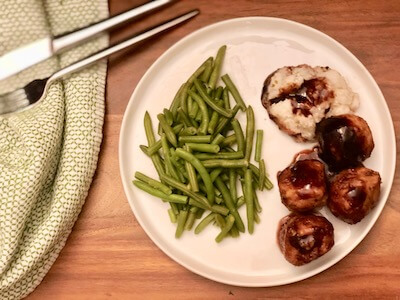 What Do We Love About Premade Meal Delivery Service?
There are many reasons we love premade healthy meals, including how easy and convenient they are.
Healthy meal delivery services or meal kit delivery services also means easy meal planning. Each week, you get to choose your meals out of an extensive collection of changing menu options. Based on your taste profile, you can also have the service select the meals for you and avoid any meal planning.
When using a prepared meal service, there is no cleaning up involved. Instead, skip the excessive dishes in the sink from the whole family by ordering ready-made meals.
These heat and eat freshly cooked meal options are ready in only a few minutes so that you can avoid cooking as well. Less cooking time means more time to enjoy with your family.
Healthy prepared meals arrive in pre-measured portions, making it easy to control your eating and reduce food waste.
If you typically meal prep and weigh out each food item, you can skip this process and go right into eating your delicious meal. If you don't usually prep your meals, you can avoid wondering if you're eating the right amount of food by enjoying pre-measured meals.
Chefs and dieticians craft these meals, so each meal is nutrient-dense without sacrificing any flavor. In many cases, the pre-made meals are designed for weight loss support, meaning it contains fewer sugars and more healthy fats.
Lastly, our favorite part about these meal delivery services is the price point. Typically, you'll pay less per premade meal than takeout.
How Expensive Is Meal Delivery Plans?
Mention meal delivery and meal plans, and it's easy to immediately wonder how much will it cost to get these fresh meals delivered to your door weekly.
Surprisingly, most of these services are more affordable than you think, especially if you usually order takeout every night or every few nights.
Most meal kits range in cost from $5 – $10 per portion, making it easy to skip the $10+ takeout meals that are overly greasy, salty, and too large of proportions. While you may be able to find meal options from fast-food joints like McDonald's for a similar price, they pale in comparison to the nutrients offered by premade tasty meals from meal delivery service companies.
Is Pre-cooked Meal Delivery Healthy For You?
In the past, pre-cooked meals involved frozen servings of overly salty mashed potatoes, meatloaf, and gravy. While these options are still available at most grocery stores, they're vastly different from the healthy food you'll be receiving from pre-cooked meal delivery options.
As most meals are backed by either a nutritionist or dietician, you can rest assured that each meal you receive is nutritious. Moreover, if you have dietary restrictions that are a concern, many meal plans offer vegetarian meals, gluten-free, dairy-free, low-carb, and calorie-conscious choices.
This prepared healthy food is also delivered with fully transparent nutrition facts listed on the container or the website of each meal delivery company. You can double-check that your nutrient needs are being met by checking the nutrition facts.
Plus, most meals include lean protein, vegetables, and whole grains for a well-rounded meal. These meals are usually pretty tasty, making enjoying these healthy foods a treat.
What's The Difference Between Pre-cooked Meals And Oven-Ready Meal Delivery?
Oven-ready meals are ideal for those who want a home-cooked meal or perhaps a larger portion size fit for a family. These oven meals are similar in some aspects to pre-cooked meals as they don't require any (or minimal) prep and clean-up.
While sharing some aspects, there are a few main differences between premade meals and meals ready to go in the oven. For one, premade meals have already been pre-portioned and usually just need to be microwaved for a few minutes.
In comparison, oven-ready meals are typically in more significant portions to feed multiple people or families. Most often, oven-ready dishes arrive in a metal or oven-safe container that you can place directly in the oven.
While these meals are mainly made ahead of time, there may be a few steps to reheating these dishes. For example, a garnish of cheese or toasted nuts may be left off an oven-ready dish and added partway through cooking.
A quick note on oven meals, they're generally not fully cooked, just pre-assembled for easy meal prep. You cannot swap one for the other as you'll encounter uncooked meat that is not safe to eat.
Final Notes
Choose from one of the above options for the best-premade meal delivery services of 2022. These tried and true options provide healthy yet tasteful meals straight to your door.
With pre-portioned ingredients and meals ready in only a few minutes, ordering from any of these meal delivery companies like Sunbasket, Freshly and Blue Apron, and more will help you stay on track with a healthy lifestyle.