Unless you have been hiding on another planet, you will be aware of the current worldwide coronavirus crisis. If you are not already in self-isolation or quarantine, it is something that undoubtedly you will soon be experiencing. 
When you are stuck at home due to Covid-19 you are faced with an endless number of challenges. A trip to the supermarket can be stressful at the best of times.
We are happy to advise that meal kit delivery services offer an easy way to stay healthy, avoid the stress and stick to your budget when you are sheltering at home due to the coronavirus.
With a meal kit or prepared meal delivery service, you can order an extensive range of meals from the comfort of your own home. Using a meal delivery ensures that you are receiving nutritionally meals, that are filled with the best quality ingredients. Using a meal kit delivery service offers a convenient way of doing this without leaving the shelter of your own home!
Here are the best meal kit services to order when at home because of coronavirus.
1. Dinnerly
At times like this, when your monthly income might not be guaranteed, getting dinner on the table at a low price is important,, and we get that. That is where Dinnerly comes as a very appealing option! Short and simple, Dinnerly is the most affordable meal kit option for singles, couples, and families! The company makes sure to create simple and delicious meal kits, with a good range of 16 recipes per week, that can suit both grownups and picky eating kids.
We know what you must think – That because the Dinnerly prices are low, the quality might not be as good as other services. But let us reassure you that from our experience, when it comes to Dinnerly, nothing is actually far from being true. Dinnerly provides high-quality products at a fraction of the cost. They are able to do so by not getting involved in fancy and costly marketing, using fewer ingredients per dish – but always with healthy veggies and great quality of proteins, and using a lighter packaging (for example, the ingredients are not separately wrapped for each recipe). 
Some highly recommended Dinnerly recipes:
Skillet Pesto Tortelloni with Broccoli

Chicken Tacos with Crispy Romaine & Fresh Tomato Salsa

Feta & Sun-Dried Tomato Meatloaf with Roasted Carrots

Shrimp Alfredo Pasta with Peas & Parmesan
2. Sun Basket – the dietary requirement specialist delivering all-organic eating: 
Sun Basket is a well-established meal kit delivery service that is known for its healthy, all-organic eating. If you are stuck at home because of coronavirus and want to maintain a healthy diet and lifestyle, then Sun Basket is a great option for you. They have an extensive menu that caters to a multitude of dietary requirements. You will find options that are suitable for gluten-free, vegetarian, vegan, paleo and Mediterranean diets, just to name a few. Sun Basket works with a trusted network of suppliers to ensure that their meal kits are filled with quality, healthy, all-organic ingredients. 
With Sun Basket you can select two to four dinners with two or four servings every week. Sun Basket delivers to all 48 continental states of the USA. 
Following are some delicious Sun Basket choices that are ideal when you are isolated at home due to coronavirus:
Lemongrass Beef over Zoodles with Pickled Radish and Carrot
Crustless Chicken Pot Pie with Mushrooms and Carrots
Cheesy Turkey Burger Macaroni Skillet with Salad
Burmese Salmon Salad with Lemongrass and Apple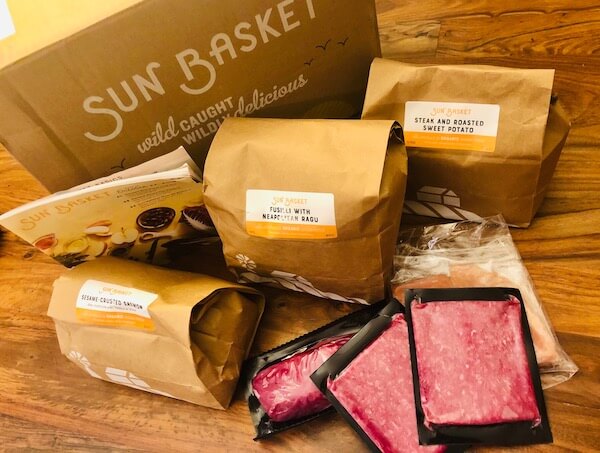 3. EveryPlate – another affordably priced meal kit option 
EveryPlate is a meal kit service that offers an affordable option of eating well and staying healthy when you are home because of the coronavirus. EveryPlate is all about bringing taste, value, and convenience to your dining table. Their meals are easy to prepare, uncomplicated and don't have too many ingredients. EveryPlate is more about enjoyable cooking and eating than a gourmet dining experience. The EveryPlate meals are fulfilling and delicious and filled with quality simple ingredients. 
EveryPlate has plans for to and four people and delivers to most of the USA. 
An example of some of the EveryPlate meal choices you can enjoy when stuck at home due to Covid-19:
Chili Honey Butter Chicken with Zucchini and Roasted Sweet Potatoes
Beef Banh Mi Bowls with Sriracha Mayo, Carrot & Pickled Cucumber
Honey-Glazed Pork Chops with Garlicky Green Beans & Mashed Potato
Lemon Thyme Chicken Linguine with Sautéed Zucchini
4. Factor – a fully prepared meal service, perfect convenience at home
Factor is a company that was originally called Factor75 and it was based on the idea that 75% of the way we look, perform and feel is based on the food that we consume. Their service is not only highly convenient, but it is also all about delicious healthy eating that will make you feel great. As Factor has a focus on delivering meals that contain optimum nutritional benefits, the ingredients they use are of the highest quality. All their ingredients are free of hormones, antibiotics, GMOs, and preservatives. Their extensive menu includes many options for dietary requirements, and you will find options for breakfast, lunch, dinner, and snacks. 
With Factor, you can order from 4 to 18 meals per week and they deliver to all the USA excepting Hawaii and Alaska. 
Following are some examples of the meals you can enjoy from Factor when you are staying at home because of coronavirus:
Thai Red Coconut Chicken
Moroccan Vegetable Stew
Jalapeno Popper Burger
Chicken Alfredo
5. BistroMD – healthy prepared meal delivery for a long quarantine
BistroMD was created by Dr. Caroline Cederquist to deliver fully-prepared meals and snacks that would help people maintain healthy diets and achieve weight-management goals. BistroMD can take care of all your daily dietary requirements which is wonderful if you are stuck home due to Covid-19. BistroMD delivers meals that can help you control your calorie intake and are filled with healthy delicious ingredients. As their meals are fully prepared all you need to do to enjoy them is to heat them. 
BistroMD has several plans where you can select breakfast, lunch and dinner meals for 5 or 7 days. BistroMD delivers to the continental USA, Alaska, and Hawaii.
Following is an example of the meals you can enjoy from BistroMD while stuck at home because of coronavirus:
Pork Tenderloin with Mushroom Marsala
Salmon with Dill Mustard Sauce
Lasagna with Garden Marinara
Meatloaf with Honey Bourbon Glaze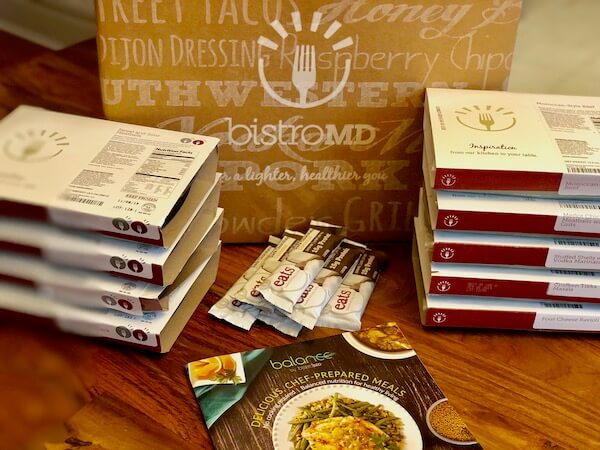 6. Veestro – a prepared meal delivery service for plant-based eating
Veestro is a prepared meal delivery service that is ideally suited to vegans and those who follow a plant-based diet. It is also a wonderful service for those who would like to increase their intake of plant-based ingredients, especially now, when so many are stuck at home due to Covid-19. Veestro is a 100% plant-based service that provides chef-crafted meals that are produced in small batches and then snap-frozen before being delivered to your door. Their ingredients are not only plant-based but all-organic and are sourced from a trusted network of suppliers. The Veestro menu is large and varied and you will find options for breakfast, lunch, dinner, and snacks. 
Veestro customers can choose from 3 different plans and select up to 30 meals per week. Veestro currently delivers to the entire USA except for Hawaii, Alaska and Puerto Rico. 
Benefits of using a meal kit service during this Coronavirus crisis
There are normally many benefits to using a meal kit service, but in these uncertain times, the benefits are endless.  Following are what we consider to be the key list of benefits to using a meal delivery service during the coronavirus pandemic:
Stay healthy – one of the key things we all need to be doing is staying healthy and eating well. Using a meal delivery service ensures that you will be eating well for the duration of the crisis. 
Avoid leaving the house – supermarkets and grocery stores are not the best places to be during a crisis such as this. People tend to panic, and supermarkets are areas where it is almost impossible to control the risk of germ contamination. With a meal delivery service, you can avoid the supermarket and in some cases the meal preparation!
Receive meals when you need them – when things are uncertain, it is lovely to know that some things, like when you will receive your meals, are guaranteed. 
Convenience – meal delivery services offer a convenient way of eating well without doing the meal planning, supermarket shopping, and recipe writing. 
How to choose the best meal kit or prepared meal delivery service when staying at home because of Covid-19
There are many types of meal kit and prepared meal delivery services out there. So how do you know which service is best for you when you are staying at home because of the Covid-19 virus? We recommend looking at a few key features which will better help you decide:
Price – for some, the price can be the overriding factor. If you are budget-driven, simply check the price per head of each service to decide which one best fits your budget. 
Fully prepared vs meal kits – this is another big deciding factor. You might be busy trying to work from home and manage the kids and the last thing you want to be doing is spending time in the kitchen. Or you might prefer to cook and find the cooking process a relaxing part of your day. Simply work out how much time you want to be spending preparing or cooking food and take it from there. 
Quantity – some meal kit companies provide a few meals per week, while other prepared meal companies can cater to all your dietary requirements for the entire week. Some companies will suit you better, depending on how many meals you would like to receive each week. 
Other – there are many other things to consider such as quality of ingredients and if you have dietary requirements or preferences. You might prefer a company that is more eco-minded or family-friendly. If you need any further information on the various meal kit delivery services, please head to our in-depth company reviews by clicking here.
In conclusion
During this coronavirus crisis, it is now more important than ever too look after yourself and your family by eating well and reducing your stress and anxiety. At the Meal Kit Review, we believe that this type of service offers a convenient, affordable and stress-free way of staying healthy without having to leave your house. That is why we highly recommend giving it an honest try!