The meal kit industry is changing rapidly as consumers' dietary preferences change, meaning there are more companies than ever branching out and accommodating every diet imaginable. But with all these choices, it's challenging to figure out which one is right for your nutritional needs and lifestyle. However, we are here to help!
Here we'll compare two companies which both offer vegan meal kits.
Sun Basket and Green Chef both offer vegan meal kits that focus on plant-based nutrition through nourishing organic ingredients. The companies have many similarities, but there are a handful of differences that can influence your subscription decision.
We'll take a look at both Sun Basket and Green Chef's vegan menus, so you can determine which one is best for you.
Variety of plan
Each service offers two basic menu choices: either a 2-person plan or a family plan. Within each plan, you select the items you want to receive to customize each delivery. However, with Green Chef, there is only one option that includes vegan dishes by default; the 2-Person Plan. The Family Plan selections are currently not customizable beyond the Omnivore/Carnivore distinctions.
Sun Basket
Classic Menu—three recipes per week for two or four people
Family Plan—receive two, three, or four recipes per week for a family of four
Sun Basket has 18 recipes to choose from each week, six of which are Family Plan-friendly. With the Classic Menu, you can select dishes from any menu per week, while the Family Plan includes only those six selections.
Green Chef
2-Person Plan—three dinners for two people per week
Family Plan—two meals for a family of four, but note that the family options only include Omnivore and Carnivore selections
With Green Chef, the only vegan option is the 2-Person Plan, so you would be hard-pressed to make a two-person menu plan work for the whole family under the vegan option. Of course, the company notes they plan to change this at some point, making their plans more interchangeable so subscribers can customize further.
Variety of dishes
Each Sun Basket vegan menu item is plant-based with organic produce, non-GMO tofu, and house-made sauces. And while we know you'll find plenty of tasty recipes on the plant-based side, Sun Basket also allows you to mix and match to create a personalized basket (and menu).
In contrast, Green Chef only allows subscribers to choose one plan, but the organic menu varies each week, featuring items like Vegan Crab Cakes, Moroccan Cauliflower, and Tempeh with Citrus Sauce. Suffice it to say, there are plenty of flavors to pique your interest—and they're all plant-based.
Style and Complexity of Dishes
Every dish from Sun Basket's menu vegan plan contains at least 15 grams of protein, five grams of fiber, and anywhere from 550 to 800 calories. The dishes range from globally-inspired to traditional comfort food recipes, and preparation takes around 30 minutes.
Green Chef's menu also includes meals which are easy to prepare in 30 minutes or so, with some more elaborate dishes taking about 45 minutes, and the menus vary by week. However, since vegan dishes contain no animal products, there are fewer concerns about sustaining high temperatures to ensure items are cooked thoroughly, the way you would with meat.
Quality of Products
Both Sun Basket and Green Chef use fully organic ingredients.
Sun Basket ensures that their tofu is non-GMO and their produce is 100 percent organic and clean. The dishes also feature house-made sauces and spices that are plant-based as well.
Green Chef is also passionate about organic ingredients, and all their items are USDA certified organic. They focus on sustainable food production and also take a global approach to the creation of meals.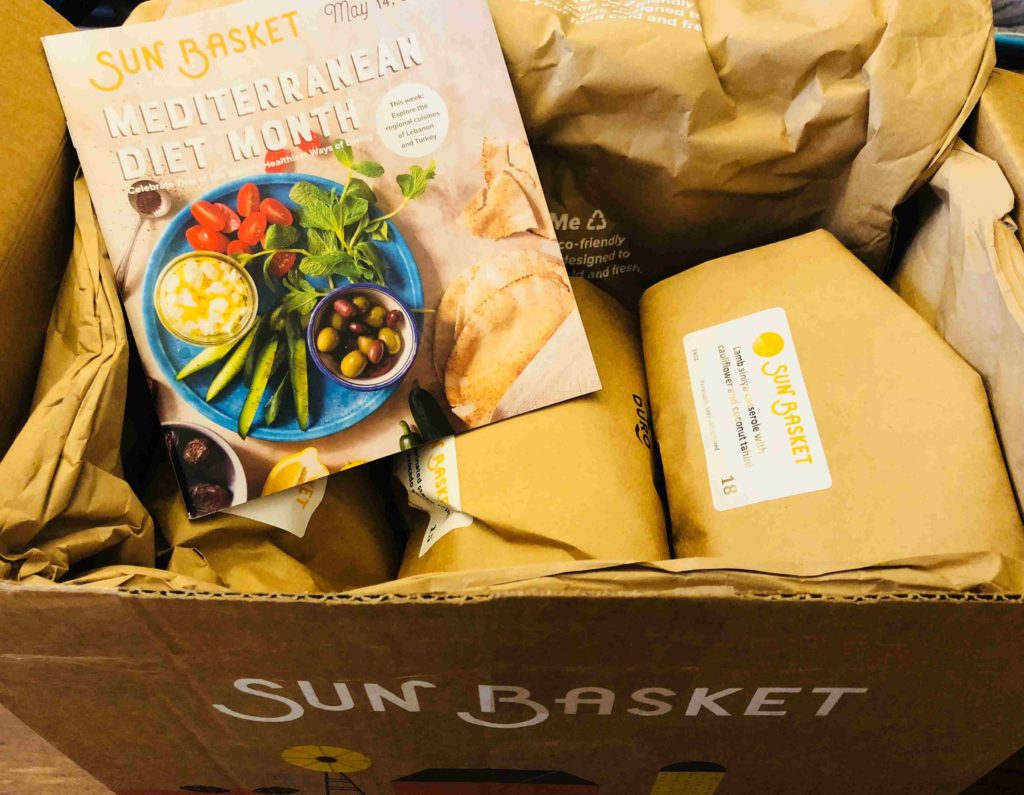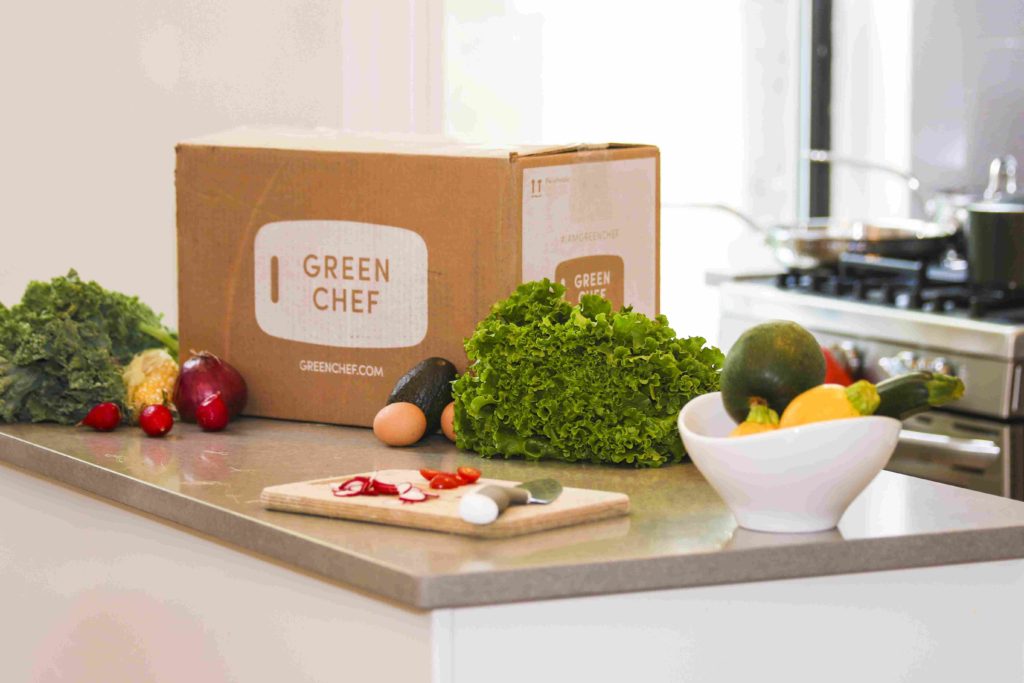 The Box
Both companies have distinct packaging processes and boxes.
Sun Basket's materials are 100% recyclable or compostable, and their packing methods include individually labeling and packaging each menu item. You'll just stow the items in the refrigerator upon arrival for optimal freshness.
Green Chef includes insulation via their proprietary packaging, but their boxes are also recycled, reusable, or compostable. These boxes weigh around 20 pounds and include color-coded recipe cards and bag kits, so it's easy to see what recipe card goes with each ingredient package.
The App and Website
Sun Basket has both a website and an app that's available on the Apple App Store and in Google Play. The site is simple to navigate with information on menus, meal plans, pricing, and account management.
Online, you can edit your menu and selected dishes with Sun Basket (including swapping in non-vegan meals), change your delivery preferences and update payment methods and scheduling.
Green Chef doesn't have an app at this time, but it does have a website that is viewable on both desktop and mobile devices. The site includes account management functions like skipping deliveries, the ability to cancel online, and options for modifying your weekly menu.
Plan terms
Both companies require a subscription, but you can cancel any time with both Sun Basket and Green Chef. Plans are flexible, so you can skip a week or cancel before the next delivery is set to ship. Just take note of each company's specific cutoff dates to make sure you're not charged for next month's delivery if you decide to cancel.
You can cancel your subscription, make delivery frequency changes, update your menu selections and serving counts, and more online with both Sun Basket and Green Chef. However, Sun Basket makes it a bit more challenging to cancel online, while Green Chef's interface puts the cancel button front-and-center.
Bottom line:
Both Sun Basket and Green Chef deliver delicious plant-based meal plans with complete proteins and tons of flavor. However, we have to go with Sun Basket overall, because while both companies served up tasty recipes, Sun Basket has more flexibility overall.
Not only can you edit your weekly menu with Sun Basket, but you can also swap in (or out) meals from any of their plans to build your own customized basket per delivery. That means you don't have to stick with purely plant-based menus if your preferences change or if you have unique dietary needs. Of course, trying new things is also a perk, too, if you're not committed to any particular diet.
We also prefer Sun Basket because they seem to have more distinctive flavors. Each company has its own house-made sauces and spice combinations, but Sun Basket's appealed more to our chefs! Of course, neither company uses additives or non-organic items, so you can rest assured that both are as healthy and junk-free as possible.
As far as pricing, the companies are comparable overall, starting at $11.99 per serving for their two-person meal plans. And while Green Chef's other meal plans are a bit pricier, its vegan option is on par with Sun Basket's pricing, making it a moot point for this particular meal plan category.
However, you won't be able to get a family plan with the vegan menu via Green Chef, which is a bit disappointing if the whole family wants to try the dishes. We're hoping the company will change this in the future, but for now, Sun Basket is our top choice for vegan meal kit deliveries.