The meal delivery service industry has evolved from its humble origins of pizza in a box to a sophisticated industry that caters to almost every dietary and lifestyle requirement. There are now so many companies out there providing prepared meal and meal kit deliveries that it can be a little overwhelming.  That is where we come in! At the Meal Kit Comparison, we have created a place where you can get all the information you need to navigate your way to deciding as to which company is the best for you. Today we are delighted to share with you our experiences with one of the new kids on the block – Veestro.
With their service, Veestro provides a wonderful way for busy people to increase their intake of plant-based ingredients. Veestro was established with the view that people don't have to fully embrace a vegan life to enjoy the benefits of plant-based foods.
Veestro has a very simple belief that is the basis of their company. If you increase the amount of plant-based foods that you consume, regardless of anything else, you will improve your health outcomes. Increasing your intake of fruits, vegetables, and whole foods has been linked with the reduction in the incidence of all sorts of modern diseases and illnesses.
One of the wonderful consequences of increasing your intake of plant-based foods can be losing weight! Yet another reason to give Veestro a try!
The main benefits of Veestro (or why we are big fans!)
Delicious meals that are fully prepared and then flash frozen
No preparation required apart from heating via oven or microwave
Over 96% of the ingredients they use are organic
100% plant-based meals that are chef designed and created
A diverse menu offering over 60 meals. Meal choices can cater to all your daily meal requirements
Ideal for those with weight-loss needs and have a dedicated weight loss plan available
Environmentally aware packaging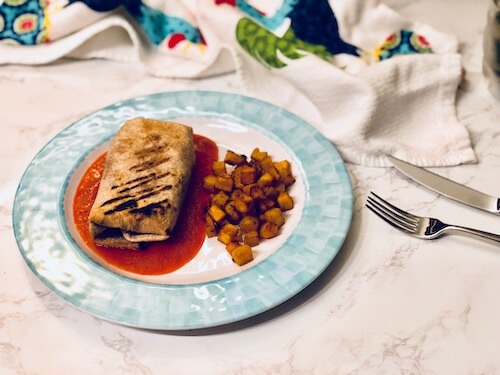 Veestro meals we tested
Any company that we review goes through an extensive testing process by our team, and we make sure that we try a diverse selection of meals from the company venue. We were looking forward to trying some meals from the Veestro menu. As there are not a lot of companies out there, who provide a 100% plant-based menu, we were curious if their meals would be delicious and satisfying.  
We are happy to report that we enjoyed all the meals in our Veestro delivery. We found the meals to be quite fulfilling and packed with flavor. We thought they would satisfy both vegans and non-vegans alike. They are a great option for anyone looking to increase the plant-based content of their normal weekly diet. Even though they were prepared and frozen, we found that once we had heated the Veestro meals, they reminded us of freshly cooked meals at home.  
Here are three of our favorite meals from the Veestro menu:
This first meal is Enchilada Casserole. We thought it was delicious, incredibly filling and we could not fault it! We were a little shocked to see that this fulfilling meal had only 250 calories per serving. A great choice for those who are watching their weight. We heated this layered enchilada casserole in the oven, though you could easily use the microwave. The casserole contained layers of vegetables, tofu mix, and a divine vegan bechamel sauce. This was served on a bed of red peppers and tomato sauce. It was such a winning combination of flavors, and we loved it. 
The second dish from Veestro we wanted to mention was this Country Fried Chick'n! We were intrigued – fried chicken on a plant-based menu?  We thought that this dish ticked all the boxes for those who were craving the comforting flavors of a fried chicken dish. The chicken itself came with a delicious crunchy coating and was full of comforting flavors. We also loved the thyme gravy that was served with this along with fresh vegetables and a very yummy mashed potato. This meal was delicious, and another one that was surprisingly low in calories, with only 440 total calories per serving. 
The final meal we wanted to mention today is the Carrot Osso Bucco. This was another dish that provided ample flavor, and we loved the seasoning of the vegetables. We also loved that it was served with some very tasty and comforting creamy mashed potatoes which were amazing! The baked organic broccoli was beautiful and fresh, as well as being organic. We chose to heat this in the oven, and it only took 18 minutes. It would also be suitable to heat it in the microwave if you prefer. This was super low in calories being only 210 calories per serving so another one that is great for those of you with weight loss goals. 
Our conclusion:
In summary, Veestro is an impressive service, and we love their concept. They are focussed on helping all people (vegans and non-vegans alike) increase their intake of plant-based ingredients. They are doing this by providing 100% plant-based meals that are filled with flavor, generally low in calories and are very satisfying.
Veestro is a convenient way of eating well with fully prepared plant-based meals.
Veestro offers a great option for those who simply would like some creative inspiration as to how to increase their intake of plant-based ingredients.  Veestro is all about convenience and eating well. Their meals are fully prepared by chefs, which means no cooking or cleaning provided! Their ingredients are 96% organic, preservative-free, and 100% plant-based.