Home Chef is a meal delivery service supplying weekly deliveries of fresh, perfectly portioned ingredients and chef-designed recipes. This subscription service makes home cooking simple and provides excellent customer service. 
All you are required to do is select the plan that suits your diet and taste profile, customize the features you want, and enjoy the effortless portions of great food. This is more than a simple meal kit service as you are free to upgrade your choices, develop your skills, and find the perfect balanced meals to eat during your week. 
Whether you are looking for a rice bowl, pork chops, chicken breasts, 15-minute meals, or something that includes unique tastes, the Home Chef recipes are going to give you adequate assistance.
We tried Home Chef meal kits so many times and have always enjoyed it! In this article, we took a look at some of the top recipes that best represent the Home Chef experience – so you know what to expect from this meal kit delivery service. 
Reviews of the Best Home Chef Recipes
Home Chef offers a variety of easy-to-follow meal kits and also some oven-ready meal kits per week. It was hard to choose, but for this review, we choose to review the following meal options that we think are the best options on the menu right now:
BBQ Pulled Pork Tacos with Cheddar Jack Cheese and Crispy Jalapenos
Sirloin Steak and Caramelized Onion Wine Sauce 
Roasted Salmon with Ginger Scallion Sauce 
Baja Mango Shrimp Tacos 
Crispy Prosciutto and Apple Mini Flatbreads
Truffle Chicken with Bacon and Goat Cheese Smothered Green Beans
Boom Boom Chicken with Teriyaki Broccoli and Peppers
Portobello Mushroom Stuffed Burger 
BBQ Pulled Pork Tacos with Cheddar Jack Cheese and Crispy Jalapenos
This easy-prep meal is a must-try recipe for those who are looking for almost prepared meals. This is one of the many oven-ready dishes offered on the weekly Home Chef menu as part of the Fresh and Easy meal plan, and it is suitable for a regular diet lifestyle (not dairy-free or gluten-free).
The tacos only take 20-30 minutes to prepare and are easy as can be to cook. You simply have to bake this meal in the oven and enjoy great tastes! The pulled pork was soft and tender, and we loved the crunch from the crispy jalapeños.
What's nice about this meal is that you can customize it to your taste. Originally it comes with pulled pork, but you can swap it with ground beef or ground turkey if you wish.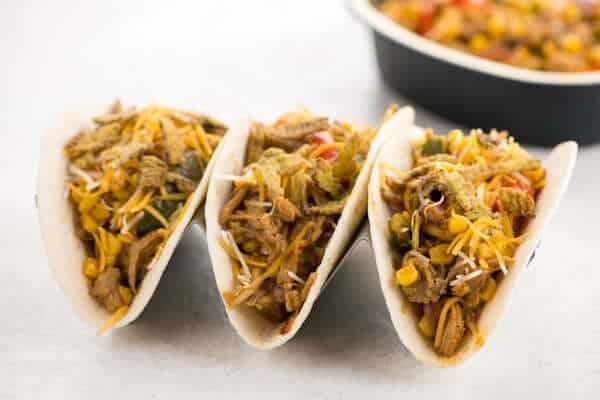 Sirloin Steak and Caramelized Onion Wine Sauce 
This dish is part of the Home Chef culinary collection. Succulent beef served with brussels sprouts and Swiss fondue potatoes; this dish makes for an excellent filling and scrumptious dinner. The magic of this meal comes from the onions topping – socked in red wine and demi, cooked at a low temperature for quite a long time. The smells were unbelievable, and the taste met the expectations!
However, this may not be for everyone as it takes up to an hour of prep work. Some may find this to be challenging, even though the cooking procedure is easy to follow. 
The box contains enough ingredients to serve two people, and there are 821 calories per serving. If you are prepared to take on this task, you will end up with delicious flavors due to the onions, red wine, and juicy steak. Fine dining at home!   
Roasted Salmon with Ginger Scallion Sauce 
If you are a fan of fish and charred green beans, you will adore this recipe from Home Chef. With a 30 minutes cook time, you do not need to be a skilled chef to prepare this meal kit. This dish is ideal for those who do not enjoy spicy food; it has its' own burst of flavor through the ginger, garlic, and teriyaki flavoring – a clever sauce that one would think is hard to make, but it is actually very simple. In addition to this, the food is topped with a high-quality curled green onion garnish that makes your dish visually appealing as well, feeling like you are dining in. good restaurant. Great for a romantic date! 
For those interested in the nutritional value, you can expect 546 calories per serving – suitable for a low-calorie diet. It is also a great option to choose if you're on a pescatarian diet or a low-carb diet.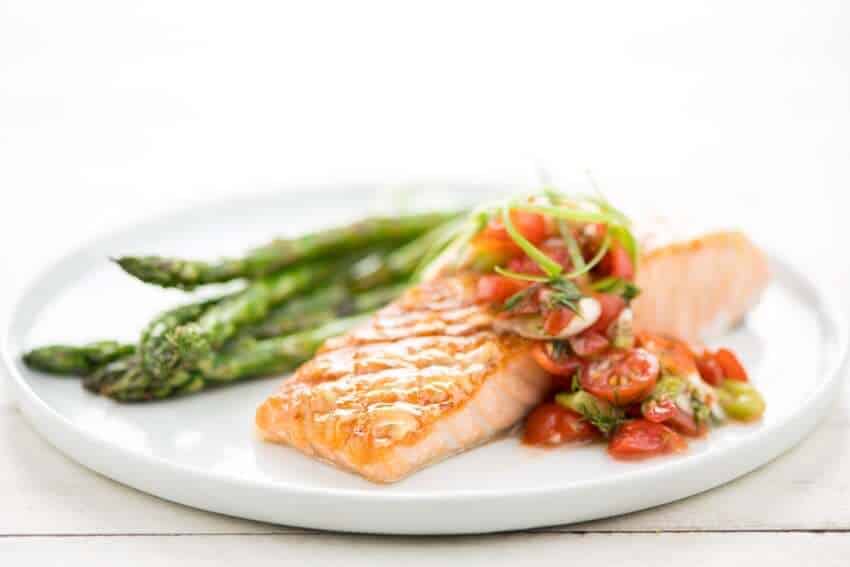 Baja Mango Shrimp Tacos with guacamole and queso fresco
Home Chef meal delivery service usually offers great taco meals every week, and this one is one of our all-time favorites!
These shrimp tacos are served with guacamole, which is the perfect combination. An intermediate to beginners level of cooking skills is required to make this 35 minutes meal kit. As always with Home Chef, the recipe is fun and easy to follow, using a detailed recipe card.
The tacos are a light meal that has a burst of flavors. You can expect a twist of sweet and spicy taste due to the mango and jalapeno used in the slaw, resulting in a crunchy and magical topping to the dish. The crispy shrimp and guacamole complete this meal in the best possible way. A fantastic meal kit to cook and eat on a fun night with family or friends.
This Home Chef meal kit can be provided in two, four, or six servings, depending on your plan. It contains 617 kcals per serving – a good option for those who are on a calorie-conscious diet. 
Crispy Prosciutto and Apple Mini Flatbreads
You will not lack flavor in this dish due to the incorporation of figs, apples, salty prosciutto, and a sweet balsamic glaze on top of the flatbread. This combination is all about finding the balance between sweet and salty, which the chefs managed to do very well. The contrasting flavors come together perfectly to make a fantastic dinner option for a nice date or an evening with good friends. Bon appétit!
This flatbread recipe can cater to two, four, or six servings, depending on your meal plan, and each serving contains 743 calories. The ingredients included in this meal kit are dried figs, apple, a yellow onion, naan pre-made flatbreads, prosciutto, shredded mozzarella, balsamic glaze, and sugar.  
Truffle Chicken with Goat Cheese, and Smothered Bacon Green Beans
It sounds like a fancy meal to cook, but this is a quick and easy meal, ideal for stovetop cooking that only takes 10 to 15 minutes to prepare. Every week, Home Chef offers at least three meals that are designed for express cooking!
Do you like rich and creamy meals? If you do, this is a perfect meal that is accompanied by green beans with a touch of crumbled bacon. To add extra flavor to this meal, there is truffle butter and garlic goat cheese. You are going to enjoy every bite of this tasteful meal. And with only 555 calories per serving, it is a valid win-win option to add to your menu!
Spicy Boom Boom Chicken with Teriyaki Broccoli and Peppers
Are you looking for a wholesome meal with great ingredients that has an easy prep process? This Home Chefs dish is oven-ready, designed to be super easy to make, and you need to let it bake for approximately 35 minutes. The meal arrives with an oven-safe pan included.
It contains all the mouthwatering flavors you would expect from a divine dinner – spicyness from the Sriracha mayonnaise sauce, and crunchiness from the crispy wonton strips. This Home Chef recipe presents healthy eating – with low-fat chicken breast, with a side of mixed veggies like broccoli, pepper, and onions. An excellent option for a low-carb and low-calorie diet.
All you need to do is assemble the dish and pop it in the oven to get dinner with 503 calories each. 
Crispy Cheese Stuffed Portobello Burger
We all crave a burger from time-to-time. This yummy vegetarian mushroom burger is topped off with sweet potato cottage fries that are easy to make; however, the process is slightly time-consuming for a burger. The prep time is 45 to 55 minutes to provide two to six burgers (depending on your meal plan). 
Without a doubt, the best part of this Home Chef meal is the stuffed portobello – a glorious mozzarella melting inside the whole portobello mushrooms, breaded and fried in crispy panko – who can resist it? Perfection. A rich and flavorsome meal that is crunchy contains arugula, fresh Roma tomato topping, and a soft brioche bun. It is time to up your burger game with this delicious recipe.  If it's on the menu next week – you simply must have it. 
More Reasons Why You Should Use the Home Chef Meal Kit Service 
Delicious home-cooked recipes are not the only reason you should consider utilizing the Home Chef meal kit service. Home Chef also offers other great benefits to its customers:
Delicious Food With a Twist
While you are bound to get something you love, know that with Home Chef, there is going to be something that makes each meal unique. It can be a slaw with mango and jalapenos, honey-cider sauce on a lamb chop, or Hawaiian-Style tacos with peppers and pineapple!
Vast Menu That Changes Per Week
With Home Chef, you will get to choose from 20 tasty meal kits weekly! That is a huge selection that can match the taste profile of everyone. The meals range in styles and broaden your culinary horizon, from Asian-style meals to American classics or Mexican-style options. What is common to all Home chef meal options is that it's just tasty!
Balanced Meals
Home Chef meal kit service offers an easy way of eating healthier during your week. Their meals are balanced, with protein and carbs, and include fresh vegetables in every meal.
Customizable Meal Delivery Service
Home Chef offers a fantastic feature that enables you to customize the dishes in your weekly box. With most meals you choose, you can swap, upgrade or double the protein's size in the meal.
Home Chef Makes Sure to Use High-Quality and Fresh Ingredients
Every time we got a home chef delivery, the ingredients inside the box were impressive! We dug-up a little deeper and found out that Home chef sources all their meals' ingredients only from high-quality farmers and other local suppliers. The ingredients are delivered with ice-packs to keep everything in the best shape during the delivery.
Home Chef = convenience
As Home Chef delivers their pre-portioned meal kits straight to your door, it will save you time going to the grocery store or looking for new recipes to cook. The ingredients arrive in a bag per meal, including easy-to-follow recipe cards. Moreover, Home Chef pays extra attention to delivering recipes that are fast to cook.
Home Chef Unique 'Fresh and Easy' meal plan
The 'Fresh and Easy' is Designed to fit people with no spare time to cook. This plan includes recipe categories like oven-ready meals, grill-ready meals, 15-minute meal kits, and salads.
There are also low-calorie or carb-conscious options, vegetarian options, and pescatarian meal options available. 
Price Per Serving
Home Chef is an affordable meal delivery service, with a price per serving of less than $10. You will find out that buying the high-quality ingredients by yourself will, in many cases, cost more. It is even more affordable when you put Home chef's price in comparison with ordering-in food.  
Flexible Subscription
As a Home Chef customer, you get a flexible subscription with no hidden commitments. You can design your plan to fit your needs – including the number of weekly meals and the number of servings per recipe. You can change your plan and preferences as you wish at any time.
Moreover, Home Chef's flexible subscription service allows you to skip weeks as much as you need. You can also cancel your plan at any time. 
The Bottom Line – Are Home Chef Meal Kits Good?
The short answer to this question is – YES! It is one of our top favorite meal kit delivery services for many reasons.
Home Chef caters a vast collection of recipes per week that you will not be disappointed from. From the ingredients to the flexible plans, and most importantly – the deliciousness of the meals – you cannot go wrong with a meal kit subscription such as Home Chef.
Are you ready to produce restaurant-quality meals from the comfort of your kitchen? If you haven't tried it yet, order Home Chef today and start the fun!