As people's dietary preferences change and evolve, so does the meal kit industry. With every trend and new discovery that comes out regarding nutrition, more and more companies join the meal kit industry to meet customers' needs. But with all these choices, it can be challenging to figure out what best suits your needs (and palate!). Fortunately, we're here to help!
Here we'll look at two companies that specialize in providing paleo meal kits.
Both Sun Basket and Green Chef offer paleo meal kits using fresh produce, high-quality proteins, and minimally processed ingredients. The two companies share many similarities, including their philosophy regarding paleo food, but they also have many differences.
Below we'll compare the two companies' paleo offerings, so you can decide which one is best-suited to your needs.
Variety of plan
Each meal kit service offers two menu choices: either a 2-person plan or a family plan. Within each plan, you can customize menu options, but first, you'll need to decide which weekly plan to subscribe to. However, with Green Chef, there is only one option that includes paleo dishes by default; the 2-Person Plan.
Sun Basket
Classic Menu—three recipes per week for two or four people
Family Plan—receive two, three, or four recipes per week for a family of four
Sun Basket has 18 recipes to choose from each week, six of which are Family Plan-friendly. With the Classic Menu, you can select dishes from any menu per week, while the Family Plan includes only those six selections.
Green Chef
2-Person Plan—three dinners for two people per week
Family Plan—two meals for a family of four, but note that the family options only include Omnivore and Carnivore selections.
With Green Chef, the only paleo option is the 2-Person Plan, meaning the whole family won't be able to enjoy paleo dishes together unless you subscribe twice or split up servings.
Variety of dishes
Each Sun Basket menu item contains high-quality protein, organic produce, and house-made sauces and spice blends. The meals are "globally inspired," with menu items like Thai turkey lettuce cups, Vietnamese shaking beef, and more.
And, with Sun Basket, you can mix and match dishes from different diets—meaning if someone in the family has nutritional needs outside the paleo diet, you can add in items to fill the gap. However, most dishes on the paleo menu are gluten-free by default so that you can check off both boxes with this menu selection.
In contrast, Green Chef only allows subscribers to choose one plan, but the organic menu varies each week, including items like Mediterranean Chicken, Italian Shrimp with Pesto, and more. While you can give feedback on which options you liked, you can't repeat recipes week by week—unless Green Chef adds them to the rotation again.
Style and Complexity of Dishes
Each dish from Sun Basket's Paleo plan includes five or more grams of fiber per serving, 20-25 grams of protein, and plenty of omega-3s and other healthy fats. Beyond that, variety truly is the spice of the diet!
The meal plan involves globally-inspired dinners that take 30 minutes or less to prepare. And while paleo diets rely heavily on animal protein sources, meaning you'll have to cook these ingredients to a safe temperature, it's possible to prep many of the meals in 20 to 25 minutes.
Green Chef's menu also includes meals which are easy to prepare in 30 minutes or so, with some more elaborate dishes taking about 45 minutes, and the menus vary by week.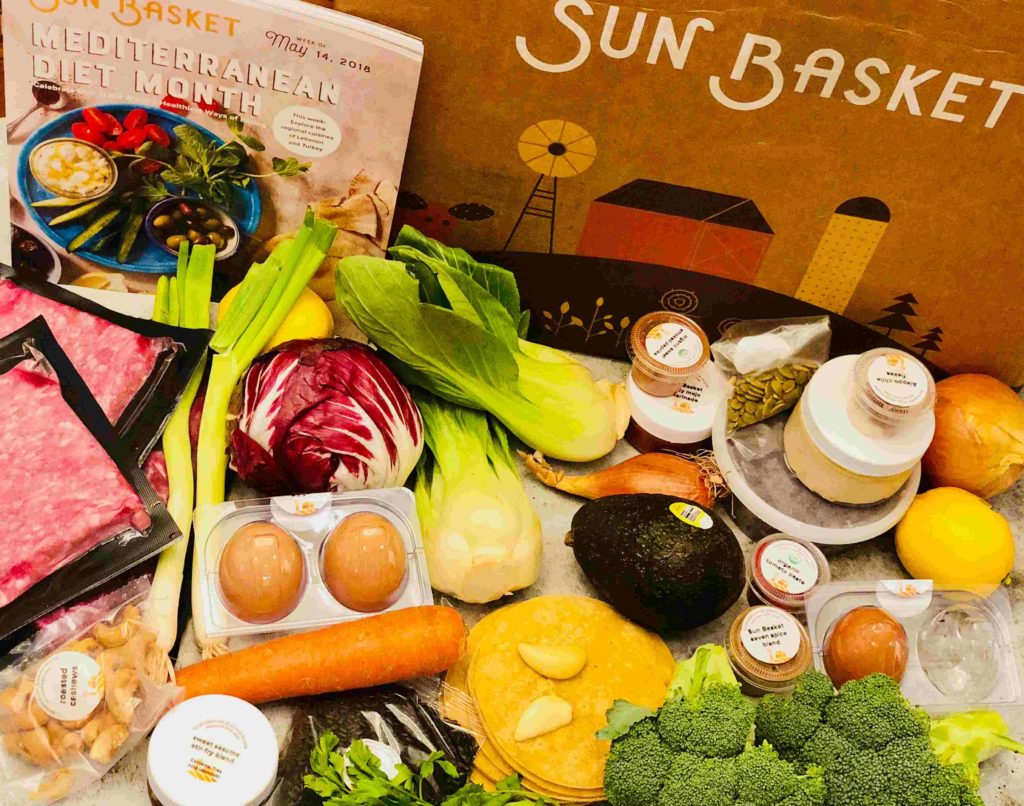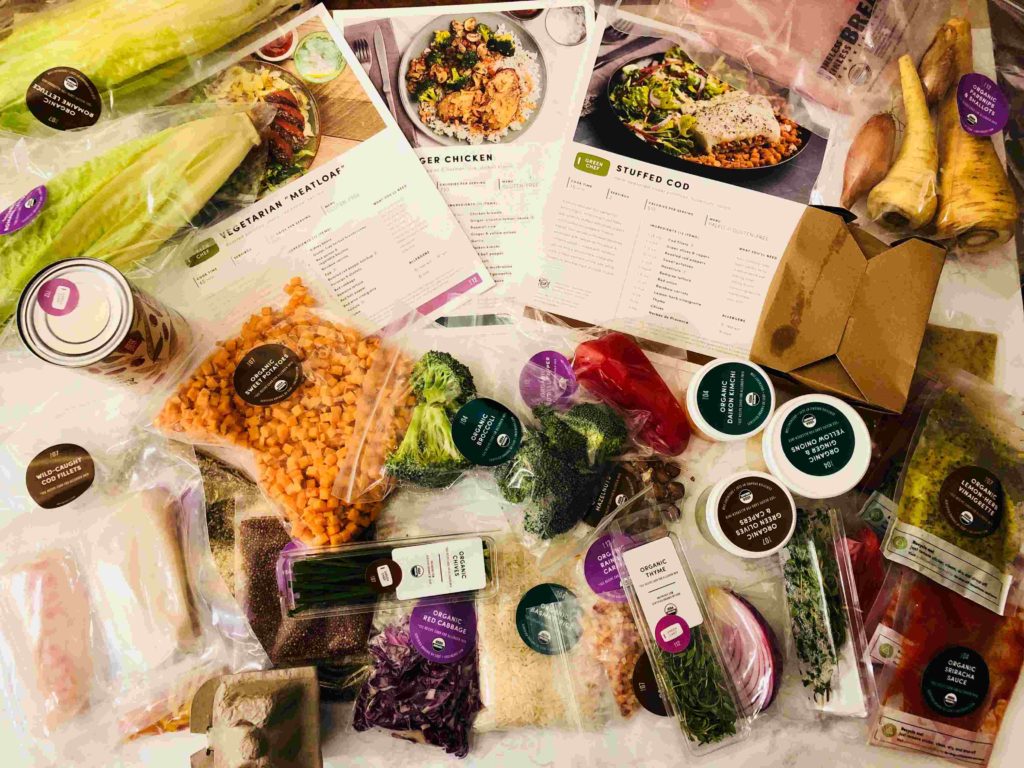 Quality of Products
Sun Basket's deliveries include organic produce and clean ingredients, including sauces they create in-house. Each dish features "clean" meat without antibiotics, hormones, gluten, grains, soy, dairy, or added sugar. The produce is 100 percent organic, and they also utilize sustainable seafood, organic eggs, and responsibly sourced meat.
Green Chef is also passionate about organic ingredients, nixing antibiotics, growth hormones, steroids, GMOs, and other additives from their menus. The company is also USDA certified, so Green Chef buys only ingredients from suppliers which undergo specific inspections, only use particular ingredients, and focus on environmentally friendly, sustainable food production methods.
The Box
Each company uses its own distinct box to package its meal deliveries. Sun Basket uses 100 percent recyclable or compostable packaging which keeps your food fresh as it arrives at your doorstep. Every item is individually wrapped and labeled, but you will have to unbox and stow them soon after arrival for optimal freshness.
With Green Chef, boxes are insulated with proprietary packaging and weigh about 20 pounds. Packaging is recycled, reusable, or compostable with every delivery, and inside the box, each recipe card and bag kit is color-coded, so it's easy to determine what you need for which meal.
The App and Website
Sun Basket has both a website and an app that's available on the Apple App Store and in Google Play. The site is simple to navigate with information on menus, meal plans, pricing, and account management.
Online, you can edit your menu and desired dishes with Sun Basket (including swapping in non-paleo meals), change your delivery preferences, and update payment methods and scheduling.
Green Chef has a website that is viewable on both desktop and mobile devices, but they do not have an app at this time. The website includes account management functions like skipping deliveries, the ability to cancel online, and options for modifying your weekly menu.
Plan terms
Both companies require subscriptions to get started whether you choose Sun Basket or Green Chef. However, their subscription plans are flexible, and you always have the option to skip a week or cancel at any point. Depending on when you cancel, however, you may receive another delivery before your plan ends; the companies vary with shipping cutoff dates and subscription updates.
Sun Basket and Green Chef both allow you to cancel your subscription online, make delivery frequency changes, update menu selections and amounts, and more. However, with Sun Basket, it's a bit more challenging to navigate to the cancelation page, while Green Chef makes it simple within your account management dashboard.
Bottom line:
Both Sun Basket and Green Chef offer mouthwatering meal plans with organic ingredients, high-quality protein, and plenty of flexibility. However, we prefer Sun Basket because of its flexibility overall: not only can you edit your weekly menu, but you can also swap in meals from other plans to build your own basket. This helps ensure everyone's dietary needs are met and allows you to try new things if the mood strikes.
We also prefer Sun Basket because the flavors are more distinct; while both companies create their own sauces and spice blends to add flavor without additives in their meals, Sun Basket's blends satisfied our taste buds a bit better!
When it comes to pricing, the companies are comparable overall with both starting at $11.99 per serving for the two-person meal plans each week. Regarding the paleo plan, however, Green Chef's prices bump up to $12.99, while Sun Basket's stay at $11.99 even for their paleo menu offerings.
Overall, Sun Basket is a bit more affordable and a bit more flavorful, making it our top choice when comparing the two companies.