You are single with dietary needs or just want to eat healthier, but time constraints make it a challenge for you? Is there something you can do about it? Luckily, there is – using Freshly, a meal delivery service that delivers ready-to-eat meals for one to your door every week.
We can't say enough about how easy Freshly is. You don't even need to pull a pan out! Just unbox your meal, and heat it for about three minutes in the microwave – and that's it, the food is ready!.
We subscribed to the Freshly weekly meal plan and tasted many of their meals, and here is what you need to know about it:
Is Freshly Good For One Person?
 Freshly is perfect for one person! The company offers meal delivery services just for you, with a single serving for each of them. You get prepared meals with high-quality ingredients, all for a single person. Meals come ready-made, so it only takes 3 minutes.
 Delicious meals often use high-quality ingredients, but it takes time to set them up for yourself. The good news is that Freshly makes it easy for one person to enjoy meals that are easy to use and healthy.
Who Does Freshly Cater To?
Everybody needs smarter nutrition, which is what Freshly provides in their food lineup. Freshly fits perfectly to busy singles and families and to those with specific dietary needs, which include the following:
High-protein fitness regimes
Low-carb and keto diet
Balanced nutrients
Unfortunately, for the time being, Freshly does not offer plant-based or vegetarian meal options.  
Offered Freshly Meal Plans For One Person
Freshly offers a meal subscription for a single person, whether you want 4 meals per week,  6 meals per week,  10 meals per week, or 12 meals per week.
You might ask yourself, are there enough menu options for you to enjoy? There are over 30 different choices every week so that you can pick four to 12 meals without any worry.
Freshly also offers a new service – Freshly Fit, a carb-conscious meal plan, 100% gluten-free and crafted with energy and performance in mind. The Freshly Fit meals are perfectly sized for one person as well, to fuel up pre-or-post-workout.
Benefits of Freshly Meal Delivery for One Person
Easy to use – No Cooking Required!
With Freshly, you can keep the knife and cutting board clean – because dinner is pre-cooked and ready to eat in 3 minutes.
An affordable price Meal Options for One Person
Freshly offers relatively affordable meal plans to help you stay healthy on a budget. Meal costs range from around $8.5-$12 per serving, and the price is reduced as you order more meals per delivery.
This price is, in many cases, Cheaper than supermarket costs, and it is most definitely cheaper than take-outs or ordering-in food delivery from a restaurant.
Pre-Portioned Meals for Better Eating and Less Food Waste
The Freshly meals are designed in single portions, meant to serve one hungry person with healthy and satisfying food. This means better eating, plus less food waste every week.
Best-Quality Ingredients in Every Single Meal
The Freshly Food Philosophy follows three guiding principles – Less added sugar, less processed food, and more nutrients in every dish. Freshly promise to use only high-quality ingredients and cook meals free from refined sugars and artificial products for better and clean eating.
Supports a Variety of Specific Diets 
Gluten-Free, soy-free, high-protein, dairy-free, weight-loss – you name it.
Healthy Meal Choices
Nutritionists plan the Freshly meals, so it's easy to stick to your nutrition goals and stay healthy. Since the meals are cooked and pre-portioned per serving, you won't have to measure portions or count calories, carbs, and fats. Simply choose the meals to fit your needs and heat them in the microwave when you want to eat. 
Easy meal planning
Figuring out what to eat for dinner seven nights a week is not an easy task. Freshly makes it much more manageable. This meal-delivery service offers a changing menu of 30 delicious meals per week, which means you'll always have something new to try for lunch and dinner.
Instead of wandering in the grocery store or online, looking for new inspiration, you just need to pick your weekly meals, or better yet – let them choose your meals based on your eating profile.
Flexible Meal Delivery Service
 Freshly makes it super easy to make changes in your subscription online. You can change plans, choose your meals per week, skip orders up to 3 weeks ahead of time, or cancel at any time.
Are Freshly Meals Actually Healthy? 
There are two main advantages of Freshly meals: fully-prepared ingredients and a healthy dose of nutrients. Freshly abides by a simple food philosophy – delicious, nutritious, and ready to make. The Freshly meals are 100% gluten-free, without added sugar, and less processed foods per serving. You have thoughtful ingredients in every meal.  Moreover, the Freshly culinary team uses smart swaps and hidden vegetables to create even healthier meals.
There is a listing of nutrients per meal on the package, so you always know your protein, calorie, and carb intake. There are plenty of healthy meals depending on your diet, so you're free to choose which meals work for you. The fact that you can manage your preferences is a huge bonus!
 Since the meals are ready to eat, you don't have to worry about spoilt ingredients. Once you order, the ingredients are set up for cooking the meals, and you always get fresh meals.
What Kind of Meals Per Week Can You Find on the Menu for One? 
Basically, you have a mix of proteins and vegetables, along with different spices and sauces. We appreciate the creative twists the Freshly chefs make for each meal. For example, roasted rainbow carrots on a risotto bring out the color in the proteins.
The extensive weekly menu includes meals from different culinary styles – from middle eastern, French or Italian, to Asian-style and all American classics like Philly cheesesteak or healthy mac and cheese.
Freshly uses what they call "stealth health," which is a fancy way of giving you great food without compromising the quality or the quantity. One example is making a cheese sauce with less heavy cream and butternut squash for a touch of sweetness and extra veggies on the plate. They also use nuts to add more protein to your plate without adding more meat.
Our Personal Experience with Freshly
Subscribing to Freshly was effortless. When we signed up, we entered our email and zip code and chose our meal plan – for us, it was the six meals per week, which is the most popular plan for singles. Remember, you can decide between 4-12 meals per week.
After finishing the subscription process, including choosing our delivery day of the week, we chose our first delivery meals out of an extensive offered menu. Everything looked delicious!
 The Freshly meals were delivered a few days after we made the order, on the day we chose, in a medium-sized box. We appreciate how organized the inside of the box was. Each meal arrived in a microwave-safe tray and full nutritional information and an ingredients list. With most meals, the proteins go on one side of the tray, while the vegetables go on the other.
The best part about Freshly is how easy it is to use. All you have to do is heat it in a microwave, and voila! We appreciate how organized the inside of these boxes is for each respective meal. The proteins go on one side of the tray, while the vegetables go on the other.
 With the Freshly app, you can easily choose your meals. The clean interface lets you know what you're getting, complete with clear-cut pictures of your meals. What you see is what you get!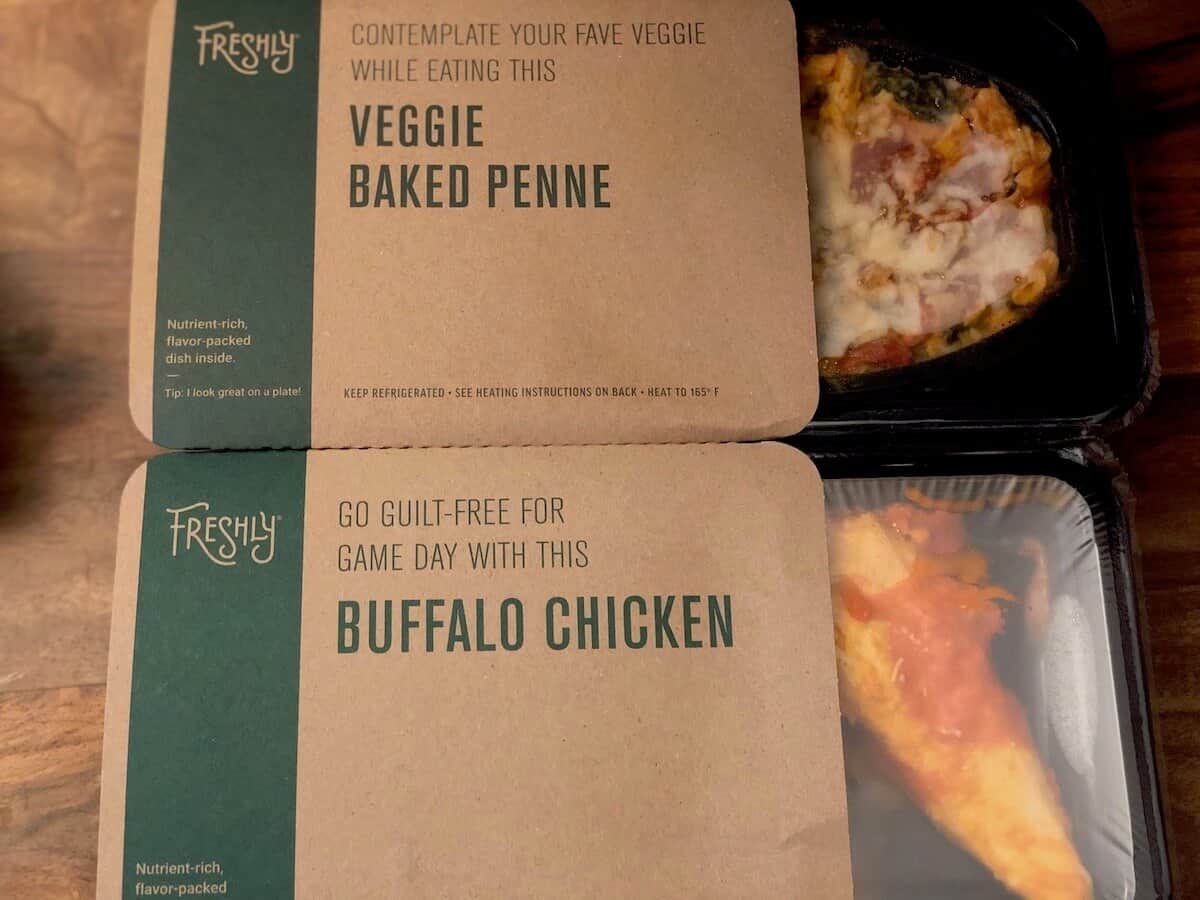 Here are three meals we tried and stood out to us for both their flavor profiles and health benefits:
Spiced Dukkah Chicken with Persian Apricot Rice & Cauliflower 
This chicken meal, high in protein, took us on a trip to the spice market! The chicken was coated in dukkah – a Middle Eastern mix of toasted almonds, sesame seeds, and a spice blend of turmeric, cumin, and cracked black pepper. We could smell the fragrant aroma of this meal after a minute in the microwave, and the taste did not disappoint. The chicken had a side of Persian rice with chopped almonds and sweet dried apricot bites, and a tender roasted cauliflower. A fantastic healthy meal to try!
Dijon Sauce Pork Chop with Sea Salt Potatoes & Roasted Carrots
Here is a tender piece of pork, combined with whole grain dijon mustard sauce, inspired by classic French bistro flavors. The delicious sauce is made with half & half and a touch of maple syrup for the perfect balance between sweet and savory. We also loved the hearty roasted red potatoes and carrots as a side, which perfectly complemented the pork chops.
Due South BBQ Beef with Masterful Mac & Cheese
While the contents are simple, it doesn't make it any less tasty—a homestyle combination of southern American food with a healthy twist. There is a surprising amount of pulled beef in this meal, covered with a bold classic and delicious BBQ sauce (which is with less sugar than the supermarket version and no high fructose corn syrup).
But the highlight of this meal is the upgraded mac & cheese – with brown-rice macaroni, nutritious puréed butternut squash for extra creaminess and sweetness, and some shredded cheddar. Absolutely fantastic! 

Other Recommended Freshly Single Serving Meals
Besides the three meals we reviewed above, there are several other delicious, highly recommended meals to consider. Each dish uses the best ingredients for maximum flavor potential.
More Tasty Meals You Can Try for Lunch and Dinner:
Chicken tikka masala with vegetables and seven different spices
Steak peppercorn with carrots and green beans
Grilled chicken and beef risotto with roasted carrots
Beef bowl with miso sauce, brown rice, and cauliflower
Chicken stew with chipotle and black beans
Turkey meatloaf with umami, spinach, and mashed potatoes
Orange chicken with stir fry and basmati rice
Sausage and peppers with cauliflower rice
What is the Difference Between Freshly and Freshly Fit?
Freshly offers meals that are healthy and with a balanced nutritional profile. The signature menu features delicious dishes with healthy twists like cauliflower mash, rice mixed with veggies or nuts, and more.
The FreshlyFit's menu is designed with a clear focus on specific macronutrients to improve performance by fueling your body before or after workouts. The Freshly Fit menu also supports particular health goals and weight loss – like clean meals high in protein and low on carbs.
Both offer a convenient meal delivery service, with tasteful chef-designed meals, and focused on minimizing added sugars and processed foods and creating better nutrient-dense meals that provide good health benefits.
What is the Difference Between Freshly And Meal Kits – Especially For One?
Both Freshly and meal kit services like Hello Fresh or Blue Apron send everything you need to get a great dinner on the table, saving you time on meal planning and grocery shopping trips. There are two main differences:
First, the Freshly meals arrived cooked, pre-portioned, and ready to heat and eat. With meal kits, on the other hand, you will receive recipe cards and all of the pre-portioned ingredients you need to cook up a tasty dinner by yourself.
Second, the Freshly meals are pre-portioned to perfectly fit one person, as opposed to meal kits that can only come in two or four-person portions.
How to Start Your Subscription with Freshly? 
The Freshly subscribing process is simple. All you have to do is join them on their main website.
 When you sign up, you enter your email address and zip code and other relevant info like your delivery address and payment method. Remember, you can decide between 4-12 meals for one person a week. After registration, you can choose your meals with over 30 menu items.
This meal-delivery service uses chefs to cook the meals for you, so you only need to heat them in the microwave for three minutes. Once you subscribe, the meal box will arrive once a week with your chosen meals and ice-pack to keep them cool through the delivery process.
Know that you can skip a week when needed. For example, if you travel or just feel like taking a break for a week. You can also adjust your plan and delivery time online and can cancel the subscription a week in advance, with no hidden commitments.
Bottom Line of Our Freshly Review- Is Freshly Worth the Money?
 Freshly is worth every penny, especially for single people! We genuinely believe there is something special with their selection of prepared meals. Their chefs have a great understanding of what makes for good flavor profiles.
 Not everybody has time to cook their meals, even not 30-minute meal kits like Blue apron. We know how this may limit your options. Instead of cheap fast food and unhealthy supermarket frozen microwave kits, try out these delicious, fully prepared meals from Freshly.
Freshly use the highest quality ingredients to ensure premium-grade flavors, and the meals are sent fresh to your door every week.
Freshly has a simple and easy-to-use website, so signing up for a weekly meal subscription is a no-brainer. You can decide how many meals you get per week, with the option of skipping a week whenever needed. Cancellation can happen at any time, so you aren't forced into a schedule.
Save yourself the time and money with Freshly. Whether you want to gain muscles through protein or lose weight through low-carb diets, or just want to eat healthily without cooking involved – Freshly has the meals just for you.