Chicago is famous for its food options, from deep-dish pizza to Chicago-style dogs and funnel cakes. This city also has many restaurants that range from ethnic to classic American.
It can be easy to fall into a rut of ordering takeout meals from local restaurants with the number of food delivery services available.
While these meal options may be tasty, they are typically not conducive to a healthy lifestyle. Instead, you may want to consider meal delivery services in Chicago.
There are quite a few available to choose from, including Hello Fresh, Dinnerly, Green Chef, and Sunbasket. Below, you'll find the top options and information on what makes each healthy meal delivery service choice different.
What Is A Meal Delivery Service, And How Is It Different From A Food Delivery Service? 
Both meal delivery services and food delivery services allow you to skip some grocery shopping during the week. However, there are a few differences between the two options.
A food delivery service, like  Doordash or  Uber Eats, provides prepared meals from local restaurants. Generally, this option does not offer the most nutritious foods. This could be due to a few factors, including lack of produce/nutrients, too large portions, and an overabundance of oils and salt.
In comparison, meal delivery services, like Hello Fresh or Green Chef, provide easy meal prep with pre-proportioned meals that you can quickly heat and eat. Or options for meal kits, in which you craft your meals at home with pre-portioned ingredients and step-by-step recipes. These meals are typically backed by nutritionists and designed by professional chefs.
With pre-portioned meals, meal planning is straightforward, as healthy food is delivered to you weekly without purchasing items from the grocery store shelves.
Have No Time? Here Are The Best Chicago Meal Delivery Services:
Those interested in healthy eating without high delivery fees can peek through the below meal delivery subscription options.
Sunbasket
Healthy Organic Ingredients In Easy-To-Cook Recipes
Sunbasket is a top choice meal delivery service for those seeking to fulfill various dietary restrictions. The Sunbasket menu provides fast, convenient, and easy-to-cook meal options, including both meal kits and microwave-ready meals  (options with no prep required, that you simply heat in the microwave).
You can choose between vegan, vegetarian, gluten-free, low-carb, pescatarian, and paleo diet-friendly foods. Their ingredients are sourced from local farms, with sustainably sourced proteins included in the meal options.
Each week, chefs and registered dieticians create various new recipes to choose from, ensuring high-quality whole foods are included in every meal. Moreover, Sunbasket offers the option to add-on products, snacks, and ready breakfast to your box.
Choose Sunbasket Meal Delivery If You Want:
Menu items that cater to different dietary restrictions like paleo, low carb, gluten-free, diabetes-friendly meals, and more
Organic, locally sourced ingredients
Chef and dietician curated meals
Options for pre-cooked meals and meal kits, and fast 15-minute meal kits as part of the subscription service
Add-on options for breakfast, lunch, and healthy snacks
Few Recipes To Try From The Sunbasket Menu:
Mediterranean turkey meatballs with chard and red pepper–cashew crema
Black Angus rib-eye steak with herbed ghee, sweet potato frites, and kale
Burmese salmon salad with lemongrass and apple
White chicken chili with corn, green beans, and chiles
Blue Apron 
Chef-Designed Prepared Meals and Meal Kits
Blue Apron is well-known for its chef-curated meal kits that provide delicious home dining options for special occasions and cozy everyday dinners.
All Blue Apron meals are chef-curated, making it easy to enjoy fantastic food delights, created from high-quality ingredients. Non-GMO fresh ingredients and sustainably sourced fish and meats are provided directly to your doorstep every week.
Additionally, you can add on meat-only packages to high-protein meals along with kitchen tools, wines, and spices, providing a convenient all-in-one online market.
Choose between meal plans that include meat, vegetarian options, and a combination of the two. Even family-sized choices are available, and some new prepared meals options for easy heating via microwave.
Choose Blue Apron Meal Delivery If You Want:
Chef-designed meals and meal kits for delicious dinners at home
Meal plans for singles, couples, and families
High-quality ingredients in every weekly box
Insight into the cooking time before selecting a meal
An option to choose quick, microwave-ready meals
Options for add-ons like kitchen staples and wine pairings each week
Few Recipes To Try From The Blue Apron Menu:
Creamy mushroom & spinach flatbread with fontina & garlic
Sheet pan pork roast & potatoes with apple-dijon compote
Dijon-roasted trout & potatoes with romanesco & honey-olive vinaigrette
Loaded baked potato wedges with avocado & cheddar cheese
Home Chef 
Convenient Meal Delivery Service With Pre-Portioned Ingredients
Home chef offers flavor-packed meals with an extensive array of options to choose from each week.
You'll find options for 30 plus meals that arrive with pre-portioned ingredients. Choose between no prep meals with the Fresh and Easy options or carb-conscious, calorie-conscious, and vegetarian options.
Home Chef provides meals for busy individuals that you can cook using various methods like grilling, oven, and stovetop.
Choose Home Chef Meal delivery If You Want:
Menu options for different cooking skill levels
Meals that you can cook on the grill, stovetop, or oven
30+ menu items each week that are ready in no time
Options for various diets including low carb, low calorie, and vegetarian meals
Ability to double the protein in delivery boxes
Meals for breakfast, lunch, and dinner with snack options
Few Recipes To Try From The Home Chef Menu:
Tex-Mex-style pork stuffed peppers with enchilada sauce and cheddar cheese
Pesto shrimp couscous with parsley and bell pepper
Green goddess risotto with asparagus and peas
Chicken steak and caper demi sauce with asiago broccoli
Dinnerly 
Best Budget-Friendly Meals For Singles, Couples, And Families
Dinnerly is a meal delivery option that provides high-quality recipes at a lower budget price.
This meal-delivery company provides fresh ingredients in pre-portioned amounts directly to your door. The simple recipes will allow you to make easy, convenient meals in the comfort of your home.
Options for family-sized meals or two-person meals make it easy to find the correct amount of great food each week. As part of the Dinnerly menu, there are options for vegetarian-friendly meals, low-calorie meals, low-carb meals, one-pot meals, and much more.
Each meal is labeled clearly on the online weekly menu, allowing you to choose the best options that fit your dietary needs and taste preferences – all at a super affordable price, starting as low as $4.59 per serving!
Choose Dinnerly Meal Delivery If You Want:
Family-friendly meals perfect for those on a budget
Options for vegetarian, low carb, one-pot meals, and other choices to fit dietary requirements
over 20 simple, easy recipes to choose from each week
Lunch, dinner, and dessert choices
Option to add extra protein to your box
Few Recipes To Try From The Dinnerly Menu:
Crispy sour cream & onion chicken with oven home fries & broccoli
Low-carb brown butter-za'atar tilapia & orzo with chopped tomatoes & olives
French onion beef with egg noodles
No chopping and no slicing Cajun dirty rice with garlic aioli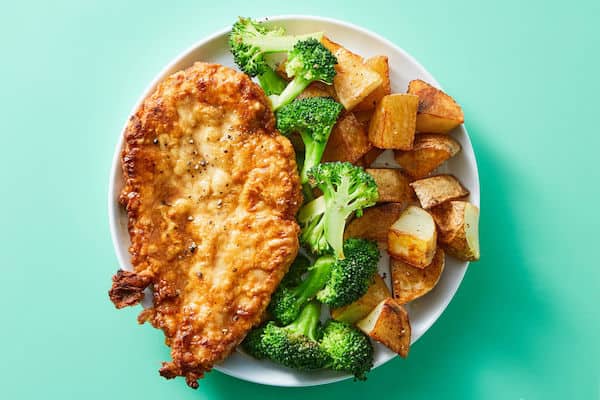 Hello Fresh
The Biggest Meal Delivery Kit Company In America
Hello Fresh provides seasonal menus that incorporate a variety of meal options from pescatarian to vegetarian, family-friendly, and fit and wholesome choices.
Most meals can be prepped and ready to eat in less than half an hour, making the Hello Fresh option convenient for those with busy schedules. You can expect to receive fresh portioned ingredients directly to your home in a Hello Fresh delivery box each week after choosing from 25 meal options online.
There are dinner favorites included each week, from steak to taco meals, with options for low-carb and low-calorie meals. Plus, these meal items provide a great way to encourage the whole family to cook together and try new flavors and ingredients.
Choose Hello Fresh Meal Delivery If You Want:
25 classic meal choices each week
Low carb, low calorie, pescatarian, vegetarian, and other meal options
Fast, easy meal kits that arrive with fresh ingredients
Family and kids friendly choices that everyone in your household can enjoy
Some elevated dinner meals and options for special occasions
Few Recipes To Try From The Hello Fresh Menu:
Turkey & zucchini Pomodoro penne bake with mozzarella & herbed ricotta
White cheddar wonder burgers with caramelized onion, special sauce & old bay fries
Mozzarella & herb chicken with roasted sweet potato & buttery couscous
One-pot Mexicali black bean soup with the works