The meal delivery service industry is one that has grown substantially over the last decade. There are now companies that cater to almost every dietary and lifestyle requirement making it easy for everybody to be able to utilize meal delivery services. There are companies that specialize in weight-loss plans, organic ingredients, freshly prepared meals, and fully prepared frozen meals.
Our experienced team at the Meal Kit Comparison have been using meal delivery services for years and we are huge fans. We believe that this type of service represents incredible value for money, is highly convenient and substantially reduces food waste. With a meal delivery service, you will be eating well while spending less time on grocery shopping and meal planning. Truly a win-win for everyone!
As there are so many services now offering meal kit or prepared meal delivery services, it can be quite difficult making that first step and deciding which company you would like to try. That is where we come in, making your decision so much easier.
Today we wanted to share with you our experience with one of these companies, Freshly.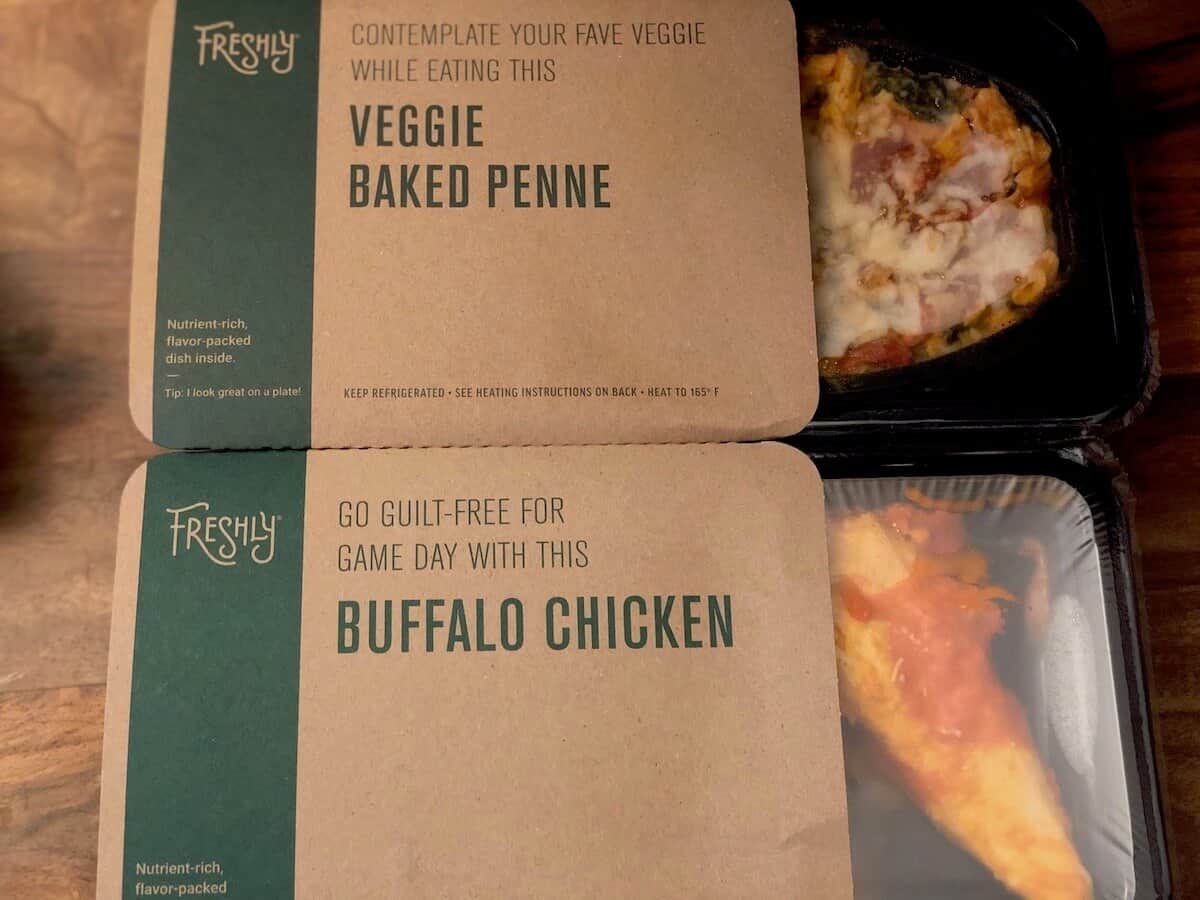 We love the Freshly service due to its convenience and taste appeal. Freshly delivers fully prepared, non-frozen meals straight to your door. All Freshly meals have been prepared by professional chefs in small batches just like you would cook at home.
After the meals are cooked, they are chilled, packed and delivered to you! Freshly uses beautiful ingredients that are 100% gluten-free. Not only are their meals gluten-free, but they are also healthy and taste delicious.
A big part of the Freshly concept is that every Freshly meal you enjoy will save at least an hour of your time. That is because Freshly is doing the shopping, cooking and cleaning for you. That way, you can spend time doing things that you love, while also knowing that you are eating well.
The main benefits of Freshly (or why we love them)
Delicious and fully prepared meals that can be ready to eat in only 3 minutes.
100% all-natural ingredients with no artificial flavors, colors or refined sugars.
The Freshly menu provides fantastic variety with a choice of about 30 meals a week.
Many dietary and lifestyle requirements are catered for which include low-carb, paleo, high-protein, vegetarian, gluten-free, weigh-loss and more.
4 different plans offered.
Flexible subscription service in that customers can swap meals, change plans, skip weeks and cancel your account without penalty.
Freshly Meals We Tested
Part of our review process for any company is trying a selection of meals from the company menu. Freshly was no exception. We are happy to report that we really enjoyed our experience and loved that fact that the Freshly meals tasted like home-cooked creations, even though they arrived at our door, fully prepared. We picked three of our favorite meals from our Freshly experience; please read on to hear our thoughts.
The first meal we tried from our Freshly delivery, also happened to be our favorite- Buffalo Chicken with loaded cauliflower! It was delicious, and we loved the combination of flavors that made this dish a taste sensation. The beauty of Freshly meals is that all the meal preparation and cooking has been done for you and all you need to do is to heat your meal via the microwave. The loaded mashed cauliflower in this was perfection! It was made with cauliflower and Greek yogurt and then topped with bacon, chives, and cheddar cheese. This was accompanied by a beautiful tender chicken that was smothered in a healthy style spicy buffalo sauce. We just loved this dish! As with all Freshly meals, this dish was soy-free, gluten-free and low in calories with only 480 calories per serve.
We also really enjoyed the second dish that we tried from our Freshly delivery, the Slow-Cooked Beef Chili. It was loaded with flavors and was another dish that was a treat to eat. There was a lovely smoky component that came from a spicy chili powder blend. The ground beef was flavorsome, and the sweet vegetables were tender and perfectly cooked. All of this was accompanied by a delicious sauce. This dish had a bit of a Paleo twist with the black beans being substituted for diced sweet potatoes, and it worked a treat! This meal was comfort food at its best, and it was also a very healthy version of traditional chili. Another thing that impressed us about this dish was that it was super low in calories with only 300 calories per serve. Being so low, you could easily add some sour cream or guacamole if you liked.
The final meal we tried from our Freshly box was the Turkey Meatballs & Linguine with Spicy Arrabiata. This was another classic comfort food dish but without the hidden nasties like sugars, preservatives, and gluten. With Freshly, you are eating food that is both clean and incredibly satisfying. These gluten-free turkey meatballs were amazing! They were made from ground turkey, cage-free eggs, Romano cheese, Italian spices, and oatmeal. They were moist and tender and had some lovely flavors. They were served with gluten-free linguine made from brown rice and a spicy arrabbiata sauce. This traditional Italian sauce is made from tomatoes, olive oil, and red pepper flakes. We personalized this dish by adding some freshly chopped spinach for a touch of green!
This dish tasted amazing, so we were really surprised that it was so low in calories, only 500 calories per serving. Being a Freshly meal, it was also gluten-free and soy-free.
Our conclusion:
We have to say that we were very impressed with the Freshly service. To be honest, we weren't sure how our experience was going to be, as we were a little sceptical about the taste and freshness of a meal that had been fully prepared. We needn't have worried! The Freshly meals, in most cases, taste like meals that have been prepared in your kitchen. The quality of the ingredients they use is second to none. As the meals are immediately chilled on completion and then shipped to you, you are guaranteed to be receiving meals of the highest quality.
We love the fact that Freshly uses 100% all-natural ingredients with no artificial flavors, colors or refined sugars. It is such a convenient and delicious way of eating well.
We recommend giving Freshly a try. Their service is very convenient, leaving you with more time to do things that you love. At the same time, you will be eating delicious meals that are preservative, soy and gluten-free and generally also low in calories.