In contrast to a meal kit delivery service, a prepared meal delivery service takes convenience to a whole new level!
A prepared meal delivery service provides meals that are fully prepared and cooked. Some of these meals are then flash-frozen and immediately delivered to you.
Other companies do not freeze their meals but deliver them refrigerated instead. In both instances, all that is required of you is to heat your meals and then eat them! All meals contain instructions for heating, and usually, the heating process takes only a few minutes.
The main attraction of prepared meal delivery services is undoubtedly the convenience. They offer a way to eat well without any grocery shopping, meal planning, cooking or preparation.
There is another big reason why many people are turning to prepared meal delivery services. That is because many of these companies focus on providing menus that cater to the multiple nutritional challenges that are faced by many today. As a result, prepared meal delivery companies have become experts in creating menus that cater to dietary requirements and weight-loss regimes.
Using a prepared meal delivery service can be an effective, affordable and convenient way of embracing a new diet. They can assist with learning how to live with dietary requirements and assist with maintaining a more well-balanced lifestyle due to health issues.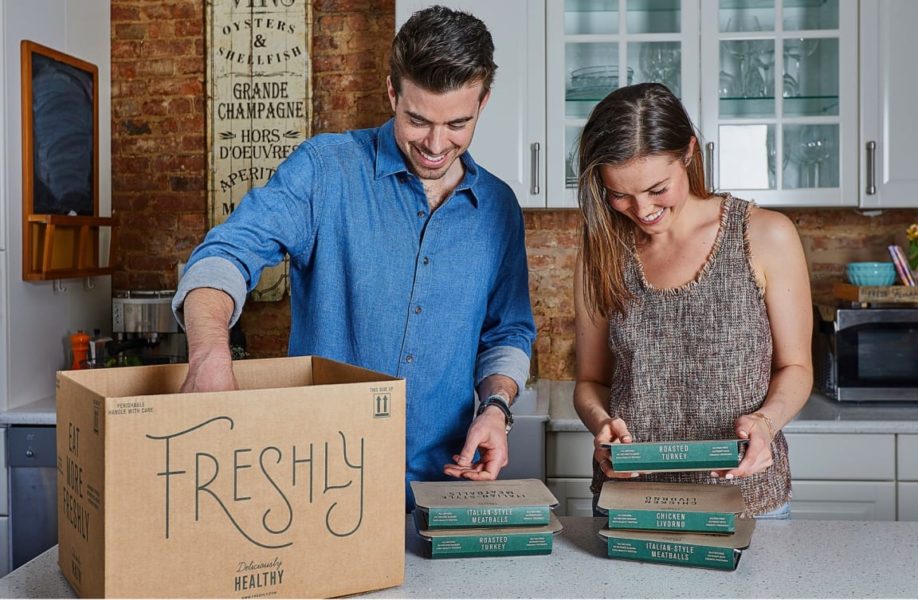 Within this industry, you will find options for all kinds of dietary programs, menus to meet the demands of medically necessary diets such as gluten-free and diabetes, the latest trending diets such as keto and paleo and lifestyle choices such as vegan and vegetarian.
Packaging of your prepared meals includes heating instructions and all relevant nutritional facts such as you would find on frozen meal packaging in your supermarket.
However, there is a world of difference between supermarket frozen meals and the meals of a prepared meal delivery service. Supermarkets meals are mass produced, and filled with preservatives to extend their use by dates. However, with your meal delivery service, your meals are cooked to order and either flash-frozen or chilled before being delivered to your door. These meals are freshly cooked and taste delicious because of this fact.
A prepared meal delivery service is ideal for someone with dietary or lifestyle requirements. It is also well suited to anyone who is trying to implement a successful weight-loss plan. This type of service is also wonderful for those who love to eat well but are simply too busy or not interested in spending hours in the kitchen. Prepared meals are super easy to heat, and as a subscriber, you can enjoy having as many meals as you wish catered for with beautiful and nutritious meals that taste amazing.
The history of the meal delivery industry:
If truth is known, possibly the first type of meal delivery was the pizza delivery! The meal kit and prepared meal delivery industry originally began in Sweden in 2007. It quickly gathered momentum and spread across Northern Europe, and it did not take long for the concept to arrive in America. The industry was popular from that start and grew rapidly. In 2015 it was worth over one billion dollars, and within 2 years this figure doubled. By the end of 2017, the industry was worth over 2 billion dollars.  
Who is the ideal prepared meal delivery customer:
This industry is extensive with multiple plans and menu offerings, and it really is well suited to many different types of people. Following are the main groups of people who love using prepared meal delivery services:
People who wish to manage their weight:

Whether you are looking at losing weight, gaining weight or just need some assistance with weight management, a prepared meal delivery service offers some great options for you. Their meals are often designed by doctors and nutritionist and are chef prepared. You can select meals that are calorie-controlled and meet the heart-smart guidelines.

People with dietary requirements:

If you have a dietary requirement regardless of whether it is due to a medical issue such as diabetes or more of a lifestyle choice such as the desire to follow a plant-based diet, then prepared meal delivery services are for you. With menus and plans that meet every specification of your particular dietary need, you will enjoy beautifully prepared meals that taste great, are nutritionally well-balanced and are good for you.

People with no time to spare:

If you have a busy modern life and are juggling things such as career, family, friends, hobbies and fitness, a prepared meal delivery service is the solution for you. You won't waste any time on cooking or preparation, but you will still be eating well with nutritious meals that taste great and are a joy to eat.
The main meal kit companies in the USA:
The prepared meal delivery service is one that is growing in popularity in the States, and as such, there are new companies emerging all the time. Some of the better known prepared meal delivery services include Factor75, BistroMD, Babeth's Feast, Munchery and Balance by BistroMD.
The Meal Kit Comparison:
At the Meal Kit Comparison, it is our aim to provide a space where you can get all the information you need about meal kit and prepared meal delivery services. We have an in-depth review process which allows us to give you first-hand company profiles, comparisons, and lists of the best services to suit different needs.
We trial every element of a meal delivery service, starting with the subscription process.
This allows us to give feedback on how your account will be managed, how easy it is to order meals and to make changes to your order.
Finally, we receive multiple deliveries and report back on the packaging, how well the meals were packed, how easy they are to heat and finally how good they taste!
This process allows us to report on companies in an honest way, giving you the most accurate reviews of meal delivery companies available.