We write our honest review on each company or product, however, we receive a sales commission or other compensation on the products we review. That helps us to support this website. Prices can vary due to changes in promotions or policies. See our full disclosures here.
When the meal kit industry first emerged onto the American market, it initially mainly offered standard evening dining choices.  Since then though it has rapidly evolved into an industry that caters for almost every dietary and lifestyle requirement. The industry has become incredibly diverse and offers a vast number of choices.  Companies are now specializing in different dietary needs and have created menu plans to reflect these needs. One such diet that is commonly catered for is the gluten-free diet.
What are the requirements of a gluten-free diet?
A gluten-free diet is one that excludes all forms of gluten.  Gluten is a substance that is found mainly in wheat and grains and includes barley, rye, and oat, just to name a few. 
Nowadays the gluten-free diet is one of the most popular dietary trends to be followed in the United States. Initially, this was out of necessity due to the increase in gluten-related disorders such as Celiac Disease (CD), Non-Celiac Gluten-Sensitivity (NCGS) and Gluten Ataxia.  Recently though a growing number of people are following a gluten-free diet by choice due to the belief that a diet free of gluten is better for you and will aid in weight loss and maintenance.
When you follow a specific diet, such as a gluten-free diet, it is very easy to think that your choices are going to be limited when it comes to meal kit menu choices.  However, there is a very pleasing amount of delicious and creative menu choices out there for you! There are several meal kit services that understand this diet well and have created tempting and tasty gluten-free options.  
***It is important to note that our recommendations include companies that have created gluten-free menu plans for those who have gluten-free related health issues and others that are more suitable for those who follow a gluten-free diet as a lifestyle choice.***
$10.99-$12.99 per serving
#1 Sun Basket- Gluten Free Menu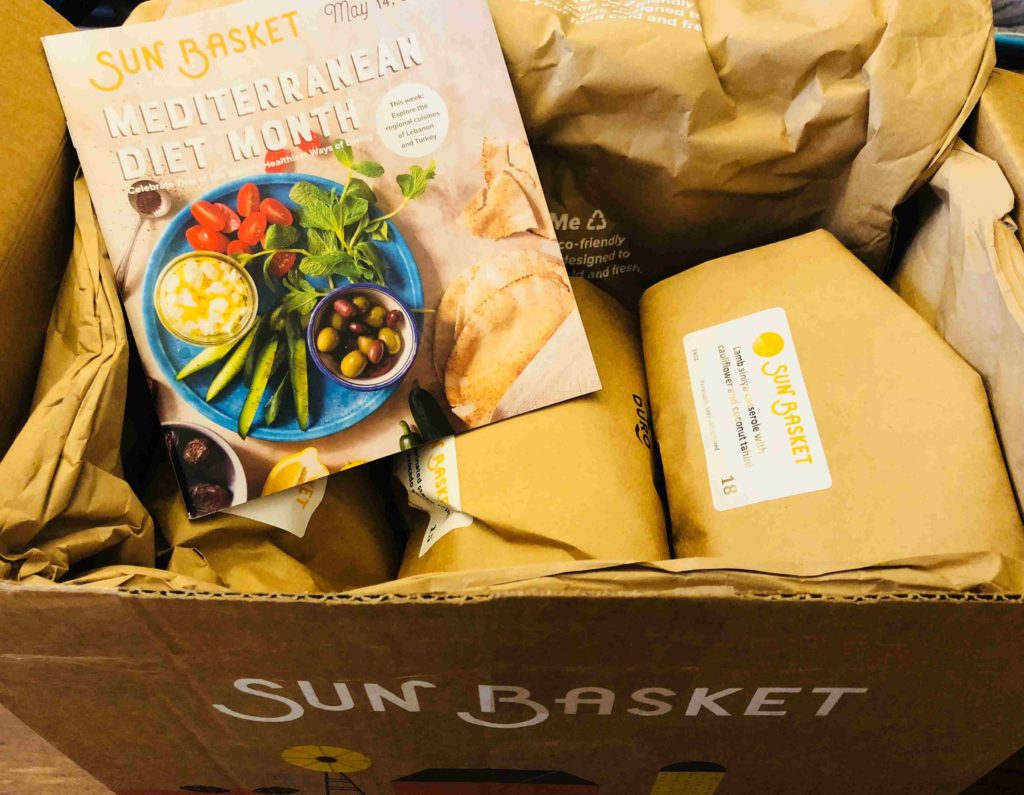 $10.49-$14.99 per serving

Great Keto/ Paleo meals selection
#2 Green Chef- Gluten Free Options
$8.99 to $11.99 per serving

Delivery: $19.95 with first order being free
#3 BistroMD- Gluten Free Prepared Meals Options
Great Keto/ Paleo meals selection
#4 Factor75- Gluten Free Prepared Meals
You can rest assured if you follow a gluten-free diet that you will be able to find a range of delicious and creative options within the meal kit industry. We recommend trialing a few companies initially so that you can get a good understanding of the style of dishes offered and find out which company best suits you.   
Regardless of which company you choose, using a meal kit service will assist you to easily follow your gluten-free diet without the challenges of meal planning and shopping!  They will also provide a range of delicious and creative choices for you, so you never have to feel bored or dissatisfied.