Sun Basket is a food delivery service that focuses on using clean ingredients and organic produce, making it an excellent option for those interested in living a vegan lifestyle. The California Certified Organic Farmers group certified Sun Basket as an organic grower. The company guarantees its products are at least 99 percent natural and 100 percent free of genetically-modified organisms.
Upon opening Sun Basket's website, one of the first things that stand out is the fact that they offer meals curtailed to fit specific diets. For instance, if you're practicing Paleo or Mediterranean diets, you can easily choose food options that meet your dietary needs.
One such option is the Vegan Plan. Below, you'll find an extensive breakdown of the Sun Basket Vegan Plan, allowing you to determine if it's the ideal meal plan choice for you and your family.
The Sun Basket Vegan Plan
Justine Kelly, an award-winning chef from California, created the Sun Basket Vegan Plan. She routinely creates fresh meal offerings, using season ingredients from some of the top farmers in the country. Customers can prepare most of the meals in the Vegan Plan in 30 minutes or less. All components of the meal plan are pre-measured, which Sun Basket says help reduce food waste.
Sun Basket offers customers two meal plan options, the Classic Menu, and the Family Menu. Unfortunately, however, the Vegan Plan is not available under the Family Menu, and customers cannot mix-and-match across menus.
When ordering the Vegan Plan off the Classic Menu, customers must choose three meals per week. The sizes of the meals can vary between two and four people.
The Vegan Plan Classic Menu does not contain any meat. Meals range between 550 and 800 calories per serving. Each meal contains at least five grams of fiber. Customers also receive at least 15 grams of protein in every meal through non-meat sources like:
Sun Basket helps minimize preparation time by including pre-made sauces in their meal kits. When ordering, customers receive a full breakdown of the ingredients in the sauces. Because customers are ordering off the Vegan Plan menu, they can trust that all ingredients used in the sauce meet their dietary requirements.
The company delivers meals once per week. Customers can set a time for their delivery, with options available Monday – Thursday, 8 AM – 9 PM. Sun Basket offers a 100% money back guarantee on their Vegan Plan. If you are not satisfied with the food in the box, they'll provide you a refund, so long as you contact them within seven days.
Benefits of Using the Sun Basket Vegan Plan
One of the most significant benefits of using the Sun Basket Vegan Plan is the lack of preparation time. Adhering to a vegan diet could be difficult, as you have to spend ample time researching recipes and meal-prepping.
However, the Vegan Plan eliminates this inconvenience. They offer meals that will make your taste buds explode, with preparation time never exceeding 30 minutes.
The meal kits pre-measure their ingredients so that you minimize your waste. The foods in the box are all organic and sustainable. As you may be aware, meat production is one of the most significant contributors to greenhouse gas emissions and water waste in the United States.
Customers can trust that the meals they receive are environmentally-friendly.
Lastly, a certified dietitian approves all Vegan Plan meals. They met guidelines set forth by the United States Department of Agriculture. Not only does this include dinners, but the optional snacks and salads as well. Additionally, at least one weekly Vegan Plan menu item meets the guidelines set forth by the American Heart Association's Heart-Check Recipe Certification Program.
Our Experience with the Sun Chef Vegan Plan
We recently ordered a few items from the Vegan Plan:
Southwestern Black Bean and Tempeh Chili
Organic Rainbow Asian Salad for Two
Avocado Hummus
We found all three things to be tasty and filling. It took us roughly 30 minutes to prepare the chili. A full meal provided us with two servings, each of which contained 510 calories. Sun Basket pre-made the chili base, which helped simplify preparation times.
The salad was large enough to serve as lunch. Two servings contained 600 calories. We prepared this in five minutes, making it an excellent option for a quick bite. Lastly, the hummus served as an excellent snack in between meals. An ounce of the hummus contained 70 calories per serving.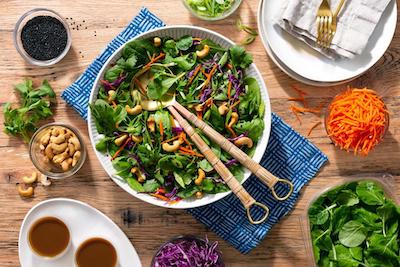 Bottom Line
Finding vegan meal delivery services can be challenging, but we support the Vegan Plan from Sun Basket. Not only did the meals taste excellent, but we appreciated the fact that they were:
Nutritious
Healthy
Environmentally-Friendly
Clearly Labeled
We found two points of concern during our review. First, the meals are expensive. Three meals for two people costs far more with Sun Basket than it would at the grocery store. However, you're paying for the convenience of not having to grocery shop and prepare meals.
Additionally, menu options are limited under the plan. The site claims to offer 18 menu items each week, which they do. However, only five or so of these items are vegan-friendly. However, the ability to add salads and snacks made up for the lack of dinner options.