Eating Healthy Vegetarian Meals and Seafood Dishes with Hello Fresh Is Easy!
Eating healthy can be more exciting than some people think, even if you don't eat meat.
Having vegetarian diet meals offers many health benefits. However, if you're also a fan of seafood meals – what is known as pescatarian – the possibilities are even higher!
Finding delicious new recipes at home can be overwhelming or exhausting for some people, which is why meal delivery services like Hellofresh can come in very handy!
This review will take a deep look at the Hello Fresh pescatarian meal delivery plan offer. We will talk about the main benefits and recommended Hellofresh meals to try.
Hello Fresh Pescatarian Meal Plan
Overall, the Hello Fresh menu consists of a wide variety of 30+ recipes, with at least seven to eight recipes that you can choose from for your pescatarian diet. The weekly menu also offers family-friendly options, low-calorie and low-carb options.
The Hello Fresh pescatarian meal kits plan includes plant-based foods plus dairy products, eggs, and seafood. These pescatarian recipes are carefully crafted and curated by professional chefs to ensure that the meals are tasteful and well-balanced.
Most weekly meals can be prepared in 30 minutes or less, so you don't need to worry about being an experienced home chef or losing time on heavy cooking.
Hellofresh focuses on providing seasonal fresh ingredients in each fish, seafood, or vegetarian recipe.
When you receive your meal kits in a box, you're also going to receive a complete set of step-by-step recipe cards, including the required ingredients, calories per serving, and average preparation time.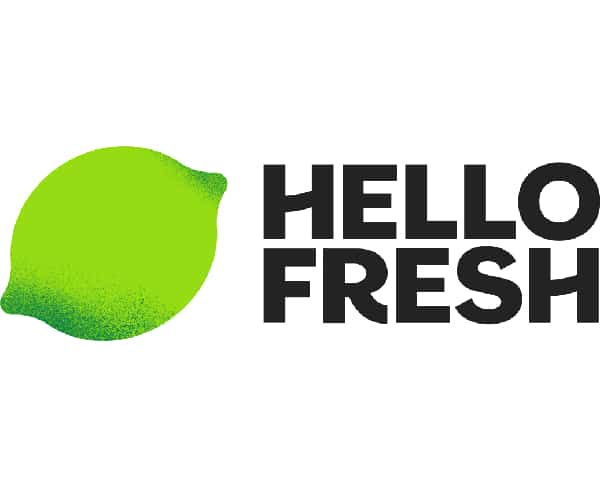 Get 18 free meals + free shipping + 3 surprise gifts
Recommended Hello Fresh Pescatarian Recipes
As mentioned before, the possibilities with the Hello Fresh pescatarian diet menu selection are huge!
One of the best things about using a meal kit delivery service is that you get to be creative and try out new recipes each week, using the freshest ingredients.
If you want to have a clearer idea of what to expect from the HelloFresh pescatarian offer,
Here Are Some Delicious seafood & Veggie Recipes Offered On The Menu:
Sweet Potato and Black Bean Tacos with Avocado Crema and Cilantro
Garden Spinach Ricotta Ravioli with Zucchini Ribbons, Tomato & Creamy Lemon Sauce
Chimichurri Barramundi with Lemony Carrots & Garlic Couscous
Hoisin Honey Tofu with Green Beans & Jasmine Rice
Crispy Chickpea Tabbouleh Bowls with Creamy Feta Dressing
Miso Maple-Glazed Salmon with Toasted Sesame Rice & Sweet Potato Jumble
Spicy Szechuan Veggie Noodle Stir-Fry with Scallions
Louisiana-Style Tilapia with Broccoli, Red Cabbage Slaw & Spicy Remoulade
Spicy Tunisian Bulgur & Salmon Bowls with Zucchini, Carrots, Chermoula & Creamy Lemon Sauce
Garlic Herb Shrimp with Garlic Bread & Lemony Green Beans
Wild Caught Salmon with Zesty Roasted Carrots & Pistachio Brown Rice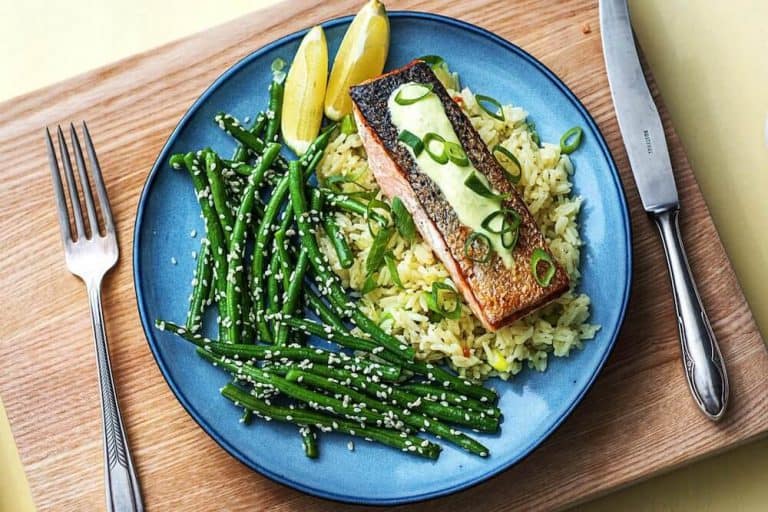 Benefits of Hello Fresh Pescatarian Meal Kit Service
There are many benefits when using the Hello Fresh pescatarian diet plan, mainly because of the delicious menu on offer. Plus, you have the chance to enjoy easy-to-prepare meals at an affordable price.
Here Is a Detailed List of Benefits You Can Get:
Ingredient Quality
Hello Fresh is widely known for providing fresh ingredients in their weekly meal kits. Every meal kit box is loaded with farm-fresh seasonal produce, nutritious proteins, and healthy whole grains.
The company has always been committed to providing its customers environmentally responsible seafood, both farm-raised and wild-caught, from suppliers such as 'Australis – The Better Fish', 'Regal spring – Naturally Better Tilapia', and more.
Since 2018, the company made it official by partnering with Monterey Bay Aquarium Seafood Watch, so you can count on getting seafood that is usually of better quality than you can find in the local grocery shop.
Delicious Recipes
We tasted a handful of Hello Fresh's pescatarian meals, and the one thing we can say it all has in common is deliciousness!
With Hello Fresh, your taste buds are likely to have a pleasant tasting experience in every meal box delivered to your doorstep.
Less Stress – Quicker Recipes With Easy Prep Work
Following a pescatarian diet can be easy and stress-free with the Hello Fresh service. Every week you will get fresh, pre-measured ingredients and easy-to-follow recipe cards delivered directly to your home.
The weekly pescatarian meals are designed to be easy and relatively fast to cook, with most recipes ready in more or less 30 minutes.
Affordability
If you're looking to go into a pescatarian diet, but you don't want to spend too much money, this is a fantastic option to choose from. This affordable meal kit offers a few different plans that can adapt to your current needs, and each one can fit most budgets.
Easy Preparation: While some recipes may look complicated to prepare (like Blue Apron), Hello Fresh makes sure to create easy recipes and to include a detailed guide on how to prepare the meal, what you need, and how much time it will take you. 
The company sends pre-portioned ingredients for each meal, so you don't have to spend extra time grocery shopping or measuring. 
Overall, you can have most meals prepared in under 30 minutes, which is fantastic for people who are short on time.
Variety of Meals
Hello Fresh provides a recipe collection of 30+ options that you can choose from each week. Out of these, there are at least nine recipes suitable for the pescatarian dietary preferences.
This is an excellent option if you're looking to keep your diet more exciting and fun each week at home.
Control Over Calorie-Count and Portion Control
Each recipe comes with an estimated calorie count in its package, so you're going to be able to count your calories for the week in a much easier and smoother way. Additionally, you're in complete control of the number of portions you receive per meal each week.
Easy Meal Planning
no more stressing over looking for new recipes! Every week you have a variety of pescatarian diet recipes to choose from.
If you wish for even easier meal planning, you can opt-in for a "surprise me" option and let Hello Fresh do the meal planning for you, with their most recommended veggie and seafood recipes.
Flexibility
With the HelloFresh flexible subscription, you can choose your meals, add extra meals to any week's order, change your delivery day when needed, and change your menu preferences.
For extra flexibility, HelloFresh never locks you in an unbreakable contract! You can skip weeks when going on vacation and cancel your subscription at any time.
Bottom Line
Do we Recommend the Hello Fresh Pescatarian Meal Delivery Service?
Overall, our team found the HelloFresh meal delivery service fantastic! It has years of good reputation of providing a great selection of easy and delicious meals every week.
In the case of their dedicated pescatarian meal plan, the service has proven once more to be a fantastic option. It is excellent for those already following the pescatarian diet and for everyone new to this lifestyle.
The advantages are clear – flexible plan, an endless variety of recipes, the best quality of ingredients, and meals that simply taste great – ALL at an affordable price!
We highly recommend it for managing a healthy and balanced pescatarian diet lifestyle.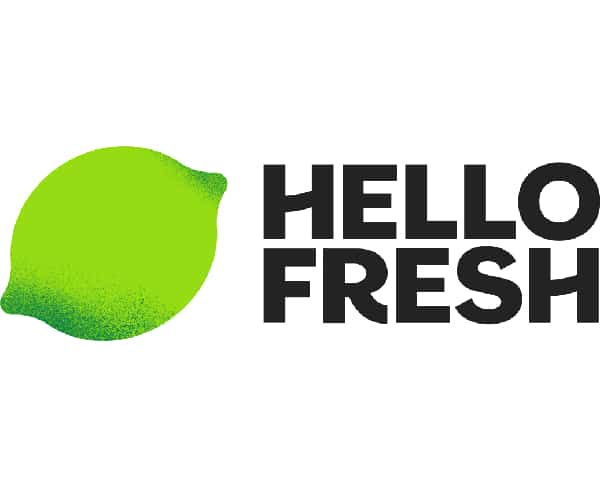 Get 18 free meals + free shipping + 3 surprise gifts